Message—An Audible Call, Part 1
On today's show, Chris begins a three part series on the life of Samuel, the priest, judge and prophet.
"Samuel is one of the most unique characters in the Bible. Why? Because he held several important ancient Israelite titles. God kept this one man many very busy… he served the Lord as a Priest, a Judge, and Prophet. It's unusual to see one man occupy so many important positions. Additionally, Samuel served the Lord during a crucial transition in Israel's history. He is often referred to as one of Israel's last judges… because he stood on the cusp of Israel transitioning from the Lord being King of Israel and the Judges monitoring Israel's spiritual pulse, to enthroning a human King to rule over Israel."

Message Transcript
 AskFOI | Guest: Josh Reinstein (@13:07)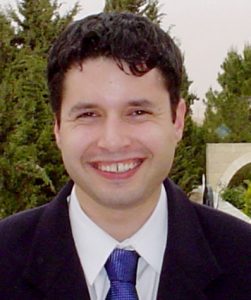 Chris and  Josh discuss Yom Yerushalayim, Jerusalem Day, which is being celebrated May 16. Jerusalem Day (Hebrew: יום ירושלים, Yom Yerushalayim) is an Israeli national holiday commemorating the reunification of Jerusalem and the establishment of Israeli control over the Old City in June 1967.
Josh Reinstein has been the Director of the Knesset Christian Allies Caucus since its inception on January 5th 2004. Before assuming his present position, he served as English Language Spokesperson for the Israel Beiteinu-National Union Party, and for Uri Lupliansky, the Mayor of Jerusalem, during his election campaign. Mr. Reinstein also owns and operates JSR International Marketing, an international marketing and public relations firm based in Israel.
In 2012, Mr. Reinstein was named as one of the "50 most influential Jews in the world" by the Jerusalem Post.
Learn more about the Knesset Christian Allies Caucus.
Apples of Gold (@19:14)
"An Employee and a Witness"
Zvi makes a new friend. A man with a sad and sordid past who is at the end of his life. As he lie on his deathbed he began to cry and said,  "I am unworthy of anyone telling me about God and His salvation." Zvi told him, "Christ died for sinners, that they may have eternal life. It is up to you to receive the Lord Jesus as your Savior, so that you may have that eternal life. This may be your last opportunity."
Music
The Friends of Israel Today and Apples of Gold theme music was composed and performed by Jeremy Strong.
Also heard on this weeks show:
Take My Life and Let it Be, Timothy Shaw


From the CD, Rejoice! Devotional Hymn Settings.
Available for purchase here.