Interview: Bassem Eid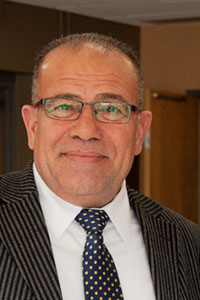 We're excited to have Bassem Eid back on the program this week. Bassem was with us here at The Friends of Israel Headquarters sharing for the first time with Evangelical Christians.
Bassem Eid is founder and the former director of the Jerusalem-based Palestinian Human Rights Monitoring Group (PHRMG). Born in Jerusalem, he spent the first 33 years of his life in the Shuafat Refugee Camp on the outskirts of the city. He became a prominent figure during the first Intifada, the Palestinian uprising, as senior field researcher for B'Tselem, the Israeli Information Center for Human Rights in the Occupied Territories.
In 1995, following his report about the Palestinian Preventive Security Service, he came under attack by some Palestinian leaders for revealing human rights violations committed by the Palestinian Authority. In response to the deterioration in the human rights situation under the Palestinian Authority (PA), he founded the Palestinian Human Rights Monitoring Group (PHRMG). It is a non-partisan human rights organization. Since 2003 he has worked as a political analyst for Israeli TV and since 2009 he has worked as a commentator on Palestinian politics for Israeli Radio (Reshet Bet).
To learn more about Bassem, visit his Facebook page.
You can hear Bassem Eid's previous interview with Chris Katulka Here.
There are few people in modern times that understand the Israeli-American relationship more than former Israeli ambassador to the United States Michael Oren. In his New York Times best seller, Ally, Ambassador Oren tells the story of this unique relationship from the perspective of a man who treasures his American identity while proudly serving the Jewish state he has come to call home.
This memoir is a testament to an alliance that was and will remain vital for Americans, Israelis, and the world.
---
Apples of Gold: On the Road to Latrun

Zvi was invited to speak to a Christian church in a not-so-friendly area between Tel Aviv and Jerusalem. Many in the congregation were Arab and asked Zvi if he hated the Arab people.  Zvi explained to them the difference between defending his own, the Jewish people, against the Arabs and hating them. Listen how explains from God's Word.
There are more stories like this from Zvi Kalisher! Purchase The Best of Zvi from our online store.
For more on the life of Zvi Kalisher, visit our online store to find his biography, Zvi: The Miraculous Story of Triumph Over the Holocaust.
---
Music
The Friends of Israel Today and Apples of Gold theme music was composed and performed by Jeremy Strong.