Psalm 22
This week Chris will take us to Psalm 22, a Messianic Psalm written by King David around 1,000 years before Jesus walked the earth. If you look at the psalm you'll see that it's written like a conversation, going back and forth from despair to hope. We're reminded that Jesus walked a terrible road to the cross and suffered greatly to satisfy the wrath of the Father on our behalf. Even though the Father had to turn His face away from His only Son, He did it for His glory and we are the beneficiaries!
Let us not forget as we celebrate the Risen Savior that in His humanity, Christ suffered and died, for us. Our knowledge and comprehension of this truth should give us hope in our hardships and trials. That as King David said, "he has not hidden his face from him, but has heard…" God hears our cries and when we are going through those lonely times of suffering, God hears our cries. Hallelujah! What a Savior!
D.M. Patton says, "The most amazing drama that ever was presented to the mind of man – a drama written in prophecy in the Old Testament and in biography in the four Gospels of the New Testament-is the narrative of Jesus the Christ."
In our book, The Prophets Still Speak, written by Fred John Meldau – see how the Messiah's credentials are established and learn the Messianic offices of Jesus.
ORDER YOUR COPY TODAY!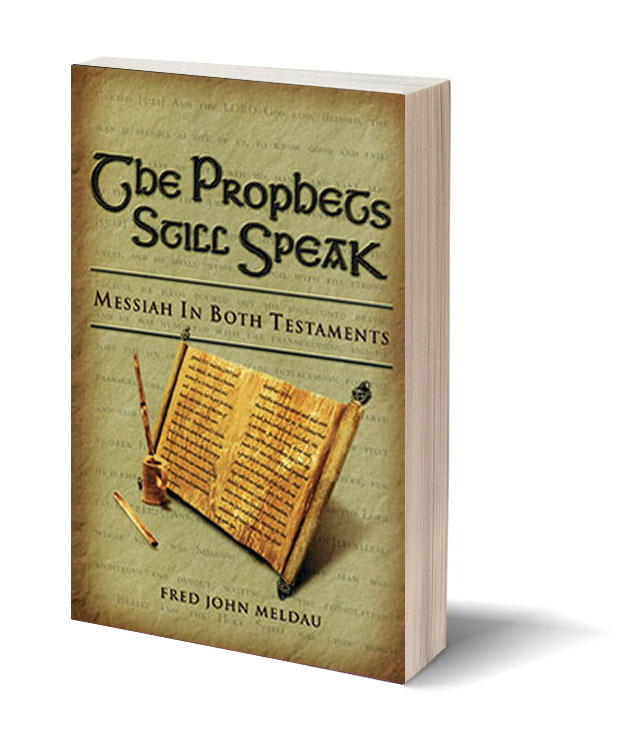 Three days and three nights?
Was Jesus really in the grave for a literal three days and three nights? In Matthew 12:40, Jesus said, "For just as Jonah was three days and three nights in the belly of the great fish, so will the Son of Man be three days and three nights in the heart of the earth." Chris goes through the calculations and talks about how it looks like a contradiction. But as everything in the Bible, context is everything! Listen as Chris clears this up!
---
Apples of Gold: The Pesach Lamb
Every year Zvi had many visitors over for Passover. They often would feasts until the early morning hours. Zvi's unbelieving friends were surprised that he celebrated Passover just as they did! But as we'll hear, there is one difference, the Passover Lamb and its meaning.
There are more stories like this from Zvi Kalisher! Purchase The Best of Zvi from our online store.
For more on the life of Zvi Kalisher, visit our online store to find his biography, Zvi: The Miraculous Story of Triumph Over the Holocaust.
---
Music
The Friends of Israel Today and Apples of Gold theme music was composed and performed by Jeremy Strong.
Also heard on this weeks show:
» O, Sacred Head, Now Wounded, arranged and performed by Jeremy Strong
» When I Survey the Wondrous Cross, Timothy Shaw, from the CD, Rejoice! Devotional Hymn Settings
» What Wondrous Love is This, Timothy Shaw, from the CD, Hymns of Comfort and Praise