Finding Forgiveness in Philemon, Part 1
Have you ever asked to forgive or received forgiveness from someone? Forgiveness is not always easy. We're diving into a three-part series on a very small but impactful book of the Bible, Philemon. We'll learn how two people connected to Paul—one a slave, Onesimus and his owner, Philemon—were faced with forgiveness and reconciliation.
The book of Philemon is different than Paul's other books of the Bible. Even though it is only 25 verses long, the story of this runaway slave and his owner is full of valuable theological lessons that are applicable to all believers in Jesus. Philemon is one of those books of the Bible that can be overlooked so whether you have read it many times or aren't sure where it is in your New Testament, we hope you enjoy the series and learn as much as we have!
If you'd like to listen to Part 2 of this series, Listen Here
Steve Conover: This is The Friends of Israel Today. I'm Steve Conover, with me is Chris Katulka. We've all been hurt by someone before or maybe you've hurt someone and it damaged your relationship. Maybe with a husband or wife, son or daughter, friend, co-worker. This is a natural part of life, but how do we deal with it as Christians? That is the backdrop to Philemon. Just 25 verses long, Philemon is a personal letter about a wealthy citizen of Colossae who's slave, Onesimus, wronged Philemon and ran away.
Onesimus after meeting Paul came to faith in Jesus Christ. And now Paul sends Onesimus back to Philemon with this letter in his hand. A letter encouraging Philemon to welcome Onesimus not just as a disobedient slave, but as a fellow brother in the Lord.
Chris Katulka: I am really excited to dive into Philemon here. This is just 25 versus like you said, it's a short letter, but in those 25 verses, I think Paul is going to cram all of what he taught in the epistles into this personal story about two believers. On different ends of the spectrum and how they're supposed to come back and reconcile and forgive one another. It's going to be a great story of really putting feet to the theology that Paul teaches us in the epistles.
Steve Conover: We look forward to hearing more. But first in the news, archeologists from Kinneret College in Israel and Nyack College in New York, believe they found the Church of the Apostles on the Northern shores of the Sea of Galilee. Tradition claims this ancient church was built over the house of Peter and Andrew, the disciples of Jesus. They also believe this helps identify the biblical Bethsaida, a fishing town off the shores of the Sea of Galilee. 
Chris Katulka: This is interesting. This is a fun find in Israel and here's the thing. Bethsaida, they don't really know. They debated on where Bethsaida is in the Northern shores of the Sea of Galilee. And the reason I get kind of excited about this is because we did an episode a few months ago on the Christian pilgrimages that happen throughout church history in Israel. And the reason that archeologists knew that there was a Church of the Apostles is because of an itinerary from church history that said that the Church of the Apostles was in Bethsaida.
So that is how archeologists knew. If we find this Church of the Apostles, we know that we are in Bethsaida. And on top of that they also found a Roman Bath, which would connect Bethsaida to the history as it was eventually transformed into a Roman city named Julius. I'm telling you, this is exciting times my friends for uncovering the truth of God's Word as archeologists excavate through the holy land. 
Today we're going to start a three part series on a very small epistle, Philemon. Philemon is the last of Paul's epistles in the Bible and it's really unique. Unlike Romans and Ephesians and even the pastoral epistles, first and second Timothy and Titus. Philemon is a letter written to a believer about an issue that arises within his own household. Imagine if Paul ministered to you and through his ministry you came to faith, you became friends and now an issue that affects you, your household, and Paul emerges. This is a personal letter from Paul on how to deal with an issue. And this is why I want to focus for three weeks on this small letter that's only 25 verses long, is very tiny. See, I believe when we read through Paul's epistles, they are engaging. They are deep. They give us the mechanics of the Christian faith. Paul teaches in his epistles about who Christ is, as the Son of God. 
He teaches about sin, the need of a savior. He teaches about justification, sanctification. He teaches about the end times. He even teaches about the purpose for Israel and God's plans. See, he's not just the Apostle Paul, he's like the professor Paul, but here in Philemon we see where all the theology of Paul really gets worked out in real life issues.
Friends, it's not just enough. This is so important. It's not just enough to know who Jesus is. It's not just enough to know the mechanics of salvation. It's not just enough to know about sin, sanctification, justification, these big theological terms. Theology is pointless if it doesn't change your life. If it doesn't conform you more into the image of Jesus Christ. At that point, theology is just knowledge. There are three main characters as we look at Philemon here, there are three main characters that come up in this letter to Philemon.
The first is Paul, Paul's the author of this letter and he's writing it with his own hand as it says in verse 19. Paul would typically use a secretary to write his letter, but this is of utmost importance to Paul and he's placing himself under legal obligation to fulfill his commitments because he's the one writing it. So Paul is writing Philemon from a Roman prison, sometime between 61 and 63 AD. The next character of course, is Philemon, the title of the letter. Philemon is a wealthy resident of Colossae. He was a believer in Jesus. The Apostle Paul was probably influential in Philemon coming to faith and it could have even happened when Paul was an Ephesus for three years in Acts chapter 19.
So Philemon being wealthy and being a landowner owned slaves and he had a very large house and it was even large enough from this very small letter that we're looking through to house a local church in it.
Now let's talk about Onesimus, Onesimus is a slave. Onesimus is the third major character here and he is one of Philemon's slaves and he runs away from Philemon. We're going to talk a little bit about that later. But I want to talk for a moment about slavery in the Roman Empire at that time. When we say slaves here in Philemon, we're not talking about 17th century slave trade and the disgusting practices of slavery in American history. Slavery in the Roman Empire was much more complex. Roman law had to address the dual status of slaves, by nature they were people, but from an economic stand point, they were property. There were slaves who were abused and used during the days of Paul and Jesus. Slavery was a common part of life then. On the other hand, slaves were also much different.
They were found in all different types of professions. They were doctors, they were lawyers. They had opportunity for social advancement than free peasants. I want you to hear what New Testament scholar Craig Keener says about slaves. He says this, slaves were able to work for and achieve freedom and some freed slaves became independently wealthy. This social mobility applied especially to the household slaves. The only kind of slaves addressed in Paul's writings. Economically, socially, and with regard to freedom to determine their future, these slaves were better off than most free persons in the Roman Empire. 
Most free persons were rural peasants working as tenant farmers on a vast estates of wealthy landowners. Friends remember there was no growing middle class in the Roman Empire. To use your gifts and grow and make a way for yourself, you'd often have to sell yourselves into slavery to have a roof over your head, to put food on the table. 
So yes, like most wealthy Romans, Philemon owned slaves and Onesimus was one of those slaves. From the letter Paul wrote to Philemon, we see that Onesimus runs away probably because he stole something from him. In the providence of God, Onesimus encounters Paul while he's in prison in Rome. Paul ministers to Onesimus and he comes to faith in Jesus. This runaway slave comes to faith in Jesus and now Paul is sending him back to Colossae with another brother named Tychicus.
And in their hands as Tychicus and Onesimus are walking back to Colossae, they carry two letters in their hands. One is the letter, the epistle written to Colossians and the other is the letter to Philemon. This could have been a very tense moment for Onesimus as he approaches Philemon. 
I want you to put yourself in Onesimus' shoes here. He's carrying a letter to Paul and Paul is going to encourage Philemon and appeal to him on the basis of the gospel, not human flesh. This could have been a very tense moment for Onesimus, because see Philemon could literally put him away. He could cause him harm.
Because remember at this point, Onesimus is Philemon's property. There were laws that gave a slave owners the ability to abuse their slaves. And his life could have been on the line here. And so when Onesimus approaches Philemon, this letter in his hand from Paul means something, and Paul's going to encourage him to look through the lens of the gospel, not through the lens of human flesh. So Paul opens his letter in verse seven by saying this to Philemon, "I have had great joy and encouragement because of your love, Philemon, for the hearts of the saints have been refreshed through you, brother."
Listen friends, Paul is sharing a universal truth about what it means to be a follower of Jesus. It's not just about the deep theology like we talked about. It's about how we love one another. And Paul is appealing to this truth, for the sake, think about this, for the sake of Onesimus. So Paul says this to Philemon, "So although I have quite a lot of confidence in Christ and could command you to do what is proper, I would rather appeal to you on the basis of love." He says that in verses eight and nine of Philemon. The Apostle Paul is saying to Philemon, I could easily tell you what to do as a believer in Jesus right now. I could command you to do the right thing. As you stare at your runaway slave, a thief, but see, I'm not going to do that. I'm not going to tell you what to do. I'm actually going to appeal to you, Philemon, on the basis of love. 
Again, Paul is saying, I'm not going to force you to do what's right. I'm going to trust that the Holy Spirit of God is going to move in your life in such a way that through the lens of love and grace, you're going to see this situation completely differently. Look, Paul is saying to Philemon I know that you've been wronged by Onesimus. He's talking about Onesimus mistreating Philemon, defrauding Philemon. But Onesimus has changed. See, Onesimus is a believer now. Paul wants Philemon to see the value in this moment of forgiveness. Paul is even willing to pay the debt of whatever Onesimus owes Philemon, but forgiveness is at the heart of where this all begins. Here is where the rubber meets the road for Philemon and his faith in Christ.
Remember, Paul notes that he was a man of faith. Philemon, you're a man of faith who trusts in Jesus and you even project love for all the saints in this fellowship that you have at your church. Paul sends Philemon, think about this, a saint, saint Onesimus, a fugitive slave and Paul is counting on Philemon to welcome him in love. Paul is even willing to pay the debt if Philemon will forgive Onesimus of this serious crime. It's interesting because Onesimus walked to Colossae with Tychicus. And they were carrying, like I said, the letter to the Colossians, The Epistle to the Colossians. So in one hand is the letter for Philemon and the other hand Colossians.
And I can't get over what Paul wrote in Colossians 3:12-13. He says this, "Therefore as the elect of God, Holy and dearly loved, clothe yourself with a heart of mercy, kindness, humility, gentleness and patience. Bearing with one another and forgiving one another. If someone happens to have a complaint against anyone else, just as the Lord has forgiven you so also forgive others." Listen, when we come back after the break, we're going to look at this freeing power of forgiveness. Paul is writing to Philemon, forgive your brother, forgive him. Welcome him back. If you have love for the saints, well guess what? The slave who ran away is a saint now and welcome him in with love and forgive him. So be sure to stick around. 
Steve Conover: When we read the Scriptures, sometimes there can be a disconnect between our modern world and the world of the Bible. It's easy to forget that the authors were virtually all Jewish and that we worship a Jewish Messiah. And remember, Christianity is deeply rooted in Judaism. To the early church, Christianity was not a different religion from Judaism. It was the fulfillment of all that was written in the law and the prophets.
Chris Katulka: The DVD entitled "Jewish Roots of Christianity" takes you to Jerusalem for eye-opening insights into the link between Judaism and Christianity. You can watch various interviews by Israeli Christians, including The Friends of Israel's very own pastor Meno Kalisher, the son of Holocaust survivor Zvi Kalisher. 
Steve Conover: To order your copy of the DVD, Jewish Roots of Christianity, go to foiradio.org or call our listener line at 888-343-6940. Again, visit foiradio.org to order your copy of Jewish Roots of Christianity or call us at 888-343-6940. 
Chris Katulka: Welcome back everyone. We've been talking about this short one chapter 25 verse epistle from the Apostle Paul to Philemon. I encourage you to read it. It's very short to write before the book of Hebrews. It's the last of Paul's epistles in the list of the New Testament. Philemon is a believer in Jesus who has to take this theology and knowledge that was taught to him by Paul and really put it into action now. Remember, Philemon is staring at our runaway slave Onesimus who more than likely stole something from him. Onesimus damaged the relationship he had with Philemon. And now Paul is trusting that Philemon will make the right decision as a believer in Jesus. And I just love what Paul says to Philemon that he could command him to do what's right. 
He could tell him what a good Christian would do, but instead Paul appeals to Philemon on the basis of love. We've all been hurt. We've all been wronged, abused, manipulated, cheated, broken, used, mistreated by others. It's the nature, my friends, of living in a sinful world. It's quite interesting, but if you look at the law in the Old Testament, much of it is not just about the vertical aspects of Israel's relationship with God, but it's just as much about the horizontal components of how we relate with one another and what we should do if one person wrongs another person. And Jesus even carries this into Matthew chapter 18:21 when the disciples asked him, when Peter asks him, "How many times should we forgive a brother who sins against me?" And Jesus replies, "As many as 77 times." Which is just another way in Jesus's day to ultimately say, never hold grudges.
You should always forgive. Forgiveness should be on the end of your tongue all the time. Forgiveness should be something you think about constantly all the time. And the crux here is this, is that as believers, we should always be ready to forgive because we've been forgiven by Christ. Paul alludes to this and Philemon and when he says in verses 17-19, "Therefore, if you regard me as a partner, accept him as you would me. Now, if he has defrauded you, talking about Onesimus, wronged you of anything or owes you anything, charge what he owes to me. I Paul have written this letter with my own hand. I will repay it. I could also mention Philemon that you owe me your very self." Paul says. Paul is alluding to the fact that Philemon came to know the forgiveness of Jesus Christ, the Savior who washed away all of his sins and paid the ultimate debt that Philemon even as a rich man could never pay off. 
Paul is saying, "You owe me your very self just as Christ forgave you Philemon, forgive, Onesimus." Forgiveness sets you free, friends, from the bondage of bitterness and anger and rage and revenge. I have four kids that are under the age of eight and two of them are twin boys. I call them the four horsemen of the apocalypse and there can be a lot of hurt feelings and wrongdoing between the four of them, but when they find it in them to give each other a hug and forgive each other and move on, I have the same feelings Paul does. Paul says this in Philemon, he says, "Refresh my spirit, refresh my heart." It refreshes everything in me when I see my kids forgive one another and move on. Paul saw Philemon and Onesimus as his spiritual sons both of them, and so he wants to see them forgive each other. 
It's the first step to forgive just as Christ has forgiven us. But listen, there's another step because forgiveness is just the beginning. The next step is probably the hardest. But if we believe what the Word of God teaches, if we believe that these truths matter and that what Christ taught us and what Paul taught us matter, then the next step is even more important. And I'm going to tell you, you're going to have to join us next week to hear what the next step is because forgiveness has boundaries. And so we can always forgive somebody and say, "But you know what? You've hurt me so you have to stay there and I'm going to stay here, but I forgive you." See, the gospel calls us to go another step further and Paul, he's going to tell Philemon, you've got to take this next step with Onesimus, a step that matters. So be sure to join us next week to hear what that next step is. 
Steve Conover: Now, Apples of Gold, a dramatic reading from the life and ministry of Holocaust survivor, Zvi Kalisher.
Mike Kellogg: People here in Israel are extremely nervous. This is partly due to the economic situation. When I'd tried to speak with them, many say there is no longer a God because he sees and allows his chosen nation to fall down. One man asked, "What do you think, Zvi?" I replied, "What you say is not true. God has chosen us and brought us to this Promised Land. We should live and not die." In October 1973 when the Arab armies attacked us, the Israeli population was very demoralized. Why did God spares us and why are we living now? We are still alive and still a nation because God loves us. Is it not true that we love our children? Of course, we do. If we do not punish them for their misdeeds, they will continue to do as they wish. It is the same with our God. He loves us. Therefore, he punishes us when we need it until we ask for his forgiveness.
If people ask for forgiveness, change the ways and turn to God, he will bless them. If you do so, you and all your friends will know the truth about our God and when he makes a promise, he keeps it. He is not as we humans are. After that this man asked, "What do you think I should do? Should I believe in God?" "Oh yes." I replied, but you should ask God what to do instead of asking me." With surprise he asked, "How can I ask God?" I told him he could go directly to God in prayer because he is our Father and will answer him. "How shall I pray?" He questioned. I then opened the Bible and read the Lord's teaching about prayer in Matthew 6:9. Then this man realized about whom I was speaking, "Jesus?" He asked incredulously, "He was against our Torah. How can I believe in him?"
I then read from Galatians 3:10, "Cursed is everyone who does not continue in all things which are written in the book of the law to do them." This was another surprise to him and he declared, "Jesus is the great enemy of the Jews." "That is what people say, I told him and you my friend, will leave with them." He thought for a moment and then replied, "That is how I felt before, but not now." Then we read together John 3:16, "For God so loved the world that he gave his only begotten Son, that whoever believes in Him should not perish but have everlasting life." "This is all new to me." He said. "It would be nice if you would give me some books so that I may read about these things for myself and share them with my friends. I want to show them how they lied to me. I will visit you every week and you can teach me from the Bible."
Through this man, two other families came to me and I gave them my testimony about the Lord. I was sure that after such a lengthy conversation about our Savior, they would not return, but the Lord opened their hearts and now we meet every week. All of these dear people are now secret Christians, perhaps one day soon, they will openly acknowledge Jesus as Messiah and Lord.
Steve Conover: We're so glad you chose to join us today. We've been studying Paul's letter to Philemon. Chris, we continue in this tiny personal letter next week. Where are you taking us on our next program? 
Chris Katulka: Yeah. I almost hate to give it away, but I want to share so that our listeners can think about what it means as the week progresses, but think about this, forgiveness is the first start. Paul's encouraging Philemon to forgive Onesimus, a serious wrong, serious wrong, a wrongdoing that he did towards him, but the next step that Paul doesn't just stop at forgiveness. Paul's going to actually encourage Philemon to reconcile with Onesimus. This is big because it's actually not just forgiving him and saying, all right, now get back to work. It's actually saying, I want to welcome you into my house now.
Steve Conover: We do hope you'll join us next week as we continue in Philemon. At The Friends of Israel Gospel Ministry, we've been sharing the love of the Messiah and supporting Israel and the Jewish people since 1938. And if you feel led to support our work or you simply want to reach out to us, visit foiradio.org, that's foiradio.O-R-G. In the United States you can call our listener line at 888-343-6940.
You can write to us at FOI Radio, P.O. Box 914 Bellmawr, New Jersey, 08099. Call our Canada office at 888-664-2584, that's 888-664-2584 in Canada and let us know where you're listening when you call or write. 
Our host and teacher is Chris Katulka. Today's program was produced by Tom Gallione, co-written by Sarah Fern. Our theme music was composed and performed by Jeremy Strong, and I'm Steve Conover, executive producer. The Friends of Israel Today is a production of The Friends of Israel Gospel Ministry. We are a worldwide Christian ministry, communicating biblical truth about Israel and the Messiah while fostering solidarity with the Jewish people.
The Jewish Roots of Christianity DVD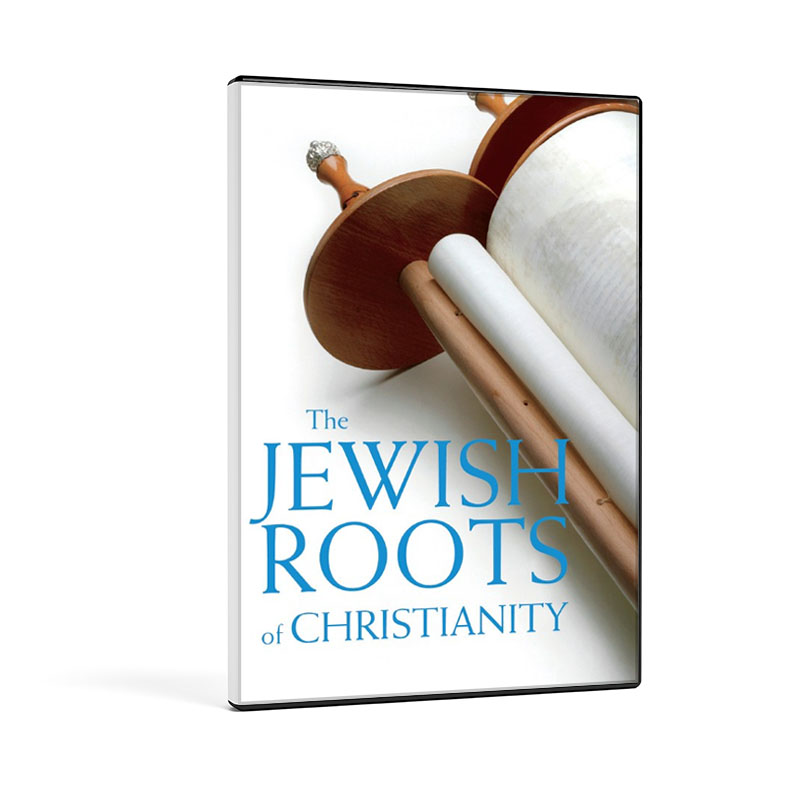 The DVD entitled The Jewish Roots of Christianity takes you to Jerusalem for eye-opening insights into the link between Judaism and Christianity. Watch various interviews by Israeli Christians including the Friends of Israel's own Pastor Meno Kalisher, the son of Holocaust survivor, Zvi Kalisher.
ORDER YOUR DVD TODAY!
Apples of Gold: How Can I Believe in God?
As Israel suffered as a nation in the 1970s, many Israelis felt lost. They felt that God had abandoned them and was not worthy to believe in. Zvi was a beacon of hope to the Israeli community, sharing the good news of God's plan for sustaining His people. His encounter with one man who felt that God was not present, showed the man the true nature of God the Father. Zvi diligently broke down the lies that Jewish people were fed about Jesus as he shared the truth that God reveals about Himself in His Word.
Zvi's story is available in Elwood McQuaid's book, "Zvi: The Miraculous Story of Triumph over the Holocaust," available in our online store.
More stories from Zvi are also available in his book, "The Best of Zvi," available in our online store.
---
Music
The Friends of Israel Today and Apples of Gold theme music was composed and performed by Jeremy Strong.