Rosh Hashanah
Even though we're far from January 1, this weekend marks a New Year celebration—Rosh Hashanah, the fall feast that celebrates the Jewish New Year. God established this holiday as the Feast of Trumpets for the Israelites in Leviticus. It's a happy celebration but also one of remembrance. Nothing symbolizes this better than the shofar, which is blown on Rosh Hashanah as a call to God asking Him to remember His people and act according to His covenant with them.
This special feast is both a New Year celebration and a chance to take a spiritual checkup, reminding us to ask ourselves, "How is my relationship with God? Am I allowing the Holy Spirit to convict me and draw me closer to Him?" We'll examine three major Jewish fall feasts individually over the next three weeks, with Yom Kippur being the focus of our program next week.
Steve Conover: Welcome to the Friends of Israel Today. I'm Steve Conover and with me is our host and teacher Chris Katulka. Right at the top of the program, I want to remind you to visit our website, foiradio.org. There you can keep up on all things related to the Friends of Israel Today program, you can listen to all of our broadcasts, over five years worth of content with links to our featured products highlighted in the show, or you can support our ministry by clicking on the donate button to help us continue teaching biblical truth about Israel and the Jewish people visit us at foiradio.org.
Chris Katulka: Now friends, we are entering into the fall season and with the fall season comes the fall feasts of Israel. Last week, we had our dear friend, Bruce Scott on the program to give us an overview of the three feasts, that you can listen to at foiradio.org. Today, we're going to dive in a little bit deeper, we're going to start with the first of the fall feasts, which is Rosh Hashanah, the head of the year, the new year. That's what today's program is all about. I think it's going to be something that's interesting and here's the thing, it matters to you. You're going to want to know what Rosh Hashanah is all about and how it applies to you as a believer in the Lord Jesus Christ.
Now also for our podcast listeners, thank you so much for listening. Be sure to rate and comment on our program that can be heard on Apple, Spotify, Google, TuneIn, Stitcher, the host of many platforms, we'd love to hear from you. Your ratings and comments actually help us here at the Friends of Israel Today. If you value this program, please be sure to let us know and thank you for listening.
Steve Conover: In the news, a stunning move from the Arab League failed to pass a proposed Palestinian resolution, which would have condemned the normalization deal between Israel and the United Arab Emirates. The Arab League comprises 22 member states that include Bahrain, Libya, Lebanon, Qatar, Egypt, Jordan, Saudi Arabia and more. A senior Arab league official was quoted as saying, "Discussion around this point was serious and comprehensive but it did not lead to agreement over the resolution proposed by the Palestinians."
Chris Katulka: Steve, this is a big deal. The Palestinians, if you think about this, the Palestinians probably have more friends in the United Nations than they do in the Arab League where they actually have full membership status. The Arab countries believe this is what the Arab countries are saying to the Palestinians. They believe that normalizing a relationship with Israel is more important than their complaint. Now I do believe that this is going to take the Palestinians in a certain direction. I believe that there's one way out for the Palestinians and it's not through the Arab League. It's actually to go into the arms of Iran. This is something that I think the Israelis are looking toward. Something that the Arab countries are looking toward as well, to make sure that the Palestinians don't go in that direction. They already are shaking hands in many ways, with the Iranians so we gotta keep our eye on that, but we'll have to wait and see ultimately what happens in the end, but continue to pray for the peace of Jerusalem.
Well, it's that time of year again, my friends, and just like that we are entering into the fall Jewish holidays. Three in fact will happen back to back to back. Rosh Hashanah, Yom Kippur, and the Feast of Tabernacles. Now, if you're just tuning in and you're hearing me say these three feasts, I'm sure it can sound very confusing. You might be thinking to yourself, why are we talking about Jewish holidays? I'm a Christian. I don't celebrate Rosh Hashanah, in fact, I can barely pronounce some of these holidays. Well, I want you to think about this for a moment. If you are a Bible believing Christian, that means you believe in God's Word, both the Old Testament and New Testament. You believe they are inspired and authored by God himself, that he used Jewish men to communicate his Word throughout history. And if that's the case, then these Jewish holidays are actually a part of the history of the Jewish people from the Scriptures, from your Bible. They are extremely important.
I always like to say, Jesus is the Jewish Messiah. When he came to Earth, he didn't celebrate Christmas and Easter because that would be kind of awkward. Jesus celebrated Israel's festivals from Leviticus 23, like Passover, Rosh Hashanah, Yom Kippur, the Feast of Tabernacles. He ministered to his people through these Jewish festivals that are mandated in Leviticus chapter 23. For the next three weeks, we are going to dive into each one of these three fall festivals.
Now, before we get into that, before we get into Rosh Hashanah, I want to invite you again to go to foiradio.org, to listen to last week's program. I had mentioned this already, but Bruce Scott, who's an expert on the feasts of Israel joined us last week and he gave us an overview of these three fall holidays. You can get a chance to listen to that and to catch up by simply going to foiradio.org. And we're going to mention it a little bit, how you can get his book, The Feasts of Israel.
Okay. On September 18th, 2020 Jewish people all around the world will stop and honor Rosh Hashanah, which is the Jewish new year. In fact, Rosh Hashanah literally means head of the year in Hebrew. Jewish people have it pretty rough, I think, when it comes to calendars, they have a Jewish religious calendar that starts in the spring with Passover. They have the Jewish civil calendar, that's Rosh Hashanah that starts the new year. And then they also have a calendar system that the world uses, the Gregorian calendar. And so it's a lot of different calendars. I only have to work with one calendar per year to manage my life. Could you imagine having to use a religious calendar, a civil calendar and then the global calendar that everybody else uses?
I think it's a lot of calendars to deal with but Rosh Hashanah marks the new year for the civil calendar and this year, it will actually be 5,781. That's right, my friends, 5,781. That's the year. The Orthodox Jewish community believes it's been 5,781 years since the creation of the world. Now here's what's interesting about Rosh Hashanah. The date marks the new year for the Jewish civil calendar but according to Leviticus 23, the festival is called something different. It's called the Feast of Trumpets. Let me read from Leviticus chapter 23, verse 23 and on. Listen to what it says here.
The Lord spoke to Moses, "Tell the Israelites in the seventh month," that's the month of Tishrei, "in the seventh month on the first day of the month, you must have complete rest, a memorial announced by loud horn blasts, a holy assembly and you must not do any regular work but you must present a gift to the Lord."
This festival or feast that God ordained for the Israelites in Leviticus chapter 23 is a memorial day. Did you hear that? It's a day to remember, to sound a trumpet, to blast the trumpet as a signal sound to remember. Now, the question is this, who is the one who is supposed to be remembering? Are the Israelites blowing the trumpets so that they can remember God? Or is it the other way around? Is it so that God remembers them? Many scholars, even Jewish scholars, argue that Israel is blowing the trumpet to remind God of the unique covenant that he made with them in Genesis chapter 12 and Genesis chapter 15, when God made an everlasting covenant with Israel and the Jewish people. A promise to give the Jewish people a land and descendants and to be a blessing. To be a blessing to the whole world, that God would protect them on this journey that they're on in perpetuity and that God would also use them to bring blessing to all the families of the Earth.
A very unique everlasting covenant that God makes with Abraham that goes to all the Jewish people. Now you might be thinking, why does God need a reminder? God doesn't forget. You're right. God doesn't forget. But it's a form of worship to say to the Lord, "God, we don't forget you and your promises to us so please don't forget us. Please remember us. Or better yet, God, please act in accordance with your promises." I'm actually reminded of the book of Exodus, right in the very beginning, right before God calls Moses. It says that God hears the groanings of his people and he remembered his covenant with Abraham, Isaac and Jacob. Now does that mean that God forgot about his people and he heard crying and then he jogged his memory and was like, oh yeah, I forgot. I made a covenant with them. No, he didn't do that.
When the text indicates that God remembers, it's better to understand it in light of him acting upon his promises. He remembers his promises and that's why he's faithful to fulfill them. And we do this in our own lives. We ask God to remember us in our prayers. When we say this, do we believe God is forgetful? Or are we pleading with God to act in our favor? Just listen to what the Psalmist in Psalm 106 says, he says this, "Remember me, O Lord, when you show favor to your people. Pay attention to me when you deliver so I may see the prosperity of your chosen ones, rejoice along with your nation and boast along with the people who belong to you." Did you hear that? "Remember me, O Lord."
Rosh Hashanah is a beautiful Jewish holiday that pleads with God to act upon his promises. Over the years however, Jewish culture came to identify this with the new year. Some scholars like to argue that the new year aspect was added while the Jewish people were in captivity in Babylon. However, that first day of Tishri, which is the day of Rosh Hashanah, is actually considered a new year in the Scriptures that's associated with jubilee years. You can read about that and Leviticus as well. That's probably where the association between the Feast of Trumpets and Rosh Hashanah came from.
Rosh Hashanah in Judaism is also connected to God's judgment. The rabbis actually write this on the new year, "all the inhabitants of the world pass before him, God, like flocks of sheep." And another rabbi writes that "three books are opened on new year, Rosh Hashanah, for the righteous, one for the completely wicked and one for the average person. The righteous person is immediately inscribed in the Book of Life for the next year, the wicked are immediately judged and written in the Book of Death but the average person is kept in suspension", according to the rabbis. They will have 10 days between Rosh Hashanah and Yom Kippur to work to get their name ascribed in the Book of Life, to become a righteous person. During these 10 days, which are called the 10 Days of Awe, a time of repentance and forgiveness is in the Jewish community.
For a Jewish person, the idea of being righteous is to go back throughout the past year and to try to remember those who you've hurt or wronged, which made you unrighteous. Through the act of repentance and reconciliation with those that you've wronged, Jewish people can stand righteous before God and are able to have his or her name inscribed in the Book of Life. They have 10 days to accomplish this. That's what the Jewish people believe.
What does this mean to you as a Christian, as we're talking about Rosh Hashanah? What's the spiritual benefit that you can pull from this day and this Jewish new year? Well, I think there's some important Christian principles here, but before we get to them, I want to connect you with Bruce Scott's book, The Feasts of Israel: Seasons of the Messiah. This is such an important book. Listen. If you've never studied the feasts of Israel, Passover, the Feast of Unleavened Bread, Shavuot, the Feast of Weeks and these three fall holidays as well, Rosh Hashanah, Yom Kippur, the Feast of Tabernacles, I encourage you to get Bruce Scott's book, The Feasts of Israel. This book will not only enlighten you as to what the Bible says about these feasts, it will also enlighten you as to how Jewish people are celebrating these feasts today and how it applies to your life as a believer as well.
The Feasts of Israel is a fantastic book to get yourself started in understanding Jewish culture and customs and how Jewish people celebrate these important biblical celebrations that are mandated in the scriptures for the Jewish people. What a fabulous book I think that you should get. I know I've benefited from it year after year as I go to it. Steve, how can our listeners purchase their copy of The Feasts of Israel?
Steve Conover: Yeah, Chris, it's a wonderful book. To purchase a copy of The Feasts of Israel by Bruce Scott, you can visit us at foiradio.org. Again, that's foiradio.org. We'll have the link on our homepage or you can call our listener line and that's (888) 343-6940, (888) 343-6940 and someone will return your call during our regular business hours. Again, that's (888) 343-6940. To order in Canada, call (888) 664-2584. Again in Canada, that's (888) 664-2584.
Chris Katulka: Okay, Rosh Hashanah, it's this week, the Jewish new year. For Jewish people, it's a time of reflection. Leviticus 23, it calls it a memorial day. A day for the Jewish people to pray to God, to remember the unique covenant God made with them in Genesis 12 and Genesis 15 of a land and descendants and a blessing that Israel would bless all the families of the Earth. That God would use them in a unique way. As the Israelites are praying for God to remember that covenant, think about this. It actually forces the worshiper into a posture that recognizes God's sovereignty. That he's the one in control. That he is perfect and he's the only one who can keep his covenants perfectly. If there is anyone who doesn't keep his covenant, it's us. We're the people who don't keep covenants. Why? Because of sin nature. God never breaks his covenants because he's holy and we're not.
And really, if you think about it, that forces us during this time, to reflect and think about really our sinful nature and the sins that we've committed and that's what Rosh Hashanah is all about and what it means to the Jewish people today. It's honoring the new year that's coming, but also applies for themselves a spiritual checkup on where they are with God. Hey, don't we do this during the regular new year in January? It's a time to start over. It's a fresh start. Get those gym memberships to get in shape and start over. Or maybe to get organized in life, to give us a new direction for being productive in the new year. We take personal inventory on January 1st and the new year is a new starting point for us in our shortcomings and our limitations and it's a great time for us to put a new foot forward.
Well Rosh Hashanah does the same thing. The Jewish new year is a time for Jewish people to stop and reflect on the God who is faithful to keep his promises and really mankind's sin. It's a time of self evaluation. And think about this for a moment as a Christian. Isn't this what the life of a believer is all about? Allowing the Holy Spirit to convict us about the areas of our life that we need to surrender over to the Lord so that he can change us from the inside out. Even before we take the Lord's supper, the apostle Paul tells us to take a spiritual inventory of where we are in our walk with the Lord Jesus. John says that we should confess our sins to the Lord and he will be faithful and just to forgive them.
Spiritual reflection is tantamount to the Christian walk and you know what? You may not be Jewish and you may not celebrate Rosh Hashanah at church, but as the fall holidays come around, this is a great time for you to take spiritual inventory. Pray to God. Thank him for his faithfulness. Remember that he's the one in control and ask him to reveal the areas of your life as a believer in the Lord Jesus, where you need to be more conformed into the image of Christ. Listen, the sacrifice has already been made in the work of Jesus Christ. The high priest intercedes on our behalf, in the person of Jesus Christ. "We can approach the throne of God boldly," the author of Hebrews says. This is a great time to walk right into that throne room and take stock of your spiritual walk with the Lord and ask, "Lord, where do I need to be changed?"
Steve Conover: Chris, as I reflect on your teaching, it really seems to be my biggest takeaway is that it's a posture of humility that we need to have. That it's an acknowledgement that of course, God always remembers, but he doesn't have to remember us. He doesn't have to pay us any mind, but he chooses to because he loves us.
Chris Katulka: That's the one thing about Rosh Hashanah that always stuns me is that you'd think by saying to God, "Remember me," you're kind of hinting at the idea that he forgot you, but the idea of Rosh Hashanah is not that God forgets, but it's the idea that you are reminded of God's sovereignty. That the One who is the author and perfecter of our faith, the One who's created everything, put everything in order, is also the one who cares about the little details of your life as well. And he wants to know you. That's the amazing part to think about.
I think Rosh Hashanah forces, like you said, forces us into this posture of recognizing who God is, who we are and simply crying out, "Thank you, Lord, for your graciousness and your mercy toward us in your son, Jesus Christ."
Steve Conover: Israel, on the verge of becoming a state, a teenaged Holocaust survivor arrives on her shores alone. His name is Zvi Kalisher. Little did he know his search for a new life in the holy land would lead him to the Messiah. Zvi, enthusiastic to share his faith, engaged others in spiritual conversations, many of which can be found in our magazine, Israel My Glory. While Zvi is now in the presence of his Savior, his collected writings from well over 50 years of ministry, continue to encourage believers worldwide. Now, Apples of Gold, a dramatic reading from the life of Zvi.
Mike Kellogg: I often go to the Western Wall in Jerusalem. Many go to the wall to read the Psalms. They arrive very early and read so fast, no one can understand them so they can return to their homes as soon as possible. I recently saw a group of young men there who were reading the Psalms in this manner and I approached one young man whose Bible was open to Psalm 24. I asked if he understood what he was reading at supersonic speed. He replied, "It is my job to come here every day and read the Psalms. Are you now trying to teach me how to read them?" I told him, "The Lord is not concerned with who can read the Psalms the fastest, he is concerned with what is in your heart. I see your Bible is open to Psalm 24. Do you know the one about whom King David is speaking?" The other young men around him entered the conversation and examined the passage.
After a few minutes, they ask, "Why should we break our heads trying to interpret this Psalm? A rabbi will tell you." They then called to the rabbi who came over and immediately asked me, "What do you want with these young men?" I responded, "Rabbi, as a believer in God, I am against this degrading of our God. You call on him every day when you say the Shema Yisrael, yet here you read about him as if you are not interested or do not even know who he is. In his Psalm it is written, 'Lift up your heads and the king of glory shall come. Who is this King of glory?' Tell me rabbi, do you know who this king of glory is? If you would read this Psalm slowly to understand the meaning, you would know the one about whom it is written. All the time you and these young men spend here at the wall is nothing more than what King Solomon said in Ecclesiastes chapter 1, verse 2, "Vanity of vanities. All is vanity."
The rabbi thought for a long time and finally asked, "Who gave you the authority to come here and tell these people how to read the Psalms." I replied, "If you read Ezekiel 33, you will learn who gave me the authority and responsibility to come here and warn wicked people like ourselves to turn to the Lord." Rabbi shouted, "How can you say I am wicked?" "Because you worship idols and dance around the golden calf," I replied. "But I worship the living God. I never sacrifice a chicken as a personal offering for my sins on Yom Kippur because Isaiah 53 said the Lord is my atonement." As soon as I mentioned Isaiah 53, they immediately realized I believed in Christ and am in their opinion, an apostate.
I asked him to inspect my Bible, to see if it is the true Hebrew Scriptures. The rabbi examined it and admitted, "This is our Bible." "Now that you know that," I said, "let me show you how I came to believe in Christ. Not according to any other books such as the ones you study, but according to God's Word. In it, I found my Savior. The one whom you called this man." Our conversation lasted for several hours. I pray those seeds will grow into understanding in their minds and hearts so they will one day come to know the Lord as their Savior.
Steve Conover: Thank you for being with us today, Chris. We're continuing our series on the Feasts of Israel next week. Tell us where we're headed.
Chris Katulka: Yeah, so we are entering into that posture as Rosh Hashanah, as we remember who God is, God remembers us. Remember the covenant. And the reason we're getting into that posture as we just learned about is because next week we're going to be looking at Yom Kippur, the day of atonement, a time of forgiveness. This has direct application to the life of a believer. That's what we're talking about next week.
Steve Conover: Join us then. Our host and teacher is Chris Katulka. Today's program was produced by Tom Gallione. Our theme music was composed and performed by Jeremy Strong. Mike Kellogg read Apples of Gold and I'm Steve Conover, executive producer. And one last quick reminder to visit us at foiradio.org. The Friends of Israel Today is a production of The Friends of Israel Gospel Ministry. We are a worldwide evangelical ministry, proclaiming biblical truth about Israel and the Messiah while bringing physical and spiritual comfort to the Jewish people.
The Feasts of Israel: Seasons of The Messiah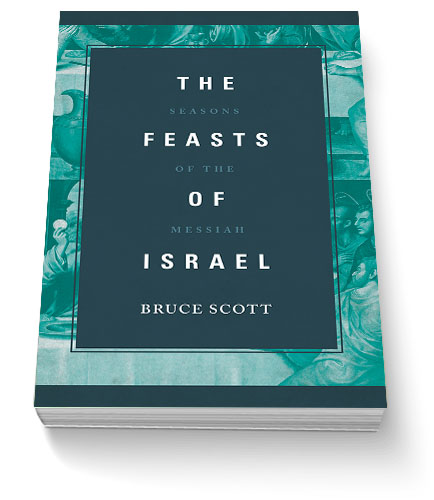 By Bruce Scott
The Bible is a Jewish book written by Jewish writers with a Jewish worldview. That means the holidays and feasts of the Old Testament have hidden meanings that are clear in a Jewish context that we should know too!
The Feasts of Israel: Seasons of the Messiah will teach you the fullness of Jesus' ministry by explaining the rich symbolism of the feasts of Israel.
ORDER YOUR COPY TODAY!
---
IN CANADA? ORDER HERE!
Apples of Gold: The Expert
Many arrive at the Western Wall early and read the psalms so fast that no one can understand them. They don't care about truly knowing God's Word; they just want to return to their homes as quickly as possible. Upon encountering some of these men at the wall, Zvi asked them if they knew what they were reading. They called on their rabbi to confront him, but Zvi was not afraid. Listen to find out what happened when he approached them with the truth of Scripture.
Zvi's story is available in Elwood McQuaid's book, "Zvi: The Miraculous Story of Triumph over the Holocaust," available at our online store.
More stories from Zvi are also available in his book, "The Best of Zvi," available at our online store.
---
Music
The Friends of Israel Today and Apples of Gold theme music was composed and performed by Jeremy Strong.
---
Your gifts help us reach people all around the globe with our message of truth to bless the Jewish people. If the Lord leads you and you believe Christians need to hear the truth about Israel and the Jewish people, we ask that you prayerfully consider a gift so we can continue to bring these truths to you and others as well. Any amount is a blessing to our program and we are so thankful for your support.
Give Today