King Manasseh
After studying three of Judah's most faithful kings, we're analyzing Manasseh, a wicked king who led God's people into evil. Though he reigned longer than any other king in the split Kingdoms of Judah and Israel, he led a life of wickedness that shaped his method of rule over Judah. Despite having the righteous King Hezekiah as his father, Manasseh's reign serves as a cautionary tale that a person cannot become righteous through family—only by God's grace.
The good news for Manasseh—and for us—is that his story doesn't end there. His life shows us that no matter how great our sin is, God is always greater. Despite the mess Manasseh left for the Kingdom of Judah, redemption was never far behind. So no matter how dirty your life is, remember that the Lord can always make you clean again!
Did you miss the previous shows in this series?  You can always listen by visiting our Archives page!
Steve Conover: Welcome to the Friends of Israel Today, I'm Steve Conover. With me is our host and teacher Chris Katulka. And we're so glad you chose to join us today. Chris, where is our focus for this program?
Chris Katulka: So we've been looking at the Kings. We've been in this series on the Kings. We've looked at King Asa, we've looked at King Josiah and Hezekiah. And this week we're actually going to look at King Manasseh. And if you know anything about King Manasseh, you might remember him as an evil king of Judah, a bad king who did bad things. But you know, it's kind of, he was a troubled king, and I really think it's going to surprise you to see how God got a hold of his life toward the end of his life. So it's going to be an interesting study.
Steve Conover: And we look forward to that. In the news, an Israeli company received European approval for its rapid coronavirus test to help kickstart international travel. The rapid test eliminates the need for complex lab equipment by shining light through samples and giving results after only 20 seconds.
Chris Katulka: Steve, I don't know about you, but I look at what's coming out of Israel for COVID for coronavirus. And I mean, they are firing on all cylinders when it comes to not only medicines and vaccines, but also even technology for testing. And this kind of testing is really I believe the key. This Israeli technology can be the key to reopening not only international travel, but even domestic travel even more. As vaccines continue to lower COVID numbers, this instant test can really give confidence for countries to accept tourists and business travelers, and maybe even bring us one step closer to normalcy.
Chris Katulka: God made a promise to King David in II Samuel 7 that his kingly line would rule forever. That he would have a son that would build a house for the Lord and a son that would sit on his throne in perpetuity forever and ever. And when God made that promise to David, he was looking to King Solomon, but he was also looking even further down the line to Jesus, the King of Kings. So as we've been studying II Chronicles, we've been looking at the fact that God has preserved the line of David to get us to Jesus. The Kings of Judah were a part of the family line of Jesus. In fact, if you read through the genealogy of Jesus in the Gospel of Matthew, you're going to see the lineage of David's descendants, the Kings of Judah that are found in first and second Kings and first and second Chronicles.
Now listen, I'm not trying to be funny when I say this and I've been saying it over the past few weeks, Christ isn't Jesus' last name. This is so important. He isn't Mr. Jesus Christ. Christ is a title. It's the Greek title for Messiah. Have you ever heard Jesus is called the Messiah, the Messiah of Israel? Well, that term Messiah in Hebrew is Mashiach, the Anointed One. And that term connects to the moment when the King of Israel is anointed with oil over his head as a symbol of the work and guidance of the Holy Spirit, as the Holy Spirit's going to use him, the King of Israel to guide and lead the people of Israel. Saul was anointed. King David was anointed. King Solomon was anointed with oil at the Gihon Spring. I love taking tours of people to Hezekiah's tunnel right there at the head of the Gihon Spring.
I like to scream into the tunnel, that passage from I Kings, where it says, "Long live King Solomon." Because that was the moment and the place where he was anointed the King of Israel. The Kings of Israel, you have to think of it like this. They become the anointed representative of God on earth. And so we're in this series on the Kings of Israel. And we took a break from our series last week to look at our most current issue of Israel My Glory. But before that we studied the spiritual revivals that happened in Judah under Hezekiah and Josiah, and how both of them used Passover to draw their people back, the people of Judah back into a relationship with the Lord. And if you didn't get a chance to listen to last week's program, just be sure to go to foiradio.org.
If you're driving in your car right now, that's foiradio.org. And there you'll find last week's message, the week before that, all of our archive messages can be found at foiradio.org. So with every message in this series, I've been drawing us back to Deuteronomy 17, which is the Lord's instruction for the Kings from the law.
But just listen to what Kings were supposed to do, this is what the Lord wanted the Kings of Israel to do from Deuteronomy 17, starting in verse 16, it says this, "Moreover, a king must not accumulate horses for himself or allow people to return to Egypt to do so. For the Lord has said, 'You must never return that way.' Furthermore, he must not marry many wives lest his affections turn aside. He must not accumulate much silver and gold. When he sits on his royal throne, he must take a copy of this law on a scroll given to him by the Levitical priest. It must be with him constantly. He must read it as long as he lives so that he may learn to revere the Lord has God and observe all the words of this law and the statutes and carry them out. Then he will not exalt himself above his fellow citizens or turn from the commandments to the right or to the left. And he and his descendants will enjoy many years ruling over his kingdom in Israel."
Honestly, the more I read this section of the law from Deuteronomy 17, the more I see why Jesus lived the way he lived. Why did Jesus come humbly into the world? Why didn't Jesus have a wife? Why didn't Jesus accumulate wealth or build an army? I really believe Jesus took this law to heart as the King of Israel. Jesus didn't accumulate wives like Solomon. They're often used to form alliances with nations that God didn't want them to form alliances with.
Jesus didn't form an army or rely on chariots and weapons to save him. He trusted in the Lord's protection. Jesus didn't accumulate wealth for himself. Just another way to distract from what the Lord wants to do, and Jesus himself, like I said before, he's the great I am. Did you hear how kings were supposed to write out the letter of the law and read it regularly and look to it? Jesus created the law. He knew it better than anyone. And why were the Kings of Israel required to write the law out? Did you hear it? So that they would not exalt themselves above their fellow citizens. Jesus, think about this, Jesus gave everything for his people. He healed them. He fed them. He gave them sight. He went to the cross and bore the wrath of God in their place. Jesus definitely didn't exalt himself over his fellow citizen.
In fact, he lowered himself. The Kings of Israel and Judah between the years of 1000 BC and 586 BC, they excelled in some areas and they failed miserably in others. No king was perfect. And for that reason, there was always the tension. There was always the hope that one day God would bring a king from the line of David who would rule his people with justice and righteousness. And God brought that King in the person of Jesus Christ. Okay, but it's important to see how these kings from the past did excel in areas and failed in others. So today we're going to actually look at King Manasseh, whose reputation is remembered as an evil king, and the amazing last minute moment of repentance and redemption. Manasseh was the son of the great King Hezekiah who trusted and loved the Lord. Steve Conover, our executive producer and co-host of the programs shared with me that Hezekiah had Manasseh after Hezekiah prayed and pleaded with God to spare his life.
So Hezekiah was supposed to die, but God healed him. And during that time he fathered Manasseh. Instead of spiritually guiding his people like his father did, Hezekiah, Manasseh took Judah in a different direction. You know, the truth is, you can pour spiritually into your kids. You can show them your faith in Christ. You can lead them in the faith. You can bring them to church. You can pray with them and serve with them. But at some point the faith that you've poured into them has to become their own. And when Manasseh becomes king, he abandons, sadly, he abandons his father's faith and embraced the foreign gods of the nations that the Lord abhorred.
II Chronicles 33 mentions the evil acts of Manasseh. Just listen to them. They're horrible. It says this, "He did evil in the sight of the Lord and committed the same horrible sins practiced by the nations whom the Lord drove out ahead of the Israelites. He built the high places that his father Hezekiah had destroyed and set up altars for Baal and made Asherah poles. He bowed down to all the stars in the sky. He built altars in the Lord's temple. He put an idolatrous image that he had made in God's temple. He passed his sons through the fire. He practiced divination, omen reading, and sorcery. He set up a spiritual pit to conjure up the underworld spirits and appointed magicians to supervise it. Manasseh misled the people of Judah and the residents of Jerusalem so that they sinned more and more than all of the nations whom the Lord had destroyed ahead of the Israelites."
God punished Manasseh for his sin and leading his people astray. God entrusted the King of Israel, the King of Judah to guide his people by the law that he gave to them. And the people of Judah were to look to the King, like Manasseh, to lead them. And yet Manasseh failed miserably. And God actually tried to get a hold of Manasseh's life. "But Manasseh," the text says, "ignored the Lord." God used another nation, an ancient gentile empire, Assyria to the East of Judah to punish the wayward king. Think about it. God gave Manasseh over to the very culture and religion and idol worship that he embraced. God allowed Assyria to carry Manasseh away. And when we come back, I want you to see Manasseh's response to the Lord's judgment in his personal life.
You know, we've been going through the Kings and we've been looking at kings who did some amazing things. They reformed Israel. They brought a spiritual revival, reconnecting their people to God. And we've also looked at kings who have done bad things that have led the people astray. There've been good things the kings have done, and there've been bad things that the kings have done. But what's amazing is that God's faithfulness has always remained the same to his people, Israel. And that is because it all goes back to a promise that God made to Abraham, that God would use Abraham and his descendants to bring blessings to all of the families of the earth. You know what? I actually believe that that promise is a common thread that runs through the Bible from beginning to end. It binds the whole Bible together. And that's why I want to introduce you to a video Bible study series that yours truly had a chance of hosting right in Israel.
It's called The Common Thread, and I walk you place by place in Israel. We go to different locations to look at how God's common thread, this promise that God made to Abraham and to the Jewish people become the binding factor, that common thread that runs through the scriptures. It's going to enlighten you that God doesn't just use these verses to enhance our life. But also that he has a story of redemption that can be found, and Jesus is connected to this promise, to this common thread that runs through the Bible. Steve, how can our listeners get their hands on this video Bible study series, Common Thread?
Steve Conover: Yeah, Chris, we're so excited to make this available to our audience. You can purchase The Common Thread on DVD or on USB in HD for your home group or Bible study. Visit us at foiradio.org, that's foiradio.org, or you can call our listener line. And that number is 888-343-6940. So many of you hear us on the weekend. So, if you call someone will return your call during our regular business hours. Again, that's 888-343-6940. To order in Canada, call 888-664-2584. Again in Canada, that's 888-664-2584.
Chris Katulka: So over the past few weeks we've been looking at various Kings of Judah through the lens of second Chronicles. We first looked at King Asa and his reign over Judah. And then we took a brief tour of the lives of Hezekiah and Josiah, the spiritual reformers of Judah. And today we're looking at the son of Hezekiah and the grandfather of Josiah, King Manasseh. King Manasseh had no regard for the law of the Lord, which is what we just heard, nor any regard for the Lord in general. He abandoned the Lord and opted to lead the people of Israel astray, the people of Judah astray into pagan worship. And the very pagan worship that he instituted in Judah ironically consumed him. He was carried away by the pagan empire, Assyria. It was the Lord's way of getting his attention.
Now we often see Manasseh as a bad King of Israel. When his name pops up, we automatically think, "Manasseh, a horrible King of Judah." And he certainly did evil things in his tenure as king. However, we rarely ever talk about his salvation. That's right, Manasseh's salvation, about the moment he turned to the Lord. After Manasseh was carried away into Babylon by the Assyrians, the text says this, starting in verse 12 of II Chronicles 22 it says, "In his pain, Manasseh asked the Lord his God for mercy and truly humbled himself before the Lord of his ancestors. And when he prayed to the Lord, the Lord responded to him and answered favorably his cry for mercy, and the Lord brought him back to Jerusalem to his kingdom. And then Manasseh realized that the Lord is the true God."
God gave Manasseh over to his passions. This reminds me of the I Corinthians 5:5 passage when Paul lays judgment against the Christian who was committing an atrocious act of sexual immorality. And the apostle Paul says this, "Hand this man over to Satan for the destruction of the flesh, so that his spirit may be saved in the day of the Lord." You know, "let this man," Paul's saying, "indulge in the flesh that it takes him quickly, or maybe apart from the body of Christ he'll realize his need to repent and turn back to God." God gave Manasseh over to the very thing he worshiped and adored. His idols, his false gods. And in that exile away from his people, away from his land, and yes, away from his God, the God that loved him, he turned to the Lord.
And I love this about God's response. God responded immediately to Manasseh's cry. God responded immediately to Manasseh's repentance. Manasseh was a changed man. The text says that he actually removed, when he came back to Jerusalem, he removed the foreign God and images from the Lord's temple and all the altars that he had built on the hill of the Lord's temple in Jerusalem.
He told the people of Judah to serve the Lord, the God of Israel. You know what this reminds me of? Especially after we just celebrated Easter? It reminds me of the two criminals who hung next to Jesus. One mocked Jesus while the other, knowing Jesus was innocent, said, "Jesus, remember me when you come into your kingdom." And Jesus said to him, "I tell you the truth. Today you will be with me in paradise." In the fleeting moments of this man's life, the criminal, he begged Jesus not to forget him. And Jesus responded, "You will be with me in paradise." Is this not again the picture of God's mercy? Like Manasseh, a life filled with fighting against the Lord, pushing back and ignoring God. And in the very last moments of his recorded life, Manasseh turns to the Lord and God accepts him. Listen, God can change a stubborn heart. And even in the fleeting moments of someone's life, he will accept them. That's the mercy and kindness of God.
I love knowing that our God is one of grace, forgiveness, mercy, and kindness. This is what Manasseh's life shows us. And maybe next time you think of Manasseh, you won't think of a man who just put his fist up to God, but maybe you'll remember a man who was softened by the kindness of God.
Steve Conover: Chris, my heart goes out to listeners that might be feeling like they're far from God, and that there's nothing they can do to make up for their past or that they're late in life. But wherever they are, it really is about their heart in this moment, isn't it?
Chris Katulka: A verse that I keep coming back to is that one in Romans where Paul says, "That the kindness of God is what leads us to repentance." And you know, there's never a moment in the scriptures where somebody is turned away from God's kindness and forgiving us when a heart is broken and contrite and is begging for forgiveness. And so, now I agree with you. I think that's really what God wants and it doesn't matter when it happens in someone's life. The point is that God wants that person to turn to him, to trust God, and it can happen at any moment.
Steve Conover: Israel, on the verge of becoming a state, a teenage Holocaust survivor arrives on her shores alone, his name is Zvi Kalisher. Little did he know his search for a new life in the Holy Land would lead him to the Messiah. Zvi, enthusiastic to share his faith, engaged others in spiritual conversations. Many of which can be found in our magazine, Israel My Glory. While Zvi is now in the presence of his Savior, his collected writings from well over 50 years of ministry continue to encourage believers worldwide. Now, Apples of Gold, a dramatic reading from the life of Zvi.
Mike Kellogg: Recently I was waiting for the bus for Jerusalem, when two young men asked me for directions to a synagogue, which I gladly gave them. One replied, "We want to pray, but we've already been to that synagogue and it is locked up tight." I asked, "If every synagogue were locked, would you not pray?" They look strangely at me. And then one asked, "How can you pray without a minyan?" A minyan is 10 people required to conduct a Jewish worship service. I responded, "God is not looking to see if you pray in a synagogue, he looks at your heart. If you pray at Him and from your heart, your prayer will be heard in heaven." As we were talking, more people joined the conversation. Some of the men belong to the synagogue that was locked. And because they know me, one asked, "Why are you trying to brainwash these young men?"
I said, "My duty is to bring them closer to God, not according to the old traditions, but according to Zechariah 1:3, 'Return to me says the Lord of hosts, and I will turn to you.'" Zechariah also refers to your old traditions, "Do not be like your fathers to whom the former prophets preach saying, thus says the Lord of hosts, 'Turn now from your evil ways and your evil deeds.' But they did not hear nor head me," says the Lord. It was like a small miracle to be able to give them facts from the Bible. It was also a small miracle the bus was late, giving me more time to share the truth with them.
Eventually the two young men said they wanted to repent and they asked me to take them to the rabbi. I said, "If you really want to repent, you do not need a rabbi. Go before the Lord and open your hearts before him, then you will know you are saved from your sins. God is pleased when you come before Him and say, 'Lord saved me.' You can say, just as King David did in Psalm 25:1-2. 'To you oh Lord, I lift up my soul. Oh my God, I trust in you. Let me not be ashamed.'"
I read the remainder of Psalm 25, along with some other passages, including Jeremiah 31:33, "But this is the covenant that I will make with the house of Israel after those days," says the Lord. "I will put my law in their minds and write it on their hearts. And I will be their God, and they shall be my people." And as soon as I spoke the word covenant, some of the old men said to the young men, "You must fear him. He is speaking from the New Testament, the book those Christians believe." I told them how blind they were as I showed them I had read from the prophet Jeremiah.
All were surprised. This was the first time most of them had seen that the Jewish prophets spoke about the New Covenant. I then showed them some Old Testament passages that clearly speak of the Lord Jesus. I pray I will have more opportunities to meet with them, especially the two young men and tell them how they can truly repent by putting their faith and trust in Messiah.
Steve Conover: Thank you for joining us today. I want to remind you to purchase your copy of the video Bible study series, The Common Thread. You can get it on DVD or on USB. You can do that by going to foiradio.org. And Chris, I'd like to ask you to give our listeners a heads up for next week.
Chris Katulka: Yeah, last king that we're going to be looking at it's Jehoiachin, and this is the reason it's so important, because God is going to preserve the line of David to get us to Jesus through this one king, even during one of Israel's most difficult and darkest moments in its history. So I think it's going to be a very interesting episode.
Steve Conover: Yeah, we do hope you join us then. Our host and teacher is Chris Katulka. Today's program was produced by Tom Gallione. Our theme music was composed and performed by Jeremy Strong. Mike Kellogg read Apples of Gold. I'm Steve Conover, executive producer. Our mailing address is FOI Radio, PO Box 914, Bellmawr, New Jersey 08099. Again, that's FOI Radio, PO Box 914, Bellmawr, New Jersey 08099. And one last quick reminder to visit us at foiradio.org. The Friends of Israel Today is a production of The Friends of Israel Gospel Ministry. We are a worldwide evangelical ministry, proclaiming biblical truth about Israel and the Messiah while bringing physical and spiritual comfort to the Jewish people.
The Common Thread DVD Bible Study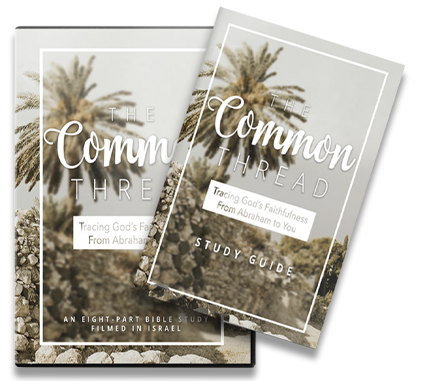 Way back in the beginning of the Old Testament God made a promise that changed the trajectory of one man's life. In our new bible study DVD, The Common Thread, you'll begin to see how that very same promise impacts you! 
Travel through the Holy Land with this DVD as our host Chris Katulka traces God's faithfulness from Abraham to you!
ORDER TODAY!
IN CANADA? ORDER HERE!
---
Apples of Gold: 'Return to Me,' says the Lord
Two young men asked Zvi for directions to the nearest synagogue after they explained to him that their synagogue was locked and they could not pray. Zvi asked them, "If every synagogue were locked, would you not pray?" The men were shocked by his disregard for Jewish customs that they felt were necessary to earn God's favor. Though some of the older men warned the younger men not to listen to Zvi, they received more than directions when he used the opportunity to share truth and God's love with them.
---
---
Music
The Friends of Israel Today and Apples of Gold theme music was composed and performed by Jeremy Strong.
---
Your gifts help us reach people all around the globe with our message of truth to bless the Jewish people. If the Lord leads you and you believe Christians need to hear the truth about Israel and the Jewish people, we ask that you prayerfully consider a gift so we can continue to bring these truths to you and others as well. Any amount is a blessing to our program and we are so thankful for your support.
Give Today