King Jehoiachin
To conclude our series on the kings of Israel, we want to introduce you to a king that often doesn't get talked about but plays a major role in the story of Jesus. Without this king, the line of David would have ended, and God said in 2 Samuel 7 that the King of Israel must come from the line of David.
This King's name is Jehoiachin. He was the son of Jehoiakim, an evil king who disobeyed God. After his death, his son, Jehoiachin, takes the throne at the age of 18. And from what we know from 2 Chronicles 36, Jehoiachin continued to sin the way his father did.
And that's where the story gets really interesting! Learn more about Jehoiachin and how his life is a testimony to God's faithfulness, even to the unjust. We're sure you'll be left with thankfulness that we serve a God who is faithful to His Word!
Did you miss the previous shows in this series?  You can always listen by visiting our Archives page!
Steve Conover: Welcome to the Friends of Israel Today. I'm Steve Conover. With me, is our host and teacher, Chris Katulka. We're so glad you chose to join us today. Chris, where are we headed this week?
Chris Katulka: Yeah, so we're wrapping up our King series. We've looked at several different kings throughout Judah's history. We've been looking at Second Chronicles, but today we're going to end on one of Israel's last kings, Jehoiachin, actually a very important king because he's going to play a major role in the anticipation and the hope of the coming of Jesus, the King of Kings. So we have that to look forward to.
Steve Conover: Great. We hope you'll stay with us. In the news, as the Biden administration reengages Iran on the Obama-era nuclear deal, Israel is widely attributed to have taken steps to thwart Tehran's nuclear ambitions. The New York Times reported Israel played a role in an explosion at Iran's Natanz nuclear facility. Iranian foreign minister, Zarif, warned that Iran would take revenge against Israel for the alleged attack.
Chris Katulka: Steve, here's my take on this. As everyone's going to be looking at Israel over these alleged actions, I want to focus for a moment on President Biden's desire to reenter the failed Iran nuclear deal. At the end of the Trump administration in January of just this year, 2021, America's Middle East allies were unified against Iran. That's Israel and Saudi Arabia and Bahrain and the UAE and all the other Sunni nations. They were all allied against Tehran. On top of that, America had severe sanctions, which added pressure that would ultimately force Iran to have to make hard decisions about its survival in the future. But now Biden, President Biden is toying with releasing this pressure. And I'll tell you what he'll find in Iran if he does, nothing more than smoke and mirrors.
Chris Katulka: God made a promise to King David in Second Samuel seven that his kingly line would rule forever, that he would have a son that would build a house for the Lord and that his son would sit on his throne forever. And so for the past few weeks, we've been looking at several different kings from Second Chronicles. You know, when God made that promise to David, he was looking to King Solomon, but he was looking even further down the line to Jesus, the King of Kings.
And as we've been studying Second Chronicles, we see that God preserved the line of David to get us to Jesus, the Kings of Judah were a part of the genealogy. They were part of the family line of Jesus. In fact, if you read through the genealogy of Jesus in the first chapter of Matthew, you'll see a lineage of David's descendants found in First and Second Kings, found in First and Second Chronicles. Christ is actually a Greek word for the title, Messiah. The term connects to the moment the King of Israel is anointed with oil over his head as a symbolic work of the Holy Spirit using him to guide and shepherd the people of Israel. Saul was anointed with oil. King David was anointed with oil. King Solomon was anointed with oil. The purpose of this is that the King of Israel becomes the anointed representative of God on earth to lead his chosen people.
Now, we're in this series on the Kings of Judah. And last week we looked at Manasseh and the interesting life that he had, that he spent so many years of his life running from the Lord, sinning against the Lord and yet in those final moments of his recorded life, he turned to the Lord in those final moments. An amazing story of redemption and the graciousness and mercy and kindness of our God to forgive Manasseh, that Manasseh would change his life at the very end.
If you didn't get a chance to listen to last week's program, or even to listen to any of the episodes of this series, I want to encourage you to go to FOIradio.org, that's FOIradio.org, and you'll see an archives page right there that you can click on. And there you'll see, not only last week's episode, but all of the episodes that we've been doing for more than five years now. So I encourage you to go to FOIradio.org.
So with every message in this series, I've been making it my priority to read from Deuteronomy chapter 17, which is the Lord's instructions for the kings from the law. And I do this for a reason because see, God ultimately knew that there would be a human king that would rule Israel. And so he put boundaries around this human king. He wanted this human king to have a certain heart and attitude in the way that he would lead the people of Israel and also trust in the Lord.
So listen to this in Deuteronomy chapter 17, starting in verse 16. The Lord says, "Moreover, he must not accumulate," talking about the Kings of Israel. "Moreover, he must not accumulate horses for himself or allow the people to return to Egypt to do so. For the Lord has said, you must never again, return that way. Furthermore, he must not marry many wives, less his affections turn aside. He must not accumulate much silver and gold. When he sits on his Royal throne, he must make a copy of this law on the scroll given to him by the Levitical priests. It must be with him constantly and he must read it as long as he lives so that he may learn to revere the Lord, his God, and observe all the words of this law and these statues and carry them out. Then he will not exalt himself above his fellow citizen or turn from the commandments to the right or to the left. And he and his descendants will enjoy many years of ruling over the kingdom in Israel."
Now honestly, the more I read this law over and over again, I've read it four times now, the more I see why Jesus lived the way he lived. Why did Jesus come humbly into the world in Bethlehem? Why didn't Jesus have a wife? Why didn't Jesus accumulate wealth or build an army? I believe Jesus took this law to heart as the King of Israel. Jesus didn't accumulate wives like Solomon. He didn't form alliances with nations God didn't want him to, to find comfort and security and protection. Jesus didn't form any army at all or rely on chariots or weapons to save him. He trusted in the Lord's protection. Jesus didn't accumulate wealth for himself, which is just another way to distract from what the Lord wants to do.
And Jesus himself, I've said this over and over again, Jesus himself is the great I Am. Did you hear how the kings were supposed to write out the law? Jesus created the law. He knew it better than anyone. And why were the kings of Israel required to do this? Did you hear what it said? So that they would not exalt themselves above their fellow citizen? Well, Jesus gave everything. Think about this, he gave everything for his people. He healed them. Jesus gave them sight. He fed them. He even went to the cross and bore the wrath of God in their place. I would say that is the most extreme form of not exalting yourself above your fellow citizen. Jesus gave his very own life for them. The kings of Israel and Judah, between 1000 BC and 586 BC, excelled in some areas and just failed miserably in others. No king was perfect and for that reason, there has always been this hope that one day God would bring a king from the line of David, who would rule his people with justice and righteousness. And God brought that king in the person of Jesus Christ.
But I want to introduce you to a king that often doesn't get talked about in churches, but he plays a major role in the story of Jesus. Honestly, without this king, the line of David would have probably just ended. And remember, God said in Second Samuel seven, that the King of Israel must come from the line of David, King David. Well, this king's name is Jehoiachin. And not much is said about this king. He was the son of Jehoiakim and Jehoiakim was an evil king who disobeyed God. And it's right around this time of his rule that God was raising up Babylon, a pagan empire to judge Judah for her sins. Well Jehoiakim dies and his son Jehoiachin takes the throne at the age of 18.
And from what we know from Second Chronicles, chapter 36, Jehoiachin continues to sin just the way that his father did. The scriptures say that he ruled in Jerusalem for only three months and 10 days. He did not have a long reign in Jerusalem. It was after that, that King Nebuchadnezzar, the King of Babylon had Jehoiachin carried away to Babylon along with items from the temple. Now, listen, this is really important to know. There were actually, when you think about one of the lowest moments in Israel's history and Judah's history, it's 586 BC. This is when the Babylonians, Nebuchadnezzar, comes in and destroys the temple. He levels Jerusalem. The Jewish people are exiled into Babylon. But I want you to know something that's really important to understand. As you're reading through the prophet, Jeremiah, Jeremiah at the very end of his prophecy actually details the destruction of Jerusalem.
He even talks about it in the book of Lamentations. If you ever wanted to know what Jeremiah was lamenting, it's the destruction of Jerusalem, the destruction of the temple. But there were actually two other deportations that had happened earlier. The first deportation of the Jewish people actually happened at 605 BC. And then there was another one in 597 BC. And it's here in 597 BC that we find Jehoiachin carried off. Nebuchadnezzar places Jehoiachin's uncle, Zedekiah, in charge of Judah in 597 BC. And the Babylonian king wants Zedekiah to essentially be his puppet in Judah, but Zedekiah was a bit too brave and opted to go it alone without Nebuchadnezzar, and even without the Lord. Even though he wanted the Lord to help him out, he never repented. He never turned to God. Zedekiah opted to partner with Egypt.
Do you remember Deuteronomy chapter 17? It said, don't collect horses. Don't go down to Egypt, ultimately. Don't go down there and find protection. You don't want to go back down there. Well, Zedekiah opted to partner with Egypt to fight against Nebuchadnezzar and this infuriated the Babylonian king. Zedekiah was Judah's last king. The temple and the city of Jerusalem were destroyed and the Jewish people were cast into dispersion and exiled into Babylon. But God said in Second Samuel that he would have a king from the line of David who would sit on his throne and reign forever. But Babylon put an end to that line of kings. It sounds like Jehoiachin is carried off. Zedekiah is carried off. He ends up being destroyed by Nebuchadnezzar, by the Babylonians. So how in the world do we have a King Jesus who comes from the line of David if David's line was destroyed?
Before I share with you what God's going to do here, let me connect you with a new DVD Bible study series that we have called The Common Thread. I actually had the opportunity to go over to Israel with our Friends of Israel video production team, and to host an eight-session Bible study series right in the land. And it connects right to what we're talking about here with the kings of Israel. You know, God has remained faithful to the people of Israel, just as you're about to see that God's going to remain faithful to that line of David. God has remained faithful to the people of Israel because of one promise that he made that goes way back to Genesis, chapter 12, when God made a promise to Abraham. And that promise to Abraham becomes the common thread that binds the entire Bible together.
Even the coming of Jesus Christ is a reminder for the Jewish people, that God has not forgotten his promise that he made to Abraham. That's what it says in Luke. So all of the Bible can be bound together because of a promise that God made to Abraham. And I take you through the land of Israel and we look at certain locations as we walk through biblical history and we connect everything back to that promise that God made to Abraham. It's called The Common Thread and you can get your DVD eight-session series along with a booklet, a teaching booklet, that you can walk through with your Bible study, your Sunday school group, any type of group to get together to watch this amazing series, to see the land of Israel and to see the common thread that walked through it.
Steve, how can our listeners get their hands on The Common Thread?
Steve Conover: To purchase your copy of The Common Thread DVD and study guide. Visit us at FOIradio.org. That's FOIradio.org, or you can call our listener line. And that number is 888-343-6940. Someone will return your call during our regular business hours. Again, that's 888-343-6940. To order in Canada call 888-664-2584. Again, that's 888-664-2584.
Chris Katulka: We've been learning all about the kings of Judah from Second Chronicles. We've seen some amazing kings who have strived to shepherd their people back into a relationship with the Lord. Kings like Hezekiah and Josiah who are remembered for their valiant effort. But then there are also Kings like Manasseh who ruled Judah for the majority of his life and led his people astray. He didn't care to shepherd them in the paths of righteousness, but at the end of his recorded life, he turned to God, repented and was delivered. And then there are kings like Jehoiakim and Zedekiah that we just learned about who neglected the Lord all together. Really, I have to tell you that the spiritual tension found in the kings of both Israel and Judah are begging for a King of Israel to rise up who will shepherd the lost sheep of the house of Israel who have been pulled back and forth between worshiping the one, true God, and then embracing idols and false gods.
The longing for a king who would rule his people according to the law of the Lord and would reign in truth, justice, and righteousness. It can be felt there if you read through those stories of the kings. But how can we get to that King, how can we get to Jesus, if the line of David is cut off? How can we get to the king, if we know that Nebuchadnezzar brought God's judgment on Judah? Well, according to Jeremiah chapter 52, verse 31, it says this. In the 37th year of the exile of King Jehoiachin of Judah on the 25th day of the 12th month, King Evil-merodach of Babylon in the first year of his reign, pardoned King Jehoiachin of Judah, and released him from prison. Okay people, this is huge. The prophet Jeremiah gives us some amazing hope for the people of Judah and Israel, for the hope of the Davidic line.
After the reign of Nebuchadnezzar, his son, his actual name was Awel-Marduk the Hebrew actually calls him Evil-merodach, and some scholars actually believe that they altered his name because in Hebrew, Evil actually means foolish, but Awel-Marduk became the king of Babylon and he freed Jehoiachin and gave him a place to eat at his table. We actually know from ancient Babylonian records that Jehoiachin was freed and ate with the king. We know that from the scriptures, but we also know that from ancient Babylonian records, which is just amazing to me. But Jehoiachin eventually dies, but here's the amazing thing. Later in the books of Ezra and Nehemiah, as the Jewish people are returning to their homeland after they've been given permission to return under the Persian king, Cyrus the Great, Zerubbabel would become the governor of the Jewish community in Judah. Who is Zerubbabel?
Well, we know. Zerubbabel is Jehoiachin's grandson. Zerubbabel wasn't labeled the king of the Jewish people because the Persians still had control over the land, but he was given authority by Cyrus to rule as a governor. Here's what can't be missed, through all the spiritual ups and downs of Israel and Judah's kings, God never let his promise go. God made a promise that one day a son of David would sit and rule and reign over God's kingdom for forever. It seemed like all was lost. It seemed like the Davidic line was done with, and from a human perspective, all was lost for Israel and the Jewish people. That's the way the newspapers would have read, but God refused to relinquish his promise.
In one little verse, he gave hope that he would restore the throne of David. God would chop away at that family tree of the Davidic line, but he would go back to the root. That's why the prophet Isaiah says that the coming Messiah would originate from the root of Jesse. Jesse is King David's father. God's going to prune that family back, but he never let his promise fail. It's through that one promise that God made to David in Second Samuel seven, that we find our hope in the King of Kings and the Lord of Lords, Jesus Christ, the Messiah of Israel and the Savior of the world.
Steve Conover: Chris, I so enjoyed hearing your teaching about these four kings these last four weeks. I think what it illustrates for me is the importance of understanding the big picture of God's redemption, that for believers, the roots of our faith, it didn't start on Christmas morning, did it?
Chris Katulka: No. That's why I think it's important for our friends to get the The Common Thread DVD series, because we walk people through what the entire Bible is saying from Genesis to Revelation. What's going on in the Old Testament is leading up to the greatness of what Jesus was going to fulfill according to what the prophets and promises of God had already laid out in the Old Testament. So yeah, we can't just say, Oh, everything was created for us starting in Matthew. No, all of those things reach back going all the way back to the Book of Genesis. So this is a great illustration of that, the way that kings act, but also a great reminder for our friends to get The Common Thread DVD.
Steve Conover: Israel, on the verge of becoming a state, a teenage Holocaust survivor arrives on her shores alone. His name is Zvi Kalisher. Little did he know, his search for a new life in the Holy Land would lead him to the Messiah. Zvi, enthusiastic to share his faith, engaged others in spiritual conversations, many of which can be found in our magazine, Israel My Glory. While Zvi is now in the presence of his Savior, his collected writings from well over 50 years of ministry, continue to encourage believers worldwide. Now, Apples of Gold, a dramatic reading from the life of Zvi.
Mike Kellogg: I have lived in this part of Jerusalem for more than 35 years and my children grew up playing with their Arab neighbors. Today, my children's Arab friends are adults and they blindly hate Israel. Recently, after many years, I ran into some of them. They recognized me and asked about my sons. One said, "Your sons were our friends. Now they hate us." I replied, "They don't hate you. I have taught them to love." "Even to love those who hate you?" one asked. "We believe in a living God and the Lord teaches us not to hate, but to love one another." "What books do you read that you speak such nice words, even to your enemy?" "Would you like to see the book?", I replied. "Yes.", they all agreed. "We want to read it. And we want to know who wrote it." I showed them the Holy Bible.
They were very surprised. "You know," one told me, "we want to read this book, but our parents are fanatic Muslims. They would kill us if they saw us reading the Jewish Bible." I told them that the Bible was given to all people, not only Jewish people. "Do you have a Bible in our language, Arabic?" While we were talking, two of their Arab friends we're listening. "We too know your sons.", one said. "Many years ago, we played football together." By football, they meant soccer. "We also want one of those books, but in Arabic." I told him, "This is the Holy Bible. In here it is not written to hate your friends. It tells us about faith and love. And those of us who have believed in the Lord no longer hate, because God enables us to love." Now they all wanted a Bible. "Are you sure this book is not only for Jews?" one asked. "I am sure. This book is for everyone."
They asked me many questions. They even asked in what language they must go to the Lord. "The language does not matter. What matters is that you go to him with your heart. You pray to him and he will answer you." I showed them Isaiah 49:5, which says, "And now the Lord says, he who formed me in the womb to be his servant, to bring Jacob back to him so that Israel is gathered to him. Is it too small a thing that you should be my servant to raise up the tribes of Jacob and to restore the preserved ones of Israel? I will also give you a light as to the Gentiles that you should be my salvation to the ends of the earth. Thus says the Lord, the Redeemer of Israel, their Holy one to him, who man despises, to him whom the nation abhors, to the servant of rulers, kings shall see it arise. Princes also shall worship because the Lord was faithful, the Holy one of Israel, and he has chosen you." They wanted very much to read what was written there. "This is the beginning.", one said. "We will come one day and speak with you about what we have not spoken about. Are you ready?" "It is my duty before the Lord to be ready. Please pray for these men." We know in prayer, we see the mighty power of God.
Steve Conover: Thank you for joining us today. I'd like to remind you to purchase your copy of the video Bible study series, The Common Thread. You can do that by visiting FOIradio.org. Our host and teacher is Chris Katulka. Today's program was produced by Tom Gallione. Our theme music was composed and performed by Jeremy Strong. Mike Kellogg read Apples of Gold. And I'm Steve Conover, executive producer. Our mailing address is FOI Radio PO Box 914, Bellmawr, New Jersey, 08099. Again, that's FOI Radio PO Box 914, Bellmawr, New Jersey 08099. And one last quick reminder to visit us at foiradio.org. The Friends of Israel Today is a production of The Friends of Israel Gospel Ministry. We are a worldwide evangelical ministry, proclaiming biblical truth about Israel and the Messiah while bringing physical and spiritual comfort to the Jewish people.
The Common Thread DVD Bible Study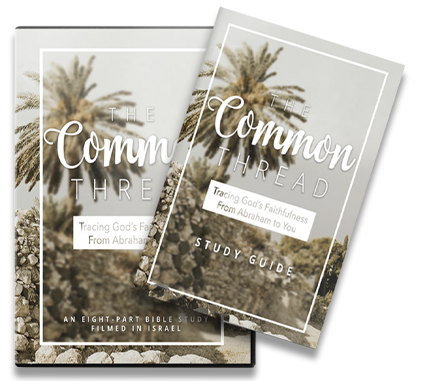 Way back in the beginning of the Old Testament God made a promise that changed the trajectory of one man's life. In our new bible study DVD, The Common Thread, you'll begin to see how that very same promise impacts you! 
Travel through the Holy Land with this DVD as our host Chris Katulka traces God's faithfulness from Abraham to you!
ORDER TODAY!
IN CANADA? ORDER HERE!
---
Apples of Gold: This Book is for Everyone
A man's children can play a big part in his ministry. Zvi's children helped him be an effective witness by their loving attitude toward others. They grew up playing with their Arab neighbors, and when Zvi saw these neighbors 35 years later, he found that prejudice had overtaken them. They assumed that his children hated them, but Zvi explained that he taught his children to love. This opened the door for a discussion about the Book that they lived their lives by.
---
---
Music
The Friends of Israel Today and Apples of Gold theme music was composed and performed by Jeremy Strong.
---
Your gifts help us reach people all around the globe with our message of truth to bless the Jewish people. If the Lord leads you and you believe Christians need to hear the truth about Israel and the Jewish people, we ask that you prayerfully consider a gift so we can continue to bring these truths to you and others as well. Any amount is a blessing to our program and we are so thankful for your support.
Give Today