Interview: Abigail Leavitt—Ebal Curse Tablet
Archaeology is one of our greatest tools for understanding the world of the Bible. Excavations have allowed archaeologists to step back in time and connect to ancient civilizations by unearthing historical treasures. No matter your level of interest in this field, if you are a Christian, archaeology is a valuable resource for you!
Archaeologist Abigail Leavitt joins the show this week to share the exciting work she does in her excavations. She and her team made a remarkable discovery in 2020: the Ebal curse tablet. This dates back more than 3,000 years and sits right in the middle of biblical and Hebrew history. This breakthrough might even be the oldest reference to the name of God. You've got to hear the story of this amazing discovery, plus you'll get to learn about Abigail's thrilling adventures digging through the ruins of ancient Israel!
If you'd like to follow Abigail's archaeological adventures, you can read her blog here.
Steve Conover: Welcome to the Friends of Israel Today. I'm Steve Conover, with me is our host and teacher Chris Katulka.
Chris Katulka: Steve, we got a great show lined up. We have Abigail Leavitt. She's an archeologist in Israel, and she was actually on the team that found the Ebal curse tablet, which actually made international news just a few weeks ago. Abigail is a close friend to the Friends of Israel. She actually has a unique connection to us and how she got started in archeology. So we're going to hear all about the Ebal curse tablet, what this find means when it comes to the Bible and archeology. And she's also going to share how she got started in archeology as well. It's going to be a great show.
Steve Conover: I'm looking forward to it. But first in the news, after 800 years, the Church of England finally apologized for anti-Jewish laws that were passed that eventually led to the expulsion of Jewish people from England for centuries. The service held at Christ Church Cathedral in Oxford was attended by Britain's Chief Rabbi Ephraim Mirvis and a representative of Archbishop of Canterbury, Justin Welby, to mark the Synod of Oxford, which passed the antisemitic laws in 1222.
Chris Katulka: Steve, here's my take. It's never too late to ask for forgiveness. 800 years later, even. The Synod of Oxford banned Jewish people from interacting with Christians, building new synagogues, and Jewish people were even required to wear identifying badges. Jonathan Chaffee, the Archdeacon of Oxford, said that the time had come for Christians to repent of their "shameful actions" and to "reframe positively their relations with the Jewish community." And Steve, I know England's not the first one to apologize. Spain also was offering citizenship to Jewish people all around the world with a Spanish background for their apology to them for the Spanish inquisitions. And this was just a few years ago as well. So I'm sure the Jewish community is very thankful now, even 800 years later, for the Church of England's apology.
Chris Katulka: Well, Abigail, I am so glad that you could be a part of the Friends of Israel Today radio program. We have Abigail Leavitt who's with us and she is an archeologist in Israel. She's actually calling in from Israel, which I'm very excited about. And Abigail was a part of a team, on a team, that recently found a discovery, an archeological discovery, that has made international news. So Abigail, great to see you.
Abigail Leavitt: Great to see you too.
Chris Katulka: Abigail. I'm interested to know, you found this amazing discovery, the Ebal curse tablet. I believe it was in 2020, if I remember correctly. What is this Ebal curse tablet?
Abigail Leavitt: So it's a very small piece of lead about two centimeters by two centimeters. So like an inch or less. Square. It was folded in half, so originally it was twice as long, and it had a message written on it. On the inside, they wrote it and then folded it with the message on the inside, and sealed it up. So it's a very important find. It's a curse tablet. So the message on the inside is a curse. And it's a curse by the God Yahweh, which is the God of the Israelites, so that makes this a really important artifact.
Chris Katulka: So I remember talking to you prior, and you had mentioned that you found this through a wet sifting process. So you were going through, and it wasn't something that you kind of dug up from the ground. This was already dirt that was loose and you guys were just sifting through and you came across this tiny lead tablet that was folded in half, and it's only the size of a stamp. How did you not pass by it? It looks like a stone in all the pictures that I see.
Abigail Leavitt: Yeah. So most archeological digs sometimes dry sift, so they'll run the soil through a screen and look at it. But we are working with a newer technology that once we've done that and gotten rid of the loose dirt, then we spray down the rocks with water to wash away the dirt and make things more visible. And so, yeah, Frankie Snyder, who was on our team, she spotted it. She has a really good eye, and somebody else might have missed it, but yeah, she saw it. And recognized that it was lead rather than just stone and so that's how we have it now.
Chris Katulka: Abigail, I know I would've missed it. I know that for certain. That's why we have experts like you and Frankie that are sifting through these things.
Chris Katulka: Abigail, I want to read from Deuteronomy 11:29 and get your take on this. It says in the law in Deuteronomy, it says, "When the Lord your God has brought you into the land you are entering to possess, you are to proclaim on Mount Gerizim the blessings and on Mount Ebal, the curses." Is it significant that we find a curse tablet in Mount Ebal? And is there a connection between this passage and where the find was located?
Abigail Leavitt: I think it's very significant because this is Mount Ebal, the mountain of the curse. The site where we found it is a site that is probably the altar that Joshua built there. There's actually two layers. One's a smaller round altar that dates earlier, probably to the time of Joshua, and then a larger rectangular altar on top of that. So if this is a site that's been excavated in the past. It's almost certainly the site of Joshua's altar, I would say. And so to find an artifact that's a curse that so closely matches what the Bible says that the Israelites ought to do, which is to go there and offer curses, and I don't know for sure, I mean, the peer reviewed article hasn't been published yet, so we'll know more when that comes out, but if it dates to that time period, I would say it could very well be part of that ceremony. If it dates to later, it could be a remembrance of that ceremony, but I think it may very well date to that time period.
Chris Katulka: Can I ask too, you had mentioned that a peer review has not been done yet, like there has not been a journal article that had been submitted. But your team seems to believe that this curse tablet dates back 3,200 years, and that would actually make the Hebrew inscription one of the earliest ever discovered before. And it actually contains the name, like you said, of Yahweh. What does this mean for archeology, Abigail?
Abigail Leavitt: Well, it's very significant because there has been question about whether the Israelites were even literate at that time. A lot of people say that the Bible couldn't have been written that early. The traditional view is that Moses wrote the Pentateuch, but I would say that most scholars reject that now and a lot of that is based on the fact that they don't think that Moses would've been literate. So if we find evidence of literacy that early, that really changes what we know about that period.
Chris Katulka: What were the feelings when you all discovered this? Was it just another find that day? Or did you realize you might have found something pretty significant? Because it took several years for you to get the scans done on this, if I remember correctly.
Abigail Leavitt: So when we found it, we recognized that it was probably a curse tablet. These are known, but most of them are from a later period. They were very popular in the Greco-Roman period. So what our best guess was that this was maybe a Roman period curse tablet that maybe somebody had remembered that Mount Ebal was the place of the curse and so had brought the tablet there in this later time period. I think we allowed ourselves to dream a little bit that it could be something early, but the practical side of our minds we're thinking this has got to be a much later artifact.
Chris Katulka: That is an interesting question I have though, too, about archeologists. You can only dream for so long until you start digging in the dirt and you realize it's hard to find those, it's not often that you find those gems, like what you found. How do you maintain motivation as an archeologist as you're digging through the dirt and you're always waiting for that Ark of the Covenant to appear, but it doesn't. But sometimes you do find those, but in between those days, Abigail, how do you keep motivation as an archeologist?
Abigail Leavitt: I think that some of it is that you do find, even if you don't find exciting things, you do find things often enough to keep your spirits up, whether it's pottery, an occasional coin, maybe an arrowhead here and there. So you find enough stuff to kind of keep you going. And then there's always the hope of that big find. And when it's hot and you're tired and you've been working and moving rocks and you're tired and sore you just think, "Maybe today's the day. Maybe we'll find something good today."
Chris Katulka: That's right. It's a lot of hope, right? A hope as an archeologist.
Abigail Leavitt: Yes.
Chris Katulka: Let me ask you, you were a part of a team, but there was a bit of a gap between the find and then the release of the information. You kind of had to sit on this for a while as an archeologist. What happened? Why did it take so long to get the scans? And why did it take so long to reveal this information about the Ebal curse tablet?
Abigail Leavitt: We were in Israel doing the sifting project in December of 2019. We flew back home and then COVID hit. And everything locked down and we could not go back to Israel over the next two years. So it sat in storage for a long time. Finally, we got an Israeli friend to take it to Prague. He was able to travel at that point, and he took it to Prague where we got the scans done. And then it took a long time to process the scans. And so it's only been in the last few months that we've finally gotten a reading on the inscription. So now they are working as hard as they can on the peer reviewed journal article that should come out in a few months, I think.
Chris Katulka: And you're studying right now at Ariel University as a PhD student in archeology. Is this what you're doing your dissertation on? Is this helping your argument in your studies at Ariel University?
Abigail Leavitt: My PhD dissertation topic is on the transition from the Late Bronze age to the Early Iron age in the Central Hill Country. So I think this tablet will factor, if it does indeed date to that transition, which it looks like it does and it's from a site in the Central Hill Country. So this is an important artifact, excuse me, artifact for my dissertation topic.
Chris Katulka: Probably a pretty big one too, huh?
Abigail Leavitt: Yeah.
Chris Katulka: You can dedicate probably a whole chapter to that one alone, right?
Abigail Leavitt: I think maybe so. Yeah.
Chris Katulka: That's great. Well, everyone, listen, we're speaking to Abigail Leavitt. She's an archeologist in Israel. We're going to take a quick break because I want to share with you how Abigail and I first met because I'm actually convinced that I was there the moment when I saw Abigail become an aspiring archeologist. You're going to want to hear this story. So stick around and we'll see you on the other side.
Chris Katulka: Well, we've been listening to Abigail Leavitt talk about this most recent archeological find, the Ebal curse tablet, but I want to share with you about a DVD that we have in our store called Written In Stone: Jesus of Nazareth. Many people reject God because they don't believe His word is true. They don't think that there's any proof that history took place how the Bible said it did. They'd be shocked to see this film. Thousands of incredible discoveries have confirmed scripture, time and time again since British archeologist Charles Warren began searching for proof of Biblical history in Jerusalem back in 1867. This docu-series takes you on site from excavations in Israel to world famous museums to verify Jesus's life, from His birth in Bethlehem, to His death and resurrection in Jerusalem, to prove that archeology affirms the scriptures. This would be a great DVD for Bible study, for a small group.
Chris Katulka: I really think it'll be encouraging to you. Steve, how can our listeners get their copy of Written In Stone?
Steve Conover: Yes, to learn more or to purchase your copy of Written In Stone: Jesus of Nazareth on DVD, visit foiradio.org, that's foiradio.org.
Chris Katulka: Welcome back everybody. We are speaking to Abigail Leavitt, an archeologist in Israel, who is a part of the team that recently found the Ebal curse tablet that maybe you've read about. It made international news because they believe that this is actually a 3,200 year old curse tablet found on the mountain of cursing, Mount Ebal, according to Deuteronomy Chapter 11. And also it contains one of the earliest inscriptions of God's name in the Hebrew, Yahweh. So it's a very, very important discovery that Abigail was a part of, but actually, Abigail, you and I are old friends. We go back at least 13 or 14 years, because I was with you in Israel, when I think I saw you become an archeologist. I think I saw the twinkle in your eye. Do you want to share about that for a moment?
Abigail Leavitt: I think so. Yeah, so I was on a trip with Friends of Israel, the Origins trip, I think it was the very first one. And we had done volunteer work on a kibbutz and then we toured. And as part of the tour, we stopped at the Temple Mount sifting project in Jerusalem. They let tour groups come and sift through Temple Mount dirt. And I just thought that was the most amazing thing ever. And I just got hooked on it, I think.
Chris Katulka: We had talked earlier and it's very interesting because the dirt that we sifted through together many, many years ago was dirt that was dug up from the Temple Mount and it was dumped in the Kidron Valley. And this is precious archeological dirt. It's not like a dirt mound you find in a development being built in the United States. This is stuff that's full of archeological history. And we were sifting through it. And I could remember watching, Abigail, all of these different participants on our tour. Some of them after one or two times of sifting through the dirt, you could see they'd get a little bored and then they'd go, "Okay, I'm ready to move on," but you didn't want to leave, if I remember correctly,
Abigail Leavitt: No, I wanted to stick around. I tried to get you to leave me there and you didn't go for that one.
Chris Katulka: No, we had to bring you home, but that didn't stop you, Abigail, because you came back to Israel, I think within the next year or so. And you started joining archeological digs. Is that right?
Abigail Leavitt: I did. Yes. Yeah, I actually looked up, I was trying to find out because I liked the sifting project and I actually went back the next year and worked there for two weeks at the sifting project a second time. And that was with Associates for Biblical Research and that was how I got on with them. And then they went back to their dig at Khirbet el Maqatir. And so that's when I started doing actual archeological digs and I've been digging ever since.
Chris Katulka: Abigail, we have a few moments left, but I'd like you to speak to our audience because the field of archeology is a very interesting one. It's full of people who are incredibly secular toward the scriptures, secular toward God. But it's also full of people who believe in the scriptures. Where do you fall on that line as a Christian and how does archeology play out in your faith as well?
Abigail Leavitt: So I want to be a good archeologist, and a good archeologist looks at what they find in the dirt and they analyze it based on that, theoretically, without any preconceived biases, although I'm not sure that's a 100% possible. But as a Christian, I believe that the Bible is true and accurate both historically and theologically. And so I kind of expect what I find in the dirt to line up with what the Bible says. And so far I have not been disappointed. So this is a good thing.
Chris Katulka: I like that. I like that. Well, listen, everybody, we've been speaking to Abigail Leavitt. She is an archeologist in Israel. She was a part of the team that found the recent Ebal curse tablet. Now maybe you're thinking, I'd love to keep up with this. How do I keep up with what Abigail's doing? Well, she actually has a website that you can go to, and she writes frequently on her blog, which is called abigailsarchaeologicaladventures.wordpress.com. And there you can follow. I keep up with it on Facebook. I keep up with it as I go and read, I see all the things that she's doing, her trips as she's going around the Holy Land, a part of various archeological digs and really some great insight as a Christian and what this means, what archeology means to us as believers as well, people who hold to the value of the scriptures.
Chris Katulka: And so I'd encourage you to go to her website, abigailsarchaeologicaladventures.wordpress.com. And there you can even support her as well in the endeavors that she's doing as she's going to Ariel University for her PhD. Abigail, thank you so much for being a part of our program. And I'm so happy for you. Congratulations on all the hard work and the Lord is really, I think, blessing your time over there.
Abigail Leavitt: Thank you so much, Chris.
Steve Conover: Israel, on the verge of becoming a state, a teenaged Holocaust survivor arrives on her shores alone. His name is Zvi Kalisher. Little did he know his search for a new life in the Holy Land would lead him to the Messiah. Zvi, enthusiastic to share his faith, engaged others in spiritual conversations, many of which can be found in our magazine, Israel, My Glory. While Zvi is now in the presence of his savior, his collected writings from well over 50 years of ministry continue to encourage believers worldwide. Now, Apples of Gold, a dramatic reading from the life of Zvi.
Mike Kellogg: Who is like you, oh Lord, among the gods. Exodus 15:11. Not many people know this truth, therefore they live in constant fear. Others however are not anxious because they have put their trust in the Lord. I am among the latter group. And so I sleep well and am happy, because I am sure of the One in whom I believe.
While walking in Jerusalem one day I met a man with whom I had served in the Army in 1948, but had not seen since. Although we had both changed in physical appearance over 30 years, David's first words were, "Zvi, you have not changed. You seem as happy as ever." He however seemed far from happy. Then he said, "Come with me to a quiet place and I will tell you why I am so unhappy." I replied, "Come to my house. Then we can talk at length."
After dinner, David said, "I am sad and anxious because two of my sons are in the Army." I replied, "I cannot understand that as a cause for your depression, for I have three sons in the army, all in combat units." "How can you be so calm about it?" he asked. "I would like to know the secret of your happiness." I spoke to him of Psalm Three, about putting our trust in God. "This is my secret for enduring troubles."
David then asked, "How can I trust in God when I have so many problems?" I reminded him that even as Abraham was tempted and tried yet remain strong, so we must be strong to withstand the trials we face. "You can do this, David, by putting your trust in the Lord, our savior," I told him. I explained that I too had once been unhappy and bitter and no longer wanted to live. However, since I have received the Lord, I have joy instead of despair.
As David looked at the pictures of my sons, he asked himself, "What is the matter with me?" Finally, he asked me, "Where did I go astray?" Anticipating the question I answered, "First you must realize that God is always ready to help us. And you can pray to him as it is written. Therefore I will call upon Him as long as I live." I told him, "God can help you. And now is the time." He was interested to know how I had come to believe as I do and I was delighted to give him my testimony.
And then I began to read the words of John 3:16, but he shouted, "No, this is not the Bible. It is a Christian book. The New Testament. Read only from the Jewish scripture." I explained to him that the Lord Jesus Christ is mentioned not only in the New Testament, but also in the whole Bible. David lives far from Jerusalem, so we invited him to spend the night with us. This gave me further opportunity to witness to him, all the while praying that he would come to know the Lord and be as happy as we are.
When he left our home the next day, he said, "Thank you. I have a very special feeling within me now. I wish it could last." "My dear brother," I said, "This can be yours forever. You now know my secret. As you have thanked me, be sure to thank the Lord as well." David departed from our home with much to consider. I pray his very spiritual feeling will lead him to genuinely commit his life to God and that he will grow in grace and in the knowledge of the Lord, Jesus Christ.
Steve Conover: We'd like to thank Abigail Leavitt for being with us on the program today. And if you liked this week's program, please contact us. We want to create content that we know is encouraging you, enriching your lives, and drawing you closer to the Lord. We want to know that this program is bringing you to a deeper understanding of His word and is programmed for Israel. So reach out on the contact form at foiradio.org and let us know how we're doing.
Chris Katulka: Also for our podcast listeners on Apple, would you please take the time to rate our program. Your comments and ratings will expose the Friends of Israel Today to new listeners. So if you believe it's important to teach about Israel and the Jewish people, please leave us a comment so that others can benefit from the Friends of Israel Today.
Chris Katulka: Now next week, we're going to be looking at our most recent issue of Israel My Glory. We're going to have Steve Herzig, who is the North American Ministries Director, sharing with us about his article, his seven favorite chapters of the Bible. You'll want to hear this one.
Steve Conover: Our host and teacher is Chris Katulka. Today's program was produced by Tom Gallione. Our theme music was composed and performed by Jeremy Strong. Mike Kellogg read Apples of Gold and I'm Steve Conover, executive producer. Our mailing address is FOI Radio, PO Box 914, Bellmawr, New Jersey, 08099. Again, that's FOI Radio, PO Box 914, Bellmawr, New Jersey, 08099. And one last quick reminder to visit us at foiradio.org. The Friends of Israel Today is a production of the Friends of Israel Gospel Ministry. We are a worldwide evangelical ministry proclaiming Biblical truth about Israel and the Messiah while bringing physical and spiritual comfort to the Jewish people.
Written in Stone: Jesus of Nazareth DVD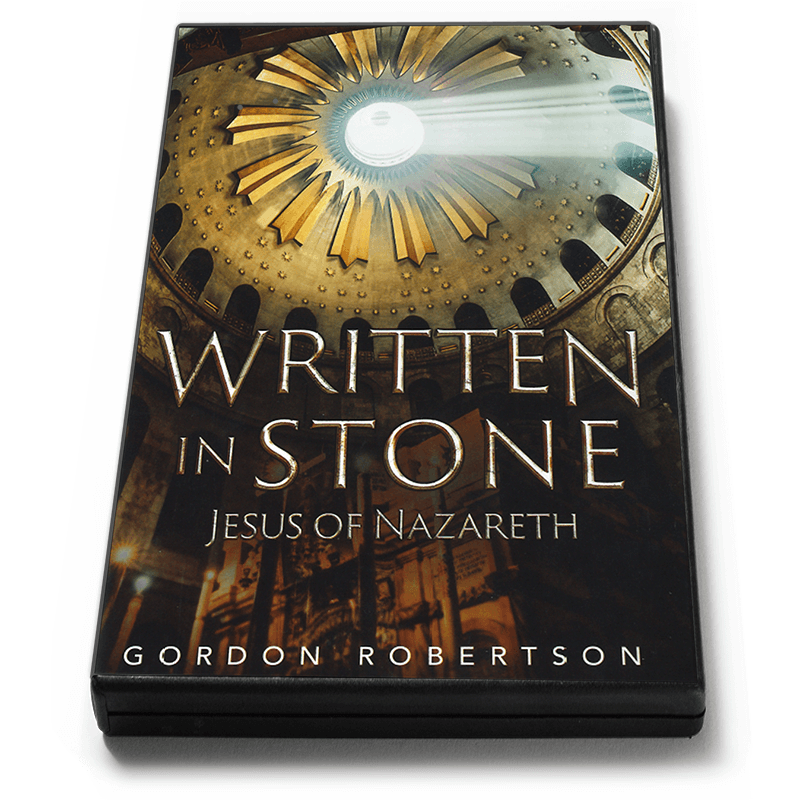 Many people won't believe the Bible unless they see proof that it is true. What better way to prove that truth than to show them real, historical artifacts from Israel! 
Take a fascinating journey through the past 150 years of biblical archaeological excavations from Bethlehem to Jerusalem. Uncover the evidence that confirms the Bible's teachings about Jesus and the world He lived in!
ORDER YOUR COPY TODAY!
---
IN CANADA? ORDER HERE
Apples of Gold: Where Did I Go Astray?
When an old army friend met Zvi, he was drawn to the happiness he saw in him. The friend was sad because two of his sons were in the army. Yet Zvi had three sons in the army and was perfectly at peace. Zvi's joy allowed him to start a discussion with his friend about the trust and peace that God gave him. Using both the Old and New Testaments, Zvi shared the joy of the Lord with his friend.
---
Music
The Friends of Israel Today theme music was composed and performed by Jeremy Strong.
---
Your gifts help us reach people all around the globe with our message of truth to bless the Jewish people.

Thank you for your support!
Give Now