Don Sharpe, Canadian Magen David Adom
If you don't live in Israel, you may have dreamed of making a tangible difference in the Jewish state before. Don Sharpe, our guest on this week's program, is living that dream! A Magen David Adom volunteer from Alberta, Canada, Don is the first international paramedic trained to provide volunteer EMS care in the Holy Land. His passion for Israel and the Jewish people led him to step out in faith and travel across the world to save lives.
Chris met Don at an Honor Israel Night in Calgary, Canada, which led Chris to invite him on the show to share his inspirational journey. As Don speaks with Chris, you'll enjoy the story of a man from Canada who answered the call to serve and save in the Holy Land. He shares wonderful insight into life as a Magen David Adom paramedic. Enjoy this look into emergency services in Israel and Don's dedication as a lifesaving volunteer!
Steve Conover: Welcome to The Friends of Israel Today. I'm Steve Conover. With me is our host and teacher, Chris Katulka. We're so glad you chose to be with us today. Before we get into anything, everything related to today's program, every previous episode, that can all be found at foiadio.org. There you'll find trustworthy and accurate news on Israel and the Middle East. And while you're there, you can support our ministry by clicking on the donate button and helping us continue to teach biblical truth about Israel and the Messiah. Again, that's foiradio.org.
Chris Katulka: Steve, a few weeks ago I was in Calgary, Canada and I had a chance to meet Don Sharpe at one of our Friends of Israel Honor Israel Nights. Don is actually a registered paramedic in Alberta, Canada, and he also volunteers with Magen David Adom in Israel providing emergency medical care. And so when I heard him speak at our Honor Israel Night, I thought we have to have him on the radio program. So today Don Sharpe's going to be talking about him as a Canadian going over and doing volunteer work in Israel and EMS care.
Steve Conover: We look forward to it. But first in the news, all signs are pointing to a decisive victory for opposition leader Benjamin Netanyahu and his conservative bloc of parties. It's predicted Netanyahu will win 65 seats in the 120 seat Knesset. This gives him a comfortable majority, ending the political crisis that has plagued Israel for the past four years.
Chris Katulka: Well, here's my take. Netanyahu is back. Since he lost to Naftali Bennett in the summer of 2021, I've been saying, don't count Netanyahu out. The seasoned Israeli politician still has a ton of political cachet among his people, and I'm sure that there are several that are upset to see Netanyahu back in this position, but the majority are happy to see Bibi back in power. Let's continue to pray for Israel and their leadership as they guide the only independent Jewish state in the world.
Chris Katulka: Israel's Magen David Adom has been providing emergency medical care in Israel since 1930. Today there are nearly 14,000 staff and volunteers in Israel who provide around the clock emergency care. And that's why I'm actually very thankful to have Don Sharpe on the program today to talk about his experience as a Magen David Adom volunteer who has served in Israel. Now, if you're thinking to yourself, "Now, Don Sharpe, that does not sound like an Israeli name," well, you're exactly right. I met Don briefly at an Honor Israel Night in Calgary, Canada. Don is a registered paramedic and Alberta Canada, and he's the first international paramedic to be trained to provide volunteer EMS care in the Holy Land. Now, when I heard him share the other night, I had to get him on the program to talk about his volunteer efforts in Israel saving lives and how Magen David Adoms' out of the box thinking on emergency care has impacted him. Don, great to have you on the program, my friend.
Don Sharpe: Chris, it's a pleasure to be here. Thanks for asking me.
Chris Katulka: Hey Don, let's jump right in. How long have you been a registered paramedic in Alberta?
Don Sharpe: I just retired from frontline work on August 15th of this year, and I was in my 41st year.
Chris Katulka: Okay, great. So you've been a paramedic for a long time. When did you first hear about Magen David Adom? To think about a Canadian volunteering and working with an Israeli EMS service.
Don Sharpe: Well, volunteering has always been something I'd done. It's how I got into EMS to begin with. In the early eighties, I lived in a small town and I volunteered with a local ambulance group there and ended up quitting my job and going back to school and becoming a paramedic full time. So volunteering was nothing strange for me. I grew up in the Jewish community in southwest Calgary and I was invited to an evening at the Jewish Community Center where a couple of doctors were going to talk about their trip to Israel working on the ambulance. And one of my friends phoned and said, "Hey, you might want to hear about this." And I said, "Sure." So I go and I listen to the Docs and they say, "We had a great time, we learned a lot, we learned how to treat people in a moving vehicle." And I went, "Well, hang on, I can do that."
And then they talked about how they learned how to intubate a patient who was unconscious in the middle of a field and I went, "Oh, I can do that." So I talked to them afterwards and I said, "What do you think? I'd sure like to be part of this event, this organization." And they said, "Well, are you Jewish?" And I went, "Well, no." "Well, are you a doctor?" And I went, "Well, no, I'm a paramedic." And he said, "Well, I don't know. Maybe we'll need you." They were very polite and they really weren't very interested. But I had a couple of friends who made some phone calls and pretty soon I was on my way to Israel as a volunteer with a group of physicians from here and some from France. So we did a team thing on our first trip to Magen David Adom and it was amazing. So I'm hooked.
Chris Katulka: What was it that made you want to go over to Israel or to partner with Magen David Adom?
Don Sharpe: Well, I had been involved in the Jewish community for a little bit, just serving, helping move some things with the orthodox community. They built a new synagogue. I was involved in some of the work done to defend the community during some of the uprisings that were in Israel. They spilled over here for some demonstrations, so I attended some of those. And of course I've been to Israel a couple of times and this just seemed like a natural fit for me to want to do something like this to help out, something really positive and really something that I could use my special skills to contribute. It was amazing.
Chris Katulka: Tell me about your first trip to Israel.
Don Sharpe: Wow.
Chris Katulka: To do volunteer work. What was that like? What were some of the challenges? What were some of the successes that you had?
Don Sharpe: Well, it was a great group and of course as the only paramedic, I'm working with a whole bunch of really topnotch physicians who are there to learn things I already know, and we do some of this kind of work when we train here for advanced cardiac life support. We do a lot of the same protocols and procedures. So it was comfortable, but boy, we did a lot of training. Right off the plane it was, "Here's your room," get up early in the morning, have breakfast, and we spent three days in class learning all of their protocols and procedures. A lot of them are very much like ours. They use a lot of the same equipment, the same medical protocols, and there was just a feeling of excitement. We all couldn't wait to just finish our course, get certified and then get out on the ambulance.
Chris Katulka: Tell me, volunteerism is actually very important to Magen David Adom in Israel. Can you share a bit about that, why it's so important to them?
Don Sharpe: Wow. They have a cultural commitment to each other that we may have let ebb here in the west. Again, I grew up in a volunteer community as a volunteer on an ambulance. That subsided here and it was actually downgraded by the government, they actually got rid of a lot of those when they took over and centralized control. But over there they depend on volunteers as just a natural part of being over there. As they help each other, they want to pitch in, they have great levels of contribution that people can participate. We do a lot of work here in the diaspora raising money as well because Magen David Adom does not rely on any money from the government. They survive on donations and some billings. So you meet people who volunteer. I can tell you, I worked on the ambulance with a guy who was an accountant, one who was a civil engineer, one who was a lawyer. These guys were medics in the army. They're now 35, 40 years old. They maintained their certification and then they serve as paramedics on the ambulance for four or five shifts a month.
Chris Katulka: And when you say you're hanging out with an accountant, with a lawyer, these are Israelis who served in the Army who are now volunteering their time. Don, I have to tell you, Israelis, they always crack me up because they are much different than people in the west. I always say, people in the west, if there's an accident, we often stand off and let the EMS come in and take care of the situation and we do our gaper delays. We stare from a distance to see what's going on. But Israelis, that's not the culture. Everybody has an opinion and everybody wants to get their hands in to help somebody and it doesn't matter what's going on. You could be completely disconnected from the EMS culture. They're still going to come in and tell you their opinion on how things should be done.
Don Sharpe: Correct. And when you're having conversations with Israelis, it's fast, it's exciting. Like you said, everybody's got an opinion and there can be some heated exchanges, but I'll tell you what, if somebody is in trouble, everybody pitches in. That's the culture and that's the way they've designed their EMS service. They've designed it that way, not just with volunteers on the ground, but also their technology is amazing. When you call for an ambulance in Israel, they can actually turn, they'll send you a link on your phone, you can turn your phone into a camera that they can see what's going on. All you have to do is open that link, point your camera at the incident, whatever's happening, and dispatch can see exactly what's happening.
We don't have that here. The Life Guardian program is another one where folks like myself and you, we could be sitting at a cafe in Israel and I might get a popup on my phone that says, "Hey, you're one of the five closest life guardian volunteers. We've got a patient who's choking in the restaurant next to you. Can you go?" And if you hit yes, well you're up. You and I are up. We're going to go over next door, we're going to help. The alternative to that is what happens here, which is you and I'd be sitting in a restaurant, we'd see the ambulance pull up and we wouldn't find out until later that somebody was choking next door. So the whole thing is organized. Their motto was, "save lives." Pretty simple.
Chris Katulka: I used to lead a group of young adults to Kaplan Medical Center in Israel, and I had a chance to see Magen David Adom in action being able to do volunteer work from the hospital, and I even had a chance to see the Israelis in action where we were in the emergency room section and there was a pregnant lady that had come rolling up and she couldn't even get out of the car and instead of just the doctors coming, every single individual Israeli in the area came to help that pregnant woman out. I'm sure she didn't like that so much, but that didn't matter to them. Like you said, it's a culture of wanting to help, which I'm sure makes and lends for volunteerism, 100%.
Don Sharpe: Yeah, I couldn't believe what would happen on some of these calls. We'd be going to a third floor walk up for adults who are disabled, a group home, and we'd get there and there'd be six guys there standing around and I'd go, "Hey, what's, what's going on guys?" They said, "Well, no, we just live close by. So we came over to help. If you need help carrying somebody or carrying your equipment, we'll be happy to give you a hand." Literally, they got there before we did.
Chris Katulka: Amazing. Listen Don, we're going to take a quick break, but when we come back we want to hear some stories from you on some of your experiences as a volunteer. So you're going to want to stick around for our listeners and hear some of Don's great volunteering experiences as an EMS serving with Magen David Adom in Israel. But before we get to that, hey, you know what Friends of Israel's been doing for a very long time? We have been actually donating money to Magen David Adom to buy ambulances and medic bikes for volunteers like Don and ambulances to help save Israeli lives. We've been doing that for a very long time. And also we buy bomb shelters in Israel. We help single mothers who are in need in Israel, who need care for their young children. We actually do a lot of help through our Israel Relief Fund, and I want to encourage you to go to foiradio.org right now to find out how you can be a part of our Israel Relief Fund.
Hey, Don, might have been in one of the ambulances that we donated. As Don said earlier, Magen David Adom is not run by the government. There's no government funding. It's done solely through the giving of kind people all around the world, and Don is associated with the Canadian division of Magen David Adom. We have the American one, American Friends of Magen David Adom as well that we help support, but we want to encourage you to be able to give and to share. If you want to love and support Israel and the Jewish people, I want to encourage you to go to foiradio.org right now to find ways that you can give through our Israel Relief Fund.
Chris Katulka: We're speaking with Don Sharpe and Don is a registered paramedic in Alberta, Canada, and he's the first international paramedic to be trained to provide volunteer EMS care in the Holy Land in Israel. Don, we've been talking about what it was like for you to become a volunteer. Share with us some stories that you might have in your time in Israel as you were volunteering.
Don Sharpe: Well, it's fortuitous you would call me today because today is actually the anniversary, November 2nd in 2016 where I did one of my first ride-alongs and we were riding in an armored ambulance. We'd done some training in [inaudible 00:13:19] with the Army and done a bunch of scenarios. Their scenarios over there are very much different.
Their training is so intense, you work with these large groups of police and army to help hone each other's skills and the scenarios were wild. You get a call, they say it's for a car crash. So you get there, yeah, it's a car crash, but it turns out to be a road rage incident and there's somebody who's been stabbed and then all of a sudden you hear, "No, actually it's a terrorist attack." It changes, the dynamics there change all the time. They're ready for anything.
So the training was amazing. Then we get it on the car and right out of the chute we get a call to East Jerusalem where we were told to stage and wait, but this is for a 76 year old woman who's having a stroke, but you can't just drive into East Jerusalem un-escorted, right? There's got to be some protection there. The IDF goes in first and they make sure the street is safe, and then you come in, you treat the patient and you extricate them.
We did a really fun call, a nice man just outside of a bakery in Jerusalem. We were probably three or four minutes away and when we pulled up, there's a gentleman sitting in a chair outside the bakery and he looks sick and there's another gentleman probably about 40. He's ridden up on one of the donated Medicycles and he's taken off his helmet, put it on the seat there, and he's wearing the Magen David Adom jacket and he's starting an IV in the patient and we roll up and we say, "What's going on?"
And the guy says, "Well, I think he's hypoglycemic. I'm just going to start an IV. We're going to give him a little dextrose." And I said, "This is amazing. How did you get here so quick? We were literally four minutes away." And he said, "Well, my office is right over there," and he points down the street and I say, "Your office?" I say, "What do you do?" He says, "I'm a lawyer."
Chris Katulka: Wow.
Don Sharpe: He says, When I get a call I just put down my pen and I pick up the keys to my Medicycle and I ride over and I help. He says, "And as soon as you guys are here and things are under control, I'm going to go back to work." Shocking.
Chris Katulka: That's amazing. And it's the technology that enables them to do that. It's almost like an Uber technology, but for helping when it comes to emergency medical needs.
Don Sharpe: Right. The tech is important. I've also done calls, we were in a park and there was a gentleman who was there treating a patient who'd collapsed, an elderly fella, just short of breath. And this guy, he said, "Well, how did you get here so quickly?" I said, "Well, my girlfriend and I are here just in the park today." He says, "But I always carry my Magen David Adom kit with me. So as soon as I saw this gentleman collapse," I called 911," he says, "And I've been treating him until you got here."
Chris Katulka: That's amazing. During that Honor Israel Night that we were at together, did I hear you say that you're trying to work right now to bring your volunteer experience in Israel to Alberta's emergency medical care in Canada? You were briefly mentioning this, but you have a vision it sounded like when you were talking during our Honor Israel Night.
Don Sharpe: Well, I appreciate that. It's been awfully heartbreaking to see what's happened over the last 40 years. I started out in a small town working with a group of dedicated individuals. We trained, we didn't make a lot of money, we worked with professional paramedics, we pitched in and helped where we could, and I went back to school, got some training, started working full time, got on with a big service here in Calgary. Then that service was taken over by the province. Control was centralized. These volunteer cores were all disbanded, and now if you watch that video, Broken System, EMS crisis in Alberta, it's on YouTube.
It's a 16 month effort that we worked with Kathy Lee from CTV here, one of the journalists, one of the great journalists that we have here in our location, and we put together a documentary showing what's wrong here and how too many people are being un-served. They're left waiting an hour for an ambulance. That just doesn't happen in Israel. It just doesn't happen. There's a lot of reasons. We probably don't have time to go into that here, but yeah, it breaks my heart what's happening here and I think that we could make a lot of changes technology wise, especially to try to improve service that the Israelis just figured out naturally.
Chris Katulka: Hey Don, you have about 30 seconds. Can you share how if people wanted to get involved with Magen David Adom, they're listening, they're going, "I would love to do that." Maybe there's someone like you. How do they get involved whether they're in America, Canada or somewhere else around the world?
Don Sharpe: Well, a lot of people say just if you have some medical care and you want to help or some medical training rather and you want to help, you can apply to do a volunteer stint or ride along over in Israel. A lot of people do that, but really if you want to get involved, Friends of Israel is a great place to start. I just was so impressed at the people I met that night, the attitude they have. A lot of them have been to Israel. They understand what it takes. It's a big commitment. And of course, remember, they depend on money to purchase equipment and vehicles. So there's lots of ways to help and Friends of Israel's a great place to start.
Chris Katulka: I appreciate you saying that, Don. Hey, listen, like Don said, if you would like to help participate in purchasing an ambulance or a Medicycle as Don was talking about. Medicycles help Israelis scoot in those tiny streets that they have and get to places as quick as possible to help those who are in need, you can simply go to foiradio.org right now and you can give to our Israel Relief Fund that will not only help Magen David Adom, but other amazing ways to help and serve the Israeli people who are in need and who are also always looking for ways to find security with the neighbors that they have around them. And so again, you can go to foiradio.org. Don, thank you so much for being a part of the program. Thanks for taking the time to be with us today.
Don Sharpe: It was my pleasure.
Steve Conover: Israel on the verge of becoming a state, a teenaged Holocaust survivor arrives on her shores alone. His name is Zvi Kalisher. Little did he know his search for a new life in the Holy Land would lead him to the Messiah. Zvi, enthusiastic to share his faith, engaged others in spiritual conversations, many of which can be found in our magazine, Israel My Glory. While Zvi is now in the presence of his savior, his collected writings from well over 50 years of ministry continue to encourage believers worldwide. Now Apples of Gold, a dramatic reading from the life of Zvi.
Mike Kellogg: Something happened recently that was hard even for me to believe, but as we say here in Israel, "when God wills it, anything is possible." Not long ago, my wife was in the hospital. It's not a place where you can speak openly about faith in Christ. There are many Orthodox who believe they must watch those who visit to prevent them from sharing the gospel. Many people I met, however, were open to hearing about the faith. One day I met a man who was a patient as my wife was. He more than anyone else, wanted a long conversation about Christ. As a visitor, however, I had to be careful. "Please come back," he said. "I will do my best," I told him. Soon my wife returned home from the hospital. I was doing everything I could to help her because she needed much help. I did not forget the sick man who wanted to know more about the Savior, but I could not figure out how I would be able to make the time to go to the hospital.
I did not want to break my promise to him, but I knew it would be difficult to speak about salvation in that place. Several days later, I became very sick. My wife quickly called an ambulance, which came and took me to the hospital and to which of our many hospitals was I brought? To the same hospital where I was supposed to visit the sick man who wanted so desperately to know about salvation through Christ. And into which of the hospital's many rooms was I placed as a patient? Into his room. When I arrived, he was greatly surprised. He looked at me and said, "You said one day you would visit me and here you are. I am sure this is not the way you meant to arrive." He was certainly right. It is still hard for me to believe what happened. "You are here," the man said, "But of course it was not your will to come in such a way."
I knew however, that it was God's will because now we would've all the time we needed to talk about faith in Christ without worrying about the Orthodox throwing me out. His first question was, "How did you come to know the Lord?" I told him I learned about the Lord from the holy Bible, not from the rabbinical commentaries that the Orthodox prize so highly. It is clearly written in the Bible, "You shall not go after other gods, the gods of the peoples who are all around you." "Now look around," I told him, "Most of the people here worship the rabbis and do not realize it. They respect the Rabbi so much that they listen to them instead of following what is written in God's Word."
"So where is it written in the Bible about this one in whom you have believed," he asked. I opened my Bible to Isaiah 53 and began reading, "But he was wounded for our transgressions. He was bruised for our iniquities. The chastisement for our peace was upon him, and by his stripes we are healed. All we like sheep who have gone astray. We have turned everyone to his own way and the Lord has laid on him the iniquity of us all." I told him much about Jesus, our Savior. We had a very long conversation and I was able to tell him everything he wanted to know.
Steve Conover: Thank you for joining us today. It was so good to have Don Sharpe with us. Chris, where are we headed next week?
Chris Katulka: Thanksgiving is right around the corner, and so I'm excited to look at the scriptures to see what we have to be thankful for as followers of the Lord Jesus Christ.
Steve Conover: Join us then, our host and teacher is Chris Katulka. Today's program was produced by Tom Gallione. Our theme music was composed and performed by Jeremy Strong, Mike Kellogg at Apples of Gold. And I'm Steve Conover, executive producer. Our mailing address is FOI Radio PO Box 914 Bellmawr, New Jersey 08099. Again, that's FOI Radio PO Box 914, Bellmawr, New Jersey 08099.
And I'll give you one last quick reminder to visit us at foiradio.org. The Friends of Israel Today is a production of The Friends of Israel Gospel Ministry. We are a worldwide evangelical ministry proclaiming biblical truth about Israel and the Messiah, while bringing physical and spiritual comfort to the Jewish people.
---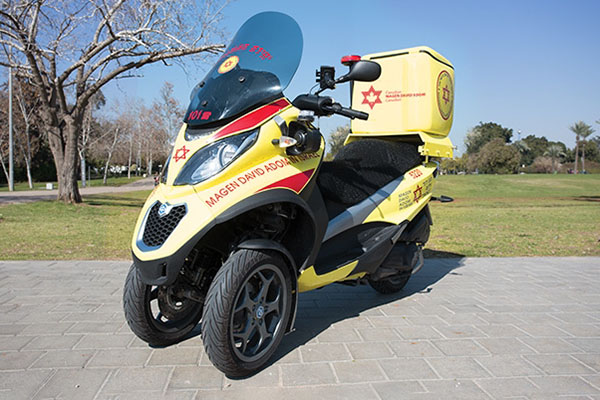 By giving to our Israel Relief Fund, you can help build missile shelters in Israel's dangerous areas, provide critical medical supplies and transportation for Israel's only blood donation center, Magen David Adom, help to free men and women who are trapped in lives of drug addiction or prostitution, and care for single mothers and their children.
GIVE TODAY
---
---
Divine Appointment
While Zvi's wife was sick in the hospital, Zvi was able to share his faith in Jesus with another patient. Knowing sharing his beliefs could get him banned from visiting, he told the man, who was anxious to hear more about Jesus, that he would have to come back. He knew how difficult it was to speak about salvation in the hospital, but he was determined to see the man. Hear how God was sure to send Zvi back to share his faith with the man. It's something only our great God could do!
---
Music
The Friends of Israel Today theme music was composed and performed by Jeremy Strong.
---
Your gifts help us reach people all around the globe with our message of truth to bless the Jewish people.

Thank you for your support!
Give Now