Israel My Glory In Depth: Interview with Meno Kalisher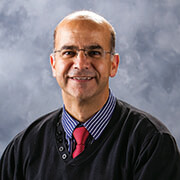 Does the Old Testament still matter today? Yes, as much as ever—for so many reasons! This week, Meno Kalisher, pastor of the Jerusalem Assembly in Israel, teaches us how Paul used the Old Testament to teach the Jewish people foundational truths about the Law, Jesus' deity, and the unity of Jews and Gentiles in the church. Meno shares insight from His Israel My Glory article on how the New Testament authors built upon the Hebrew Scriptures and used them to craft the books of Scripture they wrote as inspired by God.
Having firsthand knowledge of Israel's politics, Meno also shares what Israelis think of the current hot topic in the Holy Land, the Netanyahu government's judicial reform plan. He and Chris take a detailed look at Israeli politics to understand why the government's plans for the Supreme Court could change the landscape of Israeli life so significantly and whether that's a good or bad thing for Israelis. Any conversation with Meno is a welcomed blessing on our show, so we hope you enjoy his teaching on the powerful bond between the Old and New Testaments and his insight into Israeli life this week!
Take a look at Meno's recent Israel My Glory article: 3 Proofs and a Mystery
To learn more about Jerusalem Assembly, visit jerusalemassembly.com.
Chris Katulka: Welcome to the Friends of Israel Today. I'm Chris Katulka, your host and teacher. Now, let me invite you to visit our website, foiradio.org. If this is your first time listening to the program, welcome. Thank you so much for tuning in. Our website is a great resource to learn all about our ministry, the Friends of Israel. And while you're there, you can actually get caught up on nearly eight years of radio bible teaching. Now, if you're a regular listener, again, welcome to you. We want to encourage you to go to our website, foiradio.org to share your thoughts on our comments page. If you have any biblical questions about Israel, the scriptures, or prophecy, let us know on the comments section of our website. Again, that's foiradio.org.
Now today, we have a very exciting show. We're going to be doing our IMG, Israel My Glory, In Depth episode where we're going to be looking at our most recent issue of Israel My Glory, which is called The New Testament Writer's Guide: How the New Testament Authors Relied on the Hebrew Scriptures.
And to be sharing his article with us is Dr. Meno Kalisher. He's a native-born Israeli who pastors the Jerusalem House of Redemption, which is a Messianic congregation in the heart of Jerusalem, which is composed of both Jewish and Gentile believers. If you're a regular listener, you may also recognize that last name. Meno Kalisher's father is Zvi Kalisher, who tells his stories as a Holocaust survivor doing ministry in Jerusalem on our Apples of Gold segment right here on this program.
Meno's going to be sharing with us about his article, but also, if you've been keeping up with the news, you've been hearing about all of the turmoil going on politically in Israel right now. Meno will be sharing his thoughts on how we can be praying for the peace of Jerusalem. But first in the news, the Jerusalem Post reports that nearly 100 Christian Zionists ascended the Temple Mount with thousands of Jewish people to express their support and to repent for the centuries of antisemitism promoted within the church, all of this in honor of Tisha B'Av.
Well, here's my take. Tisha B'Av is Israel's day of mourning when the Jewish people fast and pray, remembering the destruction of the temples in Jerusalem and other historical events filled with mourning, like the Spanish Inquisition when Jewish people were expelled from Spain in 1492. To hear that Christians are walking with Jewish people to the Temple Mount in solidarity, willing to look back on past sins, ask for forgiveness today, and say 'never again,' will definitely help build stronger bridges between our two communities.
Meno, it is so great to have you with us. We're featuring our most recent issue of Israel My Glory, which is titled The New Testament Writer's Guide: How the New Testament Authors Relied on the Hebrew Scriptures, and you did a great article that's in here and that talks about Three Proofs and a Mystery: A Look at the Old Testament's Critical Importance to the Apostle Paul and the Writers of the Book of Hebrews.
And I'll just say right away, you say that the New Testament authors use the Hebrew Scriptures, the Old Testament, to challenge the theological assumptions of the Jewish people. What were some of those theological assumptions that Paul and the writer of Hebrews was challenging?
Meno Kalisher: Well, first of all, the divinity of Jesus, the fact that Jesus is God himself who dressed as a human being and came down to be with us. This is for the Jewish mind, heresy. It's total heresy. It's like an explosion in the mind. Really, that's how it is.
Usually, when I speak with religious people, I usually take them to Genesis 18. It says, "and God appeared to Abraham in Alonei Mamre, and then three people came before Abraham. And Abraham approached one of them and says, "[foreign language 00:04:12]. God [inaudible 00:04:13]." That means he's absolutely God. If I found favor before you, don't go over me, stay here, in a sense.
And then when you continue in the context in the chapter, it's Yahweh. Yahweh came as a human being with other two angels, and all the three externally look like human being. So usually, I tell them, you see, the idea that God came down to earth and was walking here is not new. It's already in Genesis, and there are so many other places. And they look at me and say, "but that's not what the Rabbi says. You want to tell us that you're smarter than the rabbis? We believe the rabbis." You see, so how can you argue with that? If you take the Word of God as sovereign, that's what it is. If you fall before people, you go after people, let people save you. I decided to let God save me. That's one of the things.
Another part is you see that Paul, what I just mentioned is, even Jesus himself mentioned it in John chapter eight. Yes, he saw Abraham. Yes-
Chris Katulka: Meno, can I ask, where did that concept of, you were able to take them to the Scriptures to show that God was able to take on human form and that should challenge their assumptions, where did it come to be within Jewish theological thought that it's blasphemous, the idea that God could take on flesh?
Meno Kalisher: It really came to be when they returned back from the diaspora, later after the time of Ezra and Nehemiah when, that's what the second, third century BC. When the Pharisees and Sadducees established their power. When they really took the power on themselves and rather than on the law itself, they became the one who gave new interpretations to the law. It was when they created a fence to the law and basically wanted to make sure that the people will not step on the commandments and go again to the diaspora. So let's build a big fence around the law, and that's where new ideas came to be rather than to be totally attached to the world itself. So again, people are subject to their own commentaries on their ideas, and frankly, the old idea of a unity of God and in this unity of three persons, it's not easy to the mind, it's very easy to slip away from that truth.
Chris Katulka: And you're arguing in the recent issue of Israel My Glory that Paul and the writer of Hebrews are using Old Testament scriptures just like you do when you're out on the streets ministering, to prove the divinity of Jesus. But you are also about to mention that there was a mystery as well to what was going on as the church age began in Acts chapter two, there's a mystery that Paul is revealing.
Meno Kalisher: That's correct, but okay, Paul builds the mystery of the church. Ephesians chapter three, but don't forget that when you are meeting Acts chapter two, it's after about three to 400 years of rabbinical commentaries. It's not just immediately after Moses. So it's generations where the leadership, the religious leadership of the nation, took the emphasis upon themselves rather than upon God. You basically worship religion rather than worship God. So that's the time of Jesus when he came the first time. So this needs to be in mind. People didn't go back to the law to read, the people went to the rabbis to listen. And if you are going to rabbis, you end up believing in rabbis. That's the bottom line.
Chris Katulka: Yes. With the concept of the mystery of the church that Paul reveals. It's interesting, you're saying this would've been a big theological issue that Paul would've been wrestling with in the Jewish community, in relationship probably to how Gentiles relate to Jewish people, and especially in the framework of Paul's saying that Gentiles, in order to be a part of this family, don't have to be circumcised. This was probably a big challenge to the Jewish people of that time. Is that the way that Paul was phrasing it in Ephesians?
Meno Kalisher: Absolutely so, but he wanted to show, again chapter one, two and three or chapter one and two out, bringing up the background. First of all, God is the one who is choosing his people. God is the one who chooses people for whatever he wants. So here it shows the people from the foundation of the world. So in the same way he chose Israel to do a specific job and, beside, God also chose Gentiles, and he put them together as equal, as absolutely equal also in inheritance because of the blood of Christ.
And he wanted to say that even a Jew and a Gentile have the same condition for salvation. The Jews are saved by believing in Jesus, and also Gentiles are saved by believing in Jesus. And basically the faith in Jesus bring those who have been far away closer to God, both are coming to the presence of God because of the blood of Christ. Christ himself is the one who took away this barrier and brought the two together for the Jewish people, we are the chosen people. And the Gentiles, forgive me to say, are spare parts. I'm sorry. Even some rabbinical Jews believe that why to spend time to share the Good News with Gentiles, they're like dogs. They don't have a soul to be saved. It's so sad. They believe according to the Talmud, that Abraham is standing in front of the pit of hell to make sure the Jews will not fall by mistake into it. But Gentiles are free to fall anytime they want.
Chris Katulka: Oh my.
Meno Kalisher: It's so sad. It's so sad even to think like that. If that was God's mindset, why would he send Jonah to cause the people of Nineveh to repent? Let them die, who cares about them? So why would he send and at the end of the book with saying there are 120,000 people who don't know between right and left, and I will not take care of them. So we need to understand that Abraham was not a Jew, Noah was not a Jew, Enoch was not a Jew, and they were called righteous. So the idea that he sees here, Paul even mentioned it, that he explained to them that God chose Jew and Gentile to come together with a purpose. And all of these two are based upon the apostles and the prophets and Jesus is the cornerstone. To do what? And then chapter three, to do what? To serve and minister God on earth and on heaven to give God's glory. The bottom line is God chose Jews and Gentiles to be together in one value that both will serve him with the same gospel to give glory to the God in heaven.
Chris Katulka: And I like, what too is amazing, is that here's Paul. He receives the mystery from the Lord, but instead of just going, hey, I've got this new mystery, let's go this way. He bases it all on the Hebrew scriptures to give validity to the fact that God always had in mind the entire world. He always had in mind Jew and Gentile. It goes back to the promise that God made to Abraham, that he called Abraham to bring blessings to all of the families of the earth. And so again, you see that mentality that it goes, like we're arguing here, he's arguing on the basis of what the Hebrew scriptures taught, even when he's receiving information about a mystery as well.
Meno Kalisher: Absolutely. And he proves it in another way when in Romans chapter 15 verses 10 to 11, he sees Gentiles and Jews praises God. What it brings up to him Deuteronomy 32 verse 43. And you have to understand Deuteronomy 32. And listen, every Jew supposed to know that. It's [foreign language 00:12:19] it's [inaudible 00:12:21] in the law and it is really a chapter. And guess what? God says, this is the song you teach the people of Israel. People know the Hatikvah, the Israeli hymn. Let me tell you something. God gave us a different tikvah. God gave us [inaudible 00:12:38]. Deuteronomy chapter 32. This is the hymn, the national hymn of the people of Israel, by God, not by us. That is Israel past, Israel present and Israel future.
That's what we should sing, and that's what God commanded us to do. And how does it end? "Rejoice all people with my people." And when Paul sees the Jews and Gentiles praising God, say, that's the fulfillment. That's exactly what God meant. This is the end result of God's process.
Chris Katulka: If you're just tuning in, we're speaking with Pastor Meno Kalisher. He is the pastor of the Jerusalem House of Redemption. He's calling in from Israel right now. Listen, we're going to take a quick break and come back because Meno is going to give us some insights on what's going on in the world of Israel right now. If you've been keeping up with the news you're probably hearing about the events that are happening in Israel with the judicial reform. But before we do that, we've been talking about Israel My Glory. And if you've never subscribed to Israel My Glory, then I want to encourage you to go to foiradio.org. And there you can get a one year free subscription to our award-winning Christian magazine, Israel My Glory.
Hey, listen, Meno is writing in this and he's got the Three Proofs and One Mystery article. So if you'd like to read more in depth on what Meno was writing, again, you can go to foiradio.org if you've never subscribed to receive a one year free subscription, not only of a print edition that could come to your home, right into your mailbox, but I'd even encourage you to maybe sign up and do the digital edition so that you can not only read Meno's article that just came out now, but you could also get 40 years worth of Israel My Glory right to your fingertips through your tablet, your cell phone, your computer.
Again, go foiradio.org. We're speaking with pastor Meno Kalisher and he's going to give us some insights as to what's going on in Israel right now. So if you've been keeping up with anything in the news, the Netanyahu government is pushing to enact judicial reform. So first of all, Meno, can you share, what is judicial reform in Israel? Why is the Netanyahu government pushing for this change? And do Israelis even want it?
Meno Kalisher: This is the hardest theological questions I ever heard. The idea is as follows, in recent decades, it appears that the Supreme Court is becoming more liberal. The idea was, or the piece that really broke this formula, was when they realized that all these accusations against Bibi Netanyahu really based upon rumors, based upon reasons of the left wings to put away a Prime Minister and not through election. Let's put it that way. Our prime minister and his wife likes champagne. Okay? Let them drink champagne instead of water as much as they want.
If that's what my Prime Minister desire, let him have it. Anyway, as a Prime Minister, you dedicate your life to the nation. You have no private life. How can we help and love those we vote for when they give the life to us in the parliament. That should be our mindset. So all these left wings who don't want Bibi Netanyahu try to find any way, shape or form to put him away.
Now, the judicial system's supposed to guard these false accusations, and apparently it looks that as if everyone was very happy to put Bibi Netanyahu out, that means all the left wing. So in a sense, it appears that the Supreme Court or the judges have too much power. So the idea was let's take some of this power. By what? By the fact that we as Parliament members will have more say who will be in the Supreme Court. That is the idea. Now, you may wonder as an American, what's the issue? The Congress or your own parliament decide who is going to be in the Supreme Court. So why you can do that in America, and we cannot do it in Israel? The issue is that you have a constitution. We do not. The religious parties will die before they will allow a constitution in Israel. Why? A constitution's supposed to guard the civil law, supposed to guard the law of the citizen, the law of every person, even if he is a minority.
And since the religious people want the state of Israel to be only Jewish without any chance that tomorrow there will be a majority of Arabs, and then what will happen? It'll be another Saudi Arabia in Israel. So they have reasons for that. Don't misunderstand it. But the bottom line is we don't have a constitution. So when you do not have a constitution and you lower the power of the Supreme Court, you are basically subject to the goodwill of the Parliament members. Now, Bibi Netanyahu is a good man. I really believe personally that he is a good politician, is absolutely democratic. He believes in democracy, and I have no doubt. The problem is that he's married, Parliament wise, coalition wise with some groups that, let's put it that way, if I will put them in Europe and they will behave in Europe the way they behave here, you will call them neo-Nazis.
Why? They are very radical right wing and they simply hates to kill, in a metaphorical way, everything and anyone who is not identically like them, to put it in another words, if you give this power to Mr. [inaudible 00:18:21] or [inaudible 00:18:22] and so on, tomorrow they will come up with a new law proposal. No one in Israel should speak about Jesus. No one in Israel should hold more than one copy of a New Testament if he wants for his personal use. And churches should not be receiving any tax-free or whatsoever.
Now, if you take the power from the Supreme Court, that will be a law immediately or if you take out this cause of reasonableness and so on, if you take this power from the Supreme Court, tomorrow any weird idea of these weird parliament members will become a law and we will suffer. Minorities will suffer immediately.
Chris Katulka: This is the question I have for you is that when we see what's going on in Israel, we see a lot of people demonstrating, but yet, still 64 seats, that's the majority. They voted for this government. So is this just a very loud minority or is Netanyahu losing influence because of passing this judicial reform? And the other question is, I always heard that he ran on judicial reform. So did that mean Israelis did want it and they just don't like the way it's being done and the people who are in the process, can you maybe in a minute and a half explain that?
Meno Kalisher: First of all, most of the nation will prefer that these kind of things will be with sitting together with opposition and come up to decisions together. Of course, we would love it, but please understand that about half of those who are in the street, at least half of them, those are the "no Bibi any way". And for them, a solution is only to see Bibi in a cemetery and to be sure that he's there to make a big eucalyptus above his grave. So really these people, you cannot make them agree to anything. Those are anarchist. The bottom line anarchist that the only thing that make them happy is to see Bibi's skeleton, that is all. And they have all the money and they have the biggest mouth, even bigger than T-Rex [inaudible 00:20:30]. The other 50%, our people genuinely who really believe that this kind of development is not healthy, is not democratic, and may put them into a risk and they don't like it.
And the only way for them to understand that you should say no, is to go to the street and to demonstrate, because again, we're not talking about believers, we're not talking about people who understand the power of prayer. If I have a problem like Daniel, I go to my room or to the church and I cry to God, and I believe in the power of prayer. I also believe in the will of God. They don't have it, and therefore the way to express their disappointment is in the streets. So this is the 50/50 and you sum them all up to 200,000 people and the nation is 9 million. Okay? But it's a very, very loud, huge mouth minority.
Chris Katulka: And for you as a Christian, as a follower of Christ in Israel, there is a concern about the judicial reform because of the nature of the parties who are enacting it and the type of restrictions that they can put on you to share the gospel and to even carry a Bible around, things of that nature. Can you just share briefly about that?
Meno Kalisher: Sure. Don't forget that the helper, the right hand of Ben-Gvir is Bentzi Goffman or something like that. He and the deputy of the mayor of Jerusalem were the one who heads this opposition and a very violent act against believers two months ago when we gathered together just to praise God. Those are the people. This is Ben-Gvir, this is the DNA of Ben-Gvir, okay? So if Ben-Gvir will have this power, yes, he will be able to come with a new law. The Supreme Court may lose the opportunity to come and tell him, listen, it's unreasonable. This is the cause of reasonableness because they want to take it out of the Supreme Court that any law or idea that will come from the parliament will end up as a law and there will be no stop sign anywhere for any craziness of someone like this. You have a constitution, you have a big filter before it becomes a law. We don't have that. Therefore, we need a very strong Supreme Court., even if it is not perfect.
Chris Katulka: We got to be praying for Israel, everybody. So be sure to continue to lift up Israel as they go through this issue, this judicial reform issue. So when you see it on the news, be sure to be praying for the peace of Jerusalem. I want to thank Pastor Meno Kalisher for being with me. I also would encourage you to go to Jerusalemassembly.com, and there you can hear and see the work that Pastor Meno is doing in Jerusalem and the surrounding areas as he continues to minister to the Israelis, the gospel of the Lord Jesus. Thank you so much, Pastor Meno for being with us.
Meno Kalisher: Thank you, may God bless you.
Steve Conover: Hey, Chris, did you know that August is Make-A-Will month?
Chris Katulka: I did, and that's why it's so important to make time to consider your future planning, especially since it's so easy to put it off until another day. We hope that you'll join us on Make-A-Will Month. To get started on writing your legal free will go to foi.org/yourfreewill. Again, that's foi.org/yourfreewill.
Thanks for joining us this week, and thank you to Dr. Meno Kalisher for sharing with us about his article in Israel My Glory, and also the events that are taking place in Israel today. Now, next week, we're going to be wrapping up our series on King David. Today's program was produced by Tom Gallione, edited by Jeremy Strong, who also composed and performs our theme music. Steve Conover is our executive producer, and I'm your host and Bible teacher, Chris Katulka. Our mailing address is FOI Radio PO BOX 914 Bellmawr, New Jersey, 08099. Again, that's FOI Radio PO Box 914 Bellmawr, New Jersey 08099. And one last quick reminder, be sure to visit us at foiradio.org. The Friends of Israel Today is a production of the Friends of Israel Gospel Ministry. We are a worldwide evangelical ministry, proclaiming biblical truth about Israel and the Messiah, while bringing physical and spiritual comfort to the Jewish people.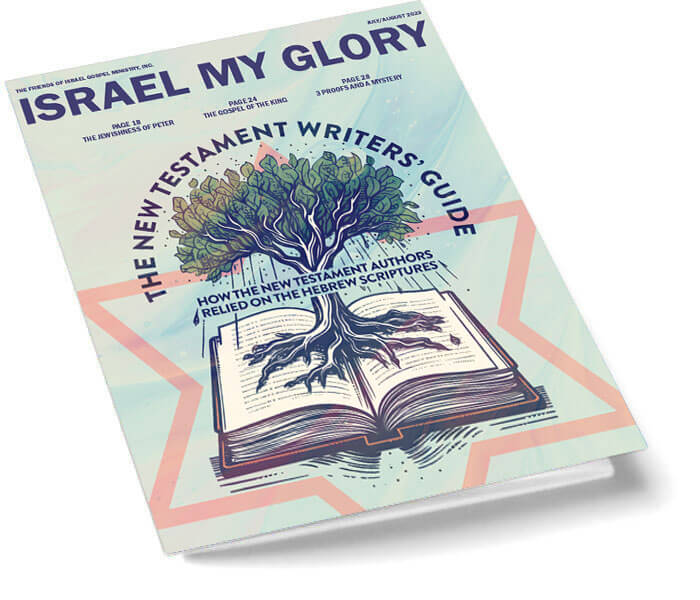 Since 1942, Israel My Glory has been a highly trusted, sought-after tool in the study of God's Word. This award-winning magazine, published by The Friends of Israel Gospel Ministry, stands firmly on the literal-grammatical interpretation of the Bible. It is simply the best there is if you want to understand Scripture, Israel, and prophecy.
Sign up for your free one-year print or digital trial today!
*First-Time Subscribers Only
FREE PRINT TRIAL
---
CONTACT US FOR DIGITAL TRIAL
---

Music
The Friends of Israel Today and Apples of Gold theme music was composed and performed by Jeremy Strong.
---
Your gifts help us to continue proclaiming biblical truth about Israel and the Messiah, while bringing physical and spiritual comfort to the Jewish people.

THANK YOU!
Give Today