Incarnation Begs for Reconciliation
It's safe to say that many would not consider Philemon a popular Christmas passage. But there is a theme we can see in this small book: reconciliation. The book of Philemon is actually a letter from the Apostle Paul written to a wealthy believer in Jesus named Philemon. Paul sent the letter with Onesimus, a new believer in Jesus and Philemon's runaway slave.
Chris explains how the incarnation of Jesus provides believers reconciliation with God. And because of this, Paul is able to ask Philemon to reconcile his broken relationship with Onesimus. Then the question must be asked of ourselves as believers, "Because of what Jesus did for me, is there a relationship in my life I need to reconcile?"
Free Book Giveaway — Isaiah's Messiah
by Victor Buksbazen
Here at The Friends of Israel Gospel Ministry we want you to be equipped to share the gospel wherever you are. One way to share about Jesus is to explain how the prophecies about Him in the Old Testament were fulfilled in the New Testament. Isaiah 53 talks about the Suffering Servant, Jesus. As a gift this holiday season we want to give you a free copy of one of our most beloved books, Isaiah's Messiah. This small but powerful book takes Isaiah 52—53 and answers the question, Of whom did the prophet speak?
Fill out the form below to get your copy.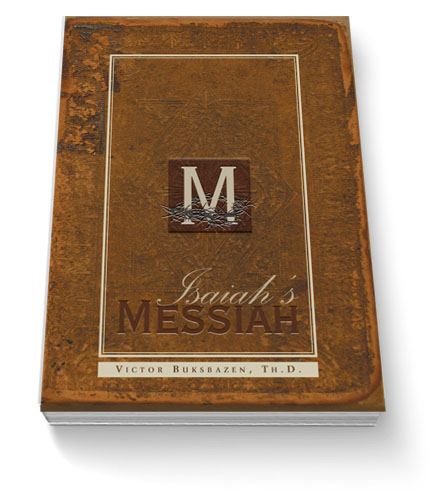 [contact-form-7 404 "Not Found"]
---
Hanukkah
Hanukkah is the celebration of God's deliverance of the Jewish people from the oppression of the Greeks. Chris takes us through David Levy's most recent blog post that shows how Christmas and Hanukkah have unique connections. One being the celebration of the miracle of keeping the Menorah light lit in the Temple for eight days when there was only enough oil for the lamps for one day. And the other a celebration of the miracle of the Light of the World, Jesus.
If you would like to read all of David Levy's post, or any of our previous blog posts, please visit our blog page.
Apples of Gold: Is there another way?

While visiting the widow of a friend who had recently died, Zvi was able to share how his friend was also his brother. The family and rabbi that were present asked how this could be since he was not from their family. Zvi explained, "We all can be brothers if we have the same heavenly Father. We can be brothers if we receive the Lord Jesus Christ into our hearts by His Spirit." The family and the rabbi were intrigued. We then hear how Zvi was able to share from their Scriptures Isaiah 53 and Leviticus 17:11.
There are more stories like this in two of our most popular resources! Purchase the book, The Best of Zvi or Zvi: The Miraculous Story of Triumph Over the Holocaust.
---
Music
The Friends of Israel Today and Apples of Gold theme music was composed and performed by Jeremy Strong.
Also heard on this weeks show:
»Es ist ein Ros entsprungen, Michael Praetorius, performed by Michel Rondeau
»Jesus, Lover of My Soul (Martyn, Simeon B. Marsh) Arranged and Performed by Jeremy Strong