Interview: Meno Kalisher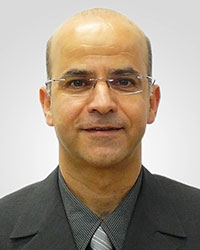 Often we like to highlight the different ministries The Friends of Israel Gospel Ministry is a part of all over the world. This week we are taking a trip to Israel where we'll meet one of our workers, Meno Kalisher. Meno is the pastor of Jerusalem Assembly in Israel. We'll learn how God called Meno to full-time pastoral work while working in the tech industry to become a pastor. And how God is blessing His Chosen People through the church's work. If you would like to know more about Jerusalem Assembly, their exciting ministry, or listen to sermons, visit their website.
Chris:
This month we want to encourage you to join us at two of our National Prophecy Conferences, our Friends of Israel National Prophecy Conferences, one in Lancaster, Pennsylvania, from September 7th through the 11th, and the other one in Winnipeg, Canada, September 27th through the 29th. If you want to find out how you can come and study the Olivet Discourse, the prophecies of Jesus, I want to encourage you, go to FOIradio.org. That's FOIradio.org to find more information about our National Prophecy Conferences.
Steve:
Welcome to the Friends of Israel Today. I'm Steve Conover, and with me is our host and teacher, Chris Katulka. Today we are taking you outside of the studio and to the fields to highlight a specific Friends of Israel ministry. Today on the program, Israeli Pastor Meno Kalisher will join Chris.
Chris:
Steve, you know this, Meno is such a blessing. He's a pastor to one of the largest Bible-believing churches in Jerusalem, ministering to Jew and Gentile alike and making Messiah known in Israel. Today Meno's going to share a little bit about his upbringing as Zvi Kalisher's son and how God challenged him in his faith to become a pastor in Jerusalem. But first, let's take a look at some of the news that's happening in Israel.
Steve:
Yes, Chris. Israeli company SodaStream made a name for itself around the world by offering self-made soda products to health and environmentally-conscious consumers. SodaStream provides sodas that have less sugar for their consumers and keeps plastic bottles out of landfills. Last month, SodaStream was purchased by PepsiCo, makers of Pepsi products, for $3.2 billion. SodaStream will remain an Israeli company. CEO Daniel Birnbaum said SodaSteam's acquisition will give the Israeli company "access to resources we may not have had until today."
Chris:
You know, SodaStream really kind of changed the way that people drink soda. I think it's interesting because Israel is called the startup nation for a reason. We're talking about a country that has less than eight million people. It's the size of New Jersey and it's located in the roughest part of the neighborhood, and yet it has the third most companies listed on Nasdaq. This little country, Israel, is changing the way medicine, technology, and even the way you drink soda is done. Israel, the startup nation, is definitely a modern miracle.
_____


ISRAEL RELIEF FUND

Steve:
I'd like to highlight one thing before we get to our interview with Meno Kalisher. We're often asked here at the Friends of Israel how our listeners can get involved personally with the people of Israel. That's why we've developed the Israel Relief Fund.
Chris:
You know, in just a few short years, through generous gifts from people like you, numerous bomb shelters have been provided in Israel's dangerous areas. Many men and women who were once trapped in the lives of drug addiction and prostitution have found freedom in God at wholistic drug and treatment centers in Tel Aviv. Single Israeli mothers and their babies have been given a fresh start there by saving lives from abortion. Your donation to the Israel Relief Fund helps many people throughout Israel, all around the Jewish state.
Steve:
It's really making a difference in lives. If you would like to give to the Israel Relief Fund, go to FOIradio.org. That's FOIradio.org to make your donation to help Israel and the Jewish people.


_____
Chris:
Meno, great to have you, my friend. Thank you for joining us.
Meno:
It's a joy. Thank you. Good to see you.
Chris:
Good to see you too, and hear from you. You know, I'm in New Jersey right now. You are in Jerusalem, Israel. You are the pastor of the Jerusalem Assembly, and Meno, for many of our listeners who are listening right now, later they are going to hear a story of your father, Zvi Kalisher, and the ministry that he had in Jerusalem. I know many of our listeners are familiar with Zvi through "Israel My Glory," through our radio program. Meno, you're a testimony to the faithfulness of Zvi Kalisher, being his son. Can you share with us and with our listeners how the Lord called you to be a pastor of the Jerusalem Assembly?
Meno:
Well, thank you, first of all. Let's start with I never dreamed to be a pastor. I never dreamed about it. It was not on my agenda. I loved electronics. Of course I loved the Lord. When I was 17, I accepted Jesus as my Lord and Savior. But it's not that I woke up every morning and dreamed, "I want to be a pastor." So let's start with that as first of all. I may say that my life looks like that, as if God, when He wanted me to do something, it's like pushing someone from the head of the cliff, and while the person is jumping head-on to the water, he hears God say, "Don't worry. I'll teach you to swim on the way down." I think that's how my life looks like. But God is very faithful. He did teach me to swim before touching the water.
I grew up going to church. My parents, my father and mother, took me every week to church. I can really count on my hand the time that I did not go to church every Saturday. I was a comfortable kid, really, even if I had a lot of homework. Still, going to church and later on at home doing homework. But now when I was 17 I started to think like a young man, and I realized that I need to make decisions for myself. And the question was like this: What is the real difference between us and our Rabbinical Judaism? They say God, we say God. They believe in the purity of the family, we believe in the purity of the family. They believe in the [personalness 00:06:06] of a person, we too. What's the difference? Then I realized the only difference, and that what makes everything, is Jesus. The identity of the Messiah.
I wanted to know who Jesus is. I realized that if Jesus is God, it cannot start from the book of Matthew. He would not pop out of the cake in Matthew [inaudible 00:06:31]. If Jesus is God, I need to find him in Genesis. Moses wrote about Him, I want to find him there. I bought rabbinical commentaries on the Pentateuch of very unique and acceptable rabbis like Rashi, Maimonides, Radak, [Sadigo 00:06:48], and so on. I bought their books, their commentaries, and I took a list of Messianic prophecies in the Pentateuch and simply studied it. But there weren't many. Even as a kid, by God's grace I came to the conclusion that when it comes to Messianic prophecies, these rabbis are biased, are simply biased.
They prayed, designed, and decided it cannot be Jesus, now let's look for something else. When I saw the written words and what they think about it, it drove me to Christ Jesus as my Lord and Savior.
Chris:
Amen. But it's a big leap. I mean, you got invested. You didn't jump into ministry right away as a full-time ministry. You worked for Intel, you had done work in the secular world. What was that transition like, moving from it being something that you did as a Christian and ministering to people, but then moving from the secular world as a full-time job to ministry as a full-time job?
Meno:
Good. Thank you. Again, during my time in the army, I served in the air force. After four years, I finished my studies, went to work for Intel, and while working at Intel I received from the Friends of Israel an opportunity for scholarship to come to study a year in the Israel Bible College that was then.
Chris:
Yeah, what became the Institute of Jewish Studies, that's right.
Meno:
Exactly, yes. I've been there four years. I turned back to Israel and then we started a Bible study group in the neighborhood with very good friends, also a missionary in Israel, Godly family, and basically together we formed a group at home. This group that just started as a home group did everything like a local church. After two and a half years, another friend came, another Godly family, and remember, those are big pillars. [inaudible 00:08:45] I thank God for them. Then [Cameron 00:08:47] said, "Come on, Meno, if you smell like a duck, speak like a duck, walk like a duck, let's call yourself a duck."
Chris:
That's right. Exactly.
Meno:
Exactly. We study together and this home group became a church.
Chris:
Meno, you know, this home group grew. I wish today that I could take all of my listeners to Israel so that they could see what that home group has become over the past few decades as you have been shepherding those people. But, you know, the thing that I want our listeners to understand is being a pastor in Israel is a unique thing. Can you share with our listeners? Why is it so unique to be a pastor, a shepherd, to Israelis and to believers in Israel?
Meno:
First of all, it doesn't look like a Jewish job description. It's not in the Jewish vocabulary. It's a church vocabulary. Let's start with it. When you come and tell the people, "I'm a pastor." "Are you Catholic? What is this? You need to go back to Biblical [inaudible 00:09:46] Biblical titles. I'm an elder. Remember Moses? He had 70 elders around him? Now think about it in that way."
You need to explain your job description. As the church started and we started immediately with evangelism, people came to the church. People came, I don't know to explain but simply God's provision and grace. Now I'm working full-time at Intel, pastoring also a church. It was way too much, being also a father and married.
Each day at Intel, I pray to God. Remember, I love machines. Nothing against machines. "God, will you give me one day that I will wake up in the morning to prepare a Bible study and not fix machines?" Nothing against machines, okay? That's what God did to me.
Chris:
Yeah.
Meno:
God gave me grace. It opened to FOI, Friends of Israel Gospel Ministry, to take me on support. They did my deputation and I was in Israel doing the pastoral job. Today when things are getting hard and I need to cry before God or maybe to think, "What am I doing here," I remember the night shifts at Intel when I called God and said, "God, will you allow me to start a day with you?" It settled everything and I praise God for that.
You know, where you are right now with the ministry and the growth of the Jerusalem Assembly, for our listeners who will not get a chance to get over and to see how you minister to your people and how the church ministers to the community, can you share a few of the ministries that you have going on in the church? How are you ministering to kids, to college students, to kids who young adults who are in the army, to parents, to the elderly? How are you ministering to them on a daily basis?
First of all, I love that. I come to the church every day, 7:00 in the morning, and I go back no less than 7:00 in the evening. I simply love to be with them. Can I imagine that people come and I love them? I simply love them. That's one thing. Second way, by God's grace after almost 30 years in '88, it started as a Bible study group, there is a new generation, people with their gifts of ministering. The more people who are doing here things. We have about four people in full payroll just working with children.
We have afterschool activities for the young adults, afterschool activity for the youth, for the young youth, for the children, every day there is something here. Every time they have an activity, it includes hot meal. We have industrial kitchen. It includes hot meal, Bible study, games, everything. Kids, instead of going home after the school when they have activity, they come to the church, wait a few more hours, go to clean, go to do things, they come home.
Chris:
That's great.
Meno:
Again, teaching the Bible expositorally with love, with excitement, it's a joy.
Chris:
Meno, you do not lack excitement. That's the truth is you do not lack excitement. You know what? I want our listeners to know that they can listen to your sermons, can't they? They can to go JerusalemAssembly.com. I did it just yesterday and was watching a little bit. There's a bunch of videos up there, sermons that come right from your assembly in Jerusalem. Meno preaches in Hebrew and then it's translated into English right there in front of you, but I know from being in your congregation that it's not just translated into English, it's translated into multiple languages as people are out there in your congregation listening. It really is a picture of the church, as Jews and Gentiles are together as one, worshiping together in the name of Yeshua Hamashiach, Jesus the Messiah.
Chris:
Meno, I was reading through our Canadian communique, which is a publication that goes out to our audience in Canada that follows the Friends of Israel. I was reading an article that you wrote last year about a conference that you attended where Israeli and Arab pastors gathered together to find ground on advancing the Gospel. Can you share a bit about that conference and what came out of it?
Meno:
Sure. First of all, both sides, if you ask our pastors and Jewish pastors, Israeli pastors, will pray one for another and everything is nice. But are we fellowshipping enough? That is not. There is lack of unity between these two groups. Why? We have the same Father. A German mutual friend for me and for others from the Israeli side, the Jewish side and the Arab side, sent us a letter about more than a year ago. It says, "Guys, it will glorify the Lord if there would be more unity amongst you. I invite you to Germany, close you in a room until white smoke comes out. In other words, it's not that everything will be solved in this meeting, but every time we come to meet, the wind needs to roll closer to our unity and to glorify the Lord."
We went together. We have listened one to another. First of all, to meet one another, to know about the existence of one another in a better way. We came up with a document of 20 points that's supposed to improve the relationship between us. I want to say something very clear. None of us came as representative of the whole body in Israel. Otherwise, there would be more politics rather than anything else. We came on individual level, each one represent the church it comes from, and that's it. We wrote up a document of 20 points, which is not a document is big teeth. It's basically a [lementally 00:15:25].
Pray one for another. Speak nice one to another. Elevate one another. The things that I encourage is let's do things together. Shortly after, we invited the youth group of the Arab church to our church to study together, to sing together, to fellowship, to eat together. Some months later, we came to their church and our kids growing up to see one another as brothers, not just to hear them in the news whenever there is terror activity or something like that. They need to know that they're brothers and sisters. They are praying and calling the same Lord.
Chris:
That's right.
Meno:
We already did this part and we have a better relationship, and thank God for that. Now, Chris, this coming Sunday, this coming Sunday in about three days, we have the second session in Germany. We fly until Wednesday and we are going to sit in the same room for three days and discuss issues theologically. What is the issue between us? Why don't we see things together? What caused us to be in both sides of the mountains, theologically speaking? I do not know what this meeting will bring. What I do know, that if we come to worship God, if we come to please God and to take Jesus' [prayer 00:16:49] in John 17, if this is the motto we come with, we should be in a better situation next week than we are today.
Chris:
What an amazing picture of when the world is looking at Israel and the situation that's happening between the Israeli and Palestinian conflict. What an amazing image of Jesus the Messiah, who's able to reconcile a group that the rest of the world looks at and goes, "There's never reconciliation that can happen there." It's in the church, where the world should be looking to see, that pastors are gathering together to come together on a common ground. There's still going to be differences, of course, but that they're coming together under the banner of Jesus the Messiah. Wouldn't you say that's true?
Meno:
That's absolutely true. That's what we want to aim. Can you believe what happened to a regular Israeli non-believer who comes to our church and see Arab and Jew singing, worshiping, and studying? It's mind-boggling, as you call it in English, but that's the idea. That's what the blood of Christ is doing. That's what salvation is doing and they need to see that.
Chris:
We're praying for you, Meno. Meno, your congregation is amazing. As I said for any of my listeners, I really wish that they could come over, experience an opportunity to see the body of the Messiah working, functioning, ministering, sharing the good news of the Gospel in Jerusalem through the Jerusalem Assembly as Meno shepherds them and leads them and loves them. Meno, thank you so much for taking time, I know, out of your very busy day to speak to our audience, to let them know who you are, how you're ministering, and the really important work you're doing to advance the message of Jesus the Messiah in Jerusalem. Thank you so much, Meno, for being with us.
Meno:
Thank you for an opportunity to share it. Thank you.


_____
APPLES OF GOLD

Steve:
Israel, on the verge of becoming a state. A teenaged Holocaust survivor arrives on her shores alone. His name is Zvi Kalisher. Little did he know his search for a new life in the Holy Land would lead him to the Messiah. Zvi, enthusiastic to share his faith, engaged others in spiritual conversations, many of which can be found in our magazine, "Israel My Glory." While Zvi is now in the presence of his Savior, his collective writings from well over 50 years of ministry continue to encourage believers worldwide. Now, Apples of Gold, a dramatic reading from the life of Zvi.
Zvi (Mike Kellogg):
This week, my three older children, Ruth, Meno, and Victor, told me that they were going to a hospital for old people and play their instruments for them. I had some free time that evening, so I accompanied them. I remembered the man who was in charge of the hospital, as I had a long discussion with him about a year ago. So it was that I went with my children to this old folks' home. The first song my children played was from Psalm 121:5-8, which starts with the words, "The Lord is my keeper." Then they played from Isaiah 60:1, "Arise, shine, for thy light is come." The old people were very happy and sang along with the children.
You see, every Jew knows these songs. The sad thing is that they do not know the one of whom the songs speak. I was very surprised to see signs on the walls written in large letters stating, "Blessed is he that cometh in the name of the Lord." A year before, when I spoke with the doctor in charge of the hospital, he said, "Jews who believe in Jesus are not welcome in Israel." What had happened? When my children finished, the doctor approached them and congratulated them on their fine playing. He asked them to come and play again and said that he would be happy to meet with their father.
But when I came up to him, he seemed to be afraid. He said, "I know you, but I cannot remember from where." I said, "Yes, I remember you very well. We were together in the army for a short time last year." He then remembered me and the long discussion we had. I pointed to the signs and asked what had caused the apparent shift in his attitude. He said, "Things have changed. We are living in different times." He then asked, "Are you the same?" I replied, "Yes. I am the same believer. I am happy that the Lord is my Savior and that I can open my heart to Him in every situation." "I believe you," he said.
"If that is so," I asked, "why don't you open your heart to the Lord? Now you are a doctor, but there will come a time when you must give back to the Lord what He has given to you. The body is nothing, but how is it with your soul? If you do not put your trust in the Lord, you will be lost forever. We are here talking now, but in an hour we both could be dead. Believe in the Lord now." He said, "In this hospital, I am the boss. I'm a big man. But after what you have said to me I can see that if I were to die now I would be lost." I then gave him a Bible and said, "Read this and pray. Then if you ask Him, God will come into your heart."
He went on. "I'm a very rich man, but I have no peace with myself." "Oh, I'm much richer than you," I told him, "because I have the Lord in my heart and He gives me peace. You, too, can have this peace, but it's only available through His mercy." He thanked me for the Bible and made me promise that my children would return. He said, "You are all welcome."
_____
Steve:
I want to thank Pastor Meno Kalisher again for joining us. Also, I want to remind you to visit our website to find out ways you can tangibly help Israel through our Israel Relief Fund. Again, go to FOIRadio.org. That's FOIRadio.org or call our listener line at 888-343-6940. Quickly again, that's 888-343-6940. Don't forget to join us at one of our National Prophecy Conferences coming up in September. On's in Lancaster, PA, or Winnipeg, Canada. Information can be found at FOIRadio.org.
The Friends of Israel Gospel Ministry has been sharing the love of the Messiah and supporting Israel and the Jewish people now 80 years since 1938. To financially support the Friends of Israel Today radio ministry, visit FOIRadio.org. That's FOIRadio.org. Again, you can call our listener line at 888-343-6940. You can write to us at FOI Radio, PO Box 914, Belmar, New Jersey, 08099. Let us know where you're listening when you call or write.
Our host and teacher is Chris Katulka. Today's program was produced by Tom Gallione, co-written by Sarah Fern. Mike Kellogg read Apples of Gold. Our theme music was composed and performed by Jeremy Strong. I'm Steve Conover, executive producer. The Friends of Israel Today is a production of the Friends of Israel Gospel Ministry. We are a worldwide Christian ministry communicating Biblical truth about Israel and the Messiah while fostering solidarity with the Jewish people.
In a few short years the generous gifts to our Israel Relief fund have saved lives all over the country; from rocket shelters to medical products to saving children from abortion to rescuing men and women from lives of drug addiction and prostitution.
When you give to the Israel Relief Fund, 100 percent of your support goes to Israel and helps to save lives both physically and spiritually. When you donate, you are being a true friend of Israel!
GIVE TODAY!
Apples of Gold: How is it with Your Soul?
Zvi accompanied his children to an assisted living home in Israel. His children were going to play their instruments for them for the elderly. While there, Zvi saw the head doctor and realized he had served with him in the army years ago.
Zvi's story is available in Elwood McQuaid's book, "Zvi: The Miraculous Story of Triumph over the Holocaust," available at our online store.
More stories from Zvi are also available in his book, "The Best of Zvi," available at our online store.
---
Music
The Friends of Israel Today and Apples of Gold theme music was composed and performed by Jeremy Strong.