The Incarnation: Divinity of Jesus
We trust you are enjoying time with family and friends and we hope you take some time and reflect on the reason we celebrate: God sending Jesus to earth! Last week we began a two-part series on the incarnation of Jesus, when the Word became flesh. The incarnation is the combination of God becoming man but also being fully God. Is that possible? Of course it is if you're God! The only way for God to allow sinful humans (that's all of us!) in His presence was to be both just and the justifier. Chris will focus in on Jesus's divinity this week.
We will be in both the New and Old Testament where we'll learn the importance of Jesus being God here on earth while He was also fully human. Here is something we don't want you to miss: God loves us so much He sent His Son to earth to live a perfect, sinless life and to die for our sins. This is why Jesus came. This is why we proclaim the Good News this time of year. God made a way for us to live and not die! As the famous Christmas hymn exclaims, "Born that man no more may die: Born to raise the son of earth, Born to give them second birth. Hark! the herald angels sing,"Glory to the newborn King!"
If you missed Part One of this series, Listen Now
Steve Conover: This is The Friends of Israel Today. I'm Steve Conover, and with me is our host and teacher Chris Katulka. We here at The Friends of Israel Today hope that you had a wonderful Christmas celebration, remembering God's indescribable gift, Jesus the Messiah. 2018 has been such an exciting year for The Friend of Israel Today. The Lord has been faithful to allow us to continue teaching biblical truth for changing times.
Chris Katulka: I get excited, Steve, about teaching on the radio. For the past year, we have stood alongside our Jewish friends all around the world by calling out antisemitism. We've been sharing with you about God's love for the state of Israel, for the Jewish people through the teaching of his word. We've been sharing about those Judeo-Christian values that we share as Christians with the Jewish people right from the Scriptures, and we've continued to communicate the gospel of Jesus the Messiah to the world over the airwaves and through our podcast. Our radio ministry is dependent on the faithful giving of our listeners.
Steve Conover: That's right, Chris. The truth is we can't continue without you, our radio listener. Many may not realize that it's quite expensive to create and broadcast a radio program each week. As the year comes to a close, you can directly help us continue this radio ministry. Our goal is to raise $15,000 this month. Visit foiradio.org. It's not too late to give a year-end gift for 2018. Visit foiradio.org. In the United States, send your gift to FOI Radio PO Box 914 Bellmawr, New Jersey 08099. Again, that's FOI Radio PO Box 914 Bellmawr, New Jersey 08099. For those of you that feel led to be part of what we're doing here, we say thank you.
Chris Katulka: Last week, we started a series on the incarnation of Jesus Christ, the moment God became man. I mentioned last week that I was just having a discussion with a friend about the idea of compromise. It led to the fact that we were talking about the idea that God never compromises on his holiness. Compromise is an agreement that is reached between two people or two parties, and each side, each party has to make a concession.
As my friend and myself were talking about compromise, it started to come to me about this idea of compromise when it comes to salvation. You would think that it would take tons of compromise to get God to accept the sinner as a saint. I mean, how else can a holy God who knows no sin, who is perfect, all-knowing, all-powerful, righteous, clean and holy accept someone who's full of sin and shame, who is limited in his knowledge and ability, who is unrighteous, who is unclean and unholy?
Well, if you want to know what the Christmas story is all about, if you want to get down to the meaning of Christmas, it's this. God didn't compromise anything. God's character, his holiness, all of it prevents him from compromising. Christmas is all about how God provided a way to both maintain his holy righteous standards, and at the exact same time, mend a relationship, reconcile a relationship between him and his creation without compromising a thing.
See, to me, compromise is when two parties reached an agreement and make a concession, but what's really important to understand is this. Salvation is a gift. It's a gift that was given that cost God something. It was something that God had to sacrifice. A compromise in God's eyes with salvation isn't just this thing that's wasted. It's a sacrifice that God makes, a complete sacrifice. You do nothing. He does everything.
The gift that God gave cost him everything, and since God didn't compromise, he becomes both the just and the justifier. I'm going to say that again because it's so important. Since God didn't compromise, he becomes the just and the justifier. That means he's the one who is both right and holy, and he's also the one who can make right and make holy, and he does this through the incarnation of Jesus the Messiah when God became man.
The incarnation of Jesus is all about how he functions both 100% human and 100% God. See, the thing to understand is this, is Jesus isn't 50% human and 50% God. He is 100% human, and 100% God. Last week, we focused on the humanness of Jesus, and we looked at why that was so important, why it was vital for God to become man. See, this week, we're going to focus our attention on the divinity of the Messiah. Last week, we started off with Romans 1 with the incarnation, and I want to go back there.
The Apostle Paul argues that understanding this concept of the incarnation is at the heart of what the gospel is all about, and just listen to what Paul says in the beginning of Romans 1. "From Paul, a slave of Christ Jesus, called to be an apostle, set apart for the gospel of God. This gospel he promised beforehand through his prophets in the Holy Scriptures concerning his son who was a descendant of David with reference to the flesh," we talked about that last week, the reference to the flesh part, "who was appointed the Son of God in power according to the Holy Spirit by the resurrection from the dead, Jesus Christ our Lord."
Here's the other half of what we're talking about. At the center of the gospel is the understanding that Jesus, 100% human and 100% God, and did you hear what Paul said that Jesus who was predicted and promised in the Old Testament is both flesh and he is God as well? He was validated to be God because of his resurrection. His resurrection is what essentially gives him the authority to say, "I am God." There's no other human in history that died and laid in the grave for three days, and then resurrects and comes back to life in a glorified form.
When Jesus resurrects from the dead, he's showing the people of Israel, he's showing us even in the church today that the words and the things that he did in his life in the flesh are validated because he is God. He is the one who resurrected. Today, we're going to focus on this divinity aspect of Jesus' incarnation. It's interesting because Paul says that Jesus' humanity and divinity were predicted in the Old Testament, and so we're going to go back to an Old Testament passage that I think is fitting for the Christmas season, one that we looked at last week as well, and it's the passage in Micah that was prophetically pointing where the Messiah would be born in the city of Bethlehem. Listen to Micah 5:2.
"But you, O Bethlehem Ephrathah ..." Ephrathah, don't get confused by that. "But you, O Bethlehem Ephrathah," Ephrathah is just the name it was before it was called Bethlehem. It was called Ephrathah. You can see that actually in the Book of Genesis when Rachel, Jacob's wife dies, and he buries her in Ephrathah, which is actually Bethlehem. "But you, O Bethlehem Ephrathah, who are too little to be among the clans of Judah, from you shall come forth for me one who is to be ruler in Israel, whose coming forth is from of old, from ancient days."
Now, there is a lot of prophecy that is packed into this little verse, and what stands out the most is that the Messiah, the King of Israel would be born in Bethlehem. This human, this human being would rule over Israel, but notice the end of the verse here, the last section of the verse, it says this. "... whose coming forth is from of old, from ancient days." One translation says, "... whose origins are in the distant past," and another translation says, "His goings forth are from long ago, from the days of eternity."
Look, Micah is saying while the future ruler would be born in Bethlehem. His origins are from eternity. I think it's interesting that when you study the gospel of Matthew and Luke, they do an amazing job of detailing the history and the narrative of Jesus' physical birth on earth, but if you notice when you get to the gospel of John, he's not talking about Mary and Joseph in John chapter 1. Instead, John wants to show us the other side of Jesus that appears in Micah. He wants to highlight the divinity of Jesus. According to John, Jesus is the one who spoke all things into creation.
I'm sure this Christmas season you received a Christmas card that said something like this, "For unto us a Child is born. To us, a Son is given," from Isaiah 9:6, where Isaiah talks about the coming of the Messiah. Do you remember what it says after that? It says, "The government will rest on his shoulders, and his name shall be called: Wonderful Counselor, Mighty God, Everlasting Father, Prince of Peace."
Last week, we looked at Isaiah 9:6, and we talked about the fact that the Messiah who is 100% human gives off the picture here in Isaiah 9:6 and 7 of one who's the government would rest on his shoulders, that there's a human side to that, but then Isaiah, just like Micah and just like the gospels, give the picture of both 100% humanity, and at the same time 100% divinity, Wonderful Counselor, Mighty God, Everlasting Father, Prince of Peace.
Friends, Jesus isn't just 100% man. He's 100% God. God came down for a reason. When we return, we're going to look at why it's so vital that Jesus the Messiah, and remember, Jewish people weren't expecting the Messiah to be divine. They weren't expecting him to be God. They were expecting to be 100% man, but not 100% God. We're going to explain why it was important for Jesus to be God, that Jesus is God, so be sure to stick around.
At The Friends of Israel Gospel Ministry, we want you to be equipped to share the gospel wherever you are. One of the greatest tools for sharing the message of Jesus is to show how he fulfilled the prophecies spoken about him hundreds of years before his birth. Isaiah 53 is one of those powerful prophecies that speaks clearly of Jesus as God's suffering servant who would give his life for ours.
In Victor Buksbazen's book, Isaiah's Messiah, Dr. Buksbazen masterfully answers the all-important Jewish question of "who did the prophets speak?" Dr. Buksbazen shows how Isaiah 53, a section of the Bible never read in synagogue, speaks unequivocally of Jesus. This easy-to-read book will give you the confidence you need to answer any question a Jewish person may have about Jesus. To order your copy of Israel's Messiah, visit our website foiradio.org or call 888-343-6940. That's 888-343-6940.
Welcome back everyone, we're talking about that divine moment in human history when God became man, the incarnation, the birth of Jesus the Messiah, 100% man, 100% God. The birth of Jesus is God's way of saying that he's not compromising his holiness to welcome sinners into a relationship with him, but that in his grace, in his mercy, in his kindness that you see all throughout the Scriptures, God is actually willing to sacrifice everything on his own to reconcile and redeem his creation.
In the previous segment, we unpacked a little bit about the divine side of the incarnation. We did that by looking at Micah chapter 5 verse 2 where we saw Micah gives us a picture of the humanity of the Messiah's birth in Bethlehem, but at the same time, that Micah leaves us with a little hint that this isn't just a mere man that's born in Bethlehem, but the Messiah who will be born in Bethlehem is both man and God. Then on top of that, the Apostle John writes his gospel and shows us, wants us to see that Jesus wasn't created in Bethlehem, but that he has always existed, that Jesus is God.
Even though Matthew and Luke give us a human side of his birth, John gives us a divine side of who Jesus is. Even in Matthew and Luke, you can see a divine side of Christ's birth. When an angel of the Lord announces to Joseph, "Joseph, son of David, do not be afraid to take Mary as your wife because the child conceived in her is from the Holy Spirit. She will give birth to a son, and you will name him Jesus because he will save his people from their sins."
Even in the gospel of Matthew and Luke, which highlights the physical birth of Jesus, you have the gospel writer showing that Jesus' birth isn't usual. This is different. Matthew shows that Jesus was conceived from the Holy Spirit, but I want to give you some points to understand why it was important for Jesus to be divine.
Number one, think about this, it's important for us to know that Jesus is divine, that he is God because when he stoops down and washes his disciples' feet, you'll see that even in Jesus' divinity, he reveals that God is compassionate and merciful and loving, that the creator of heaven and earth is the same God who cares about you and me on a unique level, that he stoops down to our level to interact with us.
That shows us that God is both capable of sustaining all things in the universe, that the whole universe is functioning just as God ... It's not chaotic. It's functioning just the way God wants it to function because he created it, and yet at the same time, God reaches down and shepherds us on an individual level.
That's amazing to think about this Christmas season, that in Jesus' divinity, his servanthood, the idea that Jesus says to us, "I did not come to be served, but to serve. The Son of Man did not come to be served but to serve," this idea that the Messiah, the King of the universe, the King of Israel is the same one who stoops down to wash our feet is such an amazing concept to think of that Jesus loves you that much, God loves you that much that he would serve you. The King of the universe would serve you.
Second, Jesus' divinity is what enables him to do his miracles. Jesus isn't walking on water. He's not transfiguring in front of his disciples or raising people from the dead because he's 100% man. No, it's because he's 100% God. Oftentimes, Jesus' miracles that he would do in his divinity were used as a way to show the people of Israel, the Jewish people at that time, the religious leaders that he actually bears authority. He teaches with authority and the words that he says matter because he is God. He is the one in charge of everything.
Finally, folks, if you remember last week, we said one of the reasons Jesus needed to be 100% human was to fulfill his mission to be our sacrificial substitute. He needed to die because, at the same time, to make the sacrifice eternal, he needed to be God. See, so for there to be a sacrifice, Jesus had to be human. Someone had to die. God had to become human in order to fulfill the sacrifice, but at the same time, that sacrifice needed to be something different than any other sacrifice.
See, Jesus' divine nature of that sacrifice makes it an eternal sacrifice. The writer of Hebrews says this about it. Listen, he says this. "For the blood of goats and bulls provided ritual purity. How much more will the blood the Christ, who through the eternal Spirit offered himself up without blemish to God, purify our consciences from dead works to worship the living God."
Friends, this is so important. The sacrifices of the Old Testament were limited in their nature. You see, Jesus' death on the cross is both eternal and effective. Jesus' sacrifice purifies our conscience to serve a living God. Folks, the sacrifice of Jesus being 100% human and 100% God provides the way for sinners to become saints through faith alone without God ever compromising his holiness.
Let me leave you with this my friends. Only God, only God could solve the issue of sin. That's exactly what he did through the incarnation of Jesus. God never compromised his character for us. Instead, he sacrificially gave what mattered to him the most, his son. Through his son, he provides a way through faith alone to have a relationship with him.
If you're ever wondering this Christmas season, does God really care, if you're feeling lonely this Christmas season, or even if you're beginning to doubt if God exists, this Christmas season, remind yourself that God loves you so much that he would reach down into a sinful world and provide a way to be with him, a gift we could never pay back, so accept it with joy this Christmas season.
Steve Conover: Now, Apples of Gold, a dramatic reading from the life and ministry of Holocaust survivor, Zvi Kalisher.
Mike Kellogg: "As believers in the Lord Jesus Christ, we must be ready in season and out of season to tell people of our hope", 2 Timothy 4:2. We must always be prepared to witness for him because we never know whom the Lord may send across our paths. Recently, one of our neighbors came to ask us many questions about our faith. She said, "I want to know how you came to believe in him." I was delighted to give her my testimony. She continued to visit, and each time, she asked if I knew others who believed in the Lord and how they had come to believe in him.
One day, I asked, "Are you here to draw close to the Lord or to investigate me?" She answered very sincerely, "I am truly interested in knowing how you came to your faith in the Lord." I gave her the Bible and said, "Take this home and believe it." She accepted the Bible and left. About five hours later, her husband knocked on my door. "Please, don't give my wife anymore of this poison," he said as he handed me the Bible. I told him, "I only want to help her find the truth. If this is poison, then what is the truth?"
He was very unhappy and said, "I work against Christian missionaries in Israel and against all Jews like you who believe in Jesus, the apostates." Then you have come to the right place. "Oh, no," he said, "I would never fight against you because we are neighbors." I told him, "If you think what I'm doing is against the law, feel free to bring other members of your organization. The Prophet Isaiah wrote, 'The Lord's hand is not shortened that it cannot save, nor his ear heavy that it cannot hear.' The Lord may enable your friends to believe what you refuse to believe."
He became very serious and said, "You could be killed if I did what you are suggesting." I replied, "But I will not be alone." I reminded him that God told Abraham, Jacob, Moses and all of his servants not to fear because he would be with them and would protect them, and so it will be with me, I assured him. He said, "You may not be afraid, but I am. If I told them that because you are my neighbor, I do not fight against you, I will probably lose my job."
"I have lost my job many times because of my faith in the Lord," I told him, "And I have been in more dangerous situations than I can remember. However, I have never lost my hope in the Lord because he has told us in his word, do not be afraid of them, Deuteronomy 20 verse 1." The man then left my home. The next day, his wife visited again. She seemed more self-confident than she had before. I asked, "Are you not afraid to come here?"
She replied, "I have no fear. My husband knows where I am, and he told me he will not inform his superiors about you. Now, please tell me more about the Lord." Praise God for this woman, for her courage and her desire to know about the Lord. I am praying she will come to know him as our Messiah and Savior, and I am also praying that her husband may one day yield his life to him.
Steve Conover: Chris, as we wrap up today's program, 2018 has been such a blessing for me, getting to work with you and the radio team. Any final thoughts as we close this year?
Chris Katulka: I've had such a good time this year. One of the things that excites me the most is being able to teach the Bible from a Jewish perspective, to remind our listeners that the Bible is a Jewish book. From beginning to end, it's a Jewish book, communicating the hope of the Jewish Messiah, as the Jewish Messiah ministers to the entire world just as it's gone back to Genesis chapter 12 verses 1 to 3 that through Abraham, through the Jewish people, all the families of the earth would be blessed.
That's been the heart of what I believe we've been doing here at The Friends of Israel Today, but the other side of our ministry that I get very, very excited about is that we like to connect our listeners to things that are happening in Israel, to events that are happening in Israel, to ways that they can connect to Israel. I'm just thinking of all the different interviews that we had this year, like from the Jewish National Fund, from in Tier 2, and from the IDF Lone Soldier Program. We're not just wanting to share with you about what's going on in Israel. We want to give you, our listeners, opportunities to connect with Israel. When I think about 2018, that is what gets me the most excited.
Steve Conover: Thank you, Chris. Our host and teacher is Chris Katulka. Today's program was produced by Tom Gallione, co-written by Sarah Fern, Mike Kellogg read Apples of Gold. Our theme music was composed and performed by Jeremy Strong. I'm Steve Conover, executive producer. The Friends of Israel Today is a production of The Friends of Israel Gospel Ministry. We are a worldwide Christian ministry, communicating biblical truth about Israel and the Messiah while fostering solidarity with the Jewish people.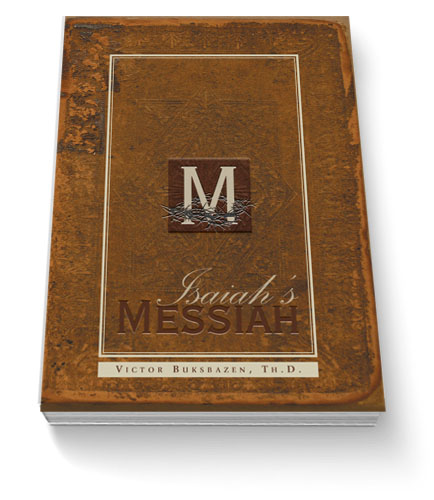 By Victor Buksbazen
From the scholarly pen of Victor Buksbazen comes an excellent witnessing tool on a premier section of the prophetic Hebrew Scriptures, Isaiah 52—53. This attractive gift-sized volume masterfully answers the all-important Jewish question, "Of whom did the prophet speak?" Of Israel, as many rabbis teach, or of Messiah? In a superb, verse-by-verse exposition, Dr. Buksbazen shows how Isaiah 53—a section of the Bible never read in the synagogue—speaks unequivocally of Jesus.
ORDER YOUR COPY TODAY!
Apples of Gold: Always Prepared
Zvi reminds us as believers in Jesus we must "be ready in season and out of season" to tell people of our hope. You never know whom the Lord will send! Zvi's neighbor came to him and asked about his faith in the Lord. Listen how Zvi shared in this time.
Zvi's story is available in Elwood McQuaid's book, "Zvi: The Miraculous Story of Triumph over the Holocaust," available at our online store.
More stories from Zvi are also available in his book, "The Best of Zvi," available at our online store.
---
Music
The Friends of Israel Today and Apples of Gold theme music was composed and performed by Jeremy Strong.