This program is a rebroadcast from October 8, 2016.
The Gospel of Matthew
This week we'll give you an in-depth look at Matthew as we begin to rebroadcast our series "The Gospels Speak to Everyone." 
Matthew didn't look like a typical follower of Jesus. He was a Jewish tax collector who was considered a traitor by his people. Yet Jesus used this man to reach a Jewish audience in need of the good news about the Messiah. With 129 references from 25 Old Testament books, Matthew let the Hebrew Scriptures speak for themselves as a witness to Jesus. His words comforted Jewish believers being persecuted by Pharisees and the Roman Empire. Above all, Matthew shared the glorious news of Christ's mission to save people from sin and the peace that He provides for those who believe in Him. 
Matthew's message encourages not only the Jewish believers of his time but also believers today. We pray you'll feel the peace that God provides this week.
Steve Conover: This is Steve Conover. Today you'll hear an episode from our archives, a popular series we're sure you'll enjoy. In it, Chris explores the gospels and why there are four different accounts of Christ's life in your Bible.
Hi, everybody. This is Steve Conover. We're glad you're with us for the Friends of Israel Today, where we teach Biblical truth for changing times. With me is Chris Katulka. Chris, tell us what we'll hear on the program today.
Chris Katulka: Yeah, Steve. I'm really excited. Today we are going to be starting a new series called The Gospels Speak to Everyone. Over the next four weeks, we're going to be looking at each gospel and the specific audience that that gospel was speaking to, and really at the end, what we're going to see is that God in his grace and mercy compiled four gospels to speak to everyone, an amazing picture of God's grace to us. Also, we're going to be looking at Yom Kippur. Yom Kippur is this week. We're not going to look at the Biblical basis for Yom Kippur. We're actually going to look at a story that came out of Israel in its past on Yom Kippur, and it involves a spy, so you'll want to stick around for that. And then finally, Apples of Gold.
Steve Conover: Lots to look forward to on the program today. Chris, the biggest news story coming out of Israel this week is that Israel lost its last founding father.
Chris Katulka: Yeah. At the age of 93, Shimon Peres passed away after suffering from a stroke on September 13. He was born in Poland and immigrated to British controlled Palestine in 1934 at the age of 12. He fought in Israel's independence war in 1948 and served in almost every position of the Israeli government for the entire existence of the State of Israel, and his last position was President. Peres, knowing the danger surrounding Israel, wasn't frightened to take bold risks to ensure a bright future for peace between Israelis and Palestinians. His legacy will be one Israelis will look to for centuries to come and will be remembered as a visionary who built his dreams into reality.
Steve Conover: Thank you, Chris. I'd like to mention before we get into the message, with Yom Kippur this week, we're offering a book, same as last week, on the Jewish festivals, and it's called The Feasts of Israel by Bruce Scott. So stick around to find out how you can order your copy.
Chris Katulka: Well, today we're going to start a new series as we look closely at the gospels. Our series is called The Gospels Speak to Everyone. Did you ever wonder as you were flipping through your Bible why there are four gospels, Matthew, Mark, Luke, and John? And I don't know if you noticed, but many of the stories found in the gospels often repeat themselves, especially in Matthew, Mark and Luke. They're called the Synoptic Gospels. I believe God gave us four gospels for a reason. Each gospel speaks to a different audience and it conveys an aspect of truth about Jesus the other gospels don't focus on, giving us, the readers, a more complete picture of who Jesus is. And I'm going to tell you, the more we can know about Jesus, the better.
Think of it like this: The four gospels are like four sides of a skyscraper. Skyscrapers are so large and impressive today, and to stand at the base of one and look up, it can seem like the building goes on forever, and each side of the skyscraper is different and presents a different angle of the building. Yet no matter which side of the building you're looking at, it's still the same building. Sometimes it's almost impossible to stare even at one side of the massive building without racking your brain on the engineering that went behind erecting such a massive structure. The gospels work in the same way. To fully describe the nature of Jesus Christ in only one Gospel doesn't do justice to the majesty of who he is, yet the four gospels help give us different perspectives of who Christ is, and maybe it's different because of who the Gospel was written for, or maybe the gospel is different because of the message that the Gospel writer was trying to convey about Jesus for his followers.
Either way, we're going to look at each gospel over the next four weeks and examine who the gospels were written to and why they were written to begin with. Remember, the gospels when they were written were composed for a specific group with a specific meaning, and what we'll see at the end of this is this, is that the beauty of the four gospels is that even though one gospel may have been written for a specific group or a specific reason, when we put them all together, the message of Jesus in the gospels speaks to everyone, so let's dive in.
The first gospel we're going to look at is the one that first appears in your Bible, the gospel of Matthew, and Matthew is the perfect gospel to have come first since it acts as a hinge between the events and prophecies in the Old Testament and how they find their fulfillment in Christ in the New Testament. The Gospel of Matthew, of course, was written by Matthew, whose name also appears as Levi, and he was one of Jesus's disciples. Matthew was a tax collector. Now, this was not a proud title to have, since Matthew was collecting taxes for Rome, and then he would actually take a little surcharge for himself. Many Jewish people during the days of Jesus considered tax collectors to be traitors, and what's interesting is that the Gospel of Matthew has the most detail about the different types of coins that were being used in that Roman era of the time of Christ. And this shouldn't be surprising to us, because Matthew's specialty was collecting coins for Rome.
The Gospel of Matthew was penned for a Jewish audience. Matthew himself was Jewish, so we have a Jewish man who is impacted by the life, ministry, and resurrection of Jesus, sharing with other Jewish people that Jesus was and is the Messiah. Remember, while many Jewish people did come to faith in Jesus in the early church, a majority of the Jewish people living in Israel at that time rejected him as the Messiah.
Now, we shouldn't be surprised to see that since Matthew was writing to a Jewish audience, his gospel is full of Old Testament references. Just listen to these numbers. There are 129 Old Testament references in Matthew's gospel. 53 of those are direct citations and 76 are Old Testament allusions. And think about this: Of the 39 Old Testament books of the Bible, Matthew quoted 25 of them, and Matthew didn't limit himself to just one portion of the Old Testament. He wasn't just stuck in the law or the prophets. He pulled from all of them. The law, the prophets, and the writings of the Old Testament. Matthew wanted to prove to the unbelieving Jewish community of his day that much of the old testament prophecy that envisioned the coming of the Messiah would find its fulfillment in Jesus of Nazareth. That's why he would often say in his gospel, "This took place to fulfill what was spoken by the prophets."
Now it's also commonly held that Matthew wrote his gospel not long before the destruction of the temple in 70 AD, and he could have quite possibly penned the Gospel of Matthew in the city of Jerusalem, so we know that by the time the Gospel was written, there was a growing church in both Jerusalem and in other areas of the Roman Empire. The message of Jesus was making an impact, and the fledgling church was growing, but it also faced a lot of persecution. And for the Jewish audience that Matthew is writing to, they dealt with the persecution that was coming from the pharisaic religious establishment. You know, those Jewish legalists of Jesus's day that continued to persecute the early church. And Matthew dedicates a lot of his writings in his gospel to encourage those persecuted Jewish believers who read his gospel in their local churches to continue on in the faith despite the onslaught of persecution that they were feeling.
For instance, when Jesus sends out his disciples to let the people of Israel know that the Kingdom of God is at hand and that Jesus, the King of the Kingdom is here, Jesus lets them know that their message may not be well received. Listen to what Jesus says to his disciples when he sends them out. "I'm sending you out like sheep surrounded by wolves, so be wise as serpents and innocent as doves. Beware of people, because they will hand you over to councils and flog you in their synagogues." But listen to this. He encourages his disciples a few verses later saying this. "Do not be afraid of those who kill the body, but cannot kill the soul. Instead fear the one who is able to destroy both body and soul in hell. Aren't two sparrows sold for a penny? Yet not one of them falls to the ground apart from your father's will. Even all the hairs on your head are numbered, so do not be afraid. You are more valuable than many sparrows."
Jesus is not only encouraging his disciples here, but Matthew uses what Jesus says to encourage those Jewish believers in the early church not to fear, but to have confidence in the Lord. "Don't fear men, but instead, remember God knows even all the hairs on your head in the same way the 12 disciples were sent out by Jesus." Now Jesus has sent the Jewish audience reading this out into the world, and they're going to face persecution. But what does he say in his scriptures, as Matthew puts them there for the Jewish audience to read? "Do not fear. God knows you intimately," Matthew is trying to communicate. "Do not fear."
Here's what's encouraging for us today. While Matthew was written to a predominantly Jewish audience, letting them know the King has come, Matthew is still speaking to everyone today, encouraging us to go and to make disciples of all the nations, baptizing them in the name of the Father and the Son and the Holy Spirit, teaching them to obey everything that God has commanded them. And remember, I love how Matthew ends his gospel. "I am with you always, to the end of the age."
Folks, I want to introduce you to an important book, The Feasts of Israel: Shadows of the Messiah by Bruce Scott. You know, context is everything, especially when you study the Bible, and it's always good to remember the Bible is a Jewish book with Jewish writers writing from a Jewish worldview. Jesus was the Jewish Messiah, and he didn't celebrate Christmas or Easter. He celebrated the Jewish festivals like Passover, Hanukkah, and Purim. Jesus's ministry, the cross, his resurrection, second coming, and future reign as King and Lord are not only in the New Testament, they are also hidden within the Jewish holidays and feasts of the Old Testament. That's why the book, The Feasts of Israel: Shadows of the Messiah will help you know the fullness of Jesus's Ministry through the biblical feasts of Israel. Order your copy today at foiradio.org or call our toll free number, (888)343-6940. That's (888)343-6940.
Welcome back, friends. Next Tuesday and Wednesday, Jewish people from all around the world will honor the high holy day of Yom Kippur, which is also known as the Day of Atonement, the day when God forgave the sins of the nation of Israel, according to Leviticus 16. Jewish people today go to synagogue, they repent and confess of their sins to God and to others, and really simply ask for forgiveness. And on Yom Kippur, the Jewish community fasts and refrains from working, which is exactly why this story that I'm about to tell you is so significant.
The Nation of Israel has fought many battles over the years, but one of the scariest of them started on Yom Kippur in 1973. Several months prior to the Yom Kippur War, Prime Minister of Israel, Golda Meir, was receiving special intelligence that both Syria and Egypt were planning an attack. This intelligence showed that as early as May 1973, Egypt was staging military exercises along the Suez Canal, and even the day before Yom Kippur, General Ariel Sharon saw a heavy movement of Egyptian forces amassing, and he called his superior and he said, "War is imminent." Additionally, Israel had intelligence of a concentration of Syrian tanks around the same time. Signs of war from Egypt and Syria were definitely loud and clear in all of the intelligence briefings. However, one of the most important pieces of information came from an unexpected source, an angel really. Knowing war could happen at any moment was a given, but the question was when. This is where our story gets interesting.
I want to introduce you to Ashraf Marwan, an Egyptian billionaire and husband of Mona Gamal Abdel Nasser, daughter of former Egyptian President Gamal Abdel Nasser. Since 1969, Marwan served in the Presidential Office, first under Nasser, and then as a close aide to his successor, President Anwar Sadat. Now, 45 hours prior to the Yom Kippur War of 1973, an Israeli Mossad agent in London received a phone call from Ashraf Marwan. The Egyptian President's son in law called the Israeli Mossad agent, and during their conversation, Marwan started talking about a lot of chemicals, which was a code name for war. Marwan was more than just the son in law of Nasser. He was also an Israeli spy. Marwan met with the Israeli Mossad agent that evening in London and told him war would start the next day, on the high holy day of Yom Kippur. A holy day for the Jewish people when everybody's fasting and resting, and I'll tell you, the average Israeli citizen, his or her guard is down.
Marwan started working for the Mossad in December of 1970. Egypt was preparing to take back the Sinai Peninsula from Israel after Israel captured it in the Six Day War of 1967. Marwan had access to Egypt's best kept secrets, especially after he was promoted in May of 1971, allowing him to provide Israel with information about the coming war, including the full Egyptian war plans, detailed accounts of military exercises, and original documentation of Egypt's arms deals with the Soviet Union and other countries. As a senior Israeli intelligence officer had said, by providing these documents, Marwan turned his country, Israel's main enemy, into an open book.
With that kind of information, you would expect Israeli Prime Minister Golda Meir to call a preemptive strike like her predecessor Levi Eshkol, during the Six Day War of 1967. Yet Golda was apprehensive to strike first in fear that if they struck, they would be blamed for the war and would receive no help from any of their allies. And in fact, President Nixon's Secretary of State, Henry Kissinger, urged Golda Meir not to strike first. Ashraf Marwan gave Israel the information they needed to begin moving forces on the morning of Yom Kippur, October 6. The son in law of the Egyptian President who sought to take out Israel instead gave vital intelligence to save Israel on Yom Kippur in 1973. it wasn't an easy war to win for Israel, but over a two week period, they were able to push back the Syrians and the Golan Heights and the Egyptians in the Sinai Peninsula, again, thanks to the covert work of Ashraf Marwan.
Sadly, Ashraf Marwan was murdered in his London home in 2007, and it's unsure if his murder was connected to the intelligence work he did that saved Israel. That remains a mystery. However, he played an influential role in Israel being militarily ready during the Yom Kippur War. Ashraf's code name given to him by the Mossad? The Angel. God sent a most interesting messenger to aid Israel during the Yom Kippur War.
Steve Conover: Israel, on the verge of becoming a state, a teenaged Holocaust survivor arrives on her shores alone. His name is Zvi Kalisher. Little did he know his search for a new life in the Holy Land would lead him to the Messiah. Zvi, enthusiastic to share his faith, engaged others in spiritual conversations, many of which can be found in our magazine, Israel My Glory. While Zvi is now in the presence of his Savior, his collected writings from well over 50 years of ministry continue to encourage believers worldwide. Now, Apples of Gold: a dramatic reading from the life of Zvi.
Mike Kellogg: Proverbs 19:21 says there are many plans in a man's heart. Nevertheless, the Lord's counsel, that will stand. I recently took my wife to the hospital for the treatment of an eye condition. I planned to be there for an hour and then go to my neighbor's home to make some electrical repairs, but the Lord had other plans. Many had brought newspapers to read, and the more religious people had brought their Talmud or other commentaries. I, of course, had the Bible. And shortly after we sat down, an elderly man and his wife sat next to us. He quickly placed a copy of the Talmud on the bench beside me so I could see it. He then said, "This is the most interesting part of my life, the Talmud. What do you think about it?" I responded, "I would not devote even one hour of my life to that book."
He was very unhappy at my remark and asked, "Are you a Jew?" "Yes, I am," I replied. "Then how can you say such a thing?" He asked. I took out my small Bible and said, "I have devoted my life to this book. It is nothing like the Talmud." He was quiet for a few moments and then asked, "Which rabbi do you favor?" I replied, "I do not prefer any of them, but I must love them because we are all created in the image of God." He said, "Well, I'm glad we have some common ground. Do you believe the Messiah has to come now?" "I do," I replied. "The Messiah must return and he may return at any time." "Aha," the man said. "Now I know who you are. I came to Israel so I would not have to listen to such statements from the goyim." Goyim means gentiles. "And now I'm hearing the same thing in Israel from a Jew," he said.
I replied, "Do the Jewish scriptures state the Messiah will come from New York or from Jerusalem?" I gave him some time to think, but then another man in the waiting room answered, "One of the most popular verses in the Prophets is Isaiah chapter two, verse three: 'Out of Zion shall go forth the law, and the word of the Lord from Jerusalem.'" This man and another continued the conversation about Christ with the man sitting next to me. I could tell they were true believers in the Lord. I was so happy that for the first time I could remember, I was not alone witnessing about Messiah. Now I was sitting back listening while other believers spoke about him, and now the man was very confused and could not believe so many people disagreed with him in Jerusalem. And finally, he asked, "How did you arrive at such conclusions?" I spoke up again and said, "In Deutoronomy 16 verse 20, it is clearly written, 'You shall follow what is altogether just, that you may live and inherit the land which the Lord your God is giving you.'"
Although this conversation lasted for more than four hours, it passed very quickly. I plan to return there again because it is a good place to witness for Messiah.
Steve Conover: Next week we continue to look at who the gospels were written to. Each gospel was written for a different purpose. Today we handled Matthew. Next week we look at the Gospel of Mark. Don't forget to order your copy of The Feasts of Israel by Bruce Scott. You can call our listener line at (888)343-6940. Order your copy. Call (888)343-6940. You can write to us at FOI Radio, PO Box 914, Bellmawr, New Jersey, 08099. Quickly, again, that's FOI Radio PO Box 914, Bellmawr, New Jersey, 08099. Visit us on the web at foiradio.org. That's foiradio.org.
I'd like to thank Tom Gallione, our associate producer and engineer, Mike Kellogg, who read Apples of Gold, and Jeremy Strong, who composed and performed our theme music. The Friends of Israel would not exist without the generous donations of its supporters. Please consider financially partnering with us to continue our outreach around the world. You can find a donate link on our website to learn more about the ways you can support the ministries of the Friends of Israel. The Friends of Israel Today is a production of the Friends of Israel Gospel Ministry. We're a worldwide Christian ministry communicating Biblical truth about Israel and the Messiah while fostering solidarity with the Jewish people.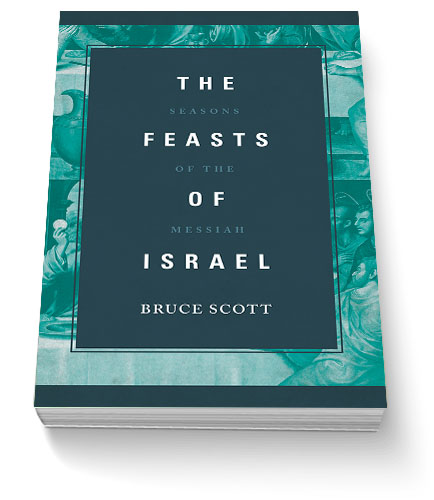 By Bruce Scott
How can you know the fullness of Jesus unless you study the Old Testament pictures of Christ? Dig into the major and minor Jewish feasts and festivals. Discover that much of what Jesus said and did—which sometimes seems mysterious to us—suddenly makes complete sense when we understand the rich symbolism behind the holidays and feasts of ancient Israel. See the intricate, spiritual tapestry woven by the hand of God, a tapestry illustrating the marvelous plan of salvation that He has designed.
ORDER YOUR COPY TODAY!
The Yom Kippur War Spy
Yom Kippur is a high holy day in Israel, a solemn time of repentance. In 1973, Syrian and Egyptian forces targeted this day to wage war on their unsuspecting Jewish enemies. Had it not been for Ashraf Marwan, an Egyptian billionaire and son-in-law of the Egyptian president, Israel may have been destroyed. Hear how God used this secret messenger, given the codename "The Angel," to deliver His people from the hands of their mighty enemies.
---
Apples of Gold—Out of Zion Shall Go Forth the Law
While Zvi sat in the hospital waiting for his wife, he began to read his Bible. His Jewish neighbor was puzzled by his devotion to the Bible rather than the Talmud. If Zvi was not a Gentile, how could he not care about the Talmud? Zvi was overjoyed by this chance to speak the truth of the gospel with his neighbor. The good news of the Messiah's arrival was a message worth sharing!
Zvi's story is available in Elwood McQuaid's book, "Zvi: The Miraculous Story of Triumph over the Holocaust," available at our online store.
More stories from Zvi are also available in his book, "The Best of Zvi," available at our online store.
Music
The Friends of Israel Today and Apples of Gold theme music was composed and performed by Jeremy Strong.
Also heard on this week's show:
»Variatio 30 a 1 Clav. Quodlibet (Kimiko Ishizaka) J.S. Bach, Goldberg Variations, BWV 988
»Out of the Skies, Under the Earth (Chris Zabriskie)
»Manifested (Ketsa)
»Aug '12 (Peter Rudenko)