As the year comes to a close, we want to share with you an opportunity to impact lives through this radio/podcast ministry. We need to raise $10,000 to meet our financial goals for this year.
Would you prayerfully consider a gift so we can continue to bring these truths to you and others as well?
HELP US MEET OUR GOAL
---
Interview: Peter Colón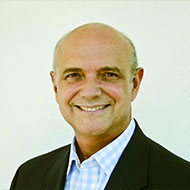 In the 21st century we have the ability to know what is going on almost anywhere in the world, sometimes in a matter of seconds. But in ancient times, it wasn't so easy. As empires would rise and fall, people in other lands would often find out by their own type of newspaper: coins! Just as today, ancient coins had faces on them but they weren't of former leaders but new ones.  We welcome our own Friends of Israel Gospel Ministry church ministries representative, Peter Colón to the program this week to talk about the importance of ancient coins, especially three that were used during Bible times. 
Peter will give us background on three very important coins that are referenced in the Bible. When we learn more about the culture of the day in Bible times, this gives a deeper look into why certain things were said and referenced. If you would like to see the coins Peter references you can see them below, or you can visit https://www.jewishvirtuallibrary.org/coins-from-judaea-capta to find out more.
Steve Conover: This is the Friends of Israel Today. I'm Steve Conover and with me is Chris Katulka. As the year comes to a close, we want to share with you an opportunity to impact lives through this radio broadcast. First, we would ask that you tell others about the teaching you hear through the Friends of Israel Today. If it's been a blessing to you, share it with your friends and help multiply this ministry. Secondly, prayerfully consider a gift so we can continue to bring these truths to you and others as well.
Chris Katulka: Yeah, we really hope that our listeners love what we do here at the Friends of Israel and we just want to let you know we need to raise $10,000 to meet our financial goals for the year end and we thank those that have already contributed. Your gift will help us reach people all around the globe with our message of truth to bless the Jewish people. If the Lord leads you and you believe Christians need to hear the truth about Israel and the Jewish people, help us reach our goal of $10,000 before the end of 2019. Any amount will be a blessing to our program and thank you. Thank you so much for supporting the Friends of Israel Today. To give to the Friends of Israel Today, simply go to foiradio.org that's FOI as in Friends of Israel radio.org.
You can call our listener line at 888-343-6940 again, that's 888-343-6940 and you can write to us at FOI Radio, P.O. Box 914 Bellmawr, New Jersey 08099. Once again, that's FOI Radio P.O. Box 914 Bellmawr, New Jersey 08099.
Steve Conover: Thanks Chris. On today's program we invited Peter Colón to be with us. Peter is one of our Friends of Israel church ministry representatives in the Florida area. Chris and Peter will be discussing how ancient coins from the Greek and Roman Empires were used to communicate the news of the day in biblical times. But first in the news at the 33rd International Islamic Unity Conference, Iranian leader, Ayatollah Khomeini sought to clarify what he means when he speaks of wiping Israel off the map. Khomeini said, it doesn't mean the mass slaughter of the country's Jews, but rather eliminating the Jewish State's, 'imposed regime.' Khomeini claims Christians, Jewish people and Muslims should live in peace under Palestinian rule. 
Chris Katulka: Steve, this is quite funny to me. Number one, Khomeini has a problem here because he's threatened many times to physically destroy Jewish cities like Tel Aviv and Haifa. So that goes against his idea of not destroying the Jewish people, only getting rid of Netanyahu and his imposed regime, but also I think he needs to remember what's going on in Israel right now. There are already Jewish people and Christians and Muslims living side by side in peace as Israeli citizens, not as Palestinian citizens, as Israeli citizens, and they have no fear of the government persecuting them for their faith. Maybe Khomeini should take some tips from the Israeli regime he wants to wipe off the map. 
Chris Katulka: Peter, welcome to the program. 
Peter Colón: Thank you Chris. I appreciate it. 
Chris Katulka: Peter, how did coins, this is so fascinating to me. How did coins become the method for conveying what was happening in the ancient world? 
Peter Colón: Well, in a real simple form, the coins were basically the newspapers of the day. As empires began to expand and they wanted the news to spread as to who was the new ruler, the name of the ruler, what gods that they were worshiping, some key events that they wanted their subjects and conquered people to know about. So that was basically what the coins were all about there. Also, they needed to create a standard weight as time progressed originally was all a barter system, but as empires began to expand and grow, they began to formulate a weight system so that it became more uniform as time went on. 
Chris Katulka: Now there are a lot of coins that were being spread throughout the empires at that time, but we're going to focus on three coins that actually are connected to the Jewish people, to Israel, to the Scriptures. And so if you wouldn't mind, what's the first coin that you want to share with us about and how it connects to the Scriptures? 
Peter Colón: Well, I guess because of the time and season we're going into, but one of the coins that is fascinating, it relates to the Hanukkah scene. There's a coin that was minted and it featured the protagonist, the madman as the Jewish people refer to him as Antiochus IV. And he minted a coin of his image and on the back was an image of a god that he worshiped, that oftentimes he often viewed himself as that god and such. But the main thing is, is that it kind of falls in line with the prophecy that is found in the book of Daniel in chapter eight how this individual would rise up and be very great and that he would pick a fight with those in the South and East and also those in Israel. And then he will do a number of atrocious things. 
And one or two of the main things is that he would stop the sacrifices that were done in the temple and that he would declare himself to be God and demand to be worshiped. So that's called the Antiochus IV coin, but the connection that is significant for the believer in Christ is that when you come to John chapter 10 you have an incident there where it mentions that Jesus is in Jerusalem, he's at the temple. It was winter time and that it was during the time of Hanukkah and this is the time when everybody was kind of being reminded again of the incident that took place with the rise of Antiochus IV and then his downfall by the Maccabees, a Jewish revolt that went against him and then the temple being rededicated and God once again dwelling among his people. 
It became very significant in Jesus's day as people were talking about this story because of what followed in the text that the religious leaders asked Jesus to tell him to speak plainly if he is or is not the Messiah. He answers in a typical Judaic format saying that, "I did, you don't believe." And that he is the giver of eternal life. But then He mentions and says that, "I and my Father are one." And you have to really appreciate that statement and with the backdrop of Hanukkah because everybody is remembering how this Antiochus IV character, a mere mortal declared himself to be God and here is Jesus during Hanukkah in His day saying that He's just the opposite. He's not immortal declaring Himself to be God but that He is God who became mortal and dwelled among men. And so that is all connected when you see that coin of Antiochus that is been circulated around at that time. So that makes it very significant. It just verifies the historicity of what took place. 
Chris Katulka: And this is a great connection like you said for the season because Hanukkah is going to be coming up pretty soon next month and it's a great reminder of what God was doing there in John chapter 10 the Feast of Dedication. If you're going to go there and read it in John chapter 10. Hanukkah is called the Feast of Dedication in the New Testament. Let's move to another coin now, Peter, from Mark chapter 12 you talked about a coin and can you give a little context to it about that passage that most people know about, give to Caesar what is Caesar's and to God what is God's? Could you share a little bit about that? 
Peter Colón: Yeah, that's what's the traditional, what they call the tribute penny. It's not a penny as we understand it. In biblical times that would have been a silver denarius, but be that as it may, the challenge was here that there were those who were trying to entrap Jesus, trying to find some kind of incriminating statement that he would make in order to accuse him. And you had various leaders bringing up all kinds of challenges. And one of them was that the religious groups there came and they asked him whether it is right to pay tribute to Caesar because the power to tax is the power of control. If Jesus as they figure, if Jesus is truly the Messiah, the King, he would then of course refuse to pay taxes and with Rome, that is a high crime to withhold your taxes from Rome but if in power and that he is not the Messiah, the king, the conqueror and that they feel that they could discriminate his claim.
But what Jesus does then he does ask to be shown a coin and the coin featured a graven image of a... I'll step aside he a little bit. Some archeological scholars feel that it was actually a coin that featured Augustus, Tiberius's father, but either case either Augustus or Tiberius, both of them claim deity. Back on the coin you have the graven image of Tiberias, but the writing around the coin basically says that this is Tiberius Caesar, Augustus's son of the divine Augustus. So if you kind of put it in the context of the drama, Tiberias is being viewed as the son of God in the Roman context there. And Jesus then basically challenges who were his hearers there, render, give to him what you think he is worth and what he is owed and give to God, the true God, of which Jesus at this time had already been doing the works that had substantiated his deity, what they feel the true God is owed and due. It became a theological issue. 
It was like Jesus moved from the political time there with the taxation and such and moved it into a theological arena. That's why it was so powerful. But those coins, the Tiberius coin is in its writing, by the way, in coins, the writing is what's very significant in addition to the images that are there, because the writing is sort of like an ancient voice that is talking to you from the past. And in archaeology we're told that one of the great fines is coins because of the writing, because it's a voice from the past. So here the Tiberius coin is posing itself, showing him to be the son of God in contrast to the true Son of God, the Lord Jesus Christ. 
Chris Katulka: And let me just say this, Peter, because we're going to take a break here in a moment, but for our listeners, number one, we're talking to Peter Colón, who's a Friends of Israel church ministries representative and has spent a long time studying and understanding archaeology and we're going through these ancient coins that had been dug up from the past and how they were really newspapers of the day to share what was going on, who the god was, who was the leader of the empire at that time, and maybe an event that took place. And it really how it connects to the Bible. And I want you to know so far we've looked at just what happened prior to the coming of Jesus, the Hanukkah story with the Antiochus coin. Then we looked at an event that happened with Jesus when He says, render or give to Caesar what is Caesar's and to God what is God's. But next we're going to look at another coin, a coin that actually comes from the prophecy of Jesus from Matthew chapter 24. So you're not going to want to miss this, stick around.
In the days of the Billy Graham crusades, Billy Graham would speak and thousands of people would come down and all he would do is read the Bible and connect people with the truth of the gospel. But see, today I don't think that would happen. I don't know if Billy Graham would have the same response that he does today that he had in the 1950s, 60s and 70s. And here's the reason why, because see, today, people don't hold value to the Scriptures like they did back then. Because as that is happening, as people have a lower value of the Bible, I believe God is raising up archaeology now to show the truth of his Word, that as people are more critical of the Scripture, we have archaeology now to back these events that took place in the Scriptures as truthful events. And that's why you need to have the Zondervan Handbook of Biblical Archaeology by Dr. Randall Price.
We live in a world that is highly critical of the Scriptures and we can present them with the truth that not only is God's word real, but we have archaeological evidence to show that it's true.
Steve Conover: You can purchase your copy of the Zondervan Handbook of Biblical Archaeology by Dr. Randall Price. Visit foiradio.org that's foiradio.org and we'll make sure to have the link on our homepage or you can call our listener line at 888-343-6940 and someone will return your call during our regular business hours. Again, that's 888-343-6940. To order in Canada, call 888-664-2584 again in Canada, that's 888-664-2584.
Chris Katulka: Welcome back everyone. We're talking to Peter Colón, who is our Friends of Israel church ministries representative in the Florida area and not long ago we were having a conversation about a presentation that he gives in churches about how coins are so significant to understanding the biblical events that are going on around the New Testament and in our previous segment, we looked at two coins. We looked at the Antiochus IV coin, Antiochus Epiphanes, which is the story of Hanukkah, which we also read about in John chapter 10. We looked at a tribute coin from Mark chapter 12 when Jesus says, give to Caesar what is Caesar's and to God what is God's, but see in Matthew chapter 24 this is where Jesus lays out what's going to happen in the future. He gives a prophetic vision for the disciples and it's even there that there's a coin that's connected to this amazing event. Peter, can you talk about the Judea Weeping coin as it's called? 
Peter Colón: Well, Chris, the coin actually is referred to as the Judaea Capta coin, but most people kind of dub it the Weeping coin because of the image that is featured there. What it's depicting is a commemoration on the part of Rome of their victory over the Jewish people and Jerusalem and the temple in the year AD70 and that was minted and it was circulated. It featured either the acting emperor Vespasian at the time or his son Titus. But on the reverse side you had various images. You had a palm tree, which was a symbol of visual nationalism. On one side you had a woman seated with her face in her hands, and she's weeping, thus term, Judea Weeping coin. And then on the other side you either had a Roman soldier with a spear and a shield showing victory or in some coins they had an individual there standing with his hands behind his back indicating like he is tied. He is a captive.
And so it's the Judaea Capta coin and it's a coin that really does verify the events that has been written out in history by an eye witness like Flavius Josephus and what was predicted in Scripture. One of the passages that I like to use when I share with this coin is that a statement that Jesus made as He was walking through the streets there and Simon Cyrene was carrying the cross for him after it got overwhelming for Jesus to carry. And as he was walking the daughters of Jerusalem there were weeping and he turns to them and says, not to weep for Himself, but to weep for themselves and for their children and indicating that at the time that was going to come, that it was going to be great suffering. And he mentions that for if these things are done, when the tree is green, what will happen when it is dry? 
This is just another graphic statement that Jesus made that was prophetic in that it seems to have been fulfilled in AD70 when God allowed the legions of Rome to sack Jerusalem and destroy the temple. And the major significance of that in biblical history, and especially Israel history, is that it was the end of the temple worship. It was the end of the administration of the priests who basically served on behalf of the people. And most importantly, it put an end to the blood sacrifices which was needed for atonement and remission of sin. And it's been so for nearly 2000 years until 1948 when Israel became a nation once again. Now of course there is no temple presently there in Israel, but you could see the connection of what happened in history and how these coins were being circulated by Rome to all their conquered people. That when you rebel against Rome, this is what can result. But it was predicted in Scripture that would come to pass. So it was very, very significant those coins, the Judea Capta coin or as most people dab it Judea Weeping coin.
Chris Katulka: Amazing because this is really a way in the ancient world where news about what was happening around the Roman Empire, especially in Israel at that time would go out like you said, and people would see as they're trading coins as they're buying things, how the Roman Empire was conquering people and it just so happened to be 70AD when Titus went in and destroyed the temple. Peter, I want to thank you so much for being on the program. We looked at three coins, the Antiochus IV coin, Antiochus Epiphanes. We looked at the Tiberius coin that comes from Mark chapter 12 and then also the Judea Capta or Judea weeping coin. Peter, thank you so much for being on the program with us today. 
Peter Colón: Oh, I appreciate it too. Thank you for the opportunity to share these things. 
Chris Katulka: Before we move on, I want to let our listeners know that if you would like to see images of these coins, the Antiochus coin, the Tiberias coin or the Judea Capta weeping coin. You can simply go to foiradio.org and there you'll find the coins on our website. They're a sight to behold, something that you'll want to take a look at. That's foiradio.org. 
Steve Conover: Now, Apples of Gold, a dramatic reading from the life and ministry of Holocaust survivor, Zvi Kalisher. 
Zvi Kalisher: One evening as my family and I were returning home, two people stopped me and interrogated me. "Who are you?" One asked, "We want to know all about you." "Come to my home tomorrow evening. And who are you?" "We are from an anti-missionary organization." One replied. "Then I'm sure you know all about me." We still want to speak with you." They insisted. So the next evening they came to my home and we received them as our guests. "We want to tell you that you are a public enemy. You have left the religion of our fathers, therefore we hate you." One of the men said. I replied, "I will pray for you that the Lord will have mercy upon you." "What?" He exclaimed. "How can you say this when you want to kill us?" "No." I told him. "I want you to have everlasting life." One replied, "We want to know what you believe."
I told them, "I believe as you do, I believe in one God, one Father and one Holy Spirit." He answered, "We believe in one God and one Father in heaven, but not one Holy Spirit. This belongs to the Christians." "Oh, I am glad you came here tonight. God has sent you to me because you are blind, but by the time you leave, your eyes will be open. I want to show you some things in the Holy Bible." I opened the Old Testament to places where the Holy Spirit is mentioned, such as Psalm 51 and 104 and 139 and Zechariah 12:10. They could not believe their eyes. "How can this be? We have never heard of this before." I spoke with them kindly, even though they hated me. They began to wonder why they were persecuting me and they apologized. They could see my family and I were very happy and one asked, "Why are you not afraid? You have children, do you not fear for them?"
And then opened the New Testament and read Luke 21:17, "You will be hated by all for my namesake, but not a hair of your head shall be lost." I said, "I know in whom I have believed and because I believe on the Lord I'm not afraid of anything you can do to me. Those whom you are persecuting are following God. Are you following him?" I asked, "What will you say about me in your report to your boss?" "What can we report to our boss?" I answered, "Tell him what you heard and saw this evening. Tell him what is written in the Bible." He replied, "Before we go, please tell us if you are a Jew or a Christian." I said, "Before I was blind as you are now, but when I received the Lord in my heart, I became happy. Now I have a rich future and an established faith in the Lord Jesus Christ. We believe on the same God as you, the one spoken out in the Holy Bible. If you want to know more about him, read Hebrews chapter two."
They quickly read it so they would know what to say to their boss. I have committed these people in the report to the Lord and I know he will accomplish his will.
Steve Conover: We're so glad you chose to be with us today and thanks to Peter Colón for joining us. As Chris mentioned, you can see the ancient coins Peter spoke about today on our website. Visit foiradio.org. Chris, next week we have another Friends of Israel representative with us on the program. Tell our listeners something about next week's guest. 
Chris Katulka: Yeah, we have Trevor Stewart-Sweet. He's actually our representative in the United Kingdom and he's going to be talking about the anti-Semitism, the rise of anti-Semitism that's going on in the UK right now and I think it's going to be an important message for our listeners to hear. 
Steve Conover: We look forward to it. The Friends of Israel Gospel Ministry has been sharing the love of the Messiah and supporting and the Jewish people since 1938. If you feel led to support our work or you simply want to reach out to us, visit foiradio.org again, that's foiradio.O-R-G. In the US you can call our listener line at 888-343-6940 again, that's 888-343-6940 you can write to us at FOI radio, PO box 914 Bellmawr, New Jersey, 08099. Again, that's FOI radio PO box 914 Bellmawr, New Jersey 08099. Call our Canada office at 888-664-2584. Once again, that's 888-664-2584 in Canada.
Our host and teacher is Chris Katulka. Today's program was produced by Tom Gallione, co-written by Sarah Fern. Our theme music was composed and performed by Jeremy Strong. I'm Steve Conover, executive producer. The Friends of Israel Today is a production of the Friends of Israel Gospel Ministry. We are a worldwide Christian ministry, communicating biblical truth about Israel and the Messiah while fostering solidarity with the Jewish people.
The Zondervan Handbook of Biblical Archaeology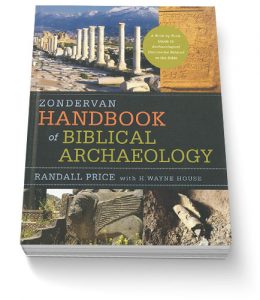 By
Dr. Randall Price
The Zondervan Handbook of Biblical Archaeology by Dr. Randall Price is a reference resource for anyone interested in archaeology and its relevance to biblical, theological, and apologetic studies. Illustrated with full-color photos, charts, and maps, this handbook provides readers with a wealth of information that complements and supplements the historical context of the Bible.
ORDER YOUR COPY TODAY!
Apples of Gold: We Want to Know What You Believe
On the way home one evening Zvi was stopped by a group of men who started asking him questions. When Zvi asked who they were, they told him they were from an anti-missionary organization. Zvi invited them in his home the next evening and listened to their judgment on him. They called him their "public enemy" and said they knew Zvi hated them. Zvi explained he didn't hate him! He wanted them to have eternal life. They asked him what he meant and Zvi was able to explain clearly to his enemies.
Zvi's story is available in Elwood McQuaid's book, "Zvi: The Miraculous Story of Triumph over the Holocaust," available at our online store.
More stories from Zvi are also available in his book, "The Best of Zvi," available at our online store.
---
Music
The Friends of Israel Today and Apples of Gold theme music was composed and performed by Jeremy Strong.