Israeli Elections
Happy New Year everyone! We are kicking off our first new program of 2020 with some news from Israel. Were you aware the Israeli people are headed to the polls for the third time to vote on a new Prime Minister? What are the issues in Israel and how can they unify? Chris will break down the divide going on in Israel and how you can keep them in your prayers!
Steve Conover: Welcome to the Friends of Israel Today. I'm Steve Conover and with me is our host and teacher Chris Katulka. This is our first new episode of the new year and we can already tell it's going to be an eventful one as things are quickly developing in the Middle East and that's why we believe this program is so important. We want to give you insights into these significant events from a biblical worldview.
Chris Katulka: That's right and we can already tell that it's going to be an exciting year, especially with what's going on in Iran right now. You know, as we look at politics as well in Israel, I'm going to tell you it's getting harder and harder to nail down news that's coming out of Israel, to keep up with it all. It seems every hour something new is coming out. Well, today on the program, I'm going to give an update on the political movements happening in Israel that have pushed the Jewish state to its third election in less than a year and then after that we're going to be entering 2020 with 2 Corinthians 3. I'll look at where we get our confidence and our adequacy as we walk into this new year.
Steve Conover: But first we go to the news and after cutting his diplomatic trip to Greece, short Prime Minister Netanyahu returned to Israel in case Iran attacked the Jewish state. This comes after the US killed Iranian top commander Qassem Soleimani in an airstrike. Netanyahu lauded president Trump's leadership and taking out Soleimani, who was responsible for the deaths of innocent Americans.
Chris Katulka: Yeah, here's my take on the situation that's going on in the Middle East. Iran remains the leading state sponsor of terrorism and really the two places on Iran's mind all the time are Israel and America. You know, they constantly shout and chant "death to Israel" and "death to America." And I'm going to tell you there is a long road ahead with Iran, but I believe Trump's decisive leadership and Israel's support and taking out Soleimani will only help bring the regime change the actual Iranian people so desperately want and need.
Happy New Year to all of our faithful listeners on the radio station and on our podcast. I want to thank you so much for all your support of our radio ministry as we enter into a new year here at the Friends of Israel Today. You know, I'm so excited to start this new year because we want to maintain that unique focus that we have, the unique focus of looking at the Jewishness of the Scriptures, bringing to life the backgrounds of the Bible while teaching that Israel today still matters to God. God has a plan and a program for Israel and the Jewish people according to what the Bible says, and if you're a first time listener, I want to welcome you to a new year here at the Friends of Israel Today and I want to thank you for tuning in. Now, before we get started, if you've been listening to the Friends of Israel Today radio program over the past few weeks, we've been discussing a series on the diaspora.
The diaspora is a term that is used to describe Jewish people who live outside of the land of Israel. It's been going on for thousands of years that Jewish people live outside the land of Israel. They're called diaspora Jews. And the timing for the airing of the diaspora series couldn't have been more perfect because our latest issue of our award winning Christian magazine, Israel My Glory, looks deeper into the issue of the diaspora. So honestly, if you don't already subscribe to Israel My Glory, I want to encourage you to sign up. If you're interested in learning about Israel and the Jewish people and are also trying to understand what's going on in the Middle East from a biblical worldview, you need to be reading Israel My Glory. To get your one year free trial subscription to Israel My Glory, visit us at foiradio.org, and that's right, I did say a one year free subscription. That's six issues.
You can get this by going to foiradio.org. Again, foiradio.org. If you'd prefer to call to sign up, you can call our listener line at (888) 343-6940 again, that's (888) 343-6940. We'll be sure to return your call during normal business hours. Okay, here we go. So Israel, we're going to be talking about Israeli politics here for a moment. You know, recently Israel's railway christened a new line. It's called the King David track and this is a new corridor that connects the countries to metropolitan cities, Tel Aviv and Jerusalem. Now prior to the train's arrival, the fastest way to get between Tel Aviv and Jerusalem was by car or bus, and I've driven this road many times. It's a crowded 42 mile drive, taking 50 minutes without any traffic. Unless you're in Israeli, then it only takes 40 minutes. And if you've ever driven in Israel, you know exactly what I'm talking about.
The new direct train line has been under construction for 18 years and it's no surprise that it's 11 years overdue. If you've ever driven between Tel Aviv and Jerusalem, you may understand why this 35 miles of railway took 18 years to build. Tel Aviv is a modern Mediterranean city. It's surrounded by flat coastal plains, and as you might guess, it's very easy to develop a transportation infrastructure around this modern city. However, as you begin to travel East, those easy planes quickly disappear into the Judean mountains. And within just a few moments, you begin a drastic 2,500 foot climb to the ancient city of Jerusalem. So building a modern anything in Israel's capital always proves problematic. The new railway cuts through mountains and crosses over bridges that expand deep ravines, and thanks to the new train that once hour long drive has now been reduced to just 30 minutes. The Jerusalem and Tel Aviv divide is real.
Though relatively close in proximity, these two cities function in two different worlds and it's not just topographical. At the inauguration of the railway, Israel's transportation minister, his name's Betsa El Smotrich. He symbolized the King David track as a bridge to heal the political, economic, and spiritual divide that separates Israelis. You know, just as King David successfully unified the tribes of Israel, Smotrich hoped that the King David track would do the same. He says this, "With all of our disagreements, we can't allow ourselves to become divided. We will instead build new roads and new railways because we are one people." The rail lines delayed completion, coupled with Smotrich's message, really it couldn't have come at a better time for Israelis who are just exhausted with the fractured nature of their state. You know, Israel is about to enter into its third election in less than one year. That's unprecedented.
The results of last fall's second election saw razor thin margins between Netanyahu's Likud party and Gantz's blue and white party. Israel's president, Reuven Rivlin, offered both Netanyahu and Gantz the ability to form a government for the people and both were just unsuccessful in doing it. So why are we going back to elections again? Well it all comes down to one man. There's one king maker here and his name is Avigdor Lieberman. You know, Lieberman remains Israel's political king maker and the issue also remains the same. Lieberman, who is a secular Jew and conservative, wants to assimilate the ultra Orthodox Jewish groups into Israeli culture through political policy. The obstacle for unity hasn't changed either. Prime minister Netanyahu, he's conservative, so he benefits from Avigdor Lieberman's policies and his support. But Netanyahu also benefits from the ultra Orthodox Jewish parties. And so you have these two parties that are supporting Netanyahu and now Netanyahu remains stuck in the middle and he can't form a government without the two of them agreeing to form a coalition with Netanyahu.
And as a result, there is gridlock in Israel politically. And honestly, when you think about Israeli politics, it actually feels a lot like being stuck in rush hour traffic on route one from Tel Aviv to Jerusalem with just accidents blocking the way. You feel like you can get nowhere. On the other side of the aisle is Benny Gantz, Netanyahu's challenger, and he needs the Arab league to form a coalition with him to get a government going and they refuse to do that. So again, there's gridlock. So what's the way forward? This is the big question. With all the division in the country between the politicians, we need to look at what the Israeli people want, what unifies them. There are two components at play here. First, most Israelis agree that they want less ultra Orthodox influence in government affairs, primarily because of the welfare state that they've concocted and grown for themselves over the years.
You know, these various ultra Orthodox groups consider a religious commandment to separate themselves from modern society and to study Jewish texts. And as a result, they receive social services and benefits relating to unemployment, poverty in accordance to their large numbers of children that they're producing. In fact, the ultra Orthodox influence in government helps to uphold these generous benefits for the fastest growing, yet poorest population in Israel. To add, the ultra Orthodox remained the only Jewish group in Israel exempt from military service. So it's easy for us to see how this group who takes and takes and takes and rarely gives back would be disdained by the rest of Israeli society. Which leads to my second point. Most Israelis want to see a unity government formed that excludes the ultra Orthodox parties. Israelis want the unholy union of the conservative parties and the ultra Orthodox parties disrupted.
They want to root out the cause of all of the political chaos. And this doesn't mean if you're thinking, "Oh, now Israel's going left. They're moving in the left direction politically." That's actually wrong. They are a very conservative country now. Netanyahu has really made Israel a conservative country, and think about it. Over the years, Netanyahu has remained a relevant leader for the people of Israel. For many, it's hard to imagine Israel and the political arena without Netanyahu, and yet the Jewish state is longing for some resemblance of unity. Jerusalem and Tel Aviv are two very different cities, but as Smotrich said, "We are inaugurating today the direct line between Tel Aviv and Jerusalem. These two cities are now physically and symbolically connected." You know, friends, let's hope that this train line becomes more than just a quick trip from Jerusalem to Tel Aviv. Let's hope that this train line symbolizes a potential unity that will help Israel move forward past its stalemate. But you know, let's go even further. As Bible believing Christians, we ultimately know that the true, that true peace, true unity can only come through the Prince of peace: Jesus the Messiah.
Steve Conover: The start of a new year for many of us means reading through the Bible. We'd like to share with you a book that can be a powerful companion to your Bible reading, Charting the Bible Chronologically. This hardbound, full color piece by authors Ed Hindson and Thomas Ice gives you a panoramic view of events recorded in scripture. With more than 40 charts of timelines and overviews of major empires, Bible characters and events throughout history, we know you'll enjoy and reference it as much as we do as you study God's word. To purchase your copy of Charting the Bible Chronologically, visit us at foiradio.org. That's FOIradio.org. We'll have a link on our homepage. Or you can call our listener line. That's (888) 343-6940. Again, that's (888) 343-6940 and someone will return your call during our regular business hours. To order in Canada, call (888) 664-2584. Again, in Canada, that's (888) 664-2584.
Chris Katulka: A few months ago I started reading 2 Corinthians, and I got stuck on one chapter that stood out to me and instead of reading a new chapter every morning, I just found myself going back to this one chapter. 2 Corinthians 3. 2 Corinthians 3 is all about where we find our adequacy, where our adequacy originates from. And Paul opens this section that I've been reading over and over and over again by saying this. "Now we have such confidence in God through Christ." Not that we're adequate in ourselves to consider anything as if we're coming from ourselves, but our adequacy is from God, who made us adequate to be servants of a new covenant. Not based on the letter, but on the Spirit, for the letter kills, but the Spirit gives life. You know, adequacy can also kind of be associated with your value. Adequacy can be associated with your worth or your skills or your merit.
When you ask yourself, am I good enough to do this, or do I have what it takes? You're essentially asking yourself, am I adequate? You know, if you're an electrician and you have proper training, you're licensed and you have years of experience under your belt, you have the confidence to enter into any home to tackle whatever electrical issues pop up. But you know, if you're the kind of guy that likes to DIY the situation, do it yourself, and you see a hanging live electrical wire, you might not be adequate enough to take care of that. You might have to call the licensed electrician. You know, you want to feel adequate for the task, and the Christian life can feel the same way. Am I adequate, Lord? Do I have the confidence to be who God purposed me to be for him, to serve him?
You know, when I read this passage, I must've re-read it a hundred times. I couldn't get over Paul's opening line in verse four in 2 Corinthians 3. "Now we have such confidence in God through Christ." We can have confidence in our lives in Christ because it's through him that we find our adequacy. It's the Spirit that dwells within us that enables us to have confidence to serve the Lord and the people around us. It's the Spirit within us that allows us to have the confidence that when you feel like everything is falling apart and you feel inadequate, it's important to remember where that adequacy comes from. It's not you. Remember, it's not about you. It's about the fact that Christ is living within you. The Spirit is within you. So it's important to know this new year that your adequacy does not rest in your own doing. You can't do it yourself.
You can't do it on your own. Your confidence, your adequacy, comes from the Lord. You know, Paul goes on to define this, the origins of our adequacy and confidence, and he defines it by showing us the power of the Holy Spirit in our lives. It's really nothing to balk at. I actually think Christians often get confused by the Holy Spirit. We don't know how to handle the Holy Spirit. But Paul here seems to call us to rest and yield into the Holy Spirit that's working in our lives. You know, and Paul actually goes back to Moses here. It's interesting. In 2 Corinthians 3 he goes back to Moses and says that when Moses came down from the mountain to give the law to Israel, the glory of the Lord changed him, and not on the inside. Moses was physically changed. He was a different person.
The Israelites couldn't even look at him. He had to veil himself because it was just too much. God changed Moses's outward appearance so much that he was just shining. The glory of God changed him. And Paul says this in verse nine, "For if there was glory in the ministry that produced condemnation," that's the ministry of the law coming down, the law, "how much does the ministry that produces righteousness excel in glory. For indeed we have been glorious now as no glory because of the tremendously greater glory of what replaced it." See, that glory that changed Moses's physical appearance and that ultimately produced the law and gave Moses the law when he came down, that same glory now rests in you, the one who's placed your faith in Jesus Christ. Listen to how Paul ends the chapter in verse 17. "Now the Lord is the Spirit, and where the Spirit of the Lord is present, there is freedom. And we all, with unveiled faces, reflecting the glory of the Lord are being transformed into the same image from one degree of glory to another, which is from the Lord is the Spirit."
Wow. This new year, if you are not feeling adequate, take hope in the fact that you'll never be adequate on your own. It's impossible. But in Christ, the Spirit of God is transforming you from the inside the same way Moses was transformed on the outside. And when we rest in where our confidence and adequacy originates through the work of the Holy Spirit, I'm going to tell you something that Paul says. That is where freedom is. Look, when you don't feel adequate, when you don't feel confident, you don't have freedom. But when we finally realize, cause this is a journey for me too, when we finally realize where that freedom comes from, it's so important to understand that's the Spirit of God working in your life. So as you begin a new year, I want to encourage you to cling to an Old Testament verse that comes from the prophet Zechariah. And he says this, "Not by might nor by power, but by my Spirit, says the Lord of hosts." Friends, if you want freedom this new year, stop looking inward and embrace the adequacy you already have in God through Christ.
Steve Conover: Now, Apples of Gold, a dramatic reading from the life and ministry of Holocaust survivor Zvi Kalisher.
Mike Kellogg: Two of my sons and my daughter are now serving at the Lebanese front in the army. Recently I received a letter stating that the army once me also, but I said, "Not this time." I want to remind the military officials that I am now 53 years old and actively served in all four of Israel's previous wars performing the most dangerous job. One of the officers said, "But you know how serious the situation is." I replied, "Yes, and I have given you my three children. If you must have me, then you must also take my wife and my youngest son. Then all of our family will be in the army." The officer said, "You may stay home for now, but be ready if we call you." "I am always ready," I said. He asked, "What do you mean?" I told him, "I am ready to preach the good news of God to all who listen."
"But you never went to Yeshiva." A Yeshiva is a religious school. "Did Israel's prophets go to a Yeshiva?" I asked him. "When the Lord called Moses, did he ask him what type of education he had? No. He simply told Moses to do his will. God himself put the words in Moses' mouth. That is how it is with me." "What do you want to speak about?" The officer asked. I replied, "I want to tell you about our need for salvation." "But we are close to victory in the north," he said. "No, we are not," I responded. "It is not by might nor by power, but by the Spirit of the Lord. Zechariah 4:6. The Lord has fought for us in the past and he is doing so again. Even though my children are in the north, I have peace because my trust is in the Lord. Why should we fear? We can be sure of his victory."
Then the officer asked, "Where do you get your confidence?" I told him, "God is my salvation. I will trust and not be afraid. Isaiah 12:2. If you are afraid, believe in the Son of God as I did." We began a long conversation about faith in the Lord and finally he said, "We never knew that you and others like you were so bound to the land of ours." I told him, "We believe in the same heavenly Father, read the same Bible, and are loyal officers of Israel. We love our country. I have given my three children to fight for this land and I can give even more." "What is that?" He asked. I replied, "As I told you, you can take me if you must."
"If this turns into a big war, you must go," he said. "We do not have as many people as our enemies." I agreed. "Yes, but at times like this, we must trust in the Lord. Do not be afraid, but remember what the Lord your God did to Pharaoh and all of Egypt. If this war becomes big, I will be there without even being called." The officer then said, "We have learned a lot today about you and others like you, whom we always thought of as negative, but we know that two negatives always make a positive." I was grateful for the opportunity to meet these military people and to change their minds about true believers.
Steve Conover: Chris, as we close, this is of course a common time for us to make resolutions or new commitments in the new year, and your reflections on the Word and what you talked about as far as our inability to ever be fully adequate reminded me of what Jonathan Edwards stated about resolutions. He said he was unable to keep them without God's help, and the reason to resolve anything would be to glorify God. So let me ask you this. How should we think of new year's resolutions in light of what we learned today in 2 Corinthians?
Chris Katulka: Yeah, you know, a resolution is saying I'm not happy about something in my life and I want to change that thing. There's an adequacy that you don't feel is to your expectations. And you know what? That's a self inflicting adequacy issue and the thing that I think Paul is driving us to is that we can't find our adequacy unless it's God within us showing us your adequacy doesn't come from yourself. It comes from me. Your worth, your value. It all comes from me through the Holy Spirit dwelling within you.
Steve Conover: A reminder, if you have not yet subscribed to Israel My Glory, that you can get a full year of our magazine at no cost. Visit FOIradio.org. There you can also find the book we mentioned today, Charting the Bible Chronologically. Again, visit FOIradio.org. Our host and teacher is Chris Katulka. Today's program was produced by Tom Gallione, co-written by Sarah Fern. Mike Kellogg read Apples of Gold. Our theme music was composed and performed by Jeremy Strong, and I'm Steve Conover, executive producer. The Friends of Israel Today is a production of the Friends of Israel Gospel Ministry. We are a worldwide Christian ministry communicating biblical truth about Israel and the Messiah while fostering solidarity with the Jewish people.
Charting the Bible Chronologically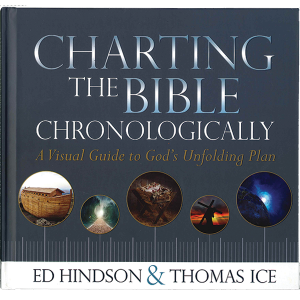 By Ed hindson & Thomas Ice
The start of a new year for many of us means reading through the Bible. We'd like to share with you a book that can be a powerful companion to your Bible reading, Charting the Bible Chronologically. This hardbound, full color piece by authors Ed Hindson and Thomas Ice gives you a panoramic view of the events recorded in Scripture.
ORDER YOUR COPY TODAY!
Reflections on the New Year
In our second segment, Chris will share from 2 Corinithians 3 which is all about where our adequacy or worth originates. As we begin the new year, let's commit to finding our strength in God and not ourselves!
---
ISRAEL MY GLORY — FREE ONE YEAR SUBSCRIPTION!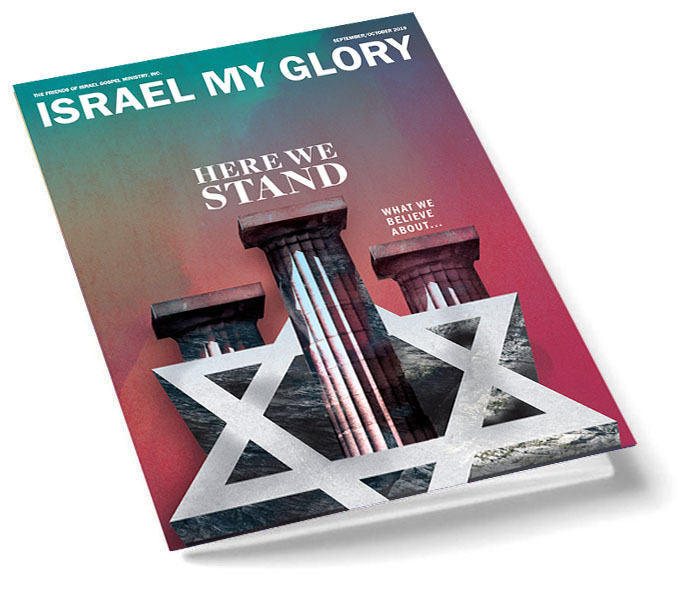 Hard-hitting, accurate, up-to-date analysis of Israel and the Middle East. Thought-provoking examination of God's Word. Answers about the end-times. The truth behind today's headlines. Immediate access to the latest books and resources. People who want to be informed—and have a heart for God's Chosen People—rely on Israel My Glory.
---
SUBSCRIBE TODAY!
Apples of Gold: Not This Time!
In 1981, three of Zvi's children were serving in the Israeli Defense Force in Lebanon. They called on Zvi to serve also. Being in his fifties and already serving in four previous wars, Zvi declined. While speaking with the military, Zvi reminded them that victory is in the hands of the Lord. He explained his devotion to the Lord and to his country, helping the Israeli officers to know what true believers of Christ were like.
Zvi's story is available in Elwood McQuaid's book, "Zvi: The Miraculous Story of Triumph over the Holocaust," available at our online store.
More stories from Zvi are also available in his book, "The Best of Zvi," available at our online store.
---
Music
The Friends of Israel Today and Apples of Gold theme music was composed and performed by Jeremy Strong.