Jesus & The Word
As Christians, many of us read our Bibles, go to church, are involved in a small group or Sunday school class, and pray regularly. But for many of us, if someone asked us to explain with Scripture why we believe that God is not finished with Israel and the Jewish people or why the inspiration of Scripture is important, we would have a hard time giving a clear answer. Several months ago our magazine, Israel My Glory took The Friends of Israel Gospel Ministry's doctrinal statement and broke it down to explain what we believe as a ministry. 
Our ministry was blown away by the responses we received. People stopped us at conferences and thanked us, we received letters, emails, and phone calls from those who said they believe what The Friends of Israel believes and this was a way to put that belief into words. This surprising response helped us see we needed to put what we believe into booklet form. And it also made us see the need to share about it here, on our radio and podcast. Our Christian foundations are just that, foundational. 
We welcome back to the program Steve Herzig to talk about some of those foundational beliefs, Jesus & the Word. Steve will be with us for two weeks to walk us through these doctrines. We hope you'll be encouraged and learn to better explain what you believe!
Steve Conover: Welcome to The Friends of Israel Today. I'm Steve Conover and with me is our host and teacher, Chris Katulka. If someone asked you what you believed as a Christian and you're someone who values the unchanging Word of God and loves and supports Israel, how would you answer them? Over the next five weeks, we're going to focus on the core doctrines of The Friends of Israel Gospel Ministry. Our beliefs as an organization originate in the Word of God and that's why it's important. What we believe affects the way we live and do ministry.
Chris Katulka: Now listen, before you go and change that radio dial or before you turn off the podcast because you heard the word doctrine and you might think, "Okay, where are we going here?" I want to encourage you to stay with us because see, doctrine is important. Doctrine helps us better understand who God is. And let me tell you something, if we didn't care about doctrine, how could we say that we truly love God? Our love for Him comes through a proper understanding of who He is and what He's done for us. And that's why we're going to be looking at doctrine over the next few weeks. In studio with us will be Steve Herzig, who is the director of North American Ministries. And we're going to be looking at two important aspects of doctrine today, which is Jesus, of course. Who is Jesus? And then also the Word of God. So it's going to be something that you want to hear and I hope that you stick around.
Steve, great to have you on the program. Great to have you in the studio.
Steve Herzig: Great to be here, Chris. Looking forward to it.
Chris Katulka: Well, we got a lot of great stuff to talk about. You know, a couple of issues ago for our magazine, Israel My Glory, we did a whole issue on doctrine, on where we stand doctrinally as The Friends of Israel Gospel Ministry. It's all of the key doctrines that we believe in, that we believe are important. And from that, we've gotten more mail in and more responses from our readers, from our listeners about this magazine that we actually took the content of that magazine and turned it into a pamphlet, a booklet, actually. 19 Key Christian Beliefs that I believe are very important to the Christian life. And we're going to break some of those down over the next few weeks. That's why I have you in here today.
And so today we're going to be looking at the doctrines, of course, surrounding Jesus and surrounding the Word of God. And we're going to try to find a way to blend them together, as well here, in the end, which I don't think will be that hard. But you know, one of the very first things that we come across when we're reading through this issue of Israel My Glory is that Jesus came as a result of a virgin birth. So my question to you is why did Jesus need to be born of a virgin? Where does that concept come from? And what does that say about Jesus?
Steve Herzig: Chris, that's a great question and one that actually impacted me personally a number of years ago. The idea of a virgin birth from a Jewish point of view should be, biblically, something anticipatory. Because in Isaiah 7:14, it talks about a virgin, an alma, the Hebrew word, shall conceive and bear a son. But I can tell you growing up, the last thing I was looking for, and I was looking for the Messiah, but the last thing I was looking for was for a virgin to conceive and bear a son. I thought that was an abomination. I would've stood right next to the Pharisees in the Gospels and said everything they said about Jesus as it relates to him being the Messiah, a person who is also God.
Chris Katulka: And can I just rewind for our listeners who might not know who you are? You come from an Orthodox Jewish background. That's the reason you're saying you would have stood with the Pharisees, that's from your background.
Steve Herzig: Yes, I'm sorry. I'm glad you clarified that because there's some people, I don't want them to drive off the road. So yes, I'm glad you did that. But once you read that in the text, I had to find a way to connect with that possibility. And it wasn't hard for me to do and it helped convince me to the possibility that it's true. And that is back in Genesis 18:12, "Sarah laughs." That's a very simple verse. Sarah laughed. Well, what is she laughing at? She's laughing at the idea that her hundred year old husband, who was 99 at the time of this prophecy, was going to impregnate her at 89 years old. Why would she laugh? Because physically, that's craziness. And the text insinuates that it's craziness. So when you read that and you realize that the Jewish people came as a result of a 100 year old man watching his son be born to his 90 year old wife, the thing you have to say is, "This doesn't happen all the time. This is unique. This is an amazing moment."
All Jewish people who have any sense of the Bible know they came from that. And for me, at least, when I came across Isaiah 7:14, after I initially freaked out that it's not possible, that it can't happen, it's sin, the idea of an abomination, a man being a God in the flesh, and yet here is the prophecy. And I found a way, at least in my mind, if God did a miracle back in Genesis chapter 18, then what's to prevent him from doing another miracle? That might not be on my radar, but if the text says it, I have to believe it in Genesis. And now I'll have to believe it in Isaiah and then once I read the Gospel.
Chris Katulka: So the big concept that we get from the idea of the virgin birth is that this is not a mere man, this is a different man that's coming. This is divine.
Steve Herzig: Completely different. 100% man because his mother is his mother. But different in that Joseph had nothing to do with this. This came about by the Holy Spirit. That makes him unique and one of a kind, which is a good thing.
Chris Katulka: And what also makes him unique is that Jesus has this title. So he was born of a virgin, but he also has this unique title within the Jewish world. And the title is Messiah. Number one, how would you define Messiah? What does it mean? And what does it mean for Jesus to be the Messiah?
Steve Herzig: You know, as your listeners are driving around or at home or whatever, oftentimes they've heard Christ in language. Growing up, I heard the name Jesus, the title Christ from my own father. That was when he got a bill that my mother charged and he opened it up and announced his name and, "What happened here? Who spent this money?" They use it in a curse way. And my father did that. So we have Jesus, the Christ. It's not the Christ family that lives down the street, Mary, Joseph, and Jesus. He is Yeshua, Jesus, the Christos, the Mashiach, the Messiah. Jewish people who believe in the Bible ... Not the majority do believe in the Bible, but Judaism teaches a future mashiach, a title, the anointed one. For those of our listeners who are familiar with movies, they might be familiar with the quote from one of the movies where they say he's The One.
Chris Katulka: The One, right.
Steve Herzig: The One. That's exactly what they say in the Gospels. In a certain sense, he is the One, the One that was promised and now he's here. And when you read Matthew, particularly, which is a great Gospel concerning the King and the kingdom, you read about how he authenticates the fact that he is the Messiah. He proves, he meets the requirement, and then he demonstrates it with his actions.
Chris Katulka: You know, this term, too, Messiah is ultimately another term for the King of Israel, as well. He is the King, a mashiach is the King, the anointed one. And I do love that one passage at the end of John when they see Jesus and Jesus does something amazing for Nathaniel, they're all being introduced. And I believe it's Nathaniel looks at Jesus and goes, "You truly are the Son of God, the King of Israel." And for them, for Jewish people in their mind at that time, the concept of the Son of God and the King of Israel were one. It was the identity of the Messiah. So what we see right away, like we've been talking about with the virgin birth and the Messiah here, is that Jesus is not your normal average King of Israel. He is different. He comes by way of the Holy spirit through a virgin birth. He comes in the 100% man, 100% God, but carries the title of the King of Israel. Would you say that's true?
Steve Herzig: Chris, I would just say it this way. Jesus is a game changer. He fulfills what was required, but he's so big at the moment, he changes the game. And when you read the Gospels, the reactions, there were no, "Oh, he's okay. I could take him or leave him." No. There was either, "I'm giving up everything I have, I'm following this guy." Or, "He's a threat to who I am." He's a game changer and he's radical. And radical we think negative all the time. He's a radical in the sense that everything that's promised kind of spooked our own people because he was greater and more powerful than what they even anticipated, too much for them.
Chris Katulka: Now I want to transition here. And the transition is moving from Jesus, our focus there, to the Scriptures now because this is about Jesus and the Scriptures and the Word. I want to know, because especially because our understanding of who Jesus is comes from the Scriptures, the Old Testament. So why is the Bible different? You know, why isn't the Bible just like any other book? Why is it different than all of the other books that we might see on the New York Times bestseller list? What, what makes it different?
Steve Herzig: Well, first, let me give you the end of the story and then let me kind of fill in the blanks. Look, there are certain verses that our listeners probably are familiar with, those who go to church. 2 Timothy 3:16 tells us that the Word is God breathed. We know that the Bible is for correction, for doctrine, for reproof. We know all that. And I want to make that clear. But let me back up to the Jewish people. I grew up in a synagogue. Do you know when they take the scrolls out of the ark, the Torah scrolls, which is the Old Testament, specifically the five books, handwritten, taking years to write, the whole congregation stands up. They all stand up.
Chris Katulka: There's a value.
Steve Herzig: They bring it out. They walk around. If somebody drops that text, if it just drops on the floor, whoever dropped it has to fast for 40 days. All right. Why? It's a scroll. Some guy wrote on it. Oh, no. We know growing up, this is the Word of God. In fact, and there's some churches, there's some people, some pastors who read the Word and then when they're finished they say, "This is the Word of God." That's a way of expressing how important, how reverent, the text is from God to us. In our booklet, we have one of the doctrines that we hold as the inspiration of Scripture. We believe every word is God breathed. We believe everything about it is important, but it is. The Bible has become for some of us so normalized.
When I was growing up, if you took a Torah book, which is called Chumash, has the Bible, and you set it down and put a cup of coffee on top of it, my rabbi, if he saw me ... Well, I wasn't drinking coffee when I was young. But if I put a glass of water or something, he'd rap my hand with a ruler. You can't do that. If you write in it, take a highlighter, they have to bury the text. The reason I'm bringing all this up is we believe at Friends of Israel and I have believed all my life this is God's communication to us.
Chris Katulka: Inspired.
Steve Herzig: We are hearing God talk to us.
Chris Katulka: As Paul says, "God breathed." God breathed. That's what makes this book so different. And listen, we're going to have Steve back after our break here in a moment and we're going to be continuing our discussion on the Scriptures and I'm going to tie it up and come full circle to come back to Jesus and how it relates to the Scriptures. You won't want to miss it. Stick around.
Steve Conover: If someone asked you what you believed as a Christian and you're someone who values the unchanging word of God and loves and supports Israel, how would you answer them? Many struggle to understand what God's Word says about creation, the church, Jesus Christ, salvation, Israel, and the end times. Our hope is that our booklet, Here We Stand, will equip you with 19 key beliefs of the Biblical faith. Learning doctrine doesn't have to be a chore. It can revitalize your walk with God and demonstrate your love for him to others as you come to know him better. To purchase your own copy of Here We Stand: 19 Key Christian Beliefs, visit us at foiradio.org. That's foiradio.org. We'll have a link on our homepage or you can call our listener line at (888) 343-6940 and someone will return your call during our regular business hours. Once again, that's (888) 343-6940. To order in Canada, call (888) 664-2584. Again, that's (888) 664-2584 and that's in Canada.
Chris Katulka: Welcome back everybody. Steve Herzig is in the studio with me and we were just talking about the importance of the Scriptures, how they're God breathed and that's what makes them different from any other printed text around the world. But in your opinion, Steve, I want to know this, how do we interpret the Scriptures? Yeah. You know, if they're divinely inspired, I'm sure there's a lot of people out there that think that the Word of God can be viewed or interpreted in many different ways. What do you say about that?
Steve Herzig: I have three words to say. Literally, physically, and grammatically. Those are the only three words people need to know. We open the book and we want to know who wrote it, when did they write it, and what were they writing about and understand that it's a narrative starting in Genesis going all the way to Revelation and that unlike what is happening in many churches where they are interpreting the Old Testament backwards, that is they are starting with the New Testament, that's the lens, and they read the Old Testament, we at Friends of Israel believe that it's a progressive revelation starting in the book of Genesis going to the book of Revelation and that whatever text you're at, there is previous text that's carried along. And we take numbers literally unless context says no. We take all the Scripture literally unless it's poetry or something in context that can change it. So we take it literally, physically. That means that when there's land, we believe that that land is earthy, that we can hold it. And grammatically, when we read the text, if I have trouble with the grammar, I need to talk to a scholar, by way of a commentary or something, to get the grammar right because it's inherent in the text to interpret it correctly.
Chris Katulka: I think the text is designed to plainly speak for itself because it's God breathed. What God breathed onto the text, onto the Scriptures that we read is his letter to us that we are to be responsible to look at from a literal, a plain, grammatical, historical perspective. That means we need to know the background because the background plays into everything. The backgrounds of the New Testament and Old Testament is a big reason for how we interpret and understand the Bible.
Steve Herzig: One of the reasons, Chris, that Friends of Israel has been taking people to Israel since 1977 is because even though the nation is modern and the text is older, we want to get people into the physical area where they can actually see some of the places that were still ... For instance, if you're on the Sea of Galilee, the Bible talks about the Sea of Galilee. And the actual Sea of Galilee is no different. It's a little less water in there then when Jesus was there. And it makes the Bible come alive. Why? We take it for what it says, written about or for or with Jewish people and how that message, that narrative gets expanded to the Gentiles and it tells us the end of the story. It gives us hope because only God knows how things end.
Chris Katulka: All right, so let's put a bow tie on this because we started with Jesus. We looked at him both as 100% God and 100% man, the King of Israel, the Messiah. We looked at the Scriptures, they're God breathed. But in the Gospel of John, John opens his Gospel by saying that the Word became flesh. Is that Word the same Word as the Scriptures and the Bible? Is that same concept of the Word found in Jesus? Is that what he's saying?
Steve Herzig: The Word became flesh is that that whole concept of the Word is logos in Greek. But in Aramaic, it's Memra. And throughout rabbinic Judaism, Memra has been used as a person. So if you understand that and understand the Aramaic and the rabbinic thinking, that Memra has been around and in Genesis, when you read the targums, which are in Aramaic and rabbinic in nature, it would be no surprise that the Memra, the logos, is a person. Because he is indirectly, with that word Memra, a person in the Old Testament.
Chris Katulka: That's so fascinating. So it does connect. There is a connection between the Scriptures and the very fact that the one who spoke these things is the one who comes in flesh.
Steve Herzig: The problem is that most of my people, Chris, have so deviated from an interest in the text, not unlike many Gentiles who come from church traditions where they're still going to church, but they're not carrying a Bible. They're getting a report on a New York Times bestseller.
Chris Katulka: Well, I want to encourage you to join us again next week because Steve Herzig will be in the studio again and we're going to be talking about Israel and the church, something that you're not going to want to miss. Thanks for being with us today, Steve. Really appreciate it.
Steve Herzig: Glad to do it.
Steve Conover: Now, Apples of Gold, a dramatic reading from the life and ministry of Holocaust survivor, Zvi Kalisher.
Mike Kellogg: The situation in Israel is very tense. There is no peace. Most of the time, I am on duty and must patrol the dark streets of Jerusalem on the Arab side. My task is to look for mines and booby traps. Our neighboring Arab countries continually threaten to destroy us, but we are not afraid and trust in the Lord. We must hold on to this land, otherwise they should drive us into the sea. The Lord has promised the land to our people and there is no power on earth that can gainsay the Lord's will. In the meantime, I give my testimony concerning our Messiah and Savior to as many people as possible. I have visited many friends, witnessing to them, because we do not know what the next day will bring.
Last Thursday, I was on patrol in the main street to former Arab Jerusalem. Around three o'clock in the morning I noticed a group of people coming my way. They were fully dressed in black robes. I thought that they were priests, but when they came close, I realized they were students at an Orthodox Jewish school. Because it was my duty to do so, I stopped them and asked what they were doing out so early in the morning. They answered in unison, "We're going to the West Wall to recite Slichot" ( penitential prayers usually recited before New Year and the Day of Atonement.)
At first, they were frightened. But when they saw that I was an Israeli soldier, they took courage. I asked, "When do think the temple will be rebuilt?" One of them said, "Only when the Messiah comes will the temple be rebuilt." "And where is the Messiah?" I asked. He answered, "He is already here, but he is waiting to make himself manifest. He will build the temple and all the dead shall rise from the graves." The leader who was a rabbi asked, "What do you think of the Messiah, the Son of David, soldier?" I answered, "The Messiah, the Son of David, has come and is coming again. I know him and many other people know him and have received him as their Messiah and Savior. He laid down his life for our sins and made full atonement for us according to Isaiah 53 and Psalm 22."
They stood there amazed hearing things that apparently they did not know. The Lord himself put the words into my mouth. Whatever the question, I gave them a Scriptural answer. Usually, Orthodox Jews do not talk to anyone who confesses Jesus as Messiah, but they were most thrilled and impressed by the fact that I was a soldier guiding their safety while they were asleep or when they go to the wailing wall to pray. After I gave them my testimony, I asked, "Do you think I should have the same rights as any other Jewish person here in Israel? Or don't I deserve such rights?" The rabbi said, "You have asked a hard question. If all the Jewish Christians were like you, we would have no difficulty at all." Instead of going on to the Wailing Wall, they lingered around me and discussed the Messiah and messianic prophecies until nearly six o'clock in the morning. We hardly realized that the night had passed and the morning had arrived.
Steve Conover: Chris, as we close, I'll remind our listeners that we have Steve Herzig back with us next week. Can you tell our listeners where we're headed?
Chris Katulka: Yeah. I think our listeners should tune in next week because it's something that's near and dear to our hearts here at The Friends of Israel. We're going to be talking about Israel and the church, the doctrines that surround our core beliefs in why God values Israel and the purpose of the church, as well. So I encourage our listeners to come back next week to hear that. And I also want to remind our listeners that with everything that's happening in Israel, in the Middle East, we really believe that you should be reading Israel My Glory magazine. You can get a one year free subscription of our timely insightful articles on trends that impact Israel and the Christian world. Simply go to foiradio.org. That's FOI as in Friends of Israel. foiradio.org to subscribe. It's there that you can also find our 19 Key Christian Beliefs, our Here We Stand booklet. Again, that's foiradio.org.
Steve Conover: Our host and teacher is Chris Katulka. Today's program was produced by Tom Gallione, co-written by Sarah Fern. Mike Kellogg read Apples of Gold. Our theme music was composed and performed by Jeremy Strong. And I'm Steve Conover, executive producer. The Friends of Israel Today is a production of The Friends of Israel Gospel Ministry. We are a worldwide Christian ministry, communicating biblical truth about Israel and the Messiah while fostering solidarity with the Jewish people.
Here We Stand: 19 Key Christian Beliefs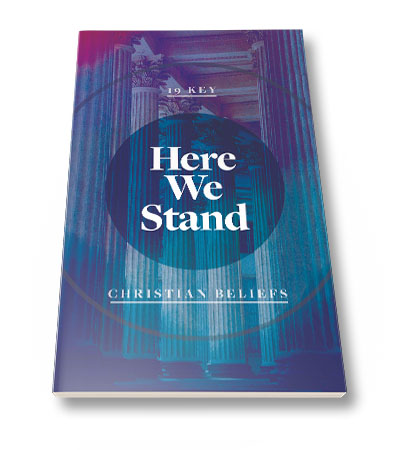 If someone asked you what you believed as a Christian—someone who values the unchanging Word of God and loves and supports Israel—how would answer them?  Many struggle to understand what God's Word says about Creation, the church, Jesus Christ, salvation, Israel, and the end-times. 
Our hope is our booklet Here We Stand will equip you! Learning doctrine doesn't have to be a chore. It can revitalize your walk with God and demonstrate your love for Him to others as you come to know Him better.
ORDER YOUR COPY TODAY!
Apples of Gold: What Do You Think of the Messiah?
Because of unrest in Jerusalem, soldiers must patrol day and night. As a soldier, Zvi was working the night shift patrolling. A group of young students in robes were walking down the street, headed to pray at the Western Wall. As Zvi engaged with them and listened to what they believed, he was able to share how he believed the Messiah had already come and was coming again. Listen and find out how the Holy Spirit moved in this conversation and how these students responded.
Zvi's story is available in Elwood McQuaid's book, "Zvi: The Miraculous Story of Triumph over the Holocaust," available at our online store.
More stories from Zvi are also available in his book, "The Best of Zvi," available at our online store.
---
ISRAEL MY GLORY — FREE ONE YEAR SUBSCRIPTION!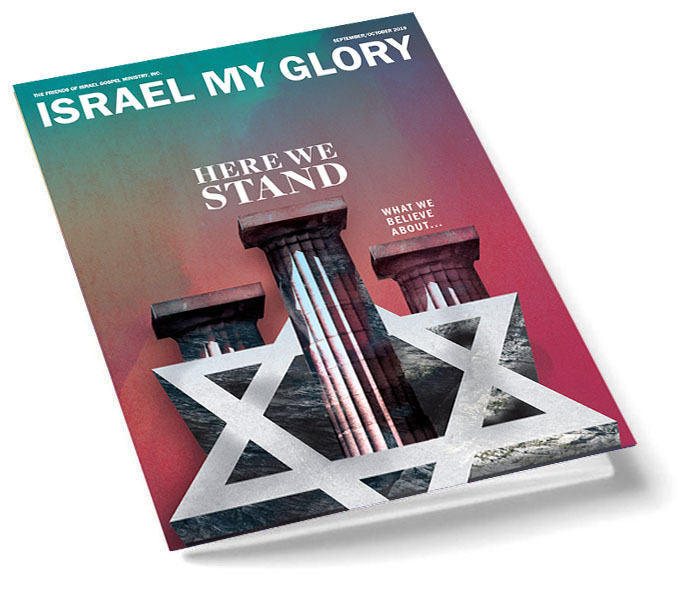 Hard-hitting, accurate, up-to-date analysis of Israel and the Middle East. Thought-provoking examination of God's Word. Answers about the end-times. The truth behind today's headlines. Immediate access to the latest books and resources. People who want to be informed—and have a heart for God's Chosen People—rely on Israel My Glory.
---
SUBSCRIBE TODAY!
---
Music
The Friends of Israel Today and Apples of Gold theme music was composed and performed by Jeremy Strong.