Romans 9
Here's a sad thought: Many churches and Christian leaders teach that Israel, the nation of God's Chosen People, doesn't matter to God anymore. Much of the world feels the same way. But how can this be? Maybe these people just need to read Romans 9–11. We're studying these three chapters in our three-part series "Israel Still Matters to God." We'll begin by analyzing Romans 9 on this week's program, tracking the nature of Israel's relationship with God, its spiritual condition, and its response to Jesus and His teachings.
There's a lot to digest in Romans 9, including the stumbling block of the Jewish people, Israel's role in God's plan for humanity, the means of salvation, what it means to be "Israel," and the future of Israel. These factors all add up to one simple yet poignant conclusion—Israel definitely still matters to God! He has not forsaken Israel, and Romans 9 makes that truth very clear. Tune in to understand and defend Israel's importance in God's eyes.
Steve Conover: Welcome to the Friends of Israel Today, I'm Steve Conover, and with me is our host and teacher Chris Katulka. As we begin, I'd like to remind you to visit our website foiradio.org, to keep up on all things related to the Friends of Israel Today radio program. There you can listen to all of our broadcasts, five years' worth of content, with links to our featured products, highlighted in the show. Or you can support our ministry by clicking on the donate button to help us continue teaching biblical truth about Israel and the Jewish people. Again, visit foiradio.org.
Chris Katulka: Steve, I got my Bible opened, we're doing Romans 9 through 11, over the next three weeks. We're doing a three-part series, we're going to look at each chapter, each of the week. So today we're going to be looking at Romans 9. You know what? This is important to me. And I think this is important to the Friends of Israel and I hope that this is important to our listeners who are listening right now. Israel still matters to God, and there are people who try to say that they don't, but they do matter to God. And I actually think Paul wants the church in Rome to know the significance of God's plan for Israel and what it means for them today and what it means for them in the future. So for the next three weeks, we are going to be looking at Romans 9, 10, and 11. Get your Bibles open everybody, I think it's going to be a fantastic study.
But before we get there, we love our podcast listeners, so please be sure to rate and comment on our program that can be heard on Apple, Spotify, Google, TuneIn, Stitcher, and a host of many other platforms. We'd love to hear from you, your ratings actually help us, your ratings, especially on the Apple podcast, they help others find the Friends of Israel Today. So if you value our program, please be sure to let us know. And thanks for listening online.
Steve Conover: Yeah, we sure hope you will help us that way in giving your reviews, especially at Apple podcast, but first the news. Millions of blind people are expected to receive sight, thanks to new Israeli technology, the CorNeat KPro implant replaces damaged corneas restoring the vision of corneal blind patients immediately following implantation. The implant integrates with the patient's ocular tissue using a patented synthetic nano fabric. Israel's health ministry approved trial of the implant on 10 patients suffering from corneal blindness.
Chris Katulka: Steve, actually a couple of weeks ago, I got a phone call from a reader of Israel My Glory, a listener to our radio program and he specifically was talking about this new technology and I didn't know about it. Because he himself is blind and he was saying, he heard that Israel is going to be bringing out new technology to help people who are blind. The fact that millions could see again is absolutely amazing. Israeli technology is helping the entire world. God is using the Jewish people to bless all the families of the earth, Genesis 12:1-3, but the most important gift, this is so important everybody, the most important gift that Jewish people gave to the world is God's Word and His Son, Jesus Christ, who made a way to have a relationship with our father in heaven. As Anglican clergyman, John Newton, wrote, amazing grace, how sweet the sound that saved a wretch like me, I once was lost, but now I'm found, was blind but now I see. It's interesting to me how there is certain opposition to Israel that comes from the world.
The UN, a perfect picture of the world, the UN and their human rights commission has condemned Israel more than any other country, which at face value is just absurd. Given the grievous human rights violations some of the countries on the council have committed like North Korea, Pakistan, Qatar, and Afghanistan. These countries have the audacity to tell Israel the only democracy in the Middle East, who provides freedom of speech and freedom to practice your religion. Israel doesn't discriminate based on race, ethnicity, gender. This Israel is the one who is condemned by North Korea, Afghanistan, but you know what? It's not just the UN, many countries individually oppose Israel. The European countries, negatively labeled products that come from Judea and Samaria. Many countries refuse to move their embassy to Jerusalem because they stand in opposition to Israel. So in the world, there is definitely opposition to the Jewish State. And I'll be honest, I'm just not shocked by the world's response to Israel.
Satan has been trying to divide and conquer Israel since the early chapters of the Bible, but here's what gets me, the thing that rubs me the wrong way. When Christians don't believe Israel matters anymore, when church denominations like the Presbyterian church USA decides to divest from Israel because of their misunderstanding of how Israel handles issues in the West Bank, Judea and Samaria. Or when theologians in the body of Christ, try to show biblically that God no longer cares about the reestablishment of the state of Israel. That God's agenda no longer includes a future for Israel and the Jewish people. And another case, evangelical Christians put together a document, they did, they put together a document called an open letter to evangelicals and other interested parties on the people of God, the land of Israel, and the impartiality of the Gospel. The document does a great job and I mean it does a great job of highlighting the impartiality of the Gospel. The Gospel is supposed to unify races.
There is no Jewish person that's better than a Gentile or vice versa, we're all sinners saved through the blood of Christ. We all need Jesus as our Messiah. But listen to one of the points that they try to make. They say this, "Simon Peter spoke of the Second Coming of the Lord Jesus in conjunction with the final judgment and the punishment of sinners. Instructively, the same Simon Peter, the apostle to the circumcision says nothing about the restoration of the kingdom to Israel and the land of Palestine. Instead, as his readers contemplate the promise of Jesus's Second Coming, he fixes their hope upon the new heavens and the new earth in which righteousness dwells." First, you can hear their animosity toward Israel in this letter when they won't even call Israel by its name, they call it the land of Palestine. And then on top of that, they say, Simon Peter doesn't ever mention a future restoration of the kingdom of Israel. Well, then they probably have skipped right over Acts 3:18-19, when Peter himself talks about Israel's salvation connected to the restoration of the kingdom, they should go read that. Acts 3:18-19.
And then there's someone like Pastor John Piper, who I have great respect for, but his views on Israel today make me kind of sad. Listen to what he writes in his blog, Desiring God, he wrote this, "God promised to Israel, the presently disputed land from the time of Abraham onward, God said, 'this is the land which I swore to Abraham, to Isaac, to Jacob, I will give it to your offspring', Deuteronomy 34:4." So right away, I'm agreeing with Pastor Piper. He is saying that the disputed land, which is he's talking about the land of Israel today, God promised them that land, but then listen to what he says. "Statements to that effect are repeated many times in the Bible, but neither of those two facts, Israel's election and God's covenant promise of the land, means that Israel has a present day divine right to the land." So he completely says these two facts that the Bible talks about with Israel being in the land, have nothing to do with their present day divine right to the land. These comments and views about modern Israel coming from Christians, make me more sad than the UN condemnation.
And this is why for the next few weeks, we're going to be doing a series on what I believe is one of the most direct chapters in the New Testament on why Israel matters, still matters, to God today, Romans 9 through 11. So if you have your Bibles open them up, Romans 9, this is where we're going to begin. Paul is writing to the Romans about the issue of Israel and whether or not Israel still matters to God. This was a big deal at the time that Paul is writing to the Romans because quick backstory to the letter, in 49AD Roman emperor Claudius kicked the Jewish people out of Rome, all of the Jewish people, that's Jewish, non believers in Jesus and Jewish believers in Jesus. They didn't distinguish if you were Jewish, Claudius kicked you out of Rome. The churches in Rome prior to 49AD would have comprised of mostly Jewish people. So the church would have looked and sounded pretty Jewish.
After Claudius's death, though, Jewish people were permitted to return. Now, those Jewish believers in Jesus, returning to Rome, encountered a growing church in the city, but that growing church was predominantly Gentile. So the Jewish Christians, try to follow me here, the Jewish Christians coming back to Rome, had to struggle with the question of whether they were primarily Jewish or whether they were primarily Christian, which probably felt very Gentile to them at that time. Also, there could have been an anti Jewish bias in the Roman church that Paul needed to tackle head on, in Romans 9 through 11. To let Gentile believers know that the Jewish people and Israel still matter. Paul begins Romans 9 in deep despair that his very own people, the Jewish people haven't accepted Jesus as their Messiah. And like Moses, Paul would be willing to sacrifice his own relationship with Jesus if his fellow Israelites would turn to their King, Jesus. Paul is saying of all the people in the world to get and understand the truth of the Gospel of Jesus, it's the Jewish people.
And listen to what he writes here in Romans 9:4-5 he says, to them belong the adoptions as sons, the glory, the covenants, the giving of the law, the temple worship, and the promises, to them belong the patriarchs and from them by human descent came the Christ, who is God overall, blessed forever. Amen. Israel's adoption, the glory of God, the covenants, the law, the temple, the promises, Abraham, Isaac, Jacob, even the Messiah Jesus, it all comes through Israel. That's what Paul's trying to tell those Gentiles in Rome, of course, they matter to God and knowing that they matter to God, Paul is willing to sacrifice his own relationship with Christ as he said earlier. He says this in verse three for, I could wish that I myself were accursed cut off from Christ for the sake of my people, my fellow countrymen, who are Israelites. Now, let's focus there for a moment Israelites, Paul's use of the title Israelite should not be looked over. Paul uses that title deliberately. He could have used the title Jew, which would have encompassed all the Jewish people that were living all around the world at that time.
But using the title Israelite, Paul is actually claiming the promises God made to Abraham, Isaac and Jacob concerning the whole gamut of Israel, the Jewish people, the blessings, and also the title deed to the land that God promised Abraham. Paul wants those Gentile Christians in Rome to know Israel as a nation, not just as a people, as a nation, still mattered to him. But Paul's sorrow is real, the majority of Jewish people didn't believe in Jesus. So Paul asks the question, does this mean that God's Word has failed? This is a real question Paul is asking those believers in Rome. Paul goes on to explain in verse six of chapter nine, that not all of Israel are truly Israel. Now, Paul's not trying to redefine Israel here, he's not trying to say that the church becomes Israel. He's literally trying to say that just because you were born of Abraham as a Jewish person, doesn't guarantee your salvation. Salvation isn't through your Jewish race alone, it's through faith alone.
Paul argues that not all of Abraham's children were chosen. Abraham had Isaac and Ishmael, but God chose Isaac. Isaac had Jacob and Esau, but God chose Jacob. God is the only one who has the sovereign capacity to choose mercy on whom He will give mercy to. And that's exactly what Paul says. So did God's word fail? The fact that not many Jewish people came to faith in Jesus? No, God is reaching out to Israel. He hasn't forgotten them, there's a remnant, a remnant. Remember that word because we're going to get to it in a moment. But first I want to share with you a way that you can dive even deeper into the study of Romans 9 through 11. For me, this is such an important subject. And I know for all of us here at Friends of Israel, it's an important subject that we actually dedicated an entire conference to it a few years ago, 16 messages on three chapters that best display God's plan for Israel. That God's not through with Israel, that He has a bright future for Israel.
The apostle Paul really believed it was important for the early church to know these truths about a future for Israel. And we believe Paul's message couldn't be any more relevant for the church today and the world that we're living in.
Steve Conover: You can purchase this 16 set message series @foiradio.org. That's foiradio.org. We'll have a link on our homepage, or you can call our listener line at (888) 343-6940 and someone will return your call during our regular business hours. Again, that's (888) 343-6940. On the web it's foiradio.org. And to order in Canada, call (888) 664-2584 that's (888) 664-2584.
Chris Katulka: So we're continuing our study here on Romans 9. And I wanted you to focus in on a word that is going to be really important to what Paul's going to communicate to the church at Rome here. And that word was a remnant. Paul, he was really concerned that the church in Rome would think that God's Word failed since the Jewish people didn't come to faith in Jesus, the Messiah. And Paul wants the church in Rome to know that God's Word is from, and it's true. And that a remnant in Israel will be preserved. In chapter nine, Paul actually goes on to quote Isaiah 10:22-23 but this is what Paul says, he says, "And Isaiah cries out on behalf of Israel." This is coming from verse 27 of chapter nine. "Though the number of the children of Israel are as the sand of the sea, only a remnant will be saved, for the Lord will execute His sentence on earth completely and quickly just as Isaiah predicted. If the Lord of armies has not left us descendants, we would have become like Sodom and we would have resembled Gomorrah."
So here is exactly what Paul is trying to say from Isaiah the prophet, when he's looking back on the past concerning Israel. That Israel will be judged for their sin, but that doesn't mean that the eternal covenant that God made with Abraham is abrogated, God will preserve a remnant, a remnant will be saved. And the apostle Paul wants to focus on that remnant, to let the church in Rome know that God still has a future for Israel and the Jewish people. Because here's the thing, Paul sees a future for Israel. It will become more and more clear as we travel from Romans 9 to Romans 10, to Romans 11. You can hear Paul's anguish that he desires to see his Jewish brothers and sisters come to faith in Jesus, but they can't come to God on their own terms. Paul ends chapter 9, talking about a stumbling stone for the Jewish people when it comes to their salvation.
Listen to how Paul ends Romans 9, "What shall we say then? That the Gentiles who did not pursue righteousness obtained it, that is a righteousness that is by faith? But Israel, even though pursuing the law of righteousness did not attain it? Why not? Because they pursued it, not by faith, but as if it were possible, by works, they stumbled over the stumbling stone just as it is written. Look, I am laying in Zion, a stone that will cause people to stumble and a rock that will make them fall, yet the one who believes in Him will not be put to shame." Israel has a problem. They think they can attain righteousness through the keeping of the law. But Paul is saying, which is what you see all throughout the book of Romans, the stumbling stone, who is Jesus Christ, came and it didn't fit the expectations of the Jewish people. Therefore, He became a stumbling stone. So what does this mean for Israel? Israel wanted to attain righteousness through the keeping of the law, but Paul is saying that's not the way that you acquire righteousness.
There's no way that you can acquire righteousness through the keeping of the law. Paul is saying, yes, Gentiles acquire righteousness the same way Jewish people are to acquire righteousness, through faith in Jesus Christ, who is the end of the law, who was the goal of the law, who came to fulfill the law. It's faith in Christ and it's His righteousness that is put on us then, we become the righteousness of Christ because of what He did on the cross. That comes right from the book of Romans. Okay. So does this mean God's through with Israel then? Have they stumbled so much that they have fallen totally? Well, you have to come back next week because we're going to continue our study on Romans 9 through 11. Why? Because Israel still matters to God.
Steve Conover: Israel on the verge of becoming a State, a teenaged Holocaust survivor arrives on her shores alone. His name is Zvi Kalisher little did he know his search for a new life in the holy land would lead him to the Messiah. Zvi, enthusiastic to share his faith, engaged others in spiritual conversations. Many of which can be found in our magazine, Israel My Glory. While Zvi is now in the presence of his Savior, his collective writings from well over 50 years of ministry, continue to encourage believers worldwide. Now Apples of Gold, a dramatic reading from the life of Zvi.
Mike Kellogg: People here in Israel are extremely nervous. This is partly due to the economic situation. When I tried to speak with them many say, "there is no longer a God because He sees and allows His chosen nation to fall down." One man asked, "What do you think, Zvi?" I replied, "What you say is not true, God has chosen us and brought us to this promised land, we should live and not die." In October 1973 when the Arab armies attacked us, the Israeli population was very demoralized. Why did God spare us? And why are we living now? We are still alive and still a nation because God loves us. Is it not true that we love our children? Of course, we do. That we do not punish them for their misdeeds, they will continue to do as they wish. It is the same with our God, He loves us therefore, He punishes us when we need it until we ask for his forgiveness. If people ask for forgiveness, change their ways in turn to God, He will bless them.
If you do so, you and all your friends will know the truth about our God. And when He makes a promise, He keeps it. He is not as we humans are." After that this man asked, "What do you think I should do? Should I believe in God?" "Oh yes," I replied. "But you should ask God what to do instead of asking me." I was surprised he asked, "How can I ask God?" I told him he could go directly in God in prayer because He is our father and will answer him. "How shall I pray?" He questioned, I then opened the Bible and read the Lord's teaching about prayer in Matthew 6:9. Then this man realized about whom I was speaking. "Jesus?" He asked incredulously. "He was against our Torah, how can I believe in Him?" I then read from Galatians 3:10, cursed is everyone who does not continue in all things, which are written in the book of the law to do them. This was another surprise to him and he declared, "Jesus is the great enemy of the Jews!"
"That is what people say," I told him, "and you, my friend, believe them." He thought for a moment and then replied, "That is how I felt before, but not now." Then we read together John 3:16. "For God so loved the world that He gave His only begotten Son that whoever believes in Him should not perish, but have everlasting life." "This is all new to me," he said, "it would be nice if you would give me some books so that I may read about these things for myself and share them with my friends. I want to show them how they lied to me. I will visit you every week and you can teach me from the Bible." Through this man, two other families came to me and I gave them my testimony about the Lord. I was sure that after such a lengthy conversation about our Savior, they would not return, but the Lord opened their hearts and now we meet every week. All of these dear people are now secret Christians, perhaps one day soon, they will openly acknowledge Jesus as Messiah and Lord.
Steve Conover: Thank you all so much for being with us today, Chris, we are continuing our study next week in Romans 9, 10 and 11.
Chris Katulka: That's right, we're going to be doing Romans 10 next week. I really hope our listeners come back because we're going to see that Paul has a heart and understanding of what the Jewish people are doing. Because it comes from zeal, but is it the zeal that's directed in the right place? I think it's going to be a great study.
Steve Conover: And before we close, I'll remind you once more to visit foiradio.org, to connect with us. That's foiradio.org. Our host and teacher is Chris Katulka. Today's program was produced by Tom Gallione. Mike Kellogg read Apples of Gold. Our theme music was composed and performed by Jeremy Strong. And I'm Steve Conover, executive producer. The Friends of Israel Today is a production of the Friends of Israel Gospel Ministry. We are a worldwide evangelical ministry, proclaiming biblical truth about Israel and the Messiah while bringing physical and spiritual comfort to the Jewish people.
2014 Prophecy Conference CD Set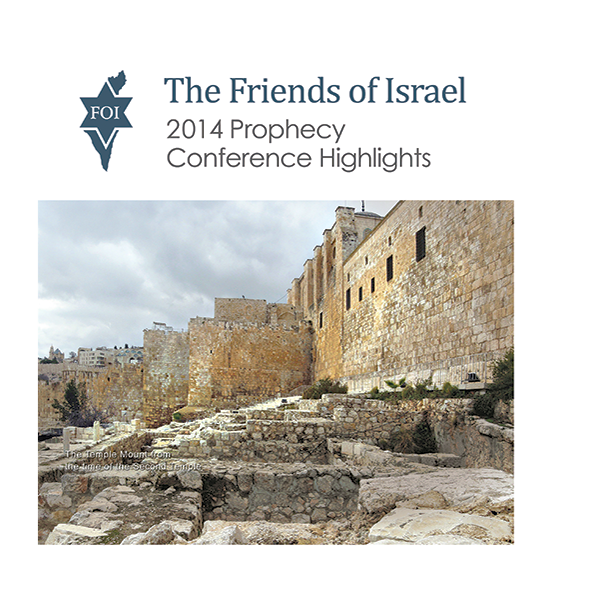 God's not through with Israel! Paul devoted three chapters, Romans 9–11, to this very fact. We devoted an entire conference to these chapters!
Enjoy listening to these sixteen messages from The Friends of Israel's Bible teachers explaining God's plan for Israel from these three chapters.
ORDER TODAY!
Apples of Gold: How Can I Believe in God?
As Israel suffered as a nation in the 1970s, many Israelis felt lost. They felt that God had abandoned them and was not worthy to believe in. Zvi was a beacon of hope to the Israeli community, sharing the good news of God's plan for sustaining His people. His encounter with one man who felt that God was not present, showed the man the true nature of God the Father. Zvi diligently broke down the lies that Jewish people were fed about Jesus as he shared the truth that God reveals about Himself in His Word.
Zvi's story is available in Elwood McQuaid's book, "Zvi: The Miraculous Story of Triumph over the Holocaust," available at our online store.
More stories from Zvi are also available in his book, "The Best of Zvi," available at our online store.
---
Music
The Friends of Israel Today and Apples of Gold theme music was composed and performed by Jeremy Strong.