Ashkenazi Jewish Ancestry
Our ministry is devoted to loving and helping the Jewish people. To help you do the same, we're here to teach you about their heritage. Chris teaches you everything you should know about the Ashkenazi Jewish people on this week's program, part 1 of our 4-week series studying the Jewish people. From their sense of humor to their cuisine to their music, Ashkenazi culture is quite familiar to all of us thanks to its impact on modern culture. 
Though Ashkenazi ancestry is the most common background of Jewish people today, their history has included great trials. The rampant anti-Semitism that infected Europe during the Middle Ages played a large part in dispersing these people to different areas throughout the world. Their survival today is a testament to God's work, and their traditions are unique and exciting for us to learn!
Steve Conover: Welcome to the Friends of Israel Today. I'm Steve Conover. With me is our host and teacher, Chris Katulka. we're so glad you joined us today/ Chris, I'm really excited about this series that we're starting today. Can you tell our listeners where we're headed?
Chris Katulka: Yeah. So we're going to be looking at the different backgrounds and ethnicities of the Jewish people. I think this is going to be so helpful. When I travel to churches, a lot of times people come down to me and they say, "Chris, can you help me understand the different religious backgrounds of the Jewish people, or the different ethnicities of the Jewish people, or why Jewish people think this way or that way?" But you know what? We're going to try to answer some of those questions over the next four weeks as we look at the different backgrounds, ethnicities, and culture of the Jewish people. I also want to encourage our radio and podcast listeners to visit our website, foiradio.org.
Steve Conover: Yes, we have all of Chris's teachings about the scriptures, Israel, and the Jewish people, plus interviews with our field workers, both locally and internationally, to hear about all the amazing ministry Friends of Israel is doing around the world. And as you browse our website, you'll find a link to our most popular page that features trustworthy and accurate news on Israel and the Middle East. And don't forget while you're there, you can support our ministry by clicking on the "donate" button to help us continue teaching biblical truth about Israel and the Jewish people. Again, visit foiradio.org.
Steve Conover: Now in the news, Palestinians recently marked the 16th anniversary of their second presidential election. General elections have not been held since 2005. When Mahmoud Abbas won his second term as president. His four-year term ended in 2009. Yet 16 years later, he still remains in power. Abbas promised the United Nations that Palestinians would hold a general election, but polling data shows 66% of Palestinians want him gone.
Chris Katulka: Yeah. Yasser Arafat was the original leader of the PLO, the Palestinian Liberation Organization. And once he passed, Mahmoud Abbas became the president of the Palestinian authority. It also ultimately transferred into that. He held his first election in one, and then the second election, which is what you're talking about, Steve, in 2005. And he won that, and it's kept going on and on and on. It's not democracy when your president refuses to step down. However, there's a bit of a twist. The alternative is that Abbas could lose to a Hamas leader. Hamas won a major victory in the 2006 Palestinian parliamentary elections. So with so many Palestinians wanting Abbas out and Hamas is his opponent, we could see potentially a more radical Palestinian government.
Okay, well, I don't know if our associate producer and engineer, Tom Gallione, is going to like this, but I've actually got some Jewish jokes for you. Okay, here it goes. A poor man walking into the forest was close enough to ask God, "What's a million years to you, God?" And God replied, "My son, a million years to you is but a second to me." The man asks another question. "God, what's a million dollars to you?" And God replied "My son, a million dollars to you is less than a penny to me, it almost means nothing." The poor man asks, "So God, can I have a million dollars?" And God answered him, "In a second." Okay, maybe you laughed. Maybe you didn't, but this is classic Jewish humor.
There are so many good Jewish jokes. Like a Jewish man is shipwrecked on a desert island. He's stuck for years and he uses the material around the island to build a house, to build a store, and to even build a synagogue. Eventually he makes an entire neighborhood. And one day, he was rescued by a passing ship and the sailors are helping him collect some of his possessions and he's getting ready to leave this island forever. And just before they leave, one of the sailors says, "Hey, why didn't you build two synagogues?" And the man rolls his eyes. "This," he says, pointing to the one building, "This is my synagogue. And that," he says, pointing to the other, "That is the synagogue I would never step foot in." See, so Jewish jokes are rooted.
Here's the funny thing. Jewish jokes are rooted in Jewish culture. They're rooted in Jewish history. They're rooted in Jewish ethnicity. The jokes are a way for Jewish people to laugh together in the face of persecution and the difficulty that they've dealt with throughout their history, or even dealing with trying to maintain a Jewish identity in a non-Jewish world. Now, to a non-Jewish person, Jewish culture and history and ethnicity can seem like one big unified story that defines people from Jewish people from all around the world. The way one Jewish person thinks is the way another Jewish person thinks. But the reality is, Jewish culture, and history, and ethnicity is much more complex. It's very nuanced.
Personally, I didn't fully realize the complexity of the Jewish culture until I spent my summers in Israel, interacting with Jewish people from various backgrounds. On some nights, I'd spend the evening with a Jewish family who believed in Jesus, who immigrated to Israel from the Ukraine, and their experiences were much different than the man that I would run into at work in Israel, who would greet me during the day saying "Buenos dias." That's right. An Israeli man saying "Buenos dias" to me, this Israeli man's family grew up in Spain and immigrated to Israel.
I would drink coffee with a good friend of mine. His name was Babar. Not your typical Jewish name for us Westerners, but Babar's family immigrated to Israel from Yemen. He invited me to his daughter's pre-wedding Yemenis henna party, and it was unlike any Jewish I'd ever been to. A dear family friend of mine who lives in Tel Aviv is a Moroccan Jew from North Africa. And he tells me that he thinks in French, but he speaks in Hebrew and somehow squeezes out some English. Israel is a melting pot of Jewish culture and history and ethnicity. And that's what I want to spend the next few weeks talking about, the various different Jewish backgrounds and nuances that they bring to the entire Jewish world. And it's good for us as Christians to understand Jewish culture, customs, and background. It helps us minister more effectively to our Jewish friends and to show the love of the Messiah.
So I want to ask you a question, what image comes to your mind when you think of a Jewish person? I know the most common one is probably an Orthodox man wearing a black suit with a long black coat, or a robe, ornate black hats that cover their heads with long beards and curls of hair that are flowing down from each side of their face, while they wear these white fringes that hang from their waist. That picture in your head of that Jewish man actually comes from what's called the Ashkenazi heritage. The Ashkenazi culture, the Ashkenazi cuisine and customs are probably the most recognizable in our culture in Western society.
Now, not all Ashkenazi are Orthodox like the man that I just mentioned above. Ashkenazi Jewish people can vary in their religious affiliation to Judaism. Some are extremely Orthodox, ultra Orthodox, some are more conservative in their Judaism, while others embrace what's called reformed Judaism, which is an open-minded form of Judaism compared to Orthodox and conservative, which have a very high value of the Tanakh, which is the Hebrew Bible, the Old Testament. There are some classic Jewish dishes that originate in the Ashkenazi tradition. They include some things that you've probably eaten like challah bread and lox and bagels, and maybe gefilte fish, and strudel, and kugel, and matzo ball soup, one of my favorite ones, just to name a few. Even Ashkenazi music is recognizable. Klezmer music has this distinct sound of stringed instruments with these overtones of these emotional squeals that come from the clarinet that emote this feeling that can really only be uniquely Ashkenazi music.
Ashkenazi is a title that is given to those who settled along the Rhine River in Germany and northern France around the 10th century AD. And it later incorporated those who migrated from Germany to eastern Europe and Russia. So today, nearly 80% of all modern Jewery have Ashkenazi ancestry. The actual term for Ashkenazi comes from the Hebrew word Ashkenaz, which is associated with this area of Germany. That's where the name comes from. Now, here's something that's interesting. Israeli scientists discovered that 40% of Ashkenazi Jews are descendants of just four women. Another study revealed that Ashkenazis are 30th cousins that originate from the same population almost 800 years ago. Ashkenazi DNA can even be traced back to the Middle East. Jews who migrated from Israel to Italy in the first and second centuries, which this actually fits perfectly with the Jewish expulsion from Israel in the first and second Jewish revolts in the Roman expulsions around 70 AD when the Romans destroyed the temple, and by 135 AD when the Romans kicked out the last remaining Jewish people from the land.
Jewish people settled in Germany as early as 321 AD, but it's not until the 10th century AD that the unique Ashkenazi culture really emerges and takes hold in Germany. Their culture is a combination of Israeli and Babylonian Judaism, coupled with influences of western Mediterranean, northern French and German culture with a dash, or better yet, a cup of hutzpah. While Jewish ethnicity and culture are complex, there's one thing in history that they share together globally, and that's persecution. Jewish people have been persecuted throughout the ages, targeted for simply being Jewish.
The Ashkenazi community suffered both economic and religious persecution in the Middle Ages. Taxes were levied against them for simply being Jewish. They were prohibited from owning land at certain periods of time. They were even restricted from certain employment and trade. And sadly, much of this anti-Semitism, this targeting of the Jewish people, came from the church. It was designed to isolate and keep the Jewish people in check. Antisemitism was rampant during the Middle Ages. Blood libels falsely accused Jewish people of murdering Christian children to use their blood during Passover and other rituals. They were even blamed for spreading the Black Plague in Europe, which led to riots and massacres. Under certain rulers, Jews could face expulsion if they didn't convert to Christianity. Persecution forced the Ashkenazi population that was in Germany and northern France to eventually migrate East to where they found religious freedom in what is now Poland, Lithuania, and Russia.
Eastern European Jewery, especially in Poland, grew to become the largest Jewish community in the diaspora. Shtetls canvassed the eastern European countryside. These are small, tiny Jewish villages that really embody the Ashkenazi lifestyle. And this is actually where we get the famous story of Tevye, written by Sholem Aleichem between 1894 and 1914. And we know it as Fiddler on the Roof. And it's all about Ashkenazi Jewish life in a village in Russia at the turn of the 20th century, when there was severe persecution against the Jewish people in Russia, it was called the pogroms. Tevye was a religious Jewish man who struggled to raise his daughters in the tradition of the Jewish people. And yet, Tevye had to cope with the strong-willed actions of his three older daughters who didn't want to marry the people he wanted them to marry. And look, even Fiddler on the Roof, in the midst of persecution, anguish, and political strife that plagued the Jewish people, Tevye had still found a way to inject humor into all that he was going through.
Poland and eastern Europe would eventually become the center of the Ashkenazim religion, intellectualism, and culture until the Holocaust in the mid 20th century. Nazis completely decimated the Jewish way of life in the Shtetls in eastern Europe. Just listen to these stats. These are depressing stats. In 1939, an estimated 4.7 million Jewish people lived in eastern Europe, 4.7 million. And they were mostly Ashkenazi. As of 2010, so this is even a ten-year-old, a decade old stat, an estimated 70,000 Jewish people remain in eastern Europe. 70,000 compared to the 4.7 million in 1939. Many of them were killed in the Holocaust, immigrated to Israel, or other areas of the world.
Now, the Ashkenazi actually had a very special language that they spoke that originated from their time in Germany. In fact, you probably speak a little bit of this unique language and you don't even know it. But before we get to that, I want to share with you a resource that you need to know about. Listen, if you love Israel and the Jewish people, I really believe it's important to understand the distinctions between the Jewish people around the world, to understand their culture, to understand their background, to understand their customs. They matter. Really, it matters how we minister to our Jewish friends and know where they come from and understand the world in which they think, and act, and even laugh in.
And that's why I want to introduce you to a book by a dear friend who's on the radio program a lot with us, Steve Herzig. He wrote a book called Jewish Culture and Customs, where he highlights all of the backgrounds, and distinctions, and religious practices of the Jewish people. And even the different ethnicities as we're going through, the Ashkenazi, the Sephardic, the Mizrahi. All of these different types of Jewish people are found here in Steve's book, Jewish Culture and Customs. It highlights all the different areas of Jewish life that's filled with rich symbolism and special meaning. So I want to encourage you to get the book by Steve Herzig, Jewish Culture and Customs. I promise it will enlighten you to the various backgrounds of the Jewish people. Steve, how can our friends get a copy of Jewish Culture and Customs?
Steve Conover: To purchase a copy of Jewish Culture and Customs by Steve Herzig, visit us at foiradio.org. Again, that's foiradio.org. There, you'll find a link on our homepage that will direct you to where you can purchase Steve's book, or you can call our listener line at (888) 343-6940 and someone will return your call during our regular business hours. Again, that's (888) 343-6940. To order in Canada, call (888) 664-2584. Again, in Canada, call (888) 664-2584.
Chris Katulka: A little Jewish grandmother gets on a crowded bus and discovered that she doesn't have the correct change for the fare. And the driver says, "I'm sorry, ma'am, but without the correct fare, you can't ride." And she places her hand gently on her chest and says, "If you knew what I had, you'd be nicer to me." So he lets her ride. She tries to move down the crowded aisle, but people won't make a way for her. So she places her hand gently on her chest and says, "If you knew what I had, you'd be nicer to me." And the crowd parts like the Red Sea. And she reaches the back of the bus where there are no seats, no one gets up. And she places her hand gently on her chest and says, "If you knew what I had, you'd be nicer to me." And several people jump up and insist that they take her seat and she settles into a good one by the window.
And a woman leans over to her and says, "I know this is none of my business, but what is it that you've got?" And the little Jewish grandmother grins and says "Chutzpah." You know what chutzpah means? Supreme self-confidence, the nerve, the gull, the chutzpah. Speaking of chutzpah, Ashkenazi speak a unique language called Yiddish, a tongue that defines their culture even to this day. You've probably uttered a few Yiddish words at a time or two. Maybe you schmoozed with a friend at a party, or you grew tired of schlepping around the luggage on vacation. And oy vey, this isn't a Yiddish lesson so let's move on already. The Yiddish language has been worked into our western culture. Yiddish combines high German with Hebrew, Aramaic, and Slavic languages. In its heyday, millions of people from various Jewish backgrounds spoke in this unique Jewish language.
Sadly, after the Holocaust and Stalin's persecution, the use of the European Jewish language nearly died. In recent years, there's been a resurgence of Yiddish, primarily among the ultra Orthodox Jewish communities in Israel and New York. But even prior to the establishment of the state of Israel in 1948, a debate swirled about as to whether or not Yiddish should be the official language of Israel. Secular Jews wanted Hebrew to be the unifying tongue of the Jewish people, while the pious religious community wanted Yiddish in order to maintain Hebrew as a holy language. Well, Hebrew today is the main language of Israelis, and Yiddish is still maintained as a vital part of Jewish culture and history.
Now, the pandemic has been hard on many, but not for Yiddish, believe it or not. The annual Yiddish Summer Program had a 60% increase of registrants compared to last year. And participants joined from 14 different countries, 23 different states, from as young as 16 to as old as 84. And even one of our Friends of Israel representatives in Pittsburgh uses Yiddish as a way to teach and minister to the Jewish community. They hold what's called Yiddish Club where they learn Yiddish and preserve this unique language. So whether you're noshing on a bagel, kvelling over your mishpokhe, or you feel a little verklempt from my spiel, remember the heritage of the Yiddish language can only come from the Ashkenazim.
Steve Conover: Israel, on the verge of becoming a state, a teenaged Holocaust survivor arrives on her shores alone. His name is Zvi Kalischer. Little did he know his search for a new life in the holy land would lead him to the Messiah. Zvi, enthusiastic to share his faith, engaged others in spiritual conversations, many of which can be found in our magazine, Israel: My Glory. While Zvi is now in the presence of his savior, his collected writings from well over 50 years of ministry continue to encourage believers worldwide. Now, Apples of Gold, a dramatic reading from the Life of Zvi.
Mike Kellogg: I live in an apartment building in Jerusalem. We have a house committee to represent the residents. And for 10 years, I was a member of that committee. Over the years, I've made many good friends. Often, I was invited to their flats, or I invited them to mine. We have had many good conversations about a variety of subjects, including my faith. When my last term on the committee was completed, a new resident took my place. He began asking questions about all the residents, what kind of work they do, how they live. Everyone thought he was a private detective. And then we learned he is a member of an ultra Orthodox religious group and was reporting to them about us.
One day, he came to my home to collect the maintenance fee. He began to ask many questions. "How well do you live? Do you go to the synagogue on the Sabbath? How do you serve God?" I said, "I will answer you. But first, answer a question for me. How many gods must we serve?" "Only one." He replied. I continued. "Which God do you worship?" He answered, "That is a stupid question. As I said before, there is only one God, the God of the Jewish people, the God I worship. All others in the world worship idols." I ask, "Does each nation have its own God as each nation has its own political leader?" Regardless of what I said, he replied, "That is not the truth." I ask, "Which do you read better? Yiddish or Hebrew?" "Hebrew." He replied. "Good," I said, "because I have a Hebrew Bible here. You can read it for yourself." He was very interested in my Bible.
And after examining it, he asked, "How can you read such an unclean non-kosher book? This contains the New Testament." I replied, "My friend, the New Testament is as much a part of the Bible as the Old Testament." He was very upset and asked, "Who told you the New Testament is part of the Bible?" I answered "Our own Jewish prophets wrote about Yeshua Hamashiach, Jesus Christ." He looked like his blood began to boil and he yelled "That is not true." "Oh yes, it is true." I told him. "The Bible describes people like you. And it said keep on hearing, but do not understand. Keep on seeing, but do not perceive." I ask "Is the God spoken of by Isaiah only for the Jewish people, as you said before?" I then read Isaiah 34:1. "Come near, you nations, to hear and heed your people."
I said, 'This passage shows there is only one God. And he is for all the nations. He has provided salvation to his son for the Jewish people, as well as for all nations, because he loves us." But as Isaiah 1:3 says, "The ox knows its owner and the donkey its master's grip. But Israel does not know. My people do not consider it." He was quiet for a while and then said, "I must leave, but I will return and continue this conversation." I pray the Lord will cause this man to search the scriptures and question his beliefs. I trust I will have more open doors to witness to him about the God who shed his own blood for the sins of all people.
Steve Conover: Thank you for being with us today. We hope you enjoyed the first of this series on the differences between the Jewish backgrounds and cultures.
Chris Katulka: Yeah. Next week, if you remember earlier, I talked about a Israeli friend that I have who says to me everyday I see him "Buenos dias." Well, we're going to be looking at the Spanish backgrounds of the Jewish people, that's actually kind of the Sephardic Jewish background. So we're going to be looking at that. So if you don't know what Sephardic means, you got to come back next week to find out.
Steve Conover: Our host and teacher is Chris Katulka. Today's program was produced by Tom Gallione. Our theme music was composed and performed by Jeremy Strong. Mike Kellogg read Apples of Gold, and I'm Steve Conover, executive producer. Our mailing address is FOI Radio, PO Box 914, Bellmawr, New Jersey, 08099. Again that's FOI Radio, PO Box 914, Bellmawr, New Jersey, 08099. And one last quick reminder to visit us at foiradio.org. The Friends of Israel Today is a production of The Friends of Israel Gospel Ministry. We are a worldwide evangelical ministry, proclaiming biblical truth about Israel and the Messiah while bringing physical and spiritual comfort to the Jewish people.
Jewish Culture and Customs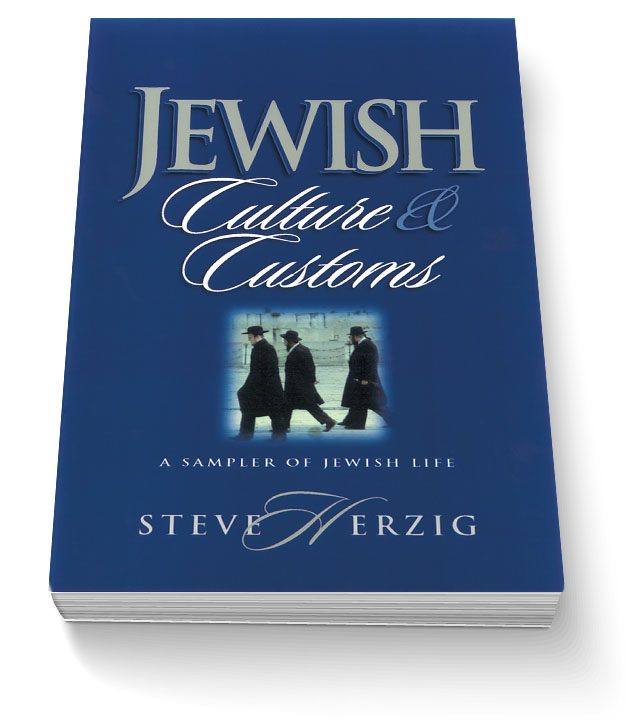 By Steve Herzig
You may love the Jewish people, but what do you know about their culture? Do you know about their symbolic customs that date back thousands of years and the special meaning they hold? 
Enjoy a front-row seat to the colorful traditions and lifestyles of the Jewish people with Jewish Culture and Customs! Order your copy of Steve Herzig's personal and entertaining book today!
ORDER YOUR COPY TODAY!
---
IN CANADA? ORDER HERE!
Apples of Gold: The Private Detective
For ten years, Zvi was part of his apartment building's committee. He made many good friends and contacts serving alongside his neighbors. When he stepped down, a new resident took his place. He was a very curious man asking questions about all the residents and their personal lives. Soon it was found that this man was part of a strict ultra-Orthodox group and was reporting back his findings. One day he began asking Zvi where he went to synagogue. Zvi jumped on this opportunity to tell this man about his faith. Listen to find out his reaction.
Zvi's story is available in Elwood McQuaid's book, "Zvi: The Miraculous Story of Triumph over the Holocaust," available at our online store.
More stories from Zvi are also available in his book, "The Best of Zvi," available at our online store.
---
Music
The Friends of Israel Today and Apples of Gold theme music was composed and performed by Jeremy Strong.
---
Your gifts help us reach people all around the globe with our message of truth to bless the Jewish people. If the Lord leads you and you believe Christians need to hear the truth about Israel and the Jewish people, we ask that you prayerfully consider a gift so we can continue to bring these truths to you and others as well. Any amount is a blessing to our program and we are so thankful for your support.
Give Today