Mizrahi Jewish Ancestry
Mizrahi Jews, the third Jewish background we're studying in our 4-part series, are born with a history that testifies of God's providence. This unique group, originally considered to be part of the Sephardic community, developed its own identity that is present in many countries today.
Chris shares the story of the time he attended a Yemeni wedding party, as he learned about the bright and exciting customs of Mizrahi culture. But the Mizrahi experience hasn't always been as joyful as their traditions are now. Over the thousands of years that they've been a people, their history has been filled with persecution and trials. Their plight is part of their background of resiliency, and today's program will make that abundantly clear.
If you missed the previous shows of this series, you can Listen Now in our archives.
Learn more at jimena.org and diarna.org
Chris Katulka: Let me ask you a question. Are you intimidated by the book of Revelation or have questions about what the future holds, especially today? If so, I have good news for you. You're not alone. Join us March 5th through the 7th for our online Look Up Virtual Conference, titled The Ultimate Ending, where you're going to see your future unfold through the book of Revelation.
The Ultimate Ending is a free online conference where you're going to hear incredible teaching about important prophecies and truths in the book of Revelation. You'll hear from our Friends of Israel teachers, Dr. Jim Showers, Dr. Mike Stallard, Steve Herzig and myself, Chris Katulka.
I'm also the host of the online conference and I know our team has been working really hard to make this an encouraging and uplifting series on the book of Revelation. You can register right now at lookup.foi.org. Again, that's lookup.foi.org. And when you register, you're going to receive free access to the first chapter of our video teaching series that took place in Israel called The Common Thread.
Steve Conover: Welcome to The Friends of Israel Today. I'm Steve Conover, and with me is our host and teacher, Chris Katulka. Chris, we're in a series covering the different Jewish cultures and ethnicities. And in the first episode, we talked about the Ashkenazi Jewish community. Last week was the Sephardic community. What are you teaching us about today?
Chris Katulka: Yeah, today we're doing the Mizrahi Jewish community. These are Jewish people that came from predominantly Arab Muslim lands and migrated to Israel. So I think it's going to be a really, really interesting study. I also, though, before we get to the teaching, I want to encourage our radio and podcast listeners to visit our website, foiradio.org.
Steve Conover: Yes, we have all of Chris's teachings about the scriptures, Israel and the Jewish people, plus interviews of our field workers, both locally and internationally to hear about all the amazing ministry Friends of Israel is doing around the world. We hope you'll find our archives on our site. As you browse our website, you'll find a link to our most popular page that features trustworthy and accurate news on Israel and the Middle East. And don't forget while you're there, you can support our ministry. Click on the donate button to help us continue teaching biblical truth about Israel and the Jewish people. Again, that's foiradio.org.
In the news, on International Holocaust Remembrance Day, hundreds of Holocaust survivors in Austria and Slovakia got their first dose of the coronavirus vaccine. "We owe this to them," said Erica Jacobowitz, who organized the vaccine drive for the Jewish community of Vienna. Vaccinating Holocaust survivors is a tribute to their resilience 76 years after Soviet troops liberated Auschwitz in Nazi-occupied Poland.
Chris Katulka: Here's my take. The Holocaust survivors have suffered so much, and many of these Holocaust survivors that are alive today were actually kids during the Holocaust. So, they suffered as little kids left to pick up the pieces for the rest of their lives. What Austria and Slovakia did is such a kind gesture to let these elderly Jewish people know that they are not alone during this pandemic, that there are people who love and support them. Let me remind you, that is a very biblical thing to do.
I want to read a section of an article by Hen Mazzig from Israel Hayom, one of Israel's newspapers. The article is called The Real Reason Mizrahi Jews Support Israel. Listen to this excerpt.
"From Friday morning in Petach Tikvah. An older Iraqi Jewish woman rolls a spicy mix into balls of dough, preparing an ancient Iraqi Jewish dish known as kubbeh. Her grandchild looks up at her and asks, 'Why do we live here in Israel?' She laughs and answers, 'Where else could we live?'
My grandma Hela fled to Israel after surviving the Farhud, a massacre in Iraq during which her neighbors were murdered for being Jewish, and her story is not unlike that of my father's parents, who are Jewish descendants of the Amazigh tribe of Tunisia. After surviving the Vichy regime's of Nazi forced-labor camps, they also came to Israel as refugees. In the Jewish state, my family rebuilt their lives, facing discrimination from other Jews along the way.
It wasn't easy for them in Israel," Hen writes. "They were stateless refugees who lost all they had, trying to maintain their dignity in a country whose enemies are the countries they came from. To this day, Mizrahim face racism in Israel and in the United States." Listen. Hen Mazzig, who wrote this article, is actually an advocate for the Mizrahi Jewish community that lives in Israel. Now, over the last two weeks, I introduced you, if you didn't know them already, to the Ashkenazi and Sephardic Jewish culture and ethnicity. I shared with you about their food, their faith, and even their unique language, Yiddish and Ladino. So, if you didn't get a chance to listen to last week's message, just go to foiradio.org, and there you're going to find last week's message along with an archive of all of our messages, all in one place, foiradio.org.
Now, for nearly 10 years, yours truly, I led a program called Origins. It was a young adult volunteer/missions trip to Israel. During one of my trips, an Israeli friend of mine invited me to his daughter's pre-wedding party. It's a traditional Yemeni henna party. And I've been talking about this party over the past few weeks, but I want to go a little deeper here. Now, let me tell you, I've studied Jewish culture and customs for many, many years. I've honored Sabbath alongside my Jewish friends in synagogues, and I've celebrated Passovers in their homes. But nothing prepared me for a Yemeni pre-wedding henna celebration.
Now, let me orient you on where Yemen is. Yemen is south of Saudi Arabia, and there was once a thriving Jewish community there. When those Yemenese Jews immigrated to Israel, they brought with them their centuries of Jewish traditions, one of them being this pre-wedding henna party. At this party, the bride, the groom, and the parents dress in these colorful, ornate costumes that really represent the family's region of Yemen. And then henna dye is painted on the skin of the bride and her guests, and it's believed that the henna dye actually symbolizes fertility. So the darker the dye, the better.
If you're wondering, my friend, Bieber who invited me to the party, it was his daughter. So, yeah, I got marked with henna and it was fun. The party introduced me to Yemenese food, which was also a new experience for me. It was full of aromatic, Middle Eastern spices and flavors. It wasn't the traditional matzo ball soup I was used to eating over my Jewish friend's house or going to the deli.
And over the years of doing Jewish ministry in the United States, I'm going to tell you, I grew accustomed to serving in the Ashkenazi tradition of Judaism, which is where that matzo ball soup comes from. But this Yemeni party was a Jewish culture shock for me. The bride, the groom, along with all the family and friends, they danced to exciting Middle Eastern music until late in the night. And these people could dance. It was a precious time that I will never forget.
The other part of the culture that's embedded in all of Israeli culture is hospitality. I didn't know anybody from this party, nobody except for my friend Bieber, who invited me, but everybody fed me and treated me like I had been in their family forever. Israeli hospitality is unlike anything I've ever experienced. This Yemeni tradition makes up only one culture within the vast Mizrahi culture and ethnicity that's spread across the Middle East. In Hebrew, Mizrahi can be translated as East or Oriental. So Mizrahi Jews are those who migrated to places like Iraq, Babylon. Iraq is Babylon. Iran, which is Persia. Yemen, Egypt, Northern Africa, and even as far as India, and yes, even China.
So, how did Jewish people end up in Arab countries? Well, it actually dates back to biblical times when the Babylonians expelled the Jewish people from Jerusalem and Judah in 586 BC. They were exiled to Babylon, and it's in Babylon we get prophets like Daniel and Ezekiel writing their prophecies. While many Jewish people who were exiled to Babylon would return back to the land, many remained in Babylon, which eventually became Persia. And it's from Persia that we get the account of Esther from the Bible, when she stood up against evil Haman. So, a large population of Jewish people remained in exile even after Zerubbabel, Nehemiah, and Ezra led many of the Jewish people back to the land.
Now, let's fast forward to 70 AD, after the Roman destruction of the temple. And then Hadrian's expulsion of the Jewish people from Jerusalem, the religious epicenter of Judaism, which was once Jerusalem, but now that no Jewish people are there, actually transitioned away from Jerusalem and went to Iraq. It went to Babylon around 220 AD, and it remained that way for nearly 500 years until the Muslims conquered large swaths of the Middle East starting in 638 AD.
Islam was rapidly adopted as a regional religion, and Arabic became the official language. So, like Sephardic Jews that we learned about last week, Mizrahi Jews from Arab lands in the East were required, they were required to pay a tax for being non-Muslim, and they were labeled essentially as second class citizens.
Now, think about this. Even today, ancient synagogues are scattered throughout countries like Iraq, Libya, Afghanistan, and Egypt, which stands as a testimony to the Mizrahi Jewish community that was once embedded in Middle Eastern culture. Now, here's something interesting to think about. Before the establishment of the state of Israel, Jews from the Arab Middle Eastern countries actually didn't identify themselves as Mizrahi Jews, a separate Jewish subculture or sub-ethnicity, like Ashkenazi and Sephardic. Instead, the Mizrahi Jews generally considered themselves as Sephardic Jews, since a lot of the customs and traditions of Sephardic Judaism could be found among their culture.
So it wasn't until the 1950s when Israeli Jews of Ashkenazi tradition started titling Jewish people who were coming from Arab lands as Mizrahi. So, that's interesting. It's more of a modern title for Jewish people coming from these Middle Eastern countries from Northern Africa.
I want to go back to Hen Mazzig's article on advocating for his people, the Mizrahi people, the one I read in the very beginning. There's a reason Mizrahi Jews migrated to Israel, and you need to know about it. But before we get to that, I want to share with you a book. It's a book by a dear friend of mine, a colleague, Steve Herzig. We have him on the program a lot, and Steve is an expert in Jewish culture and customs. Why? Well, he grew up Jewish. He grew up in the Orthodox Jewish tradition. He's an Ashkenazi Jew himself, and he actually has a book called Jewish Culture and Customs, which highlights all of the different groups that we've been talking about. So if you want to know more about the differences among the Jewish people, their culture, their customs, how they worship, the celebrations that they have, the days that they celebrate, the foods that they eat, the languages that they speak, I want to encourage you to get Steve Herzig's book, Jewish Culture and Customs. Steve, can you share with our listeners how they can get their hands on this book?
Steve Conover: Sure. They can purchase Steve's book, Jewish Culture and Customs, by visiting foiradio.org, that's foiradio.org. Or, they can call our listener line at (888) 343-6940 and someone will return your call during our regular business hours. Once again, that's (888) 343-6940. To order in Canada, call (888) 664-2584. Again, in Canada, that's (888) 664-2584.
Chris Katulka: Do you remember Hen Mazzig's article from Israel Hayom, When we talked about it at the top of the program? Remember, he talked about his grandmother. He said his grandma Hela fled to Israel after surviving the Farhud, a massacre in Iraq during which her neighbors were murdered for simply being Jewish? "In the Jewish state," he writes, "my family rebuilt their lives, facing discrimination from other Jews along the way."
Mazzig's grandmother's story is similar to nearly 1 million Jewish people from nine Arab countries and Iran who were forced to flee the lands their ancestors lived in for nearly 2,500 years. How could this happen? Why would these countries, these nine Arab countries and Iran just kick out the Jewish people who were a vital part of their culture for millennia?
Well, the answer is simple. The United Nations granted the Jewish people a homeland. The state of Israel was created in 1948. And as a result, 1 million Jewish people would be forced from their homes and their money and their assets would be confiscated. This is a major injustice, a major injustice of the 20th century that nobody talks about. It's the reason Hen Mazzig speaks up. It's the reason for the creation of JIMENA, a website which stands for Jews Indigenous to the Middle East and North Africa, which raises awareness about the forgotten Sephardic and Mizrahi Jewish communities.
You know, this actually reminds me of a story from a few years ago of Dr. David Gerbi. After the death of Muammar Gaddafi, the former Libyan dictator, Gerbi took advantage of an opportunity as a Jewish man to return to his family's Libyan synagogue. Gerbi fled from Libya to Rome in 1967 at the age of 12, along with Libya's some 40,000 Jews. And they fled the country between the time of the establishment of the State of Israel in 1948 and the Six Day War in 1967. Gerbi said those Jews and their descendants now number somewhere around 200,000. After Gaddafi's death, Gerbi traveled to Libya, and he actually hammered down. Think about this, this picture in your mind. He hammered down the brick wall that was erected to block the entrance to Tripoli's historic Dar Bishi Synagogue, which was built in 1928.
Dar Bishi was one of the most beautiful synagogues in Tripoli. However, after Gaddafi took control of it in the late 1960s, the government seized and shuttered all Jewish property in Libya. So, Dr. David Gerbi was hoping to restore this old synagogue. But sadly, the synagogue became a dumping ground full of debris and trash. Dr. Gerbi's restoration process was abruptly stopped only two days after he broke through those doors. What happened was they came and they shut him down. Even though after Gaddafi fell, the upcoming government was saying, "We want more diversity in our country," but you know what? They looked at Gerbi and said, "But now is not the time."
Ultimately they were saying, "We'd prefer to keep our anti-Semitic stance with the Jewish people." They were very anti-Semitic. They had a very anti-Zionist, anti-Israel way of looking at the world. I tell you this story because this is the plight of the Mizrahi Jews. As the European Jewish people suffered immensely under Hitler's final solution, the Holocaust, Mizrahi Jews suffered as well. Iranian-born Israeli professor Saba Soomekh says that those Jewish people who came from Arab Muslim lands are extremely pro-Israel and nationalistic. Why? Because it's an extension of their Mizrahi pain. Israel was the only place in the world where Mizrahi Jews are accepted. So she writes, "Of course they are extremely pro-Israel."
As we wrap up, I want to remind you to visit the website that I was talking about, Jews Indigenous to the Middle East and North Africa. That's JIMENA.org. That's J-I-M-E-N-A, which is a very interesting website on information about the Mizrahi and Sephardic Jewish communities.
But I also want you to check out Diarna, diarna.org. That's D-I-A-R-N-A.org. It actually means our homes in Judeo Arabic, and the website is actually an online geo museum of North African and Middle Eastern Jewish life that's working to digitally preserve the physical remnants of Jewish history throughout that region. It's fascinating.
And all of these resources combine to provide a virtual presence, guaranteeing access to Jewish historical sites, or else they might be forgotten forever or even erased. I love this website because they have mapped and documented nearly 3,000 Jewish sites from the Middle East and North Africa that can date back 2,500 years. Again, be sure to visit Diarna.org.
So, we've looked at three different ethnicities of the Jewish people so far. The Ashkenazi, those who come from Eastern Europe, from Germany, from Northern France. The Sephardic Jewish community that come out of Spain and Portugal, the Iberian peninsula. And now, the Mizrahi Jewish community, those who come out of Arab Muslim lands.
So, what could possibly be left? Haven't we covered everything? It's important to remember that Israel has always maintained a Jewish population throughout the ages. And so we're going to look at the history of the Jewish community that's remained in Israel since the Roman expulsion. It's a very fascinating study, and I hope you come back next week to hear about it.
Steve Conover: Now, Apples of Gold, a dramatic reading from the life and ministry of Holocaust survivor Zvi Kalisher.
Mike Kellogg: Our Muslim neighbors are trying to begin a new war. Living in Israel is like living on an active volcano. Our enemies are a mighty majority who refuse to rest until they erase our nation from the map. Every day, they wait for our destruction.
Recently, I told several of them, "You spend your lives thinking about how you will destroy us. But read what is written in the Bible." I gave them an Arabic language Bible so they could read Exodus 15:4 and 19, "Pharaoh's chariot sent his army. He is cast into the sea. His chosen captains also are drowned in the Red Sea, for the horses of Pharaoh went with the chariots and his horseman into the sea, and the Lord brought back the waters of the sea upon them. But the children of Israel went on dry land in the midst of the sea."
When they had read what had happened to Pharaoh and his army during the days of Moses and the Exodus, one man asked, "Who was this man who hurled the chariots into the sea?" "The Lord God almighty," I answered. "We are like a poor little worm, and you are like muddy locusts. Yet, we are still here. So who is on the outside?"
After thinking a while, someone replied, "That was a long time ago. These are only stories about Israel's many victories." I told them about the many wars they started against us, determined to destroy us. 1948, 1956, 1967, 1973, and many others. But we are still here. We won all those wars against you." "This cannot be!"
So, I showed them my certificate of discharge from the Israel Defense Forces. I told them I saw our victories with my own eyes because I fought in all these wars. They began to ask many questions. How could you have defeated us in 1948? You were only half a million people and had no weapons, and we were a multitude from five Arab countries. "I will show you," I said.
I opened the Bible and read Psalm 124, verse 1-8 where it is written: "If it had not been the Lord who was on our side, let Israel now say,' if it did not been the Lord who was on our side when men rose up against us, then they would have swallowed us alive.' Our help is in the name of the Lord who made heaven and earth."
"Here we are. And you, with your mighty power of 1.5 billion people and 56 Muslim countries are the ones who are lost. We are only 6 million. But look who is on our side." One said, "Now we must read so we will know more about the Bible. We also want to buy one for our sheikhs, so they will know with whom we are dealing." We talked for a long time before we got to this point. But as the Lord says, the servant of the Lord must be patient.
Steve Conover: Thank you for joining us today. Chris mentioned Diarna.org. That's D-I-A-R-N-A.org. We'll also have that in our show notes if you would like to visit that website. We sure hope you've enjoyed the series so far. Chris, where are we headed next week?
Chris Katulka: Yeah, next week we're going to be looking at the Jewish community that remained in Israel all throughout the diaspora. It's going to be an interesting study. God never fully pulled the Jewish people out of the land. He's preserved them in the land, even if it was just a few.
Steve Conover: Our host and teacher is Chris Katulka. Today's program was produced by Tom Gallione. Our theme music was composed and performed by Jeremy Strong. Mike Kellogg read Apples of Gold and I'm Steve Conover, executive producer.
Our mailing address is FOI Radio, P.O. Box 914, Bellmawr, New Jersey, 08099. Once again, that's FOI Radio, P.O. Box 914, Bellmawr, New Jersey, 08099. And one last quick reminder to visit us at foiradio.org.
The Friends of Israel Today is a production of the Friends of Israel Gospel Ministry. We are a worldwide evangelical ministry, proclaiming biblical truth about Israel and the Messiah while bringing physical and spiritual comfort to the Jewish people.
Jewish Culture and Customs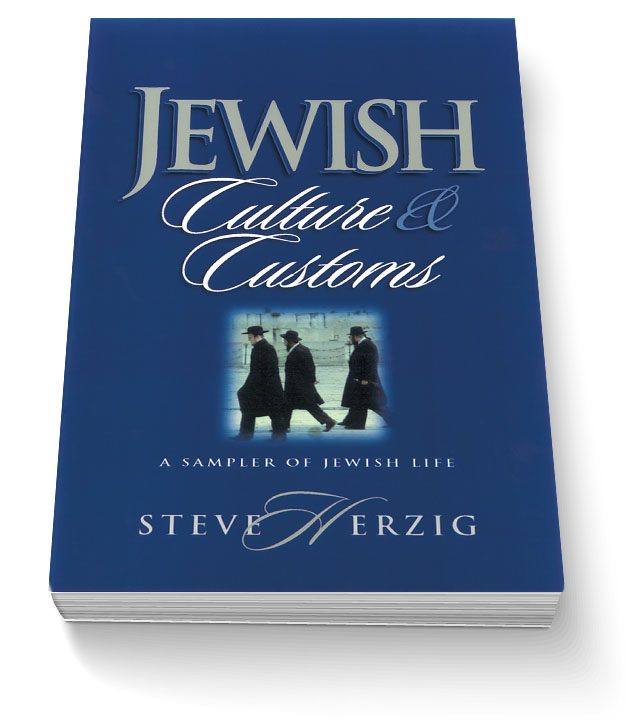 By Steve Herzig
You may love the Jewish people, but what do you know about their culture? Do you know about their symbolic customs that date back thousands of years and the special meaning they hold? 
Enjoy a front-row seat to the colorful traditions and lifestyles of the Jewish people with Jewish Culture and Customs! Order your copy of Steve Herzig's personal and entertaining book today!
ORDER YOUR COPY TODAY!
---
IN CANADA? ORDER HERE!
Apples of Gold: Who is on Our Side?
Jewish people live in constant danger from their mighty enemies who would stop at nothing to destroy them. Zvi's Arab neighbors spoke with him often and bragged of their strength and their belief that Israel would soon be wiped off the map. But the secret of Israel's survival through countless evils and wars can only be explained in one way: God. Listen to how Zvi combatted their boastful words with truth from the Bible about whose side God is on.
Zvi's unique story is available in Elwood McQuaid's biography, "Zvi: The Miraculous Story of Triumph over the Holocaust," available in our online store.
A compilation of Zvi's stories are also available in the book, "The Best of Zvi," available in our online store.
---
Music
The Friends of Israel Today and Apples of Gold theme music was composed and performed by Jeremy Strong.
---
Your gifts help us reach people all around the globe with our message of truth to bless the Jewish people. If the Lord leads you and you believe Christians need to hear the truth about Israel and the Jewish people, we ask that you prayerfully consider a gift so we can continue to bring these truths to you and others as well. Any amount is a blessing to our program and we are so thankful for your support.
Give Today