Interview: Joseph Gitler, Leket Israel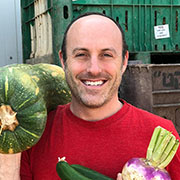 This week we're introducing you to Joseph Gitler, the founder and chairman of Leket Israel, the national food bank of Israel. Joseph has won all kinds of awards and received many accolades. He's even been named one of the 50 most influential Jewish people in the world. But it's the work he's doing with Leket Israel to feed the poor and needy in Israel that will amaze you the most. Learn more about this impactful nonprofit from the man himself!
To learn more about Leket Israel and support the work, visit Leket.org.
Read how we have partnered with Leket Israel through our Israel Relief Fund in our blog post, "How You Can Bless God's Chosen People During This Pandemic."
Steve Conover: Welcome to the Friends of Israel Today, I'm Steve Conover, with me is our host and teacher Chris Katulka. We're so glad you chose to join us today, Chris, where are we headed this week?
Chris Katulka: Yeah, so we have two segments today. The first is we're going to be talking with Joseph Gitler, who is the founder and chairman of Leket Israel. You're going to love this. Leket Israel is the national food bank of Israel, and the work that he's doing in his nonprofit to help the poor, to help the needy, to make sure that they're fed in Israel is just amazing. I think you need to stick around to listen to what he has to say, and how you can be a part of that nonprofit that he has in Israel.
And then after that, there's a lot happening in Israel right now, actually. As Joseph Gitler is working to feed the poor, we're also dealing with issues in Israel when it comes to elections. Eighty percent of Israelis think they're moving into a fifth election. Let's talk about what's going on over there. That's going to be in our second segment. So we've got a lot coming up, Steve.
Everybody, I want to read from Leviticus 19:9. Now I'm not going to explain anything yet, that's why we have Joseph Gitler on today. He's going to share about his amazing nonprofit that he has in Israel. But I want to start off with this passage, Leviticus 19:9, which says this, "When you gather in the harvest of your land, you must not completely harvest the corner of your field, and you must not gather up the gleanings of your harvest. You must not pick your vineyard bare and you must not gather up the fall in grapes of your vineyard. You must leave them for the poor and the resident foreigner. I am the Lord, your God."
I want to introduce you to Joseph Gitler, who is the founder and chairman of Leket Israel. Now, listen, I have a very long introduction for Joseph, but I'm going to pare it down because it would take up our entire segment here. So Joseph received the coveted Presidential Award for volunteerism in Israel, from Former President Shimon Peres. And he has also won an honorary fellowship in 2017. He's won a Yigal Alon prize. Honestly, the list goes on. He's the recipient of an inaugural 2014 Bonei Zion Prize and named one of the 50 most influential Jewish people in the world. Joseph, great to have you on the program, my friend.
Joseph Gitler: I'm excited to be on. Thank you for the opportunity.
Chris Katulka: Joseph, I mean, honestly, you have an amazing volunteer resume. I'd like for you to share with our listeners what Leket is and why you chose to begin to start this nonprofit in Israel.
Joseph Gitler: Sure. Well, thanks again for the opportunity. So I would say Leket is a modern adaptation of a beautiful concept from the Bible, making sure that the farmers, the business people of ancient times, that took care of the needy. And they took care of them from the extras. They took care of them from a portion of the field that was set aside for the poor. In fact, a portion of the field that had to be accessible to the poor. I'm sure we all remember the book of Ruth where Ruth is in the fields. She's poor. She's needy. And not only does she get fed, she actually meets her husband. So she gets a double win by Boaz following that commandment, he gets a double win. Not only does he get the good deed of helping the poor, he also finds a wife.
Chris Katulka: That's right.
Joseph Gitler: What we found in Israel, and we find in most of the Western world, is that we're so blessed. We're blessed. It's the land of milk and honey. We're blessed with an abundance of food, and a lot of food that unfortunately goes to waste. And we see that in the United States, we see that in Canada. And we see that in Israel as well. That's one side of the coin. The other side of the coin is that unfortunately in all our societies, we have many, many people struggling to make ends meet.
So what we do at Leket Israel is we try to put those two things together, figure out how to get all this healthy, safe, nutritious, excess food that's ending up in landfills. We figured out how to get our hands on it, and rescue it, and then how to distribute it to over 300 needy organizations throughout the state of Israel, feeding Jews and non Jews alike.
Chris Katulka: I have a detail of what Leket Israel is, and it begins with a paradox. It was something that you saw a need for. It says 1/3 of all food produced in Israel is wasted. At the same time, 20% of Israelis live below the poverty line. And this paradox, I'm guessing, is what led you to create Leket is that the case?
Joseph Gitler: That's correct. I'm very fortunate. I would see it in my own life. I was going to events, to weddings, and bar and bat mitzvahs, and enjoying life, and I'm very fortunate. And I would see, and I would say, and my friends would say the same thing, "What are they doing with all this extra food at the end of the event?" Or we go to hotels, and sometimes I would get Israeli soldiers who I would meet, who would say to me, "You should see all the food that's getting wasted in the army, because, of course, we have to feed our soldiers well."
And I was going through life just like we all do. And I didn't drop everything. And then just one day I had this epiphany, and I said, "This is crazy. Everyone talks about this. It's time to do something about it." And I dropped my old life, this is already going back 18 years. So the memories are starting to hit a little bit hazy. I basically dropped everything I was doing, I started this organization, I was 28 years old. Now I'm 46. I just really dropped everything that I was doing. And I said to myself, "You're in a fortunate position, use the strengths that God has given you. Make a difference, make a big difference."
I didn't think I was going to make a big difference, but it turns out that this was an area that had a tremendous opportunity and not enough players. And to this day, we have very little competition in the work that we do enabling us to distributor millions of meals a year, and tens of millions of pounds of fruits and vegetables to the needy. All this food that before we got started was simply going to waste.
Chris Katulka: You're right. At the end of the day, I can only imagine how much is leftover and you rescue that food. You dole it out to 300 or so nonprofits that are then feeding the needy. Here's my question. That's a lot of food, Joseph. I'm assuming you're not the only one in there handing all this food out to 300 different nonprofits. It sounds like you have a pretty big base, a volunteer base to be able to spread this food around to where it needs to go.
Joseph Gitler: Yeah. I mean, COVID has taken us a little bit of a loop. But you are correct, we have normally tens of thousands of volunteers. And of course, anyone listening or anyone who comes on any of the trips with you, or with any other groups are more than welcome to make contact with us, and come and volunteer and help us packing food, picking food. We also have a large warehouse. We have dozens of refrigerated trucks which traverse the country every day. It's a big logistics operation, which is logistics for good.
Chris Katulka: Yeah.
Joseph Gitler: That's really what it is. And I know one of the things I always love is, we have a number of employees, truck drivers, who said to me over the years, "I do very similar work to what I did before. I'm picking stuff up and distributing it. But what good fortune I have that at the end of my shift, I know that the hard work I did not only fed my family from the salary I got, but fed so many others in need." And that's such a special place to be as a worker, and a special place for me, to be as the chairman of this organization.
Chris Katulka: Joseph, I want to ask you one more question. We talked about where the concept, this amazing concept for Leket came from right from your heart and seeing what was going on. Have you heard any stories on the back end of somebody who was in need or hungry that received this food that you were able to distribute and to feed a family with or something of that nature? Do you have any stories that you can share?
Joseph Gitler: Sure. I mean, just thinking about recently during COVID, one of my favorite stories, and this one may come as a surprise to people, but COVID has left its mark on people in so many different ways. So we got word of a woman who was an immigrant from Moldova. She'd been in Israel for many years, but no support, no family. But she was doing okay because she's an opera singer and she had a decent salary. And as everyone knows, culture, concerts, have been shut down for a long time in most countries in the world. And eventually the opera that she was working for just didn't have enough funds to continue paying her. And as painful as it was for her, she had to reach out and say, "I need help. Can you help me?"
And I know about it only because we were able to talk to her and actually asked her to participate in a video that we've used for our own organizational purposes. And what's been amazing is, that video has been seen by so many people. And you had so many groups, synagogues, and churches who then reached out to Leket and said, "Thank God you're serving her. And you're helping her. We also want to hire her to do Zoom opera for us. We'll be happy to pay for it."
Chris Katulka: Amazing.
Joseph Gitler: So yes, Leket helped her. But at the end of the day, what we really want is that our food should be a temporary bandaid-
Chris Katulka: Yes.
Joseph Gitler: ... for people. We know that there are people are going to need this food until the end of their lives. A lot of elderly people who just need that help and they need it permanently. And Leket's there for them as much as is needed, seven days a week, 52 weeks a year, 365 days to get them the help that they need.
Chris Katulka: I want our listeners right now, if you really want to find a way to tangibly help Israel and the Jewish people, first of all, know this, just $263 to Leket Israel will actually provide a family of four with all of the fruit and vegetable needs that they'll have for an entire year. So whether you can give $263, or it's $10 or $5, whatever it can be, can help a family who's in need in Israel. I want to encourage you to go to Leket.org. That's L-E-K-E-T dot O-R-G. And there you'll find a way to donate and to be able to give to this amazing nonprofit that is helping families, helping those in need.
Honestly, it's a biblical imperative, Leviticus 19:9, as I read to you. Joseph, I want to thank you so much for joining us today. And we're going to be praying for your outreach as you're serving the people of Israel. Thank you very much, Joseph.
Joseph Gitler: Thank you for the opportunity, and to all the listeners out there, stay safe and hope to see you over here in the Holy Land very soon.
Chris Katulka: We've been talking with Joseph Gitler, founder and chairman of Leket Israel. And he's been talking about ways that he's been working with farmers, and with hotels, and food chains ,on helping feed the poor in Israel. And you know what? I can't help, but think of the time that I was standing at Mount Carmel overlooking what's called the "Bread Basket" of Israel. It's called the Jezreel Valley. And it's an amazing place to see how the mountains give way to this flat area of Israel, where they grow food and crops to feed Israel's citizens. But, here's the thing. The reason I was standing there atop of Mount Carmel, looking out over the Jezreel valley is because I was filming the Common Thread series with our Friends of Israel video production team.
Chris Katulka: The Common Thread Bible study series is a series that walks you through the Bible and really binds the Bible together through a promise that God made to Abraham. It's the reason that it's called The Common Thread, because we want to make sure that when you read the Bible, it's not just a bunch of inspirational verses. God has a story of redemption that binds the Bible together that connects it all. It was a wonderful opportunity to be in different locations of the land of Israel, teaching about this common thread that runs through the Bible. This promise that God made to Abraham and how it connects to you as a believer in the Lord, Jesus.
This eight session Bible study series can be yours. Steve, how can our listeners get their hands on a copy of this.
Steve Conover: Yeah, I'll say this, if you're a listener, I'm assuming a lot of you are listening because you enjoy Chris's teaching. Now imagine Chris is teaching in the land of Israel over eight sessions on video. We're so excited to offer this to you. You can purchase your copy and find out more by visiting foiradio.org. That's foiradio.org. If you're calling on the weekend, you can call our listener line at (888) 343-6940, and someone will return your call during our regular business hours. Again, that's (888) 343-6940. In Canada, call (888) 664-2584. Again, in Canada, that's (888) 664-2584.
Chris Katulka: So late last March, Israel held its fourth election in two years. So if you think America's divided, Israel is no different. And these were the results of the election Prime Minister Netanyahu's party, Likud, took the most seats. They took 30 seats. Now of course, Likud's numbers are down from last election. I believe last election, he won 36 seats. But following Likud was another party, a party that's actually fighting against Likud. They're the opposition to Likud. They're called Yesh Atid. They captured 17 seats.
Really this last election, and the election before that, and the one before that, it's really been an election to try to oust Netanyahu. But Netanyahu's got way too much power still in Israeli politics. So just a reminder, there are 120 seats in the Israeli parliament that need to be filled. To form a government, you need to have a coalition of parties. In Israel, there are more than two parties. There are more than three parties. I believe there's probably 15 or 16 parties right now in the Knesset, the Israeli parliament.
You need to have a coalition of parties that exceeds 61 seats. This is what Netanyahu is actually working on right now as we speak. His party won the most seats. So the President, Reuven Rivlin, has given him the ability to try to form a coalition government, to try to get to 61 seats or more, in order to have a coalition government. And then the one with less seats are the opposition government. Now it's funny to read American media on Netanyahu after the election, because see, articles read that he's losing power. He's losing influence.
Now granted, the coalition of parties against Netanyahu are growing. They actually garnered more seats than his coalition. They have 57 seats. And Netanyahu, I believe came up with 51 or 52 seats. However, because Likud won the most seats, the President has to give Netanyahu the first stab at forming a coalition government for the people. And this is what Netanyahu, again, like I said, is working on right now. He's trying to sway political parties that are uncertain of which direction to go, to come to his side.
So, here is where Netanyahu is right now. There are two parties that remain undecided. The first is Yamina. This is Naftali Bennett's conservative party. Bennett and Netanyahu have had a very strained relationship in the past. So Netanyahu has to play politics now. And win Bennett back to his side. And Bennett has vowed support, but he also has the Premiere, the Prime Minister seat, in the back of his mind.
He's looking maybe to use this as an opportunity to gain his own positioning, to strategically place himself in the prime minister seat. Think about this, he could withhold seven seats and wait for Netanyahu to return with a mandate to form a government that Netanyahu would have to give it back to the President. And then the president would have to find somebody else to form the government. And maybe Bennett would be waiting there saying, "I have enough seats and enough parties that would form a coalition with me to form a government." Is your head spinning yet?
See politics in Israel are fun. Here's the other party that could decide Netanyahu's future. It's not just a Jewish conservative party. The other party that remains undecided is an Islamist party. That's right, Ra'am That's what they're called. It's new leader, Mansour Abbas, and his four seats have not ruled out, believe it or not, supporting Netanyahu. That's right, an Islamist/Israeli party in Israel's parliament that is absolutely anti-Israel. And yet it has a new leader that maintains their ideals, but that are trying to work within Israeli politics to get what they want.
Ra'am's leader, Abbas, is quoted saying he'd prefer to work with the right wing government led by Netanyahu, which he thinks would provide a better opportunity to work across the spectrum, to get the things that his constituents need. Okay, so these are the two parties that Netanyahu is working with in order to win his government, to form his government. And it's not looking pretty, honestly. These two parties are so opposite one another. And the problem that Netanyahu has is a lot of the religious parties that support him would never join a coalition government with an Islamic party.
So again, talk about two ends of the spectrum. So for all the journalists out there, that have said that Netanyahu is losing, that he's over, it's done with, his political influence is dying. I don't think you know exactly who you're talking about. Yes, Netanyahu's party lost votes, but he still brought in the most seats, Israelis don't didn't vote for Likud, They've voted for Netanyahu. He still has a massive political influence in Israel. However, I'm also going to say this, Netanyahu's rounding nearly 15 years in office, 15 years. I do believe while he still holds the key to Israeli power, I think like most things he's getting a little stale in Israel. And the people are ready to move on.
Needless to say, 80% of Israelis believe that they're going to be heading to the ballot box again for a fifth election. I think the parties are going to work tirelessly to form a government for the people of Israel who are tired. They are tired of going to the ballot box, because there has been no political stability in Israel for years now. But let's just hope that there becomes political stability. And let's pray that God provides the right person to lead the Jewish state.
Steve Conover: Now Apples of Gold, a dramatic reading from the life and ministry of Holocaust survivor Zvi Kalisher.
Mike Kellogg: Whenever I visit Eilat in the south of Israel, I enjoy walking along the beach and meeting new people. On a recent visit, I met two men who looked disheveled. And when I tried to speak with them about faith in God, they became upset. "You could see the sorry state of our lives," one said. "How can you speak to us about faith? We're worlds apart from you. We have done so many bad things, God could never forgive us."
I took out my Bible and I read John 3:16, "For God so loved this world that he gave his only begotten Son, that whoever believes in Him should not perish, but have everlasting life." I explained this passage doesn't say, "God will accept people based on who they are or what they've done." God said, "Whoever. And the only condition is that you believe on his Son."
The man earnestly responded, "We are insignificant to God. It will not help us now to come before him and ask him to forgive us. We're poor and homeless. We live here on this beach and we're so dirty people hate to even look at us."
I said, "Do not say that you are beyond hope, my friends. In God's sight, you are of as much value as any other person."
One of them asked, "What do you want us to do?"
I answered, "For me? You do not have to do anything. What you must do is for yourselves. You must come to God, worship him, be faithful to him, and bear fruit for his glory. Regardless of what you see when you look in the mirror, you will be children of God and will never again doubt your worth before him."
They opened up and told me about their lives. There were alcoholics and they'd lost their families and homes. I told them it would be easy for you to stop drinking. They were surprised, and one asked, "How?"
I replied, "Open your hearts before God. He will listen and answer your prayer. He will enable you to turn from alcohol."
"Shall we do it now? Or wait until we go to bed?" one asked.
I couldn't tell if they were being serious or mocking, so I said, "If you are not serious about this, I'll be glad to leave you alone."
"No, no, we are very serious," he assured.
"Good," I responded. "You can go to a quiet spot on this beach and pray silently in your hearts. Tell the Lord of your sins and ask him to forgive you and become your Savior."
"Will you wait here for us?" he asked.
I assured them I would. I waited and watched for more than a half hour as they both sat quietly under the hot sun with a head slightly bowed in very serious expressions on their faces. As I waited, I prayed the Lord would open their eyes, and hearts, and draw them to himself. The two men returned full of joy because the Lord had taken away their stony hearts, and given them hearts of flesh(Ezekiel 36:26). The Lord has given them a new heart and a new Spirit, the Spirit of the living God— and they were rejoicing in it. And so, of course, was I!
Steve Conover: Thank you so much for being with us today for the Friends of Israel Today. Chris, where are we headed next week?
Chris Katulka: Yeah, so we're doing our FOI Friends of Israel In Action. We're going to be looking at the different ministries of the Friends of Israel. We're going to be going international next week. I hope our listeners come back, because I think it's going to be really important for you, our listeners to see that Friends of Israel, we're not just a radio program, we are a ministry that's been reaching out to the Jewish people since 1938. We continue that ministry. We want to share with you all about it.
Steve Conover: Our host and teacher is Chris Katulka. Today's program was produced by Tom Gallione. Our theme music was composed and performed by Jeremy Strong. Mike Kellogg read Apples of Gold and I'm Steve Conover, executive producer. And one last quick reminder to visit us at FOIradio.org. The Friends of Israel Today is a production of The Friends of Israel Gospel Ministry. We are a worldwide evangelical ministry, proclaiming biblical truth about Israel and the Messiah, while bringing physical and spiritual comfort to the Jewish people.
The Common Thread DVD Bible Study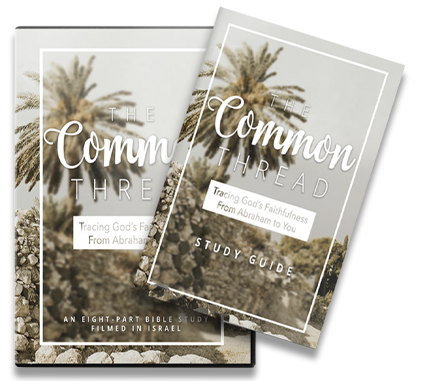 Way back in the beginning of the Old Testament God made a promise that changed the trajectory of one man's life. In our new bible study DVD, The Common Thread, you'll begin to see how that very same promise impacts you! 
Travel through the Holy Land with this DVD as our host Chris Katulka traces God's faithfulness from Abraham to you!
ORDER TODAY!
IN CANADA? ORDER HERE!
---
Update on Israel Elections
If you think American politics are divided, Israel is no different! Late last March, Israel held its 4th election in two years and so many questions remain. Will political stability finally be found in Israel or are they headed to the ballot box again for a fifth election? How many parties are needed to form the government? Is Benjamin Netanyahu losing power and influence? And could a religious conservative Jewish party and an Islamic party actually help decide Netanyahu's future? Chris Katulka explains all of this and more in this week's in-depth look into Israel elections.
---
Apples of Gold: Worlds Apart
Zvi was walking along the beach when he met two disheveled and distraught men. They explained that they had done so many bad things that God could never possibly forgive them. They wondered, "How could God ever love such insignificant people like us?" However, after an honest conversation and some truth from Scripture, Zvi helped change their worldview in a way they never imagined.
---
---
Music
The Friends of Israel Today and Apples of Gold theme music was composed and performed by Jeremy Strong.
---
Your gifts help us reach people all around the globe with our message of truth to bless the Jewish people. If the Lord leads you and you believe Christians need to hear the truth about Israel and the Jewish people, we ask that you prayerfully consider a gift so we can continue to bring these truths to you and others as well. Any amount is a blessing to our program and we are so thankful for your support.
Give Today