All About Hanukkah
This Sunday evening marks the beginning of Hanukkah, an eight-day holiday for the Jewish people to celebrate the rededication of the Temple more than 2,000 years ago. Its origin story is memorable: A group of Jewish rebels courageously drove out the Greek ruler Antiochus Epiphanes for defiling the Temple and attempting to erase their Jewish identity. And like Christmas around the world today, Hanukkah began to give Israel a distinct focus when it came each year—one that Jesus incorporated in His teaching in the synagogues at Hanukkah.
Two of Hanukkah's most important motifs are shepherds and candles. Sound familiar? They should: They're two of Christmas's most important aspects, too! That's no mistake. Christmas and Hanukkah might have different origins, but the purpose of each is to bring glory to God and to celebrate the light of the Lord. We hope you enjoy this program and keep this truth in mind in this wonderful holiday season!
Want to learn more about Hanukkah? Check out our Hanukkah resource page at foi.org/hanukkah.
Steve Conover: Welcome to The Friends of Israel Today. I'm Steve Conover. And with me as always is our host and teacher, Chris Katulka. Christmas is right around the corner and we have the perfect gift idea for you, our Christmas gift boxes. Each festive box is packed full of authentic Israeli flavors like honey, chocolate, tahini, salt, spices, and more. You can celebrate the birth of Jesus this season with the tastes of the Holy Land. Order yours today at foi.org/giftbox.
Chris Katulka: Now Steve, we're entering into the Hanukkah season as Jewish people all around the world are going to be celebrating the Festival of Lights. We have a saying here at Friends of Israel, and I'm sure it's a saying for many people who love and support Israel and Jewish people, it's that there wouldn't be a Christmas without a Hanukkah, and so we want to talk about that today.
We're going to be looking at the history of Hanukkah, how it was celebrated and what it means to us as believers. So happy Hanukkah, everybody, and I think this is going to be an episode you're not going to want to miss.
Steve Conover: Yes. And if you were with us last week for the news, we mentioned Turkish authorities detained two Israelis, Natali and Mordi Oknin after they photographed Turkish president Erdoğan's palace while on vacation. The couple was held for eight days in a Turkish prison and released thanks to the help of Israel's foreign minister, Yair Lapid, and prime minister Naftali Bennett. Natali said that while she was detained, she could hear a Muslim call to prayer from a nearby mosque. She said, "I closed my ears and shouted loudly, please, God save me."
Chris Katulka: Steve, this is such a great story that the Oknins have been released from the Turkish prison. And we've been praying for them. We wanted to give you an update on them. You know, the Oknins called this, when they arrived back in Israel, a "Hanukkah miracle." And I think it's fantastic, because Hanukkah is celebrated for eight days, they were in prison for eight days and then they were released. And the other fun part about this is that they are from the town of Modiin, where the story of Hanukkah originates. So it surely is a Hanukkah miracle, again, a reminder that the God of Israel never slumbers nor sleeps.
Chris Katulka: November 28th marks the beginning of the eight days of Hanukkah, the celebration of when the Jewish people rededicated the temple after it was defiled by the Greek leader, Antiochus Epiphanes. Antiochus was a brutal tyrant against the Jewish people as a Greek ruler. He marched into Jerusalem, he stopped all sacrifices, prevented Jewish people from reading the Torah, prevented circumcision, prevented the eating of kosher food and even set up Greek images as idols in the Jewish temple, and even on top of that, slaughtered a pig in the temple, and you don't have to be a Jewish scholar to know that that is a big no-no in Judaism.
In John chapter 10, the apostle John peers in on Jesus's celebration of Hanukkah. Did you know Jesus celebrated Hanukkah? That's right. He didn't celebrate Christmas. He celebrated Hanukkah and as John calls this, he speaks of it as the Feast of Dedication. John calls it the Feast of Dedication because the story of Hanukkah is connected to an amazing moment in Israel's history, when the Jewish people defeated the Greeks who were forcibly trying to make them Hellenized, to try to convert Jews into becoming Greeks. They wanted all of the Jewish people to look like the Greek people.
And so the Greeks were demanding that the Jewish people who were living in Israel around 167 BC, they demanded them to drop everything that defined them as Jewish. They were to stop following the law, stop celebrating Sabbath, stop eating kosher food, and so on. All the defining factors that made them Jewish, Antiochus Epiphanes, the Greek ruler, wouldn't have any of it. And in order to show allegiance to Antiochus, they were forced to slaughter a pig. The Greeks even slaughtered a pig in the holy Jewish temple, as I said.
All of this happened until Mattathias, an old Jewish priest from Modiin, stood up against the onslaught of antisemitism and fought back against the Greek forces. He was an old man, but he was a zealous priest for the Lord. Through a series of campaigns, the small rebel Jewish forces defeated the great Greek army. And when the Greeks finally retreated, the Jewish people were able to go to the temple in Jerusalem and cleanse it from being defiled by the Greeks, and all the unclean offerings and idols that were worshiped there.
Around 165 BC, the Jewish people rededicated the temple to the Lord. And that's why John calls Hanukkah the Feast of Dedication. Now it's usually around this time when we turn on the radio when we're driving in the car or we're shopping, when we go to church, the music that we hear and the scripture passages that we read begin to change. We begin to hear Christmas music playing. Now, some places play Christmas music a little too early, but it's usually right after Thanksgiving and into early December, we begin to hear all the Christmas songs and hymns, and we start to read biblical passages about the advent of Christ.
Well the same experience is going on in Israel during the days of Jesus. The songs, the hymns, they start to change as Hanukkah approaches. The readings of the Old Testament in the synagogue begin to change. One of the passages that Jewish people would read for Hanukkah is seen in John 10, where we read Jesus celebrated Hanukkah. It's the passage on the Good Shepherd. In John 10:11, Jesus says this.
"I am the Good Shepherd." But his statement, by calling himself a good shepherd, doesn't just come out of the blue. Jesus is actually connecting himself to Ezekiel chapter 34, where the Lord judges the shepherds of Israel, who led Israel astray, who didn't defend Israel against idols and the worshiping of false gods, the shepherds of Israel who were too busy feeding themselves, that they neglected to feed the flock of Israel. And the story of Hanukkah is a great story of how God protected the Jewish people from being destroyed by the Greeks.
But the sad part of the story is that there was only one leader, there was only one priest, an old zealous priest from Modiin, who stood up against the Greeks. All of the other shepherds of Israel, all the other leaders of Israel, slaughtered pigs. They gave up the Torah. In fear they sold their flock, the Israelites, to the Greeks. There was only one quote, unquote, shepherd of Israel who took action. And that was Mattathias. The Jewish people would read Ezekiel 34, which says this about the leaders, the shepherds of Israel during Hanukkah. And this is what it says.
"The word of the LORD came to me, Son of man, prophesy against the shepherds of Israel, prophesy and say to them, even to the shepherds, thus sayeth the LORD. Oh, shepherds of Israel, you have been feeding yourselves. Should not shepherds feed the sheep? You eat the fat, you clothe yourselves with wool. You slaughter the fat ones, but you do not feed the sheep. The weak have not been strengthened. The sick have not been healed. The injured you have not bound up. The strayed, you have not brought back. The lost, you have not sought. And with force and harshness, you have ruled them."
Sadly, Israel's history is full of leaders that have led them astray. It's full of leaders who forgot to make the Lord their priority, who neglected to care for their flock, Israel. The passage in Ezekiel 34 is so awesome because the Lord says he is tired of the lack of good leadership in Israel, so he himself will lead them. Listen to what it says, for this is what the sovereign Lord says.
"Look, I myself will search for my sheep and seek them out. As a shepherd seeks out his flock when he is among his scattered sheep, so I will seek out my flock. I will rescue them from all places where they have been scattered on a cloudy dark day. I will bring them out from among the peoples and gather them from foreign countries. I will bring them back to their own land. I will feed them on the mountains of Israel, by the streams, in all the inhabited places of the land. In a good pasture, I will feed them. The mountain heights of Israel will be their pasture."
Did you hear what the Lord is saying there in Ezekiel 34? The Lord is looking at the lack of leadership, backing in the prophet Ezekiel, and he's looking for any good shepherds and God can't find any. And he says, I'll do it myself. I will shepherd my people. Is it any surprise that as Ezekiel 34 is being read during Hanukkah, in synagogues all around the world today and during the days of Jesus, that Jesus would use this as an opportunity in John chapter 10 to say, "I am the Good Shepherd. The Good Shepherd lays his life down for his sheep. I am the Good Shepherd. I know my own and my own know me just as the Father knows me and I know the Father. I lay my life down for the sheep."
On Hanukkah, when Jesus remembers that God provided a victory against the Greeks and preserved them from another massive empire. They also remember that only one priest stood up out of all the priests of Israel and said no to the Greeks, to those who are trying to strip the Jewish people of their faith. Jesus speaks up and says to the Jewish people during Hanukkah, "I am the Good Shepherd. I am the shepherd that will never let you down. I am the shepherd who loves you more than my own life. I won't sell you out for wealth or fame. Instead, I will lay my life down for you."
So for many of you listening, you probably don't celebrate Hanukkah and that's okay. But for the next eight days, as Jewish people celebrate the Festival of Lights, hey, you know what? Give glory to God for sending us our Good Shepherd, who loves you more than his own life.
You know, let me tell you something. Another way that you can show people the love of Christ is by giving them one of our special Christmas gift boxes. You know, Christmas is right around the corner. And if you need a fun, festive and delicious gift idea for your loved ones, I have a perfect one for you. Our festive Christmas gift boxes are loaded with the most delicious taste of the Holy Land. I'm going to tell you, I'm upstairs in my office and I can smell Israel right from my office as we pack all these amazing Christmas gift boxes. Because each box is beautifully arranged with honey and chocolate and tahini, salt, spices, the recipes and more. Give the gift of Israeli flavors this Christmas and ship a festive gift box directly to the front door of your friend, family, school teachers, neighbors, or even to yourself.
Steve Conover: The deadline to order for an on time delivery is December 13th. Order yours today at foi.org/giftbox. Again, that's foi.org/giftbox.
Chris Katulka: As you probably know, the Christian celebration of Christmas often parallels the Jewish celebration of Hanukkah. Hanukkah, as I was saying before, is the celebration of God's deliverance of the Jewish people from the oppression of the Greeks, who were forcing them to stop being Jewish. That Greek ruler Antiochus Epiphanes, tried to prevent the Jewish people from reading the Torah, keeping kosher, honoring the Sabbath. He wanted the Jewish people to be Greek. He even demanded that they sacrifice pigs to show allegiance to them.
Hanukkah is the celebration of God's deliverance from this hate and evil and antisemitism, and the story of the rededication of God's temple that had been rendered unclean. Now I want to read to you a section from one of our blogs written by David Levy, David wrote about Hanukkah and he wrote this blog to connect Christians who might think that Hanukkah is a Jewish holiday, so what does that have to do with me? As Christians, we celebrate Christmas, and the Jewish people celebrate Hanukkah. Well, David connects the lighting of the menorah with the life of Christ. Listen to what he has to say here.
At Hanukkah, eight candles are lit, commemorating the miracle of the light on the menorah that burned for eight days in the temple. At Christmas, we remember a great light that came into the world. With Simeon, a Jewish man of old, we echo out the words that he spoke at Jesus's dedication in Herod's temple. "For my eyes have seen your salvation, which you have prepared before the face of all people, a light to bring revelation to the Gentiles and the glory of your people, Israel."
To the Jewish people of his day. Jesus said, "I am the light of the world and he who follows me shall not walk in darkness, but have delight of life." John 8:12. He went on to say, "I am the Way, the Truth, and the Life. No one comes to the Father, except through Me." John 14:6.
In Hanukkah, there is a special candle called the Shamash candle that's used to light all of the other Hanukkah candles and it speaks beautifully of Jesus. Jesus actually connects himself to it when he says, "For even the Son of man did not come to be served, but to serve and to give His life a ransom for many." Jesus is the true Hanukkah Light. David Levy is spot on when it comes to this link that exists between Christmas and Hanukkah. First it's this. The whole celebration of Hanukkah has to do with light. In fact, Hanukkah is often called the Jewish Festival of Lights. The lighting of the menorah over eight days commemorates God's provision of keeping the menorah light lit in the temple for eight days, when there was only enough oil for the lamps for one day. This is a miracle.
Christmas is the celebration of God's ultimate provision of light, the light of Christ that came into the world when he came to dwell with us. When Jesus said, "I am the light of the world," he said that as the menorah was being lit in the temple, that the birth of Christ is God's ultimate revelation of all that he is to us, the light of his revelation. If we follow Christ, we walk in the light. Even after the light of that menorah goes out, the light of Christ continues to shine.
But David also writes in his blog that when the Hanukkah menorah is lit, families use that special candle, the shamash candle, which means the servant candle. It's this special candle that gives light to the rest of the candles. And without it, none of the candles can be lit. Notice Jesus's first coming, his first advent, when he came to earth 2000 years ago, wasn't with pomp and circumstance, but instead he came as the King of the Universe, in humility with a servant's heart.
And think about this. We are bearers of God's light as Christians because the servant king Jesus gave us that light. Christmas and Hanukkah, my friends, aren't just random Christian and Jewish holidays that happen to come around the same time of year. They are celebrations that coexist next to one another, to bring glory to God our Father, through his Son Jesus the Messiah, and to marvel in His first coming.
Steve Conover: Israel, on the verge of becoming a state, a teenage Holocaust survivor arrives on her shores alone. His name is Zvi Kalisher. Little did he know his search for a new life in the Holy Land would lead him to the Messiah. Zvi, enthusiastic to share his faith, engaged others in spiritual conversations, many of which can be found in our magazine, Israel, my Glory. While Zvi is now in the presence of his Savior, his collected writings from well over 50 years of ministry continue to encourage believers worldwide. Now, Apples of Gold, a dramatic reading from the life of Zvi.
Mike Kellogg: It is now the time of year when we Christians celebrate the Lord's birth. In Israel, people are also celebrating the feast of Hanukkah, the Festival of Lights. I recently visited an ultra Orthodox school and talked with some of the students about Christmas and Hanukkah. One student said, "Hanukkah is a very holy feast." I responded, "Then why is it not mentioned in the Jewish scriptures, and yet Christmas is mentioned several times? Hanukkah only lasts for a few days. And then the light of the festival goes out for another year. But those of us who celebrate Christmas have an everlasting light in our hearts. We celebrate the coming of the Lord, in whom there is no more darkness and no more sorrow."
The pupils listened carefully, but when I finished, one of them said, "Show us where this one is written in the Bible." I told them, "I will be glad to show you passages that speak of Him. And then you must show me where the Bible speaks of Hanukkah." And they agreed, and then read Isaiah 7:14.
"Therefore the Lord himself will give you a sign. Behold, the Virgin shall conceive and bear a son and shall call his name Emmanuel. They thought they'd trapped me since this passage did not mention Bethlehem, but then I read Michael 5:2. "But you, Bethlehem Ephrathah, though you are little among the thousands of Judah, yet out of you will come forth to me the one to be ruler in Israel, whose goings forth are from of old, from everlasting."
This made them uncomfortable. I told them, "Now show me where the Bible speaks of Hanukkah." This put them in an unpleasant position because they knew there was no reference to Hanukkah in the scripture. One said, "You act as if you own this synagogue." I responded, "If you call this a house of prayer, then it should be a place where all people can come to worship their Heavenly Father." Soon a teacher entered, and one of the students told him what was happening. And the teacher became angry with the students. He then asked, "Who are you? Are you a teacher?"
"No," I replied. "But if I were, I would want to be considered an honest teacher. You and your colleagues are not being honest with your students. Many of these students have spent most of their lives here studying under your tutelage, but they do not worship God. Rather, they worship books of tradition and the false teachers who wrote them. As one who believes in the true and living God, I must show them and you the right way to worship God according to the Bible."
The teacher then asked, "How did you come to speak about Christ? Do you know who he is?" I replied, "I say Christ, but you say in Hebrew Messiah. If you like, we can continue in the Hebrew language only then we can speak freely about Yeshua, Jesus, salvation." That teacher was visibly shaken and excused himself, saying he had no more time to talk with me. I was sad the student and teacher are still living in deep darkness. I pray I will have further opportunities to speak with him. Then perhaps some year they too will be able to sing Joy to the World, the Lord has come.
Chris Katulka: The impact of Zvi's life and ministry in Israel, it didn't end when he went home to be with the Lord. In fact, Zvi's legacy lives on. Our Friends of Israel ministry representatives continue to share the gospel in Jerusalem, Israel, and really all throughout the world. We also serve Holocaust survivors and their families. We provide free food, medicine, and clothing, and we even promote the safety and security of the state of Israel and the Jewish people everywhere. So when you give to the Friends of Israel, your donation actually allows us to advance the gospel of our Messiah Jesus. You can give online by visiting foiradio.org. Again, that's foiradio.org. You can click right there on our donate link. Also, be sure to let us know where you listen when you contact us.
Steve Conover: Thank you for joining us for today's program. A reminder, you can order a Christmas gift box at foi.org/giftbox. You have until December 13th to do so. Chris, where are we headed next week?
Chris Katulka: Well, as we get closer and closer to Christmas, we want to highlight some of the Messianic prophecies. Specifically, we're going to be looking at Micah 5:2, the place of Jesus' birth, Bethlehem. It often gets a bad rap. I want to make sure Bethlehem is properly understood, historically, biblically, and theologically, as the birthplace of Jesus.
Steve Conover: Our host and teacher is Chris Katulka. Today's program was produced by Tom Gallione. Our theme music was composed and performed by Jeremy Strong. Mike Kellogg read Apples of Gold. And I'm Steve Conover, executive producer. Our mailing address is FOI Radio, PO Box 914, Bellmawr, New Jersey, 08099. Again, that's FOI Radio, PO Box 914, Bellmawr, New Jersey, 08099. And one last quick reminder to visit us at foiradio.org.
The Friends of Israel Today is a production of The Friends of Israel Gospel Ministry. We are a worldwide evangelical ministry, proclaiming biblical truth about Israel and the Messiah while bringing physical and spiritual comfort to the Jewish people.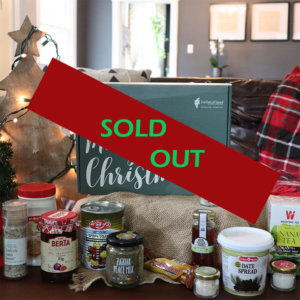 Apples of Gold: Christmas and Hanukkah
As many Christians around the world are celebrating the Lord's birth, Jewish people are celebrating Hanukkah, the festival of lights. Zvi visited an ultra-orthodox school and talked to some of the students about Christmas and Hanukkah. One student mentioned that Hanukkah was a "holy feast." Zvi responds with a series of questions about Hanukkah and Christmas and the biblical evidence behind each. His approach to these students is something we can all learn as we talk to our unbelieving friends during this festive time of year.
Music
The Friends of Israel Today theme music was composed and performed by Jeremy Strong.
---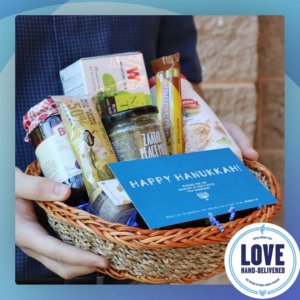 This Giving Tuesday, you can provide a tangible sign of your love for the Jewish people through our Hanukkah gift basket ministry! Consider it: Love. Hand-delivered.  Every basket is packed full of authentic Israeli foods, serving as sweet reminders of the Holy Land.
Our goal this Giving Tuesday is to raise $20,000 to reach 420 Jewish families. We can't do it without you! Starting right now you can help put a beloved Hanukkah gift basket into the hands of a Jewish person in need. Will you help ensure our Jewish friends know that they are deeply cared for and loved by Jesus?
Give Today