Messianic Prophecies of Bethlehem, Part 1
If you're like most people, your hometown is a special place. It's part of what developed your personality and perspective in life. In the same way, Jesus' hometown was a big part of His human background. It wasn't just some town, or some meaningless blip on Israel's radar, as some today think it was. Bethlehem was the subject of one of the Old Testament's greatest prophecies. It marked the birthplace of the Messiah Himself. 
Going back even further in history, Bethlehem was the hometown of David, Israel's greatest Old Testament king. So the people of Israel knew this was no insignificant town. They associated it with royalty and the promise of a coming King. That's why King Herod took the little town of Bethlehem very seriously when he heard where Jesus was born. So what else did the prophecy of Micah 5:2 signal to the Israelites that the Messiah would be like? Listen to this week's show, part 1 of a 2-part series on Bethlehem and the Messianic prophecies, to find out!
Steve Conover: Welcome to the Friends of Israel Today. I'm Steve Conover and with me is our host and teacher Chris Katulka. Christmas is right around the corner, and we have a perfect gift idea for you, our Christmas gift boxes. Each festive box is packed full of authentic Israeli flavors. It includes honey chocolate, tahini, salt, spices, and more. Celebrate the birth of Jesus this season with the tastes of the Holy Land. You can order yours today at foi.org/giftbox.
Chris Katulka: Steve, as I was cooking our Thanksgiving meal, I was in the mood for Christmas music and what you know comes on is "O Little Town of Bethlehem." That's what we're going to be talking about today. We're going to be looking at messianic prophecy, specifically the prophecy of Micah 5:2 We're going to be looking at this for actually the next two weeks. We're going to be studying what it meant for Jesus to be born in Bethlehem. Today we begin that series.
Steve Conover: But first, in the news, violence between Palestinians and IDF forces in Hebron sparked after Israeli President Isaac Herzog lit the first Hanukkah candle at the Cave of the Patriarchs in the West Bank City. Herzog said during the ceremony, "The historic connection of Jews to Hebron, to the tomb of the patriarch, to the heritage of the patriarchs and the matriarchs is unquestionable. Recognition of this connection must be beyond all controversy."
Chris Katulka: I'm going to teach all of our listeners a Hebrew word, machpelah. Machpelah is the place in Hebron, which is the tomb of the patriarchs. It's where Abraham is buried and many of the other patriarchs and matriarchs of the scriptures. It's a very, very sacred place to the Jewish people, and it's also a sacred place to Muslims as well, which can kind of highlight the controversy, the tension that takes place in Hebron.
Hebron is rife with religious and political tension, and politicians like Isaac Herzog would normally skirt the city, but Israeli President Herzog stepped right in to claim Hebron's Jewish heritage. There's tension in Hebron because the majority of the ancient city is under the auspices of Palestinian authority, while a small portion of it remains under Israeli rule, which includes Machpelah, the tomb of the patriarchs.
Chris Katulka: The Christmas carol "O Little Town of Bethlehem" illustrates the long awaited arrival of God's everlasting light into humanity's humble conditions. But in my opinion, Bethlehem gets a bad rap. It's painted as an insignificant pit stop on the way to Jerusalem. For some, the motto on Bethlehem's welcome sign might as well say, "Nothing to see here." The surroundings of the King of Kings at his arrival was definitely unpresuming. But Bethlehem shouldn't be blamed.
If Jesus' birth certificate read Bethlehem as a place of birth, it shouldn't demean him. Instead, it should define him in epic and majestic ways. I mean, I just heard this the other day, someone was talking about Bethlehem as a place of Jesus' birth, and they said that the place meant nothing to the Jewish people. It was a nothing place. They didn't care about it at all. You know what? I beg to differ. Where you come from defines you.
Even if you move far away from where you're from, it still has a way of defining you. I was born in Philadelphia. And whenever I tell people from outside of Philadelphia where I'm from, I usually get three responses. People would say, "Oh, Philadelphia. You must love cheese steaks." Now, listen, cheese steaks are great, but they're not a part of my daily diet. Other people would say, "Oh, Philadelphia. I've been there before. Those people are rude."
My response is always to that, "Well, they're not rude. They're just honest." And finally, people would say, "Oh, Philadelphia, the Independence Hall, the Liberty Bell." And with a sense of pride, like most people from Philadelphia, I would say, "That's right. It's the cradle of liberty." People from Philadelphia are very proud of their city, because where you come from can define you. Look, most of us have grown up knowing where Jesus was born.
He was born in the little town of Bethlehem, which sits about five miles south of Jerusalem. But did you ever wonder why Jesus was born in Bethlehem? Because remember, where you come from can define you. Jesus' birth in Bethlehem wasn't an accident. It was actually predestined. The prophet Micah predicted it way back in Micah 5:2 when he wrote, "But you, O Bethlehem Ephratah, who are too little to be among the clans of Judah, from you shall come forth from me one who is the ruler in Israel who's coming forth is from of old, from ancient days."
Micah's prophecy was fulfilled in Matthew 2:1-6 that says, "Now after Jesus was born in Bethlehem of Judea in the days of Herod the King, behold, wise men from the east came to Jerusalem saying, "Where is he who was born king of the Jews, where we saw his star when he rose and have come to worship him?" When Herod the King heard this, he was troubled and all of Jerusalem with him. And assembling all the chief priests and scribes of the people, he inquired of them where the Christ would be born.
And they told him, "In Bethlehem of Judea, for so it is written by the prophet. And you, O Bethlehem in the land of Judah, are by no means least among the rulers of Judah, for from you shall come a ruler who will shepherd my people Israel." Jesus' birth in Bethlehem is a symbol for what I believe is his entire ministry. It completely defines him. First, Bethlehem was a tiny town. It wasn't large at all. If you were driving on a highway during the days of Jesus, you'd probably drive right past it and never even bat an eye.
But even though it was small, the significance of Jerusalem was huge for the Jewish people during the days of Jesus. Bethlehem was so significant because the greatest king Israel ever had in the Old Testament lived and was born and grew up in Bethlehem. And his name was King David. Listen to what 1 Samuel 16 starting in verse one says. It says, "The Lord said to Samuel, 'How long will you grieve over Saul since I have rejected him from being king over Israel?
Fill your horn with oil and go. I will send you to Jesse, the Bethlehemite, for I have provided for myself a king among his sons.'" Samuel did what the Lord commanded and came to Bethlehem. It's there Samuel will find the young shepherd boy David, who would grow to become Israel's greatest king. This little town in Judah produced greatness in Israel's history. God made special promises to David saying that through him one would come...
Through a series of Israelite kings, that one would come that would be his son. And that there would be one in his lineage that would rule as a king forever and ever. Jesus is the son of King David, who was born in Bethlehem, which screams to the Jewish people of that time that Jesus is royalty. The city of Bethlehem is a royal city in the eyes of the Jewish people in Jesus' day.
Even those wise men who came to worship the baby Jesus knew he was royalty by presenting him with gifts that were fit for a king: gold, frankincense, and myrrh. The Gospel of Matthew also shares that Herod the Great who was the king of the Jewish people at the time of Jesus' birth was stressed out when those wise men from the east came looking for the newborn king. Herod felt written at the idea that a real Jewish king would be born.
Herod was a half Jew who was put in power by Rome, so naturally his Jewish subjects couldn't stand him. To find out what's going on, Herod calls the scribes of Israel, these are the scholars and lawyers of Jewish law, they know the Bible inside and out, and Herod assembles all of the chief priests and scribes and they tell him where the Christ would be born and they pointed to Bethlehem in Micah 5:2.
Herod would attempt to have every boy under the age of two killed in Bethlehem to root out this threat to his kingship. Jesus' birth in Bethlehem is incredibly significant. Bethlehem is incredibly important. It screams to the Jewish people that Jesus is royalty. He is following in the footsteps of the promise that God made to the greatest king from the Old Testament King David. Bethlehem is not insignificant and the story continues. But first, we're going to take a break.
Christmas is right around the corner. And if you need a fun, festive, and delicious idea for your loved ones, I have a perfect one for you. Our festive Christmas gift boxes are loaded with the most delicious tastes of the Holy Land. Each box is beautifully arranged with honey and chocolate, tahini, salt, spices, recipes, and more.
Give the gift of Israeli flavors this Christmas and ship a festive gift box directly to the front door of your family, your friends, your school teacher, your neighbors, or maybe even yourself. It's something that you're not going to want to miss out on.
Steve Conover: Yeah. The deadline to order for an on time delivery is December 13th. Order yours today at foi.org/giftbox. Again, that's foi.org/giftbox.
Chris Katulka: My goal over the next two weeks is to give you some great context on the historical, biblical, and even theological significance of Bethlehem. Bethlehem isn't this little tiny city that means nothing to the Jewish people. There's a lot packed into Bethlehem that defines who Jesus is. And in the last segment, we saw how Bethlehem screams of Jesus' royalty as the king of Israel. Next, I want to show you how Bethlehem reveals what kind of person Jesus is.
I want you to hear how the Apostle Paul opens the letter to the Romans, and I think it's going to help us here understand Micah 5:2 a little bit better. Romans 1:1 says this, "Paul, a servant of Christ Jesus, called to be an apostle set apart for the Gospel of God, which he promised beforehand through his prophets in the holy scriptures concerning his son, who was a descendant from David, according to the flesh, and was declared to be the Son of God in power according to the Spirit of holiness by his resurrection from the dead, Jesus Christ our Lord."
First, we saw just in the last segment, Jesus was born as a son of David, just as Paul mentions here. It was promised through the prophets that he would be born a descendant of David. But now it says that Jesus is also the son of God. Micah's prophecy doesn't just tell us where the Messiah would be born. He tells us more than that. He tells us what kind of person he is. Micah says that the future ruler of Israel was to be born in Bethlehem and that his coming forth is from of old, from ancient days.
Some translators of the Bible say "from everlasting." I find this section to be most interesting. In Micah's eyes, the future ruler of Israel would be eternal in nature. How can a ruler come from ancient days? Now, the Gospel of Matthew and Luke give us the best history on the birth of Jesus, but the Gospel of John gives us a different perspective on Jesus' birth. John wants to teach us that Jesus may have been born in Bethlehem, but he is eternal. He is everlasting.
Listen to the words of the Gospel of John 1:1-3. It says, "In the beginning was the Word and the Word was with God and the Word was God. He was in the beginning with God. All things were made through him. And without him was not anything made that was made." Micah is able to combine the story of Jesus' birth in one prophetic verse, that the Messiah would be born in Bethlehem, but he comes from eternity past. He's more than any normal human king. He's God. He is God come in flesh.
Listen to John 1:14, "And the word became flesh and dwelt among us." And we have seen his glories of the only son from the Father full of grace and truth." Look at all that we can learn about the birth of Jesus the Messiah from Micah's prophecy made 700 years before the first advent of Christ. We learned about the place Jesus was born and how his birth in Bethlehem shows his royalty. He's the king of Israel. But then we saw how Micah's prophecy revealed the deity of Jesus.
That even though he was born in Bethlehem, he's been in existence for eternity. Now, listen, we're not through yet. Next week, when you come back, we're going to be looking at one more aspect of Jesus' birth in Bethlehem. Micah in a different verse shows us exactly where Jesus was born in Bethlehem and shows us more about the mission and ministry of our Savior.
Steve Conover: Chris, as you were speaking about Bethlehem, I couldn't help but think about the times I've been there on our tours with the Friends of Israel. I know you have too. Now, we've gone... It's been years since I think we've gone to the Church of the Nativity, but maybe even more meaningful is being out in the Shepherds' Fields.
Chris Katulka: Yeah, I was just thinking of that too as I was going through this. The very first time that I went to Israel, you could go to Bethlehem, but it just takes a lot of time because Bethlehem's under Palestinian control. It takes time to transfer, but the buses and to go from one tour guide to another tour guide. Sometimes Bethlehem gets looked over on the tour path. And I'm glad Friends of Israel has been going back into Bethlehem.
But that first time I went, I remember we were able to stand outside of the Shepherds' Fields and to look in and we just kind of jumped off the bus and saw from afar. That was so much more meaningful because it was actually the surrounding of how Jesus was born. He wasn't born in the middle of the city. When you go to the Church of the Nativity, it's full of action. You're in a building, an ancient building. It's beautiful.
But when you're in the fields, you're getting a better picture of what it looked like where Jesus was born. He was on the outskirts of town. He was in a place called Migdal Eder, which was where the flocks were kept. He was away from all the hustle and bustle of Bethlehem, and it gave more of a meaning of what it was like when Jesus came, when the incarnation happened, when God became flesh.
Steve Conover: Israel, on the verge of becoming a state, a teenage Holocaust survivor arrives on her shores alone. His name is Zvi Kalisher. Little did he know his search for a new life in the Holy Land would lead him to the Messiah. Zvi, enthusiastic to share his faith, engaged others in spiritual conversations, many of which can be found in our magazine Israel My Glory.
While Zvi is now in the presence of his Savior, his collected writings from well over 50 years of ministry continue to encourage believers worldwide. Now, Apples of Gold.
Mike Kellogg: Not long ago, one of our Jewish neighbors invited me to visit him at his home. I gladly accepted since I had been waiting a long time for this invitation so I could share with him about faith in Christ. He and his wife received me warmly, and my neighbor asked, "Do you know why I invited you?" I answered, "Because we are good neighbors and friends." "No," he said, "I invited you to listen to one of our great rabbis preach on television about Shabbat."
The rabbi spoke about prayers, which books people must have and which prayer God receives best. I listened for two hours. Finally, they began to ask me questions. "What do you have to say about all you have heard?" One asked. "What I have to say is written in Ecclesiastes 1:2, vanity, vanities, all is vanity." "How can you say such a thing?" He asked with surprise. "He's a famous rabbi. And what you say is vanity. Of course, you do not pray. You do not even have a prayer book."
"Did our great prophets pray using your prayer books, or did they pray from the depths of their heart? My faith is in the Lord who hears us when we pray from our hearts." One replied, "You are telling us what you have learned from this Christian book, the New Testament, what is written about this man, Jesus." I replied, "How blind you are. You do not even know what is written that we should pray with our hearts." So I opened my Bible and read to them from Deuteronomy 6:5.
"You shall love the Lord your God with all your heart, with all your soul, and with all your strength. And these words which I command you today shall be in your heart." One man replied, "But those who believe in this man Jesus have strayed from the Bible." I showed them my Bible consisting of both testaments in Hebrew. They were extremely surprised that we who believe in Christ read the Bible.
And after a few hours of discussion, several of the men wanted to know how I came to know the Lord. I told them it was because I read the Bible only, not a big stack of other books. They became angry and started shouting, "There was no way I could believe in Jesus by reading the Hebrew scriptures." So I opened my Bible to Isaiah 53 and read it to them. They asked why I was reading from the New Testament. I showed them I was reading from one of Israel's major prophets.
"We will have to ask our rabbis about this, but you believe in this one who was born in Bethlehem. Where is it written that God was to be born in Bethlehem?" I told them to look in my Bible and read Micah 5:2. "But you, Bethlehem Ephratah, though you are little among the thousands of Judah, yet out of you shall come forth to me the one to be ruler in Israel; whose goings forth have are from of old, from everlasting."
After this, they were all quiet. Pray God will help them to see with their hearts and understand that Jesus is God.
Chris Katulka: The impact of Zvi's life in ministry in Israel, it didn't end when he went home to be with the Lord. In fact, Zvi's legacy lives on. Our Friends of Israel ministry representatives continue to share the gospel in Jerusalem, Israel, and really all throughout the world. We also serve Holocaust survivors and their families. We provide free food, medicine, and clothing, and we even promote the safety and security of the state of Israel and the Jewish people everywhere.
When you give to the Friends of Israel, your donation actually allows us to advance the gospel of our Messiah Jesus. You can give and by visiting foiradio.org. Again, that's foiradio.org. You can click right there on our donate link. Also, be sure to let us know where you listen when you contact us.
Steve Conover: Thank you so much for joining us today. A quick reminder, you can order a Christmas gift box by visiting foi.org/giftbox. Remember, you have until December 13th to do so.
Chris Katulka: Steve, we saw today how Bethlehem showed the royalty of Jesus. We saw how it showed the divinity of Jesus. Next week, we're going to see the mission of Jesus that comes out of Bethlehem.
Steve Conover: Our host and teacher is Chris Katulka. Today's program was produced by Tom Gallione. Our theme music was composed and performed by Jeremy Strong. Mike Kellogg read Apples of Gold. I'm Steve Conover, executive producer. Our mailing address is FOI Radio, PO Box 914, Bellmawr, New Jersey, 08099. Again, that's FOI Radio, PO Box 914, Bellmawr New Jersey, 08099.
One last quick reminder, visit us at foiradio.org. The Friends of Israel Today is a production of The Friends of Israel Gospel Ministry. We are a worldwide evangelical ministry proclaiming biblical truth about Israel and the Messiah while bringing physical and spiritual comfort to the Jewish people.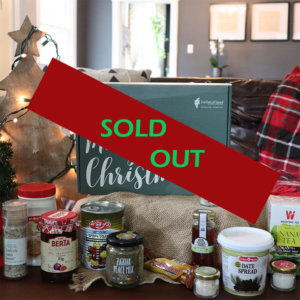 Apples of Gold: The One Born in Bethlehem
A neighbor invited Zvi to his home. Zvi was excited to go because he had been praying for him for years. When Zvi arrived, he realized he was only invited so that men from the area could try to convince him that Jesus was not the Messiah. He watched a rabbi preach on TV for two hours, and his silence made the men think he had been humbled and proven wrong. But Zvi was only being quick to hear, slow to speak, slow to anger (James 1:19b). Listen to how he used the Hebrew Scriptures to prove Jesus' deity.
Music
The Friends of Israel Today theme music was composed and performed by Jeremy Strong.
---
Your gifts help us reach people all around the globe with our message of truth to bless the Jewish people.

Thank you for your support!
Give Today