Interview—Sharon Schmidt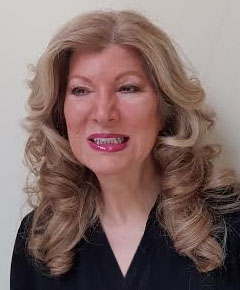 Chris welcomes Sharon Schmidt into the studio to talk about the exciting and important work going on at Israel's national blood bank and how they are literally saving Israeli lives on a daily basis.
Sharon is The Greater Philadelphia Area Director of American Friends of Magen David Adom (AFMDA). She has been representing the organization, in this capacity, for over twelve years.
She was part of the team that was responsible for procuring funding for Israel's largest emergency medical station, The William H. Bloomberg MDA Emergency Medical Station in Jerusalem, serving over one million people annually.
She takes pride in advocating for Israel and representing the team that supports Magen David Adom, Israel's ambulance, blood-services, and disaster-relief organization, serving as emergency medical first responders for the state's more than 8 million people.
Short Segment—The Life is in the Blood
Every living creature relies on blood for life. But there is also a spiritual component to the idea of blood. On today's show we take a close look at Leviticus 17:11 and the very close spiritual and physical association God builds between blood and life.
by Dr. William H. Marty
Sometimes it's hard to find your bearings in the New Testament, as you enter the time and place of Jesus and His disciples. There are confusing practices, new people groups, and even unexplained religious conflicts. How did it all come about?
Get to know the times in which Jesus lived, so you'll better understand His teaching and ministry. And along the way, discover how God prepared the world for the One who would turn it upside down.
GET YOUR COPY
---
---
Apples of Gold—Are you a Jew?
In this week's dramatic retelling from the life of Holocaust survivor Zvi Kalisher, several young Hasidic boys come to his house unannounced to examine if his mezuzah is kosher. Always on the lookout for opportunities to share biblical truth, Zvi instead examines their hearts and winds up having a deep discussion with them and their rabbi about belief in the living God.
Music
The Friends of Israel Today and Apples of Gold theme music was composed and performed by Jeremy Strong.
Also heard on this weeks show:
»The Temperature of the Air on the Bow of the Kaleetan (Chris Zabriskie) / CC BY 4.0