Orde Wingate
On May 14, 2018 we will celebrate the 70th year of the rebirth of Israel. Many people—both Jewish and Christian—know there are many passages in the Old Testament Scripture where the prophets said this rebirth would happen. God used many unassuming people to make these prophecies come to pass. One was Orde Wingate, a British army captain. He would have been 115 years old this month.
Chris will take us on a journey where we'll see the hand of God working through this man. Orde Wingate should have been pro-Arab during the time the land of Israel was known as "British Palestine," but he was not! He said, "Everyone's against the Jews, so I'm for them."
It's important to remember how God is working in the background when all else seems lost. This is a wonderful reminder to us all: God sometimes accomplishes His will even through the most unlikely ways.
Read Thomas Ice's article on Orde Wingate's life HERE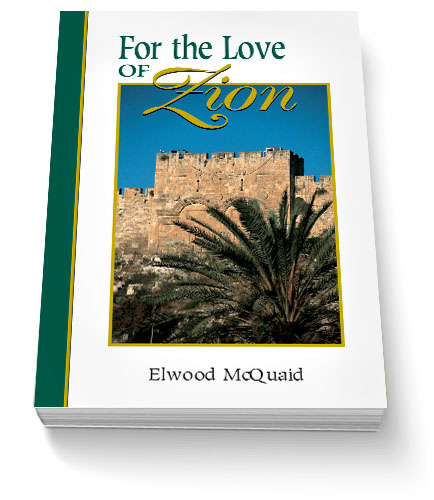 by ELWOOD MCQUAID
The tiny democracy of Israel is demonized around the world. But, no matter what people believe, of this we can be sure Israel will endure because God has promised it, according to the Scriptures.
For The Love Of Zion by Elwood McQuaid sheds light on the political and historical events of the Middle East from a Biblical worldview. Discover the broad scope of controversies that lie behind the headlines. You'll see the real issues that are seldom clarified in the struggle between Israel and its enemies.
In Canada? Order Here
ORDER YOUR COPY TODAY!
---
Apples of Gold: You Have Never Seen the Light
As Zvi was walking home he happened to take a different route. He walked through the most religious area in Jerusalem. There he saw three young religious men gambling on the street. When he confronted them they started heckling him. An elderly rabbi came up and asked Zvi to come with him. As Zvi and the rabbi talked, Zvi was able to share his beliefs. Listen how God used Zvi to speak the Truth of God in this rabbi's life.
Zvi's story is available in Elwood McQuaid's book, "Zvi: The Miraculous Story of Triumph over the Holocaust," available at our online store.
More stories from Zvi are also available in his book, "The Best of Zvi," available at our online store.
---
Music
The Friends of Israel Today and Apples of Gold theme music was composed and performed by Jeremy Strong.
Also heard on this weeks show:
»Aria da Capo è Fine, J.S. Bach (Kimiko Ishizaka) Public Domain