Jerusalem: King of Salem
The city of Jerusalem has a lot of history. King David claimed it as Israel's capital in the Old Testament. But before that, Abraham was there. This week Chris will take us to Genesis 14 where Abraham (then Abram) attacks Kedorlaomer and his troops in the night and saves his nephew Lot, who had been captured. After this battle, Abraham goes to what now is Jerusalem. There, two kings come to meet him: the King of Sodom and the King of Salem, Melchizedek.
We will hear how the blessing Melchizedek gives to Abraham is a physical way he was blessing Israel from Genesis 12:3! Melchizedek was also a priest of the Most High God and we'll also learn how this king and priest is mentioned by David in Psalm 110 and then in the New Testament by the writer of Hebrews!  Find out how that one blessing from this King of Salem and the priest of the Most High God was an example to us all.
Zondervan Handbook of Biblical Archaeology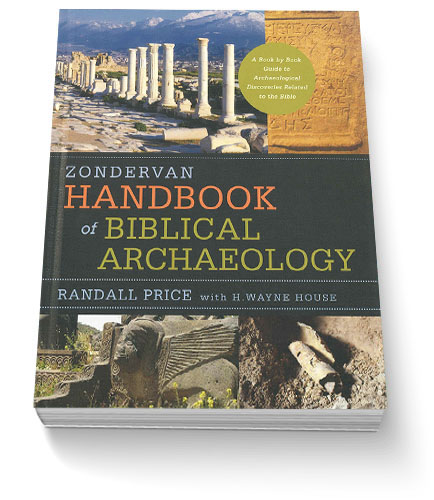 Take a journey through the land of Israel in Dr. Randall Price's new book, Zondervan Handbook of Biblical Archaeology. Laypersons, pastors, students, academics, and anyone looking for a current and comprehensive biblical archaeology resource will benefit from this well-researched work.
Illustrated with colorful photos, charts, and maps, this handbook provides a wealth of information that supplements the historical context of the Bible. Broken down into three sections you'll learn Archaeology of the Old Testament, Intertestamental Period, and the New Testament.
In Canada? Order Here
ORDER YOUR COPY TODAY!
Zvi was working near the university in Jerusalem is located. An orthodox student approached Zvi. He was looking for a Jewish man to help teach the Passover holidays to the students. Zvi offered to pass out Bibles to the students to help them learn about these important holidays. Listen as Zvi explains to the man the importance of getting Bibles into the hands of these students.
Zvi's story is available in Elwood McQuaid's book, "Zvi: The Miraculous Story of Triumph over the Holocaust," available at our online store.
More stories from Zvi are also available in his book, "The Best of Zvi," available at our online store.
---
Music
The Friends of Israel Today and Apples of Gold theme music was composed and performed by Jeremy Strong.