Interview: Simon Lawry, New Zealand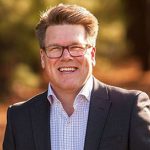 We are headed halfway across the world this week as we share with you about our exciting ministry in New Zealand! We welcome Simon Lawry, a Friends of Israel ministry representative to the program. Simon shares with us about the new program he has launched in New Zealand called, "Meet at the Mountain" where his team is hosting vacationing Israeli backpackers who are primarily Israeli soldiers. They provide food, shelter, and transportation for the soldiers during their stay. God is opening doors in this ministry and we want to share it with you! 
During this time at the center, Simon is able to share with the Jewish young people about his love for Israel, the Jewish people, and Jesus! We'll hear about how sweet their conversations are and we believe you'll be encouraged to hear how God is doing a mighty work there!
Steve Conover: Welcome to The Friends of Israel Today. I'm Steve Conover and with me is our host and teacher, Chris Katulka. While parts of the U.S. are opening up, we're still producing this program from our homes. We're so thankful that we've been able to continue to bring you new episodes of The Friends of Israel Today during this time of uncertainty. Perhaps you're feeling fearful or uncertain yourself. 
We want to pray for you here. When you visit our website at foiradio.org, there's a prayer form you can fill out and when we receive those prayers, we will pray for you privately. These prayers will not be mentioned on air, but our team will bring them before our loving Heavenly Father. And thank you to all of you that have already contacted us and asked for prayer. It's been a real joy for our team to join in prayer with you. Also, while you're at foiradio.org, you can watch some interviews Chris did with our frequent guests and colleagues. 
Chris Katulka: Yeah. First, let me say Steve, Sarah, Tom and myself, we just spent time together praying for the prayers that came in. We do individually take time to stop and to pray for those prayers that come in. Also, I encourage you to go to foiradio.org, not just simply to fill out the prayer form, but also you can watch some interviews that I've done online with Steve Herzig talking about the history of antisemitism, the history of blaming the Jewish people for plagues and viruses and epidemics like the one that we're going through right now. So I encourage you to go listen to that. 
Also, we've had Pastor Meno Kalisher from the Jerusalem Assembly, the House of Redemption, one of our church planters in Israel on to talk about doing ministry in Israel during this epidemic and also an unnamed pastor that's serving in Israel as well. So I want to encourage you to go to foiradio.org to fill out our prayer form and also to watch some of these interviews that we've had a chance to do while we've been away at our homes. So today on the program, I'm actually very excited to have Simon Lawry, who's our representative, our field representative in New Zealand on to talk about a new ministry he has ministering to Israeli backpackers.
Steve Conover: We're excited to have Simon with us. But first in the news, as coronavirus continues to spread globally, the need for ventilators is critical in developing countries. Currently, the entire continent of Africa has just 2,000 working machines. An Israeli do it yourself ventilator blueprint is currently being used to help Africa. The engineers of the blueprints come from Israeli tech, military and medical sectors, and they believe their blueprint can produce a ventilator for as little as $500.
Chris Katulka: Steve, I was actually reading that the state of Israel has more ventilators than the entire continent of Africa, and so it's amazing to think that these Israelis are actually providing blueprints that are open source. So this means that they are free. Any builder can take these Israeli blueprints and produce an inexpensive ventilator. That means that these Israeli inventors are asking for no money at all. They only want to help those that need the ventilators the most. The blueprints were actually downloaded 19,000 times in the first hour and more than 300 teams are currently building prototypes from these blueprints. I just want to say thank you to Israel and to those inventors and the military and the medical sectors and the Israeli tech sectors for helping those who are in need. 
Every so often we like to highlight one of the ministries of The Friends of Israel Gospel Ministry. We're a worldwide evangelical ministry that ministers all around the world to our Jewish friends. Today, I am honored to have on the line with us someone from literally the other side of the world. As I'm getting ready to close my day out here in New Jersey, he's just getting ready to start his day in New Zealand. Simon Lawry is our ministry representative in New Zealand. Simon, I want to welcome you to the program. Thanks for joining us.
Simon Lawry: Oh, thank you Chris. It's good to be with you, and good to be with your listeners.
Chris Katulka: Simon, number one, you're ministering in New Zealand. I want to find out from you, how does someone from New Zealand, and I believe this is true, you can correct me, but you are someone, you're a Kiwi, you are someone who was born in New Zealand and then-
Simon Lawry: Absolutely. 
Chris Katulka: That's right. And then a proud Kiwi and then moved over to Australia, but felt the call to want to serve Israel and the Jewish people. Can you talk about that call and how you ended up back in New Zealand?
Simon Lawry: Well, it was an amazing journey. I spent the first almost 18 years of my life in New Zealand. I grew up here and did my schooling here in Christchurch in the South Island and I became a believer about 11 years of age. I was one of those kids that I'd grown up in church my whole life. But after I became a Christian, I remember I got a Thompson Chain-Reference Bible. I don't know if you remember those. They were kind of second rate to the Ryrie study Bible.
But anyway, it had a lot of pictures in it, and it was in those pictures that there were archeological sites of Israel, pictures of places like Jerusalem and Bethlehem. I really think that that Bible helped me join the dots between something that I knew in my head and something that I sort of thought were fantasy stories to really connect my faith and bring it into a sort of a reality. I remember, I guess a lot of us are visual learners, but that really helped me connect and say, you know what? This is real. These are real places. These are real people. This was a real event or these were real events, and that really shaped and helped me. 
And then in my early teens, I remember a guy came to our church, you don't remember those guys in there that they used to come to the gospel service at night and he had this endless slide collection from a recent trip to Israel. He was kind of one of the earlier people that could afford to go to Israel. He brought back all of these slides. I remember as a kid thinking, will this ever end? But it actually impacted my life as once again I was seeing these pictures of not just archeological remains this time, but actually really real stories of how God was bringing the Jews back into the land and how the land was coming alive and beginning to flourish and the fulfillment of prophecy. Something for which I really loved as a kid and something that really grabbed my attention.
I guess my understanding increased about how God was fulfilling that Bible prophecy. And then I was more challenged to pray for Israel and love the Jewish people. I think that developed as I did more formal study. There was this journey that God brought me on and then because of that love for Israel, eventually it was through Dr. Deane Woods in Australia who came to me and said, would you be interested or consider relocating back to New Zealand and reopening the work that once began in the late '80s in New Zealand with The Friends of Israel Today Gospel Ministry? I'd known Deane through my time with Adelaide College of Ministries and it was just a real honor to eventually come on board and to begin serving. We relocated in 2016 and it's been a real joy and in fact, just an exciting opportunity to serve with FOI in New Zealand. We're seeing great things starting to happen.
Chris Katulka: Now, I can remember fondly meeting you for the first time and I believe that was in Lancaster, Pennsylvania and had a chance to hear your heart for Israel and the Jewish people. I'm interested, this is several years ago that I met you for the first time, but you've been with Friends of Israel for some years now. How has the Jewish community of New Zealand responded to your ministry with The Friends of Israel? 
Simon Lawry: Well, it's not a big Jewish community in New Zealand, somewhere between six to 10,000 who identify as Jewish. There's obviously many who probably don't, but the community is relatively small, particularly in the synagogues and in the ultra Orthodox community. And so we've had numerous interactions with the Jewish community, particularly more so here in Auckland and mostly through attending various events, occasional events like Holocaust remembrance, solidarity events, that kind of thing. Our faces have become I guess more familiar with those among the community, so there's great opportunity that we have in building relationships and building solidarity.
I've met the Israeli ambassador several times here in New Zealand and we've had mutually encouraging times together. He has openly stated that as the Christian community he's met here in New Zealand, particularly after what happened with the UN Resolution 2334 back in 2016 when New Zealand sponsored that and he was recorded, caused a diplomatic incident, but he has really begun to see that the Christian community, the true friends of Israel, and he's openly stated that. That's a real positive testimony.
Chris Katulka: That's a positive testimony for sure that you stand alongside Israel and the Jewish people. This is where I kind of want to bridge to the next section of what we're going to talk about here, because you have been ministering to the relatively small community of New Zealand as you were saying. But you have had an amazing impact already, but you had a bigger vision as well. 
With just a few moments remaining in this first segment here, your vision wasn't just to minister to the people, the Jewish community of New Zealand. You had even a bigger thought in mind when it came to New Zealand and ministering, and that actually had to do with Israelis. Can you talk about, just briefly in this few moments that we have left, the Meet at the Mountain program. We're going to come back on the second half of the program to talk about it more, but why don't you introduce us to Meet at the Mountain? 
Simon Lawry: Yeah. Look, I think, it came very clear to me based on what I was seeing with the large number of young Israelis traveling to New Zealand, after they complete their Israel Defense Force service, that there's an opportunity or was an opportunity for us to do more than just host them in our home. And so it occurred to me that most of the tourists that visit New Zealand are super interested in Lord of the Rings, Chris, and The Hobbit movies, right?
Chris Katulka: Yeah.
Simon Lawry: They were filmed here of course, in New Zealand. I'm sure you're aware that they love the outdoors, the Israelis as well. They love hiking, which we call tramping, by the way, here in New Zealand. And so right in the middle of the North Island of New Zealand is Mount Doom as it's called in the movies. There's a great one day walk that you can take and it's like you're on another planet, and it's one of the best one day walks, well, arguably the best one day walk in New Zealand. Around 50 plus thousand people do it every year in the summer months. It's a wonderful thing.
In my research I found almost all Israelis have this place to visit on their bucket list. They want to see Mount Doom. Now, Mount Doom of course, it's a volcano, right? Its real name is Mount Ngauruhoe. You can Google Mount Doom on Google maps and it'll take you to Mount Ngauruhoe, which is one of three active volcanoes in this region or in this particular area. And that's what they come to see. But in my research I found, obviously that's where they wanted to go and it occurred to me that we could set something up in that area. 
Chris Katulka: Okay. Hold on a minute though, because we want to talk about what that thing is. But first we're going to take a quick break, Simon. So hang on for a moment. We're speaking with Simon Lawry, who is our representative for Friends of Israel Gospel Ministry in New Zealand. He's talking about his new amazing ministry that he just piloted and launched a couple of weeks ago. We're going to talk about how it went, Meet at the Mountain as he ministers to Israeli backpackers. My friends, be sure to stick around because you're not going to want to miss this.
Steve Conover: Chris, it's a real joy to hear you interviewing Simon, and we'll get back to that in a minute. He's ministering to Israeli backpackers in unique ways. Can you tell our listeners a little bit about how they can support the work in Australia and New Zealand if they've been moved by what Simon's been saying? 
Chris Katulka: Yeah. I think this is an amazing ministry, to think that most of the time if you think about doing Israeli ministry, you go to Israel to do Israeli ministry. But that's not the way that God's been working. It's amazing how Israeli young adults are going out to the world to experience life before they enter into maybe a family or they start a career or something of that nature. It's in these moments that our Australia and New Zealand team are really ministering to those Israeli backpackers.
And so if this is something that you think interests you, how our Australia and New Zealand team are ministering to Israelis who are on a backpacking adventure, I want to encourage you to go to foiradio.org and there you can not only pray for our team that is serving in Australia and New Zealand, but you can also financially support them as well to get behind this ministry, to continue to not only promote the truth about Israel and the Jewish people, but to also show and share the love of Jesus, the Messiah.
Steve Conover: Yeah, to support our work in Australia and New Zealand, visit foiradio.org to learn more.
Chris Katulka: Welcome back everyone. We are speaking to Simon Lawry, who is our ministry representative in New Zealand. Simon, can you talk about why does the average Israeli young adult end up as a backpacker in New Zealand? Can you connect the dots for our listeners there? 
Simon Lawry: Well, they're usually around anything between sort of 22 to 24, 25 years of age. The ones that come to New Zealand are usually what we would sort of call middle to high income earning families. That's their background. So they are people who have had money, some of them have worked in order to be able to travel, but coming to New Zealand is not a cheap option. So if they want cheap options, they go to India. They go maybe to South America or other parts of the world when they leave the IDF.
New Zealand's a more expensive place. So it tends to appeal more to those who have a little bit more resources to be able to come. And that makes them, obviously they're also more educated. They have a lot of questions. They are looking to get out of the bubble of Israel, which is a very small place. But they want the beauty and I guess the tranquility and the safety of a place like New Zealand. Hence, they come here. But tremendously what I would call engaged in understanding more about their identity and asking the big questions of life when they come. So it's a wide open opportunity.
Chris Katulka: Can I say this too? I know for certain that it's not just New Zealand where Israelis go to. They go to India, they come to America, they go down to South America. They really travel all around the world. In fact, one of our very own pastors that we have in Israel, after he served in the IDF, he got out of the IDF and really this journey that we're talking about here where they might go to New Zealand, they might go to India, they might go to America or South America. 
Really, like you said, they're asking the big questions and somebody actually gave him a Bible and he read it the whole time that he traveled. And it was through that kind of struggle that he was going through on his travels outside of Israel where he came to know the Lord. I think that's the kind of place that you're trying to invite Israelis into in this Meet at the Mountain ministry that you started. So could you talk about, what happens when an Israeli steps foot at Meet at the Mountain? 
Simon Lawry: Well, let me just say, firstly, a lot of people might be wondering how we arrived at the name, Meet at the Mountain, and it really came from reading Exodus chapter 19 verse 17, and where it says, "Moses brought the people out of the camp to meet God and they stood at the foot of the mountain." Of course that mountain was Mount Sinai. Mount Sinai was a scary place. I don't know if you remember Chris, but you know we read later on in the book of Hebrews that it was a place for which they begged Moses to talk to God on their behalf because they were so frightened and it was considered to be a real mountain of dread. There was lightning and thunder. 
I mean, you could think if you looked at it and read it, you would think that God was meeting them at a volcano or at a place like Mount Doom, so that's how we came to Meet at the Mountain. But we needed a location. We needed to have the accommodation. So just to give you an idea, we wanted to provide them with three nights free accommodation, a place they could come, cook their own meals, have a hot shower, and provide them some transport to and from the mountain. Amazingly, God opened the door for us to run this pilot as you have said. And we were just blown away at what the Lord did in only two weeks, Chris, that we had to do the pilot before the coronavirus cut us short. So we were able to rent a campsite nearby. You know the old adage, Chris, build it and they will come?
Chris Katulka: Yes.
Simon Lawry: But there's always that little lurking doubt, what if they don't? It takes faith. But we believed and trusted God. We had a lot of people praying as well, and they did come and the preparation that we did beforehand paid off. I was really blessed to see that before the pilot was cut short, we actually had two incredible Shabbat dinners. Everybody cooking, we hosted almost 40 Israelis. We could have hosted more had we more resources. We could have hosted at least 50 or 60 in those two weeks. I remember one night, this guy, he cooked the most beautiful loaf of bread that we broke as part of the blessing for Shabbat, and we just had this intimate time of fellowship. It was amazing. 
The majority of these young people, Chris, that come are liberal secular Jews. They're fresh out of the army. They usually are cohabiting with their girlfriend or boyfriend. They're traveling around the country in self-contained vans. When they come to us, we get this picture of the fact that they don't feel or don't even really believe they need God. We also get some who are religious and want to keep kosher, but the majority by far are secular Jews.
I remember this young guy, his name was Carmel, almost the whole time he was with us, he was wrestling with this question, which you can imagine they all ask is, why are you doing this, right? Throughout the time that he was with us, he kept asking different questions. "Tell me about these evangelical Christians," he said, because they've heard that evangelical Christians love Israel, right? And then at breakfast on the next day before he was leaving, we were in this conversation about Yeshua, and the fact that He was the only way for which a person could be saved. I could see that he was getting agitated.
Eventually, he couldn't contain his anger anymore. You could see it building up. He said, "We don't want to be religious." He said, "The Orthodox want us just to follow all of their rules. They hate the gays." And then on he went and you get this emotion pulled out of him, right? And straight away we realized that his connection to faith or belief was what he saw from the religious Jews in Israel. What he was saying to us was Christianity seemed too easy. Judaism was too hard and neither could be right in his mind. 
And so it came to this point where he said, "I just want to live my life my own way and do what I want to do." This outburst was a real ... Some people would have found it confronting. But of course, these young Jewish people, they're emotional, they're engaged, they love to ask hard questions. And so you have to sort of get through that. But it's just a wonderful opportunity because you get a window into the true heart of a young secular irreligious Jew that wants to really understand more about who he is, where they're going, and what this faith is all about and why they're loved by this group of people called Christians, evangelical Christians.
Chris Katulka: Yeah, the Meet at the Mountain program is really a precipice for their life because now everything they've done their service, they've done their duty to their country and now they have to start life really. This is a great time for the Word of God to be speaking into their life. I love that we're able to provide a resource for them to come and we provide the shelter for them. We provide the experience for them, and it really opens up the opportunity for us to be able to minister in a gentle way. And even just to let people vent too like that, I think that's fantastic to be honest with who they are and who God is. And so Simon, really quick, because we only have a moment left, what's the future for Meet at the Mountain?
Simon Lawry: Well, right now it's a little uncertain exactly when international travel is going to resume to the point that Israelis can once again come down under. What we do know is that they will be chomping at the bit to do so, and we want to be ready. So, our hope is that if not before Christmas this year, then certainly early next year, potentially then Israelis will be able to make their way to New Zealand. New Zealand is almost free of coronavirus, by the way. We will be a destination for which they could partner with if they're also free of coronavirus. And so the potential is for new year. 
Chris, there's a second part to this Meet at the Mountain. The book of Hebrews said, the writer said, "You have come to Mount Zion, a city of the living God, the heavenly Jerusalem." I really want to help your listeners understand that, what was a scary thing for the early ancestors when they met God is a place of grace and a place of hope when they find Mount Zion. It's an incredible story. So if people can pray for us, if people can support us financially, if people can show an interest and get involved, at some point we're going to need some more help with some more particularly suitable volunteers, then we want to get the word out there. Whether it be in America, whether it be in Israel, whether it be different parts of the world. People can become involved through prayer, through giving and supporting this work. It's an incredible privilege to be doing this work and having these young Israelis come here. 
Chris Katulka: That's fantastic, Simon, and listen, if you're listening right now and this Meet at the Mountain ministry is something that interests you, I want to encourage you to go to foiradio.org. We'll have a link for you to get to ways that you can support the work that Simon is doing in New Zealand right now to continue the ministry at Meet at the Mountain, which I think is so important to be right in New Zealand, ministering to the Israelis that are journeying all around the world at that time. A fantastic ministry. Simon, I want to thank you so much for taking the time to join me and to continue to pray for you and your ministry in New Zealand and especially the program Meet at the Mountain. Thank you so much for joining me today.
Simon Lawry: You're welcome, Chris. Thank you.
Steve Conover: Thank you for being with us today. Chris, next week we're addressing an important but little known history that surrounds modern Israel.
Chris Katulka: Yeah, we are going to be looking at the San Remo agreement and if you're going, what in the world are you talking about? The San Remo agreement is actually a very important international document that came out of World War I that gave permission for the Jewish people to start a country to have an independent Jewish state. So I hope that you tune in because they're going to be celebrating 100 years since the San Remo agreement. It's going to be a great episode.
Steve Conover: Our host and teacher is Chris Katulka. Today's program was produced by Tom Gallione, co-written by Sarah Fern. Our theme music was composed and performed by Jeremy Strong. I'm Steve Conover, Executive Producer. The Friends of Israel Today is a production of The Friends of Israel Gospel Ministry. We are a worldwide evangelical ministry, proclaiming biblical truth about Israel and the Messiah while bringing physical and spiritual comfort to the Jewish people.

Our ministry workers in New Zealand and Australia are excited to get back to work hosting young Israeli backpackers! If you would like to partner with them you can give today to this exciting and eternally life-changing program! 
PARTNER WITH US!
Let us know how we can pray for you! You can fill out a form HERE and we will pray as a team for you. Please know these are private and will not be shared.
---
Music
The Friends of Israel Today and Apples of Gold theme music was composed and performed by Jeremy Strong.