Yom Kippur
Yom Kippur is a special Jewish holiday. Where other holidays focus on feasting, this one focuses on fasting. Where others cause people to celebrate joyfully, this one causes people to pray remorsefully. This is a day to ask God to cover and forgive sins. Whereas sacrifices covered sins individually in the Old Testament, repentance at Yom Kippur covered sins collectively for a whole year.
But that still left the problem of future sins. Yom Kippur needed to be observed every year for people to cover their sins under the Levitical law. But the sacrifice of Jesus Christ was enough to cover sins not only for one year but forever. This Yom Kippur, remember that God has made a way for us to be made clean and able to access Him every day of our lives through His Son's sacrifice. Next week we'll conclude our study of the three major Jewish fall feasts as we discuss Sukkot, the Feast of Tabernacles.
Steve Conover: Welcome to the Friends of Israel Today. I'm Steve Conover and with me is our host and teacher, Chris Katulka. We have an exciting show for you today, but before Chris comes, I'd like to encourage you to visit our website, FOIradio.org. On our website, you'll find trustworthy and accurate news on Israel and the Middle East. And while you're there, you can support our ministry by clicking on the donate button to help us continue teaching biblical truth about Israel and the Jewish people. Again, visit us at foiradio.org.
Chris Katulka: Yeah, Steve. It's a passion that I have that I believe God's given to me to teach the Scriptures from a Jewish perspective, to understand the Bible from a Jewish angle because it is a Jewish book. Through and through, it's a Jewish book. And one of the key things that we see over and over again are the Jewish holidays, the Jewish festivals, and that's what we're going through right now, where we've just wrapped up last week, Rosh Hashanah and today we're actually going to look at one of the most high Holy holidays for the Jewish people, Yom Kippur, the Day of Atonement. And we're going to talk about not only what it means to them, but what it means to us as believers in Jesus, the Messiah. Now, before we get there, though, we've been receiving a lot of encouraging comments by our podcast listeners.
Thank you so much for listening online. Steve, I want you to hear what this one podcast listener wrote on Apple podcasts. I think it really encapsulates everything that we are here at the Friends of Israel Today. And this is what was written. "I am so blessed by this podcast. With everything to listen to, I find this to be the podcast I go to every time for uplifting my life. I always feel close to Christ." And this is my favorite part, Steve. "And on my walks, I feel like I get a chance to walk with him in Israel. Thank you." I love that. We love our podcast listeners. So be sure to rate and comment on our program that can be heard on Apple, Spotify, Google, Tune In, the whole host of podcast platforms that are out there. We'd love to hear from you. Your ratings and comments will help others to find the Friends of Israel Today. So if you value our program, please be sure to let us know. And thank you for listening online.
Steve Conover: In the news, Israel's largest bank, Hapoalim, announced that it had signed a banking and finance memorandum of understanding with the largest bank in Dubai, just prior to the official establishment of diplomacy that took place in Washington, DC earlier this month. The memorandum of understanding paves a new path for economic and business development between the two countries.
Chris Katulka: Steve, two years ago, I had the great privilege to go to Jerusalem for the Christian Media Summit. And I heard from some great people, from Benjamin Netanyahu, from Ambassador Friedman. It was a great opportunity to be a part of the group there. And one of the experiences that we had was we went to President Reuven Rivlin's home, and we heard from some Israeli experts.
And I remember one particular expert saying that if Israel can make peace with their Arab neighbors, that it would be a game changer for the Middle East, because it would open up really an economic tidal wave for the global economy. They are prepped and ready to go. They've got energy, they've got technology, they've got the resources and know how to compete on a global economic level. So I think this is a big move, a great move. And let's continue to pray for stability and peace for Israel and the Jewish people. Remember my friends, the only democracy in the Middle East.
Sunday, September 27th, 2020, this weekend, as this radio show airs, this podcast goes out, Jewish people all around the world will enter into one of the most solemn and Holy holidays of the Jewish people, Yom Kippur, which is translated in Hebrew as the Day of Atonement. The day that God provides forgiveness for the Jewish people. It's a time of repentance and fasting and turning to God for the Jewish people. Let me share with you a story, actually, that comes from the famous Jewish author and Holocaust survivor, Elie Wiesel.
In Auschwitz on September 27th, 1944, during World War II, Jewish people were in death camps on Yom Kippur. It was approaching and the Jewish people in Auschwitz were arguing whether or not to fast. They argued with one another because some of them believe they have already been fasting for a long time. They've been starving to death, literally, each of them near death, living on small rations of food. One of Auschwitz prisoners was a teenager, just a few days away from his 16th birthday. It was Elie and he wrote this: The Day of Atonement. Should we fast? The question was hotly debated. In this place, we were always fasting. It was Yom Kippur year round. but there were those who said we should fast, precisely because it was dangerous to do so. We needed to show God that even here, locked in hell, we were capable of singing his praises. Yom Kippur is a solemn time for the Jewish people, both in the time of the Old Testament, in the New Testament and even today.
But I want to share why this day is so significant for Jewish people and for Christians. So first let's go back to the Book of Leviticus, ah, the Book of Leviticus, the place I know where all of you wake up early in the morning and go right to devotions. Am I right? Okay. Be honest. When was the last time you read through Leviticus? Listen, I understand, it's a tough book and it's tough because it's a culture and worship that was practiced thousands of years ago. It's completely removed from us. And yet the reality is, it has a profound impact on our faith as believers in Jesus, the Messiah. So here it is Leviticus. We get our most detailed account of Yom Kippur, the day of atonement from Leviticus. So the Book of Leviticus talks a lot about sacrifice, I'm sure you know. There's really three different types of sacrifice that were offered in the Old Testament. The first was an allegiance or identity sacrifice. You show allegiance to God through a sacrifice like the whole burnt offering or the grain offering, which you can find in Leviticus chapter one and chapter two. You would be saying to the Lord, when you would offer these to him, these allegiance offerings, you would be saying to the Lord, I'm giving you my best in a sacrifice, Lord, to show my dedication and allegiance to you as my God.
The second was called up fellowship sacrifice. Here, the worshiper would take a sacrifice, offered to God and a portion of it would be given to God. And a portion of it will be given to the priest and a portion of it would be given to the worshiper and they would all eat together in some way. They would fellowship together. And oftentimes these offerings were called peace offerings or Thanksgiving offerings. They were fellowship offering. We've talked about them before on this program. And then there is the sacrifice that we're all familiar with. You know, when you think about Old Testament sacrifice, the thing that you an instantaneously go to is the sin sacrifice. A sacrifice that was given for the sins that were committed. But here's the thing most people don't see when we neglect to read through Leviticus. The sin offering was valid only for sins that were committed unintentionally. Just read through Leviticus, chapter four, you will see the word, unintentionally, appear several times.
Listen, Leviticus chapter four, verse 27, "If an ordinary individual sins by straying unintentionally, when he violates one of the Lord's amendments, which must not be violated, and he pleads guilty or his sin that he committed has made known to him, he must bring a flawless female goat as his offering for the sin that he committed." Here's what this means, unintentionally. Let's say you go to the grocery store and you do a self-checkout. And I'm speaking from experience here, so just hear me out. You go to the self-checkout and you forget to ring up one of the items on your list. You pay, you walk out and you didn't notice until you got home that you "stole" something that wasn't yours. Well, you unintentionally stole. You still stole something, but you didn't mean to do it. You didn't do it intentionally. You did it accidentally.
In the Old Testament, there was a sacrifice for you. You sinned, but you weren't trying to do it at all. Then there's intentional sins. That would be someone who walks into a store to steal intentionally. They grab something, they stuck it in their jacket pocket and walked out. Now here's the thing, in the Old Testament, there is no sacrifice for that intentional sin. They must face their punishment. For instance, David, when David sinned against God with Bathsheba and then killed her husband, Uriah. In Psalm 51 when David is pleading to God for forgiveness, he says, if there was a sacrifice that I could offer, I would give it to you. If there was an offering to give that would forgive me of my sins, I would offer it to you, Lord. But there wasn't one because David actually committed two of the worst sins, right from the 10 commandments. He murdered and he committed adultery. And David deserved to be stoned to death twice. Why? Because he committed those sins intentionally.
This is where, really, the importance of Yom Kippur, the day of atonement comes into play. Sinful people are like a virus that spreads. We're all familiar with that now in the coronavirus age that we live in. That things that you touch as a sinful person become unclean and need to be wiped down. Our sin permeates everything and Yom Kippur is going to deal with all of the sins of Israel. The unintentional sins, the intentional sins, and even the spread of sin that makes the Holy things of God unholy. And here's what's vital to know about Yom Kippur. Yom Kippur is annual. It doesn't cleanse once for all. It covers only once. That's it for the year. That's what Kippur means.
Kippur of Yom Kippur means to cover. In fact, if you think about that little tiny hat that Jewish men wear on the top of their heads in Yiddish, it's called a yarmulke, but in Hebrew, it's called a kippah or covering. It covers the head to show God is their authority. Kippah is the same word found in Yom Kippur. It could just be called the Day of Covering. In Leviticus, the high priests would then cast lots over two goats. You can read about this in Leviticus, chapter 16. The one goat was chosen to become the sacrifice whose blood would be spilled and used to cleanse the Holy of Holies where God's presence dwelled. It was only once a year that a high priest could enter into the Holy of Holies. The high priest would then take the other goat, which was called Azazel. And he would place his hands on that coat and transfer the sins of Israel onto this goat, hence the phrase, scapegoat.
Then this Azazel scapegoat would be sent into the wilderness, carrying all the sins of Israel away from the camp. So on Yom Kippur, the sin that permeated the community was covered by the blood of the goat. And then the other goat carried away all the sins of Israel from the camp. Friends, God provided a way to cover the sins of Israel for the year. Yom Kippur, The Day of Atonement is the day God forgives Israel of all her sins, the intentional and unintentional ones, to restore a right relationship with her. But it was only temporary. It would have to be done again next year. And this is why Jesus, our high priest, his eternal sacrifice is so important.
Now, before we go to the Book of Hebrews to show you why it's important, I want to introduce you to Bruce Scott's book, The Feasts of Israel. It is a book that impacts me so much, every single year, whenever I come to these holidays, when I go to Passover, in the spring and the feast of unleavened bread and Shavuot, when I come to the fall feast like Rosh Hashanah, Yom Kippur, the Feast of Tabernacles. There's so much to learn biblically, rabbinically. There's so much to learn about how it applies to our lives as Christians. There's so much to learn about what it means for the future, prophetically. Bruce Scott does an amazing job of taking these feasts that are ordained in Leviticus chapter 23 to show what they mean for Israel and how they apply to our lives as believers in the Lord, Jesus.
I want to encourage you to get Bruce Scott's book, The Feasts of Israel. Steve, how can our listeners purchase a copy of Bruce Scott's book?
Steve Conover: Yeah, they can purchase a copy of The Feasts of Israel by Bruce Scott. When they visit us at foiradio.org, that's foiradio.org. We'll have a link on our homepage or you can call our listener line and that's 888-343-6940. When you call, someone will return your call during our regular business hours. Again, that's 888-343-6940. To order in Canada, call 888-664-2584. Again in Canada, that's 888-664-2584.
Chris Katulka: Today, Jewish people don't have a tabernacle or temple to offer the sacrifice in. So they offer up prayers, which rabbis say replace the physical animal sacrifice. Also, charitable giving and fasting is equivalent of sacrificing for God, which would provide forgiveness in a Jewish theological sense. That's the way they see it. But as followers of Jesus, good deeds, let me remind you, good deeds don't bring forgiveness. You can't pray your way into heaven. You can't buy your way into eternal life with charitable giving. And you certainly can't fast your way into heaven. If you did, there'd be no reason for Jesus or his sacrifice. Yom Kippur was a gift of God for the Jewish people to annually correct their spiritual relationship with the Lord. It wasn't works-based. It was faith-based, believing that the sacrifice, the goat, the sacrifice provided a temporary cleansing. The writer of Hebrews actually picks up on Yom Kippur. And he says this about the sacrifice of Jesus in Hebrews chapter nine, starting in verse 11.
He says this, "But now Christ has come as the high priest of the good things to come. He passed through the greater and more perfect tent, not made with hands, that is not of this creation. And he entered once for all into the most Holy place, not by the blood of goats and calves, but by his own blood. And so he himself secured eternal redemption, for if the blood of goats and bulls and the ashes of a young cow sprinkled on those who are defiled, concentrated them and provided ritual purity, how much more, listen, how much more will the blood of Christ who through the eternal spirit offered himself without blemish to God, purify our conscience from dead works to worship the living God." This is such an amazing set of verses from Hebrews chapter nine.
Here, the writer of Hebrews is saying that Jesus is our high priest. He's not like the high priests of old who were subject to sin or even death. Jesus is eternal and perfect, and he stands ready eternally and Holy to represent us before God. Amen. And not only is Jesus, our high priest, but he's also our sacrifice. The writer of Hebrews says the blood of bulls and goats purified, but it had to be done over and over and over and over and over again. Jesus' sacrifice is once and for all. And look what it says, "the blood of Christ, who through the eternal spirit offered himself without blemish to God, purify our consciences from dead works to worship the living God." One of my favorite verses, the blood of bulls and goats covered sin temporarily, but the blood of Christ cleanses us once and for all.
And on top of that, look at what it says. "It purifies our consciences from dead works to worship the living God." The sacrifice of Christ, think about it, gets into the deep places of our mind and our thoughts and our heart and cleanses them even in the darkest, deepest areas where people can't see or hear what you're thinking or feeling. Jesus' blood cleanses it all. And why does he cleanse all of those areas of our life through his eternal sacrifice? Look, it's not that we're going to get a free ticket into heaven, it's so much greater than that. Heaven is our inheritance, our reward, but look at what the text says, "Christ cleanses us so that we might worship the living God", that we might serve the living God, that we might live lives today, pleasing to the living God.
This Yom Kippur, Jewish people will be remembering the forgiveness provided by God through an animal in the Old Testament, or they'll do their good works for the day to acquire that forgiveness. But as Christians, this Yom Kippur season, let's stop and praise God. And remember that through Christ eternal sacrifice, we have been cleansed from our sins. Our conscience is clean that we might serve and worship the living God.
Steve Conover: Thank you, Chris. I'm wondering how our lives might change if we spent more time reflecting on the magnitude of our redemption and Christ's sacrifice for us.
Chris Katulka: I think this is why confession is so important, because confession, and you see it all throughout the Bible, confession is very important to the life of a believer. To stop for a moment and to think I'm a sinful person. I've been cleansed by the blood of the Lamb, but I still carry this sinful body with me and I serve a living Holy God. And to think that God would provide a way for us to have a relationship with him only forces us in, I think, into a posture of worship. And I really think if we only stopped every day for a moment and thought of the eternal salvation that we have because of the blood of the Lamb, Jesus Christ, it would always constantly force us into a posture of thank you, Lord. I don't deserve this. It's unmerited grace, but praise God.
Steve Conover: Now, Apples of Gold, a dramatic reading from the life and ministry of Holocaust survivor, Zvi Kalisher.
Mike Kellogg: In Israel, people are preparing for the feast of Rosh Hashanah founded by the greatest holy day of Yom Kippur, the day of atonement. This is the only holy day people fear. Recently some people came to me and said, "We want you to forget about your strange ways and come with us to pray." When I asked who had sent them, they replied, "No one sent us. We have come on our own." "No", I responded. "You did not come on your own, but God sent you so I could tell you that he has already forgiven my sins." "Oh yes," they agreed. "He forgives us every year at this time with a great fast." "This is not what I mean." I countered. "I came to God only once. I put my faith in him and he forgave my sins. He can forgive your sins also, once forever." They were not interested in anything I said.
"If you will do as we ask", one told me, "you will have no more trouble with us." I told them, "I am not afraid of you. I fear only God." "How can you fear God, when you do not believe in him, but in Jesus?" another asked. I replied, 'The Lord said, 'I've had enough of burnt offerings of rams'. Isaiah 1:11. I believe only in one offering and that is the offering of the Lord himself who gave himself for us." "From what book did you take that?" one asked. Quickly, I turned to Isaiah 53 and then I told him, he is the one in whom I have trusted and he has given me peace. I know that when I leave the world, I will dwell in the house of the Lord forever. You have come to tell me that I may experience trouble from you, but I'm not afraid anymore, not even about your life when demanded. No, because I know whom I belong.
At this point, someone said, "If you're not afraid of us, then let us make a ceasefire and speak together as good friends." "That is what I've been waiting for.", I replied. "I do not hate you. You're my dear friends and you're welcome to visit me anytime." All of them said, "We cannot believe this." "May I read to you from the New Testament and tell you why I am so happy?" They agreed. And I read Romans 12, nine through 21. After I finished, one man asked "These things are nice to hear, but if Jesus loved his enemies, then why did the Germans who are Christians persecute the Jewish people so badly?" I replied, "I am sure that they were not true believers. Now many in Germany are sorry for what they did and are again calling on the Lord, but they are not really clean within. They only hope they are clean. Just as you hope, when you pray at Yom Kippur. On the Day of Atonement, you will not be sure if the Lord has forgiven your sins. But I know he has forgiven mine, my friends. Why do you continue to live in fear? The Lord is your atonement. He will receive you into his family and forgive your sins. You came hatefully toward me, but the love of the Lord has been with us. We should thank the Lord that he is with us."
These people left my home feeling differently than when they came. They left with love in their hearts and smiles on their faces. Praise the Lord.
Steve Conover: Thank you for being with us today. Chris, we're continuing our series on the feasts of Israel next week. Where are we headed?
Chris Katulka: Yeah, so we have in the past already, we've looked at Rosh Hashanah and it's forced us into a time of thinking about our lives and that enters into a time of forgiveness with Yom Kippur, a very solemn time. But now we're going to be moving into Sukkot, the Feast of Tabernacles, which is a time of celebration when we're going to honor God for his presence with us and how he really is calling us to worship him, a beautiful picture of something that's going to happen prophetically for us as well as believers. So I want all of our listeners to come back and join us for our next week's program on the Feast of Tabernacles.
Steve Conover: Our host and teacher is Chris Katulka. Today's program was produced by Tom Gallione. Our theme music was composed and performed by Jeremy Strong. Mike Kellogg read Apples of Gold and I'm Steve Conover, executive producer. And one last quick reminder to visit us at foiradio.org. The Friends of Israel Today is a production of The Friends of Israel Gospel Ministry. We are a worldwide evangelical ministry, proclaiming biblical truth about Israel and the Messiah while bringing physical and spiritual comfort to the Jewish people.
The Feasts of Israel: Seasons of The Messiah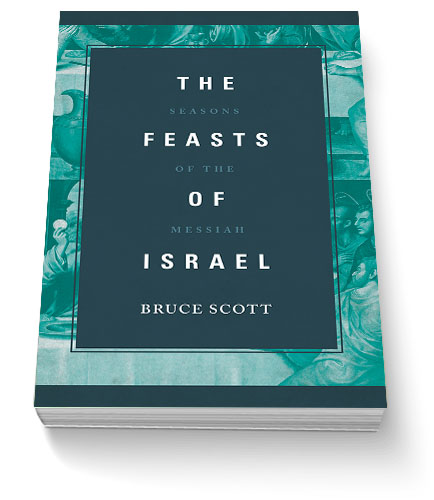 By Bruce Scott
The Bible is a Jewish book written by Jewish writers with a Jewish worldview. That means the holidays and feasts of the Old Testament have hidden meanings that are clear in a Jewish context that we should know too!
The Feasts of Israel: Seasons of the Messiah will teach you the fullness of Jesus' ministry by explaining the rich symbolism of the feasts of Israel.
ORDER YOUR COPY TODAY!
---
IN CANADA? ORDER HERE!
Apples of Gold: The Lord is Your Atonement
During Rosh Hashanah and before Yom Kippur, a group of people came to Zvi to try to get him to see the way of Judaism is the correct way to God, not the way he says people come to God, through Jesus the Messiah. They asked him to come to synagogue with him to observe Yom Kippur. Because of their pure intent and their heart attitude, Zvi was able to have an open and honest discussion about why he believed what he did, and they were open to hearing the Truth that lies in Scripture.
Zvi's story is available in Elwood McQuaid's book, "Zvi: The Miraculous Story of Triumph over the Holocaust," available at our online store.
More stories from Zvi are also available in his book, "The Best of Zvi," available at our online store.
---
Music
The Friends of Israel Today and Apples of Gold theme music was composed and performed by Jeremy Strong.
---
Your gifts help us reach people all around the globe with our message of truth to bless the Jewish people. If the Lord leads you and you believe Christians need to hear the truth about Israel and the Jewish people, we ask that you prayerfully consider a gift so we can continue to bring these truths to you and others as well. Any amount is a blessing to our program and we are so thankful for your support.
Give Today