How Did the Religious Leaders View Jesus?
Even though He came to offer salvation from sin, not everyone loved Jesus. We saw that fact last week through the eyes of the Romans, who were more concerned with their empire than with the Lord of the universe. This week we look at Jesus through the eyes of the Pharisees and Sadducees. Their objection to the Savior was foolish, but learning where this hatred of Jesus came from helps us understand them better. Chris walks us through that history in this program.
The Pharisees and Sadducees made Jesus their enemy because of their flawed perspective. As the religious leaders of Israel during that time, they saw him as a threat who had come to take their power and prestige. But we know that Jesus did not come as a conqueror but as a Savior who would give us what our souls need most: a right relationship with God the Father. Fortunately, a couple of prominent Jewish religious leaders in the Gospels recognized this, too. Follow along to hear how these men saw Jesus differently from their peers and how it changed the way they lived their lives!
Steve Conover: Welcome to the Friends of Israel Today. I'm Steve Conover and with me is our host and teacher Chris Katulka. Chris is in the studio and I'm joining you remotely. We have an exciting show for you today, but before Chris comes, I want to remind you to visit our website, foiradio.org. We have over five years worth of programming on our site for you to listen to, and I also want to invite you to browse around and enjoy the content we offer on our main ministry webpage. There, you will find trustworthy and accurate news on Israel and the Middle East and while you're there, you can support our ministry by clicking on the donate button to help us continue teaching biblical truth about Israel and the Jewish people. Again, visit us at foiradio.org. 
Chris Katulka: Now, Steve, we are continuing our series, our three-week series on the different perspectives of Jesus from the gospels. Jesus wasn't looked at from one perspective. There wasn't a monolithic understanding of who Jesus was, his message, the miracles that he performed. People had a different way of looking at Jesus. So this three-week series that we're in, we're in the middle of it right now. Last week, we looked at how the Romans understood who Jesus was, specifically looking at Pontius Pilate. This week though, we are going to be looking at the religious leaders of the Jewish people, specifically the Pharisees and the Sadducees and what they thought of Jesus. So I think it's going to be a very exciting show. I hope that you stick around to listen. 
Also, if you're driving in the car right now and you're thinking, "Man, I got to get out of the car or I wish I could continue listening. I've been interested in this," listen, we have a podcast. You can just, number one, go to foiradio.org and there you can listen whenever you want during the week to our program. We have a whole backlog of all of the radio programs that we've been doing, but if you're a podcast listener, you can listen to us on Apple or Spotify, Google, TuneIn, Stitcher, the host of many platforms that we have. Listen, if you're listening on those, we'd love to hear from you. When you rate and comment on our program, it actually helps others find the Friends of Israel Today. So if you value our program, please be sure to let us know, and thanks for listening online. 
Steve Conover: In the news, the election isn't over quite yet, but that isn't stopping President-elect Joe Biden from submitting his cabinet. There is speculation that former Obama UN ambassador Susan Rice could be tapped to serve as Biden's Secretary of State. She recently tweeted a quote from a Washington Post article saying, "Trump was great for Netanyahu. Biden will be better for Israel." 
Chris Katulka: Yeah, Steve. This is my take on this situation. Susan Rice is probably neglecting to take into consideration the fact that 70% of Israelis approve of Trump's leadership over Biden's. Here's the reason why. It's simple. Number one, Trump moved the embassy from Tel Aviv to Jerusalem, essentially recognizing Jerusalem as the capital of Israel. Trump recognized the Golan Heights which no other president or world leader has done. Trump did that and then on top of that, through these moves that he's made, he's brought three Arab countries to the negotiating table to make peace with Israel. So of course the Israelis love President Trump. That's why 70% of them approve of his leadership, but if Susan Rice is chosen as the Secretary of State, I believe she's just going to push for reinstating the deadly Iran deal and ultimately returning to just criticizing Israel for their building projects in Judea and Samaria. Really from the past, nothing new. Honestly, it feels like we're kind of just creeping back to that American-Middle East policy that just has a proven track record of abject failure and empty promises. 
Everyone sees Jesus differently. Now before I continue, first let me say this. Here at the Friends of Israel, we believe and teach and preach that Jesus is the promised Jewish Messiah who redeemed mankind from their sins through his life, death, burial, resurrection, and ascension into heaven to sit at the right hand of the Father. The blood of Christ washes away the sins of those who repent and turn to him and through Christ's work on the cross, believers in him have been reconciled to God. This is what we preach here at the Friends of Israel. Because of Christ, we are seen as righteous in God's eyes and we have a relationship with the Father. 
Okay. With that said, when I say that everyone in the world sees Jesus differently, I mean they see him from various religious angles. For instance, Muslims value Jesus as one of the greatest prophets. Certain Jewish people understand Jesus to be a very influential rabbi and teacher. For the secular world, Jesus was a teacher who left behind a good example of how you should live, the golden rule. Some in the secular world just see religion and Jesus as a problem that's caused a lot of issues globally. Then there are believers in Jesus like you and me if you're listening to this program or on the podcast who believe that Jesus is the King of kings and the Lord of lords. That's a lot of different perspectives on Jesus. 
Well when you get to the gospel accounts of Jesus and you read through the gospels, you quickly realize that everyone saw Jesus differently in the 1st century too. There was no monolithic way of looking at Jesus or hearing his message. There were a lot of people listening and watching Jesus when He walked the land of Israel. Remember, the Romans occupied it, so you have the Romans hearing Jesus and watching Jesus. The religious Jewish aristocracy who governed the people, the Pharisees and Sadducees, they were watching Jesus in a certain way as well. Then there's a group that scholars like to call the people of the land. These were not associated with any sect or group. These are just your average Jewish people that were living in the land of Israel during the life of Christ. They saw Jesus a certain way as well. 
Well we're entering into our second week of this three-week series and last week, we looked at how the Romans perceived Jesus. We got some great feedback about last week's program. So if you didn't get a chance to hear it yet, I want to encourage you to go to foiradio.org and there you can listen to last week's message and you can catch up on our series. Now this week, we're going to look at how the religious leadership of Israel perceived Jesus and his message in the 1st century. It's very easy to lump together all of the Pharisees and Sadducees, but the reality is that these two groups couldn't be further apart in their politics and religion. Remember, politics and religion were something that was mashed together in the days of Jesus. It wasn't something that we kept separate. The religious leaders were the political leaders. These two groups thought differently and even individuals in each group thought independently of one another. 
So first when we talk about the religious leadership of Israel at that time, we're talking about the Sadducees. They were the primary religious ruling class in Israel during Jesus's lifetime. Sadducees were very different from the Pharisees. They only valued reading the Torah, the first five books of Moses. They paid no attention really to the prophets or the writings which means they had a very low view of certain prophecies, especially the resurrection. The other thing about the Sadducees is their willingness to embrace the Greek and Roman lifestyle. Let's say they loved wealth, power, and influence that came with being associated with Rome. Let me just say they knew where their bread was buttered. So that's where they stayed and they enjoyed that power and influence that came from Caesar, specifically from Pontius Pilate. They knew where to connect themselves to. 
Pharisees on the other hand, they were loved by the common people in Israel. They were very strict law-keepers. Unlike the Sadducees, they believed in the resurrection and their zeal for the law actually goes back to the Hasmonean dynasty which is better known as the Maccabean family who obeyed the law of God in the face of persecution from the Greeks. It's where the story of Hanukkah originates from. So there's this real zeal for keeping the law and honoring God. So the Pharisees and Sadducees, they didn't agree on much, but they did agree on this one thing: Jesus cannot be the Messiah of Israel. Just listen to the first few verses of Matthew Chapter 16, starting in Verse 1. 
"Now when the Pharisees and Sadducees came to test Jesus, they asked him to show them a sign from heaven, and he said, 'When evening comes, you say it will be fair weather because the sky is red, and in the morning it will be stormy today because the sky is red and darkening. You know how to judge correctly the appearance of the sky, but you cannot evaluate the signs of the times. A wicked and adulterous generation asks for a sign, but no sign will be given to it except the sign of Jonah.' Then he left them and went away."
Look, the Pharisees and Sadducees came together as a united front to test Jesus, a messianic test. They wanted a sign from heaven. Now, both religious Jewish groups would have expected something miraculous or divine from Jesus. They were familiar with the stories of the Old Testament. Remember Moses and the burning bush? A perfect sign from heaven. They were waiting for Jesus to perform a miracle like Elijah, the prophet, when fire came down from heaven when Elijah challenged the prophets of Baal. They wanted a divine messianic performance, but Jesus wasn't going to entertain them. Jesus wasn't going to give them what they wanted. Jesus wanted something different from them. He wanted their faith, but the religious leaders wanted a fireworks show. 
Jesus used meteorology to say to the Pharisees and Sadducees, "You can predict the weather, but you can't read the signs of the times. The Messiah is in your midst and you're questioning the times. The Scriptures were clear about the coming of the Messiah," and Jesus instead leaves them with a sign of Jonah. What does that mean? A sign that just as Jonah was in the belly of the fish for three days, so the Messiah would be in the heart of the earth for three days. That's what the text says, especially in Matthew Chapter 12. Look, the religious leadership of Israel took Jesus much more seriously than the Romans did. Jesus was proclaiming the kingdom of God to be at hand. He was acting with messianic authority which means He was claiming to be the King of Israel. The Pharisees and Sadducees, they wanted some proof. For them, Jesus's proclamation of the kingdom of God was a proclamation to bring a revolution. Well if you're going to bring a revolution especially against Rome, you better prove to be who you say you are. 
The other issue is this, the issue of power. The text says that the two religious sects who vastly disagree with one another on just about everything came together to test Jesus. They already knew they were going to probe him and it would take fire coming from heaven to get them to change their mind because they could never fathom this one thing. They could never fathom relinquishing the power they had. The Pharisees were fearing the power they were losing among the people of Israel. I mean just think about it. Pharisees were the Jewish party that was for the common person and Jesus appears on the scene and He threatens them as He draws large crowds of common people to his message, his teaching, and his miracles. Actually, the Pharisees were beginning to take control of power in Israel away from the Sadducees during the time of Jesus as well. So of course they're concerned. 
The Sadducees were concerned about losing control of power in general. To be Messiah means you're the King of Israel. When the King of Israel comes, you no longer need Sadducees to rule. Jesus just kind of puts them out of business. So here's what's interesting. The religious leaders were watching Jesus primarily with the fear that He was going to take something away from them, that's how they were looking at Jesus, that He was going to come and take away their power and their control and their prestige. Jesus came to bring peace and security and salvation for his people, but they were concerned by what they would lose. Isn't it the case for so many people today in their personal perception of Christ that Christ is going to take something away from them, that Christ is going to take away whatever freedom they had, that Christ is some sort of killjoy because if I believe in him or I make him the Lord of my life, then I have to sacrifice the personal control I have over myself, I have to sacrifice the power I feel in my life to make whatever decisions bring me joy? 
So many people like the religious leaders of Jesus's day think that way about Jesus. The reality is this. Yes, we do have to sacrifice to follow Christ. Jesus himself said in Luke 9:23, "If anyone would come after me, let him deny himself and take up his cross daily and follow me." Yes, when you believe in Jesus, you do sacrifice your will for God's will in your life, but what you would gain is far better and far more satisfying than all the riches of the world. Just as Jesus said, "For what is a prophet of man to gain the whole world and to forfeit his soul?" But not all religious leaders of Jesus's day were scared to embrace Jesus. There were a few that clung to Jesus's words and responded to his message. 
So we're going to get to that, but first, I want to share with you about a ministry at the Friends of Israel that is near and dear to my heart. This year, it's also the highlight of our Giving Tuesday campaign which will be on December 1st. If Giving Tuesday is new to you, let me catch you up. It's something new in our culture. I'm sure you've heard of Black Friday after Thanksgiving when people rush into stores to stock up on Christmas gifts. Well listen, Giving Tuesday comes after Black Friday. It's an opportunity for giving instead of taking. A real picture of what the holiday is all about. So every year here at the Friends of Israel, we roll up our sleeves and we put together Hanukkah gift baskets packed with delicious Israeli food and then we actually go one step further. We hand-deliver these gift baskets to our Jewish friends all across the United States. See, these are more than just baskets that are filled with really good food. Each basket actually represents hope that only Christ can give. Your gift is an opportunity to comfort, to encourage, and bring joy to our Jewish friends who may feel isolated and alone this season. 
Steve Conover: Yes, Chris. So circle December 1st on your calendar and remember to partner with us this Giving Tuesday. Visit us at foiradio.org to see how you can put smiles on the faces of our Jewish friends this Hanukkah season. Again, that's foiradio.org. 
Chris Katulka: Okay. So we're talking about the religious leaders', the Pharisees and the Sadducees, perspective on Jesus when He began his public ministry. Now, the majority of the religious leadership did everything they possibly could to muzzle Jesus. They even said that his words and works come from Beelzebub. That's Satan. But then there were a few that saw Jesus a bit differently. For instance, Joseph of Arimathea saw things a bit different from the rest of the Sanhedrin. That's the leading Jewish council. It's comprised of Pharisees and Sadducees. Joseph disagreed with the Sanhedrin's treatment of Jesus and actually went to Pilate to have the body of Jesus taken down from the cross and given to him so that he might bury him in his tomb. Joseph had a special place in his heart for Jesus. 
Then there's Nicodemus, another Pharisee from the Sanhedrin who came to Jesus at night in John Chapter 3. Listen to this conversation between Nicodemus, a Pharisee, and Jesus in the beginning of John Chapter 3. "Now a certain man, a Pharisee named Nicodemus who was a member of the Jewish ruling council, came to Jesus at night and said to him, 'Rabbi, we know that you are a teacher who has come from God. For no one could perform the miraculous signs that you do unless God is with him.' Jesus replied, 'I tell you the solemn truth. Unless a person is born from above, he cannot see the kingdom of God.'" Now, listen. Nicodemus, a Pharisee and member of the ruling elite in Israel, cornered Jesus to let him know that he believes Jesus isn't fake like what probably many in his circles were saying. I mean just jump to John Chapter 7 when the Pharisees hear word of Jesus ministering to the people and their response about those people who are listening and following Jesus is that they're ignorant. Those people who follow Jesus are stupid. They don't know the law. They're deceived. 
In John Chapter 7, Nicodemus stands up and defends Jesus and says, "The law of God does not condemn a man unless it first hears from him and learns." So Nicodemus actually stands up for Jesus and says to the other Pharisees, "You better be careful because you're condemning people for not knowing the law, but you yourself are condemning Jesus without hearing a single word from him first which is against our laws." That was a bold move for Nicodemus to respond in favor of Jesus. Jesus explains to Nicodemus in John Chapter 3 that the only way to have eternal life is to be born again or born from above, born once of flesh and then again in the spirit. 
I believe Nicodemus as a Pharisee gravitated to Jesus's truth, his message of salvation. I believe Nicodemus was born again after that experience because he appears one more time in the gospel of John toward the end of the gospel after the death of Jesus with Joseph of Arimathea. The two of them work together in John 19:38-39 to properly care and prepare Jesus's body for burial. Two religious leaders of influence and power sacrificed their reputation to honor the Lord. So yes, while the majority of Pharisees and Sadducees were anxious to make Jesus disappear, a few of the religious leaders of Israel saw Jesus differently. They listened to him, they honored him, and they followed him. 
Steve Conover: Now, Apples of Gold, a dramatic reading from the life and ministry of Holocaust survivor Zvi Kalisher. 
Mike Kellogg: "Who is like you, oh Lord, among the gods?" Exodus 15:11. Not many people know this truth. Therefore, they live in constant fear. Others, however, are not anxious because they have put their trust in the Lord. I am among the latter group and so I sleep well and am happy because I am sure of the one in whom I believe. 
While walking in Jerusalem one day, I met a man with whom I had served in the army in 1948, but had not seen since. Although we had both changed in physical appearance over 30 years, David's first words were, "Zvi, you have not changed. You seem as happy as ever." He, however, seemed far from happy. Then he said, "Come with me to a quiet place and I will tell you why I am so unhappy." I replied, "Come to my house. Then we can talk at length." After dinner, David said, "I am sad and anxious because two of my sons are in the army." I replied, "I cannot understand that as a cause for your depression for I have three sons in the army, all in combat units." "How can you be so calm about it?" he asked. "I would like to know the secret of your happiness." 
I spoke to him of Psalm 3 about putting our trust in God. "This is my secret for enduring troubles." David then asked, "How can I trust in God when I have so many problems?" I reminded him that even as Abraham was tempted and tried yet remained strong, so we must be strong to withstand the trials we face. "You can do this, David, by putting your trust in the Lord, our Savior," I told him. I explained that I too had once been unhappy and bitter and no longer wanted to live. However, since I have received the Lord, I have joy instead of despair. As David looked at the pictures of my sons, he asked himself, "What is the matter with me?" Finally, he asked me, "Where did I go astray?" Anticipating the question, I answered, "First, you must realize that God is always ready to help us and you can pray to him as it is written. Therefore, I will call upon him as long as I live." I told him, "God can help you and now is the time." He was interested to know how I had come to believe as I do and I was delighted to give him my testimony. 
Then I began to read the words of John 3:16, but he shouted, "No, this is not the bible. It is a Christian book, the New Testament. Read only from the Jewish scripture." I explained to him that the Lord Jesus Christ is mentioned not only in the New Testament, but also in the whole Bible. David lives far from Jerusalem so we invited him to spend the night with us. This gave me further opportunity to witness to him, all the while praying that he would come to know the Lord and be as happy as we are. When he left our home the next day, he said, "Thank you. I have a very special feeling within me now. I wish it could last." "My dear brother," I said, "this can be yours forever. You now know my secret. As you have thanked me, be sure to thank the Lord as well." David departed from our home with much to consider. I pray his very special feeling will lead him to genuinely commit his life to God and that he will grow in grace and in the knowledge of the Lord Jesus Christ. 
Steve Conover: Thank you for joining us today. Chris, where are we headed next week?
Chris Katulka: Yes, Steve. It's our final episode on our series, Perspectives on Jesus, the look at how different groups during Jesus's life looked at him and understood him. Next week, we're actually going to be looking at the common Jewish person that would have been following Jesus. What did they think? What were they hoping for when they heard and saw the works of Christ? 
Steve Conover: Our host and teacher is Chris Katulka. Today's program was produced by Tom Gallione. Our theme music was composed and performed by Jeremy Strong. Mike Kellogg read Apples of Gold, and I'm Steve Conover, executive producer. Our mailing address is FOI Radio, PO Box 914, Bellmawr, New Jersey 08099. Once again, that's FOI Radio, PO Box 914, Bellmawr, New Jersey 08099. And one last quick reminder to visit us at foiradio.org. The Friends of Israel Today is a production of The Friends of Israel Gospel Ministry. We are a worldwide evangelical ministry proclaiming biblical truth about Israel and the Messiah while bringing physical and spiritual comfort to the Jewish people.
Hanukkah Gift Basket Ministry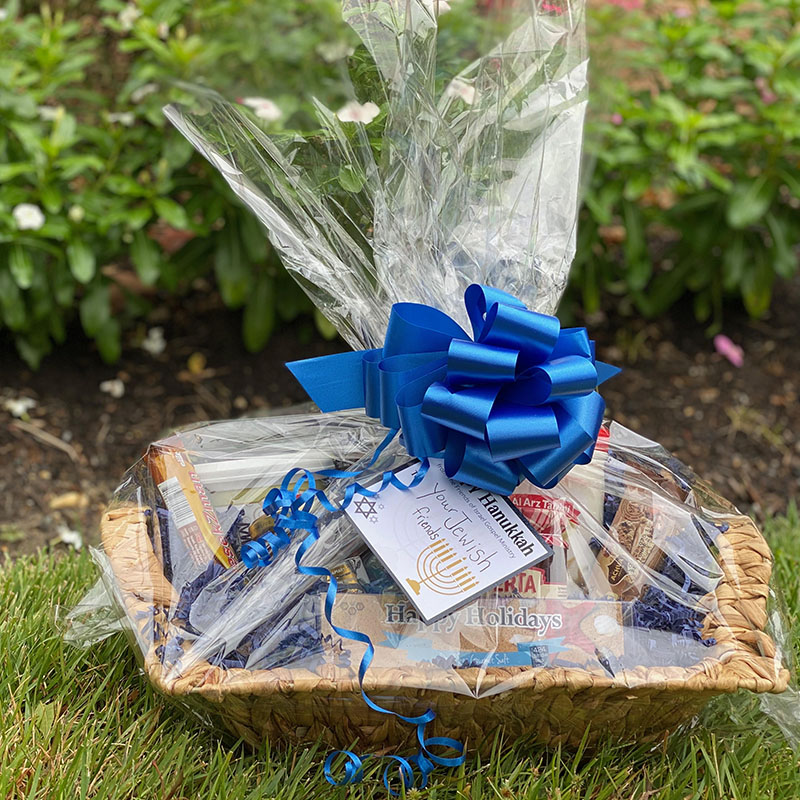 At the Friends of Israel, Giving Tuesday is a day to share the love of Jesus with His Chosen People all over the world. We do that by packing and hand-delivering gift baskets for Hanukkah. We fill them with delicious Israeli food and the hope that Christ gives—hope that we all crave in our times of need.
Your gift will help provide these loving gift baskets to encourage our Jewish friends with the love of Jesus!
GIVE TODAY!
---
IN CANADA? GIVE HERE!
Apples of Gold: How Did I Go Astray?
When an old army friend met Zvi, he was drawn to the happiness he saw in him. The friend was sad because two of his sons were in the army. Yet Zvi had three sons in the army and was perfectly at peace. Zvi's joy allowed him to start a discussion with his friend about the trust and peace that God gave him. Using both the Old and New Testaments, Zvi shared the joy of the Lord with his friend.
Zvi's story is available in Elwood McQuaid's book, "Zvi: The Miraculous Story of Triumph over the Holocaust," available at our online store.
More stories from Zvi are also available in his book, "The Best of Zvi," available at our online store.
---
Music
The Friends of Israel Today and Apples of Gold theme music was composed and performed by Jeremy Strong.
---
Your gifts help us reach people all around the globe with our message of truth to bless the Jewish people. If the Lord leads you and you believe Christians need to hear the truth about Israel and the Jewish people, we ask that you prayerfully consider a gift so we can continue to bring these truths to you and others as well. Any amount is a blessing to our program and we are so thankful for your support.
Give Today