The Diaspora
Have you ever thought about how God is working in multiple ways in the same situation? The Bible tells us that His ways are higher than our ways and sometimes we can see a situation and not understand why God would allow it. This week, Chris explains the diaspora. The diaspora is the scattering of the Jewish people all around the world beyond the land of Israel. The first diaspora happened between 722 BC and 586 BC when the Assyrian and Babylonian empires scattered the Jewish people out of the land of Israel. 
There isn't just one reason why God scattered His people. He did it for judgement as we see in Deuteronomy 28:64, but as we'll learn today, God also did it to preserve His chosen people, the Jewish people. Isn't that amazing? The diaspora, something that comes from disobedience is also being used for good. Isn't that just like God to take our sin and bad choices and use it for His glory? 
Steve Conover: This is Steve Conover, today we're rebroadcasting a show you're sure to enjoy. We've selected for you a series from our archives and titled, The Diaspora. Now part one in our series. 
This is The Friends of Israel Today, I'm Steve Conover and with me is our host and teacher Chris Katulka. Have you ever wondered why there are Jewish people that live all over the world in places like America, Canada, Argentina, Europe, Australia, even North Africa, and surprisingly Iran? The answer to this question is found in God's Word.
Chris Katulka: And that's why today on the program we're going to begin a two part series on The Diaspora. Now some of you may be thinking, what in the world is the diaspora? Well, the diaspora is the scattering of the Jewish people all around the world. But here's the kicker, it's beyond the land of Israel. If Jewish people are in Israel, it's not the diaspora. Wherever they are outside of Israel they are considered diaspora Jews. So check out this article I came across the other day that I thought was pretty funny. The article is called Six Surprising Jewish Communities.
Okay. So these are six places that will make you scratch your head when you hear that Jewish people are living there. And so here we go. The first one is Gibraltar. That's the city next to the Strait of Gibraltar in Spain that separates Europe from Northern Africa. Jewish people have actually had a long history in Spain and a long history in Gibraltar as well. So that's one. Here's two, this one surprised me when I read this, Botswana. That's right, my friends, there's a Jewish community in Botswana, Africa. There are around 100 Jewish people that live in the capital of Botswana.
Three. Here's another surprising one, Japan. There are more than 600 Jewish people that live in Japan. The Jewish community actually settled near Tokyo in Japan in the late 1800s, so they've actually had a presence in Japan since the 1800s, which is amazing. Uruguay. Number four, Uruguay in South America has about 25,000 Jewish citizens and they're proud. These are proud Jewish citizens of Uruguay because Uruguay was actually the first Latin American country to recognize Israel in 1948 and to build diplomatic ties with Israel.
Number five, Siberia. Yes, Siberia has 5,000 Jewish people and I love this when I read this in the article, the main road in the capital city of Siberia is called Shalom e Letum. And last number six Azerbaijan. Azerbaijan sits actually next to Iran. It's a Shiite Muslim country that actually think about this appreciates its Jewish citizens. Azerbaijan actually does about $5.5 billion of trade with Israel every year and most of Azerbaijan's most well known citizens are actually Jewish. Jewish people are scattered all around the world and it's been that way since the very first diaspora that happened between 722 BC and 586 BC when the Assyrian and Babylonian empires scattered the Jewish people out of the land of Israel.
Several of the books of the Old Testament are written about the Jewish people living outside of the land, like the book of Esther. Esther is all about how the Jewish people living in the Persian empire faced potential extermination under the wicked the hand of Haman. There's also the prophets Daniel and Ezekiel, who were prophesying about the future of Israel and the future of the people of Israel after they were exiled, after they were scattered into Gentile lands outside of the land of Israel.
Both Ezekiel and Daniel are writing from Babylon and the books of Ezra and Nehemiah are all about the Jewish communities returning to the land of Israel from being scattered from the diaspora from that original one that happened between 722 and 586 BC. Now in the New Testament, you also see the diaspora appear as well. You see how it plays a role in Jewish life even during the days of Jesus and the disciples. When Jesus was in Jerusalem for Passover just before his death on the cross, it says that Pontius Pilate was in Jerusalem. Well, Pontius Pilate didn't actually live in Jerusalem he lived in Caesarea and so as the governor of Judea, he came to Jerusalem for a reason. Well, Passover was a time when Jews were required to come to Jerusalem to celebrate God's deliverance, and the population of Jerusalem was about 50,000 people on an average day.
But during Passover, when Jewish people from all around the world, those Jewish people that are in the diaspora, when they would come to make pilgrimage to Jerusalem, the city would swell to be almost as much as 125,000 Jewish people in Jerusalem for Passover. Or how about in the book of Acts during Pentecost, this was another Jewish holiday that Jewish people required to come to Jerusalem and many Jewish people came to faith in Jesus, the Messiah in Acts chapter two, during Pentecost it was the birth of the church do you remember? And it says in Acts 2:5, listen, "Now there were dwelling in Jerusalem, Jews, devout men from every nation under heaven." Those are talking about diaspora Jews, Jews living outside of the land of Israel that had come into Jerusalem for Pentecost. And even James the Apostle James writes in his Epistle in James 1:1, "To the 12 tribes in the dispersion."
That's who James is writing to. To the 12 tribes in the dispersion, the early church was mostly Jewish. And so James, who was the head of the church is writing to his Jewish brothers and sisters and Jesus who are living outside of Israel. As you can see, Jewish people have had a long history of living outside the land. But I think it's important to see, that this wasn't the way it was supposed to be. God's plan is not to have the Jewish people living outside of Israel. Most of the prophets and even Jesus himself predicted day in the future when God will return all the Jewish people scattered throughout the four corners of the world back to the land, to the land of Israel. So the question we have to ask ourselves is this, why did the Jewish people who are so connected to the land, who are so connected to Israel, why did they leave?
Well, you have to go back to Deuteronomy chapter 28 for that. Deuteronomy is the retelling of the law for the new generation of Israelites who are about to go in and take the land God promised them. And just before they did that, God told Moses to tell the Israelites something very important and it had to do with the Israelites relationship with God. The first 14 verses of Deuteronomy chapter 28 talk all about how God will bless the Israelites if they obey and follow Him. God says He'll set Israel high above every nation if they follow Him. God says He would protect Israel from all of their enemies if they follow and trust Him. God says He would bless the fruit of their womb and the fruit of the ground if they follow and trust Him. That means that He would give them an abundance of children and food.
Overall for 14 verses God lets them know all the blessings that follow with believing and trusting and obeying God in the land of Israel. But in verse 15 of Deuteronomy 28 it transitions. It transitions to a laundry list more than 50 verses of curses if Israel leaves God, if Israel abandons Him and follows false gods. It says, God would listen to this. It actually says in Deuteronomy chapter 28 that God would actually turn off the rain if Israel didn't follow Him. That comes from verse 24 listen, "From heaven, if you don't follow me Israel, from heaven, dust shall come down on you until you are destroyed." Folks God is saying no rain, no food. And you know what? No food leads to chaos. And this is exactly the backdrop when Elijah challenged King Ahab to destroy the prophets of Baal. Do you remember that?
The issue was over a famine. There was no rain in the land and Elijah was going to show the Israelites who the true God was. It wasn't Baal, it was the God of heaven and earth, Yahweh, the God of Abraham, Isaac and Jacob. And that's exactly what he did. He proved that he is the God of heaven and earth, the creator who brings the rain, and that's exactly what happened. And then God says to Israel, if they continue to follow false gods and disobey Him, that Israel's enemies would defeat them. God says in Deuteronomy 28:25, "You shall go out one way against them and flee seven ways before them." God promises that nations Israel doesn't even know about, will eat up their food and conquer them. And verse 36 says, a verse of chapter 28 in Deuteronomy, it says "That God will bring Israel to a nation that neither you nor your fathers have known."
And here it is my friends. If Israel continues to disobey God in the land, God says in Deuteronomy 28:64, "And the Lord will scatter you among the peoples from one end of the earth to the other. And there you shall serve other gods of wood and stone, which neither you nor your fathers have known. And among these nations you shall find no respite. There shall be no resting place for the sole of your foot, but the Lord will give you there a trembling heart and failing eyes and a languishing soul." Did you hear it? God will scatter you. You will find no respite. There will be no resting place. It's God's judgment for not following Him, for not trusting Him, for not obeying and loving Him. Now think about this, for millennia, Jewish people have been moving around this world and a lot of the reason they have been scattered to far places, places you would never expect to find a Jewish person is because of persecution.
Why is there a large contingency of Jewish people in Argentina today? It's because of the Holocaust. Or how about in the late 14th century, why did so many Jewish people migrate to Eastern Europe to areas like Poland? Well, that's because of the Spanish expulsion around 1492. Even today, the French Jewish community that has been there for a very long time and contributed to French society are looking to move out of France because of heightened persecution. Folks, there are Jewish people scattered around the world because God promised them way back in Deuteronomy 28 that if they didn't follow Him, they would be kicked out of the land and that they would never find any rest to the soles of their feet. They would never find any place to finally say, "This is home."
But God didn't intend for it to be this way forever. We are seeing today that God is calling His people miraculously back to the land, and He promised that He would restore them to the land, not because Israel deserves it, but as God promises in Ezekiel 36 He's going to return them to the land because of God's Holy reputation. God's name is at stake here. God's name is connected to Israel, and by God's grace, He is going to see them restored to uphold His promise that He made to Abraham, Isaac, and Jacob. Now listen, when we return, I want to show you that even in the midst of God's judgment, God was revealing, enacting His grace. So be sure to stick around.
Steve Conover: Every area of Jewish life is tied to some aspect of symbolism, hundreds of traditions date back thousands of years. But how did these customs get started and what special meaning do they hold? In the book, Jewish Culture and Customs, our very own North American director, Steve Herzig, answers these questions in this fun and personal book on the colorful world of modern Judaism. You'll see the Bible and Christianity in a whole new light as Steve Herzig takes the traditions of his Orthodox Jewish upbringing and explains how they connect with our faith. To order your copy of Jewish Culture and Customs, go to foiradio.org or call our listener line at 888 343-6940. Again, that's foiradio.org or call our listener line at 888 343-6940.
Chris Katulka: In the last segment of the show, we were talking about how Jewish people ended up scattered all throughout the world from a biblical perspective. In Deuteronomy 28 God made a promise of blessings and cursings. Blessings for Israel if they follow Him and obey Him and cursings if they disobey Him and chase after false gods.
You don't have to be a Bible scholar to know that Israel in the Old Testament had a reputation for leaving God. And so God eventually enacted His curse on them to scatter them throughout the world. And so the reason that there are Jewish people in Europe, America, Canada, and yes, as we said earlier, even Japan, it's because of God's judgment, Deuteronomy chapter 28. But God's judgment here is also sweetened, it's also coupled with His grace for Israel as well. In the midst of Israel's judgment, in many ways, God was able to preserve his people through the diaspora, scattering them throughout the world for a reason. Now, there is no doubt God's original way of blessing would have benefited Israel the best. Later on in Deuteronomy, God actually looks to His people Israel and says, "Choose life, not death." That means choose the blessings, not the cursings.
God wants us to choose life, but even in the midst of their judgment, God is going to find a way to preserve them. Why? Because God made a promise to Abraham, Isaac, and Jacob that His people would be preserved that the Jewish people would have a longevity, that God has a purpose for them in His divine plan of redemption. And you can see it right here in Jeremiah 31:35 and 36. When God is actually speaking of judgment to Israel. Jeremiah is all about judgment, the judgment that's coming to Israel for their disobedience just as Deuteronomy chapter 28 was talking about. But now in Jeremiah 31:35 and 36, we're going to see that God lays out His overarching view of Israel and watch this. It says this, "Thus says the Lord who gives the sun for light by day in the fixed order of the moon and the stars for light by night who stirs up the seas so that its waves roar. If this fixed order departs from before me, declares the Lord, then shall the offspring of Israel cease from being a nation before me forever."
God was saying, even as Jeremiah was announcing the judgment of scattering on Israel, that it would take up ending the heavens and the earth. It would take measuring the universe to erase God's plan for Israel. It would take measuring the depths of the sea to erase God's hope for His people. If you really think about it, God was preserving His people even in their judgment. Think about the Holocaust, had all the Jewish people been in one place, Hitler could have accomplished his goal much quicker to exterminate the Jewish people. However, there were Jewish people spread all throughout the world and their scattering globally saved them from those moments in history. And remember, Hitler wasn't the only megalomaniac to try to destroy the Jewish people. Folks, God scattered the Jewish people in judgment, but He also preserved them in His grace. And I love this, He promised to return them to the land by upholding His Holy reputation.
Steve Conover: Israel on the verge of becoming a state, a teenage Holocaust survivor arrives on her shores alone. His name is Zvi Kalisher. Little did he know his search for a new life in the holy land would lead him to the Messiah. Zvi enthusiastic to share his faith, engaged others in spiritual conversations, many of which can be found in our magazine, Israel My Glory, while Zvi is now in the presence of his savior is collected writings from well over 50 years of ministry continue to encourage believers worldwide. Now, Apples of Gold, a dramatic reading from the life of Zvi.
Mike Kellogg: In the days preceding Christmas, many in Israel asked believers, how can God have birthday? I recently answered a group of such people. If you have any more questions ask and I'll answer, but the answer may surprise you. They fired off many questions. Why are you so happy at this time of year? Why do you make such a big celebration on Christmas? Who was Jesus? Why did he come? I responded, "I will answer you well, let me first tell a story." Once on a cold winter day, a man noticed a small bird outside his window and the bird wanted to come in and warm itself, but the window was closed. The man opened the window to let it come in, but the bird became frightened and flew away. The man felt sorry and wished he could become a bird so he could invite it inside.
"The Jewish people are like this poor bird." I told them. But God loved them and did not want them to fly off on their own and be lost forever. So in His great mercy, He sent His son as a man. His son spoke with us in our language, telling us what God was like and how much He loved us, and then he suffered and died in our place so we could be reconciled to God because of this. We can be happy in the Lord and praise his name. They'd listened intently, but when I finished, one of them said, "Well, that was a nice story, but it's only for Christians. There's nothing written in our Jewish Bible about Jesus." I replied, "Now, I will show you that surprise. I will show you from the Jewish scriptures, a song sung in the Hebrew language by Christians at this time of year to welcome our savior."
And I read Zechariah 9:9, "Rejoice greatly, O daughter of Zion. Shout O daughter of Jerusalem. Your King is coming to you, he is just and having salvation." I continued, "Jesus came to earth because humanity had sunk deep into sin and God wanted to change hearts and provide lasting atonement. Jesus came to cleanse us from sin forever." One replied, "This is only a Christian story found in Christian books. It's not for Jews." I countered, "You can read about the Messiah in your own Jewish Bible. Passages such as Micah 5:2, Isaiah 7:14, Isaiah 9:6 and 7, and Isaiah 53 will clearly portray who he is. If you'll have time, I will be glad to read and discuss them with you."
I was delighted they were willing to read the scripture with me. When we were finished I asked "Now, do you understand why I am so happy in him? Do think the stories of the rabbis are true and more relevant to the Messiah than what we have read from the scriptures?" "Oh, no." One said, "The Bible is the only book." I asked, "If that is so, what are you waiting for? Why not believe in your hearts all we have read, then you two can share in this joy?" They all were glad I had explained the significance of Christmas. There are many people in this world and each should have the opportunity to hear the good news of the incarnation and death and resurrection of our Lord Jesus Christ. All who yield their lives to him will receive salvation, forgiveness and eternal life.
Steve Conover: Chris, as we looked earlier at the diaspora of the Jewish people today, we see God at work in preserving His people, don't we?
Chris Katulka: Yeah. If you actually look at history, God was judging Israel when He scattered them, that's the diaspora. But yet at the same time you see His grace and His mercy and the way that He preserve them so that no one enemy could ever take all of the Jewish people at one time. Which is something that's happened over the course of history. God scattered them so that He could preserve them and He will one day return them all to the promised land.
Steve Conover: And a reminder, if you have not subscribed to Israel My Glory, that you can get a full year at no cost. This is for first time subscribers, visit foiradio.org. There you can also find the book we mentioned Jewish Culture and Customs. Again, visit foiradio.org.
Our host and teacher is Chris Katulka. Today's program was produced by Tom Gallione, co-written by Sarah Fern, Mike Kellogg read Apples of Gold and our theme music was composed and performed by Jeremy Strong. I'm Steve Conover, executive producer.
The Friends of Israel Today is a production of the Friends of Israel Gospel Ministry. We are a worldwide Christian ministry, communicating biblical truth about Israel and the Messiah while fostering solidarity with the Jewish people.
Jewish Culture and Customs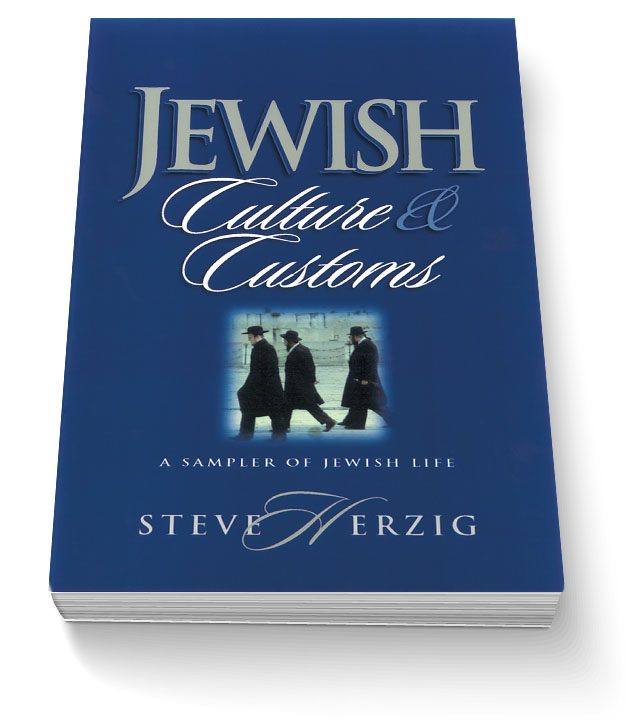 by Steve Herzig
Every area of Jewish life is tied to some aspect of symbolism. Hundreds of traditions date back thousands of years. How did these customs get started? And what special meaning do they hold? In the book Jewish Culture and Customs, Steve Herzig answers these questions in this fun and personal book on the colorful world of modern Judaism.
ORDER YOUR COPY TODAY!
Apples of Gold: How Can God Have a Birthday?

Why are you so happy this time of year?" The people in Israel asked Zvi this question every year.  Zvi loved Christmastime and enjoyed explaining why it is such a joyous celebration. But he always warned them that his answer may not be what they expect. Zvi took them to the Hebrew Scriptures (the Old Testament). They were shocked and thankful for him taking time to show them where the Messiah was talked about in the Old Testament.
Zvi's story is available in Elwood McQuaid's book, "Zvi: The Miraculous Story of Triumph over the Holocaust," available at our online store.
More stories from Zvi are also available in his book, "The Best of Zvi," available at our online store.
---
Music
The Friends of Israel Today and Apples of Gold theme music was composed and performed by Jeremy Strong.